Fernando Alonso is not retiring from motor racing this weekend. The 37-year-old Spanish driver, two-time Formula 1 World Drivers' Champion, reigning champion of the 24 Hours of Le Mans, veteran of 311 Grands Prix, will keep on racing.
Alonso will be back at the Indianapolis 500 this May, driving for the McLaren team. He'll drive the last three races of the 2018-19 FIA World Endurance Championship for Toyota, where he, Sébastien Buemi, and Kazuki Nakajima lead the World Endurance LMP Drivers' Championship. He's teased a return to the 24 Hours of Daytona. He's pondered a one-off effort in the Daytona 500. He's expressed interest in racing in Formula E.
No, Fernando Alonso is not going to stop racing after this weekend's Abu Dhabi Grand Prix, his 311th, and final, Formula 1 Grand Prix. But this is the end of the most important chapter of his racing career: The 17 seasons, with a gap year between the first and second, that encompass Fernando Alonso's Formula 1 tenure.
My favorite driver is walking away from the sport that made him a legend. This is the end of a chapter in my life as a racing fan.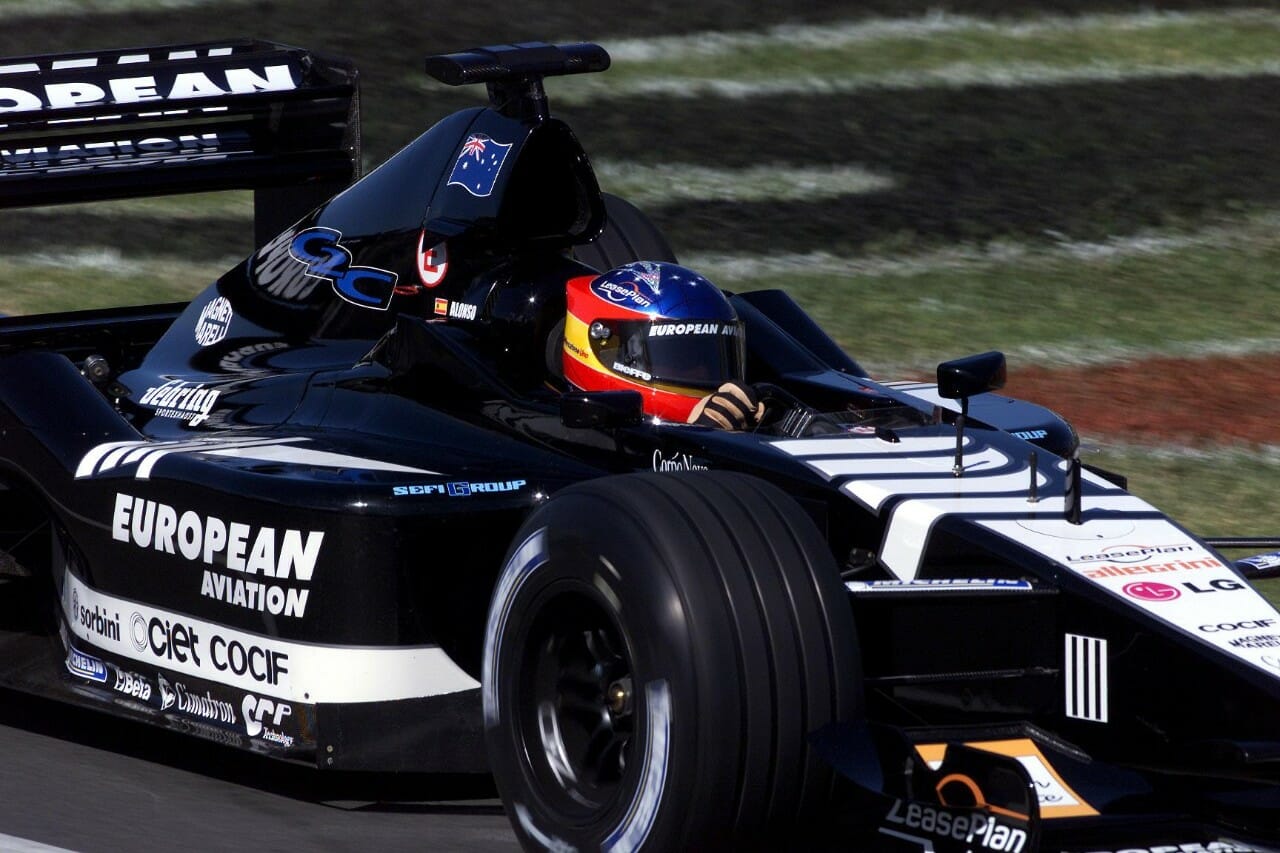 There was a time where my only exposure to Formula 1 was through video games. Formula 1 '97 on PlayStation. F1 Pole Position 64 and F1 World Grand Prix on Nintendo 64. F1 Championship Season 2000 on the new PlayStation 2 that, when it was nearing launch, you'd swear the games looked like real life. In those games, I formed a bit of an attachment with the plucky backmarkers at Minardi, one that carried on even into my time of actually being able to watch F1 races that began, on a consistent basis, in 2001.
That's where the attachment to Alonso began. The commentators, Bob Varsha, David Hobbs, and Steve Matchett, would every now and then take a minute to break away from the peak of the Michael Schumacher/Scuderia Ferrari dynasty at its peak, to break away from the final hurrahs of Grand Prix heroes Mika Hakkinen and Jean Alesi, or the remarkable resurgence of Williams with BMW and rookie Juan Pablo Montoya – who I already knew well as the first true rookie to win the CART World Series title in 1999, and the rookie winner of the Indianapolis 500 in 2000. They could break away from all of that to remark about how well this 19-year-old phenom was doing at Minardi.
Fernando Alonso didn't score any World Championship points in 2001. But not because of a lack of skill.
It wouldn't become apparent until adulthood just how good Alonso was doing that year. I wouldn't know, until later, that Minardi were on the brink of shutting their doors for good in 2001. How close new owner Paul Stoddart cut it when he bought the team from Giancarlo Minardi and Gabriele Rumi on January 30, five weeks before the season began in Australia.
I wouldn't come to appreciate until later, how far ahead of the curve Alonso was as a teenage rookie. He had spent just two years in car racing, and driven just 26 races, before his manager, Benetton team principal Flavio Briatore, agreed to let him race for the Italian privateers in 2001. I knew that the 2001 Minardi was by far the slowest car on the grid, but it didn't click with me until later that this was, essentially, a low-budget revision of a year-old car which itself was developed on a shoestring budget when it was new.
The measure of the Minardi PS01's stature as a car compared to the other factory-powered juggernauts of the F1 grid is best demonstrated in what people who weren't Fernando Alonso could do in it. Tarso Marques failed to qualify for the British Grand Prix, and qualified slowest in every other race he entered except one, often by a full second or more to the next car ahead. Alex Yoong drove the last three races of the season, and qualified slowest in all three, again by a significant margin.
So when Alonso put the PS01 19th on the grid at Albert Park Circuit in Melbourne, it was a small miracle. In three straight races from San Marino, to Spain, to Austria, he outqualified both of the Benetton Renaults of Giancarlo Fisichella, and Jenson Button. Alonso was being loaned out to Minardi by Benetton and was setting quicker qualifying laps than the actual Benetton team. Towards the end of the season, he qualified 17th at the United States Grand Prix at the Indianapolis Motor Speedway (Roval), and in doing so, gridded up ahead of 1995 Indianapolis 500 winner, 1997 World Champion, Jacques Villeneuve in the works Honda-engined BAR.
That Alonso could drag the Minardi PS01 off the back row once was great. To do it 10 times in 17 races was astonishing. The best performance might have been Suzuka. Paul Stoddart said he drove "53 qualifying laps" that Sunday to finish one lap down in 11th place. He outpaced multi-time Grand Prix winner Heinz-Harald Frentzen in a Ferrari-engined Prost. He lapped Monaco GP hero Olivier Panis and his works-Honda engined BAR, and both the Arrows cars, one of which was driven by F1's Irate Little League Dad of the present, Jos Verstappen. He finished two clear laps ahead of his teammate Yoong. He did this in a year-old car fielded by a team that almost folded with six weeks to go before the season started.
23rd in the championship on countback, zero points, and a best finish of tenth was a poor statline for a season that was so much better than any of that, one that couldn't be appreciated properly through the eyes of a child like myself.
The love affair I had with Minardi carried on even still, and still carries on even 13 years after Red Bull bought up and rebranded the ultimate underdog team out of Faenza. Their flag still hangs on my bedroom wall. The love affair with plucky backmarkers carried on in the days of Caterham/Lotus the 2nd, and Marussia/Manor. They represent the common person in amongst a pond populated with aristocratic sharks – megalodons, even.
Alonso was the last Minardi driver to race in F1. That bond has dissolved, never to be reformed.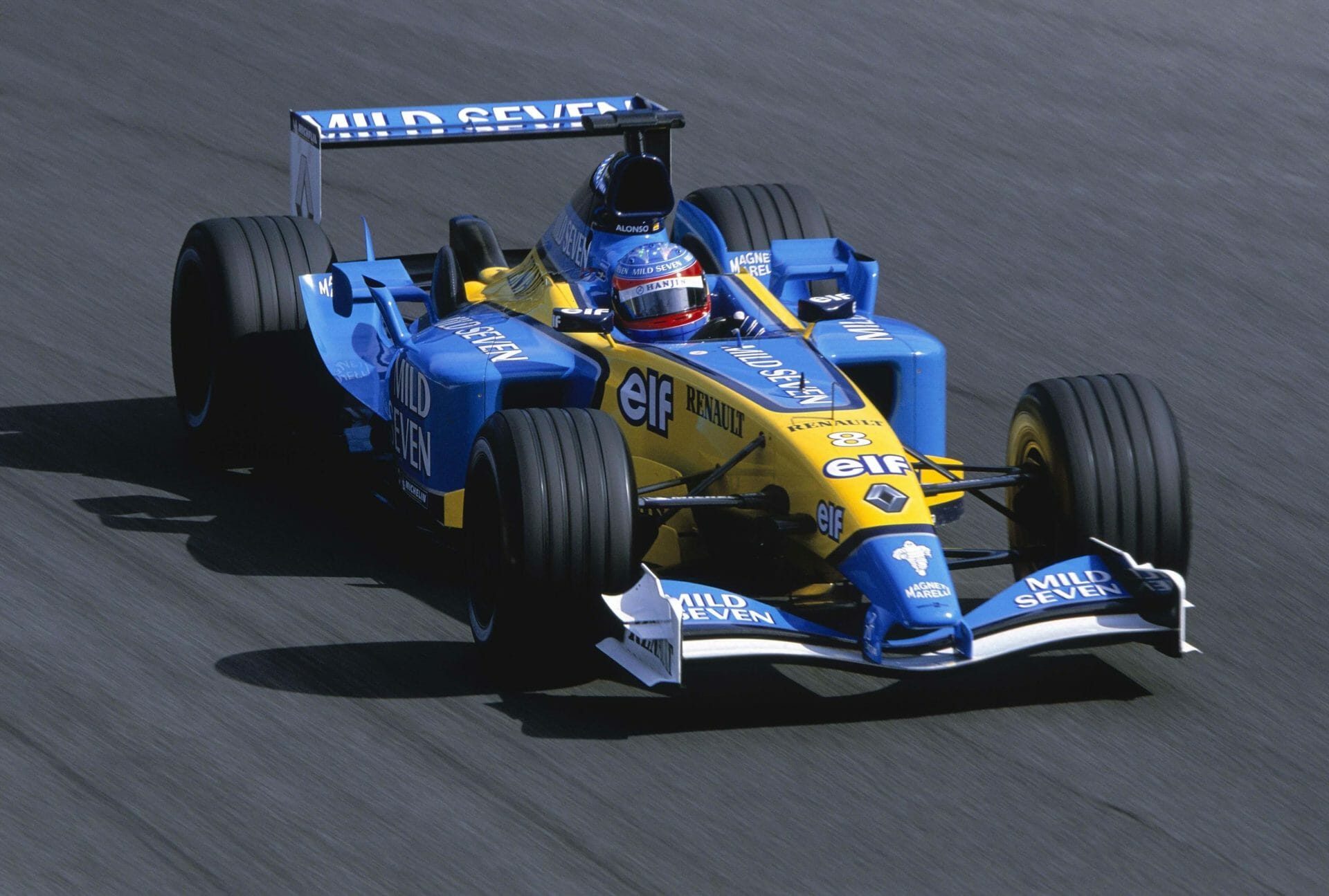 2003 felt a lot more fun than 2002 for a lot of reasons. One of which was that Fernando Alonso was back in a race seat after spending a year waiting in the wings for either Jenson Button or Jarno Trulli to take another seat. Ferrari had actual competition again.
And Alonso announced his arrival as a top-flight driver. This was where the raw talent that was on display in 2001 could be visibly, tangentially seen at the sharp end of the grid, fighting for relevant, points-paying positions. The first points came in Australia. The first pole position and podium came two weeks later in Malaysia – Fernando Alonso really liked Sepang International Circuit. Then came the metaphorical, and maybe even literal, whiplash of a frightening crash at Interlagos in Brazil. Alonso was classified 3rd, but he spent the podium ceremonies at the circuit's care centre. Two races later, a career-best finish of 2nd place in his home Grand Prix of Spain made the pain go away.
It was now just a matter of when the first win would come. The technical Hungaroring seemed like the right place. The Renault R23 was down on power, but compliant, and not lacking for downforce or grip on its Michelin tyres. Alonso didn't just win the race from pole position. He blitzed the field like a veteran of 32 years of age and not a 22-year-old sophomore. He put Michael Schumacher in his prime a lap down! He even lapped his teammate Trulli.
By that point, I was solidly in the camp of the long-haired young lion Fernando Alonso. That was also the year I got to see my first F1 race in person. The 2003 United States Grand Prix was drizzly and dreary, but a fun time all the same. That was the first of three USGPs in a row that I'd attended. Alonso finished none of them: The engine let go in '03, a tyre blowout triggered a crash in '04, and…well, we're not even going to talk about that '05 race. Neither will my dad, or my grandfather, or my brother who were also there.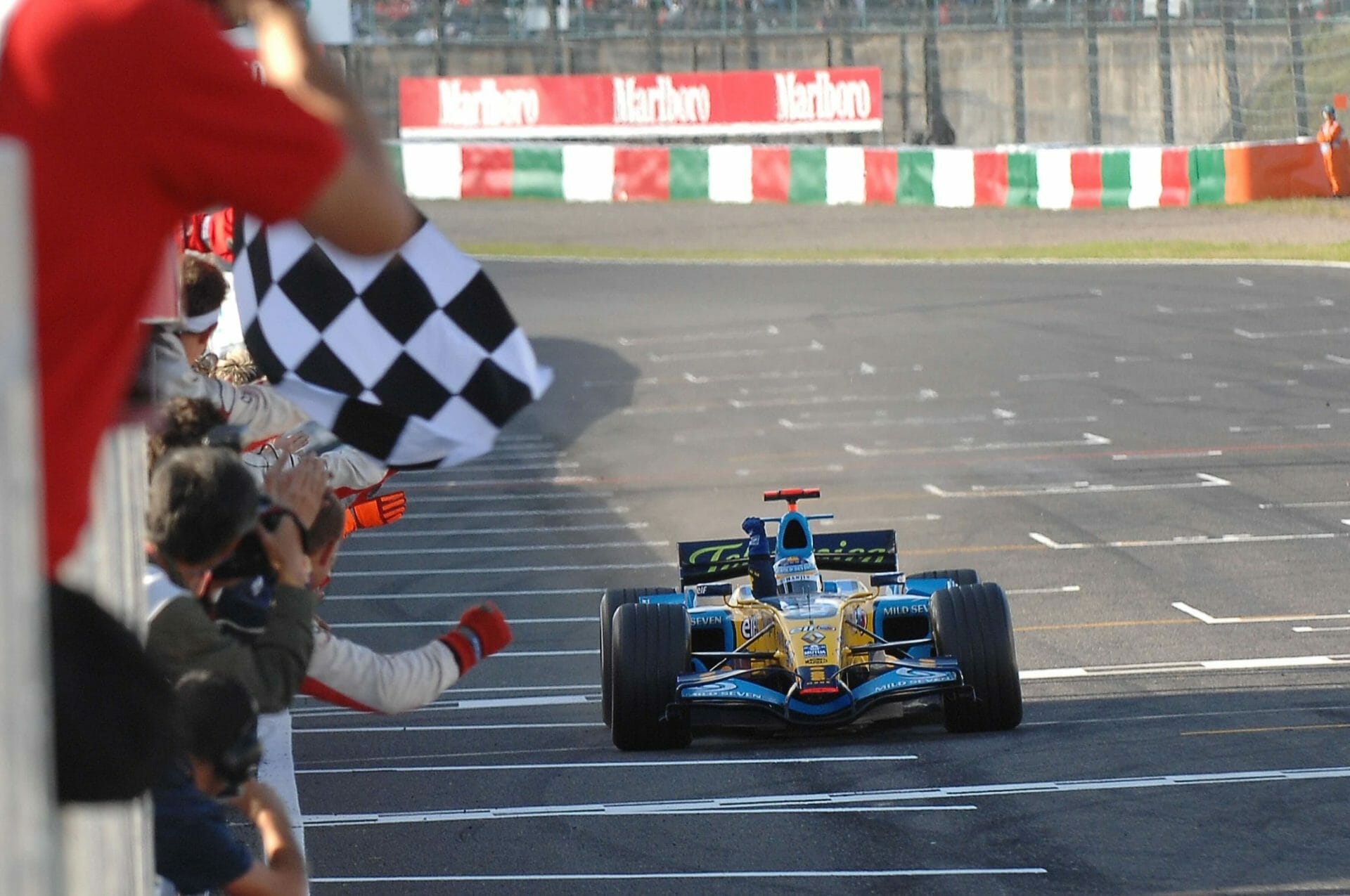 But we'll talk about that 2005 season on a whole. The year that Alonso went from rising star of the future to superstar of the present. Seven victories, six pole positions, fifteen podium finishes. He was 24 years and 59 days old when he let out his mighty roar in parc ferme at the Brazilian Grand Prix with his championship-clinching third place finish. The new youngest-ever Formula 1 World Champion. Alonso was the new Senna, the standard-bearer of a new generation of talent.
That was also a year defined by two moments of brilliance against Schumacher, the record-breaking, history-making, seven time and reigning champion of the world. The San Marino Grand Prix at Imola was one of two home races for Ferrari. You could argue it's even more of a home race for Ferrari than the Italian Grand Prix at Monza because the circuit is 1) closer to Maranello, Ferrari's headquarters, and 2) actually named for founder Enzo and his late son Dino. Alonso had to hold off Schumacher for 13 laps. And yeah, sure, these cars in particular weren't exactly conducive to overtaking anyway, and neither was this track, but 13 laps of constant pressure from one of Formula 1's greatest winners and most cutthroat and ruthless competitors could make most 23-year-olds buckle from the stress. Alonso didn't. He went into hostile territory and defied Schumacher for the race win.
Then there was that pass at Suzuka, round the outside at the high-speed, high-risk 130R corner at the Japanese Grand Prix. Alonso had already won the title by this point. He didn't really need to race that hard or that brazenly for position, but Alonso wasn't content to just let off the gas with his first title wrapped up. Schumacher rarely yielded to anyone, but even he decided to back off then and there and fight another day.
That was the race where Raikkonen, the other rapid-rising rookie sensation of 2001 alongside Alonso and Juan Pablo Montoya, won from 17th on the grid with a final-lap pass. A defiant last stand for Raikkonen, who had the quicker car all year, but gave away a net 20 points in retirements where Alonso went on to win. None of which stung harder than the European Grand Prix at the Nurburgring, where the suspension on Raikkonen's car gave out via tyre vibrations on the last lap, and Alonso swooped by to take the win. Man, that no tyre change rule was a really stupid and hasty way to try and peg back Schumacher and Ferrari.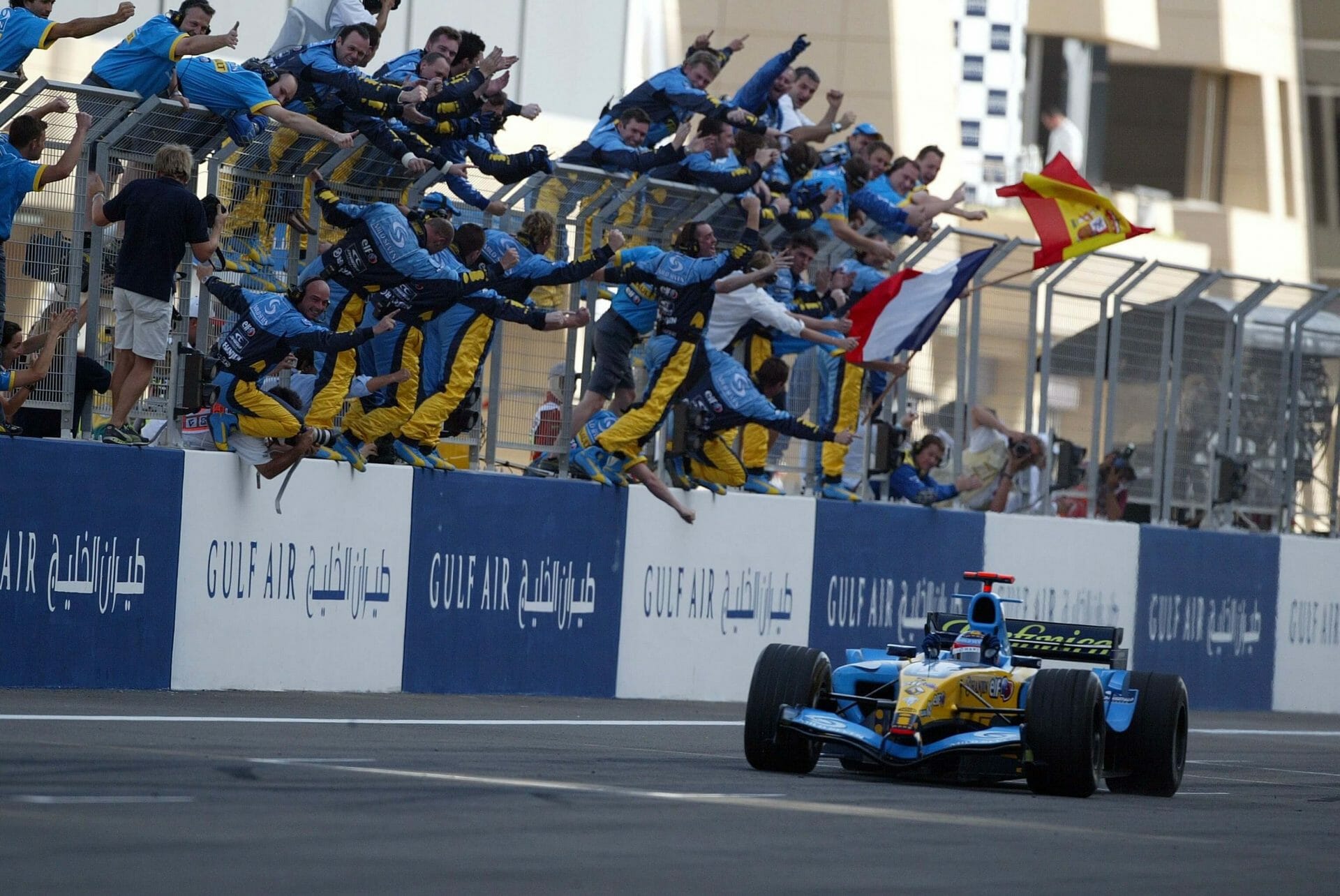 The 2006 season was every bit as good. Maybe even better. This is because Michael Schumacher was back on form, and Fernando Alonso, just as he did on that afternoon in Imola, withstood the best that the 7-time champ had to give him. Once again, Alonso won seven races. Once again, he only finished a small handful of races off the podium. And once again, he won the World Championship. And he beat Michael Schumacher to do it, in a level fight. They had seven wins each. The backbreaker for Alonso could have been the engine failure at Monza. A month later at Suzuka, the same fate befell Schumacher, and Ferrari, who by that point were the textbook definition of bulletproof reliability.
Alonso won his first race in his home country that year. Spain was not an automobile racing country, it loved motorcycles first and foremost, and football above all else. The Spanish Grand Prix was a fixture of the F1 calendar, sure, but when it came to racing, the locals looked up to Angel Nieto, they looked up to Ricardo Tormo, they looked up to Sito Pons, and Jorge Martinez, and Alex Criville, and Sete Gibernau, and they were really, really excited about these kids named Pedrosa and Lorenzo. But Alonso made Formula 1 racing must-see television in Spain the way that his forerunners never got the chance to do. Even if the racing was dull at Circuit de Catalunya-Barcelona, the stands were going to be jammed to the brim with fans coming out to see their favourite driver.
And this is how we ended up with a generation of Spanish single-seater aspirants who looked up to Fernando Alonso. Carlos Sainz Jr. was chief among them. If not for Alonso's success, Sainz the younger might have followed his father into rallying, where Carlos Sr. was a two-time world champion. Or those other kids like Pedrosa and Lorenzo into motorcycle racing as part of Spain's new golden generation of riders.
Sainz will be there to carry the flag for Spain when Alonso steps away this weekend. In an alternate universe, maybe Roberto Merhi would be there too. Maybe Dani Juncadella would be there, or Jaime Alguersuari as well. But that Merhi and Alguersuari even got to F1, or that Juncadella almost got to F1 as a racing driver, is in large part thanks to Alonso's influence on the sport.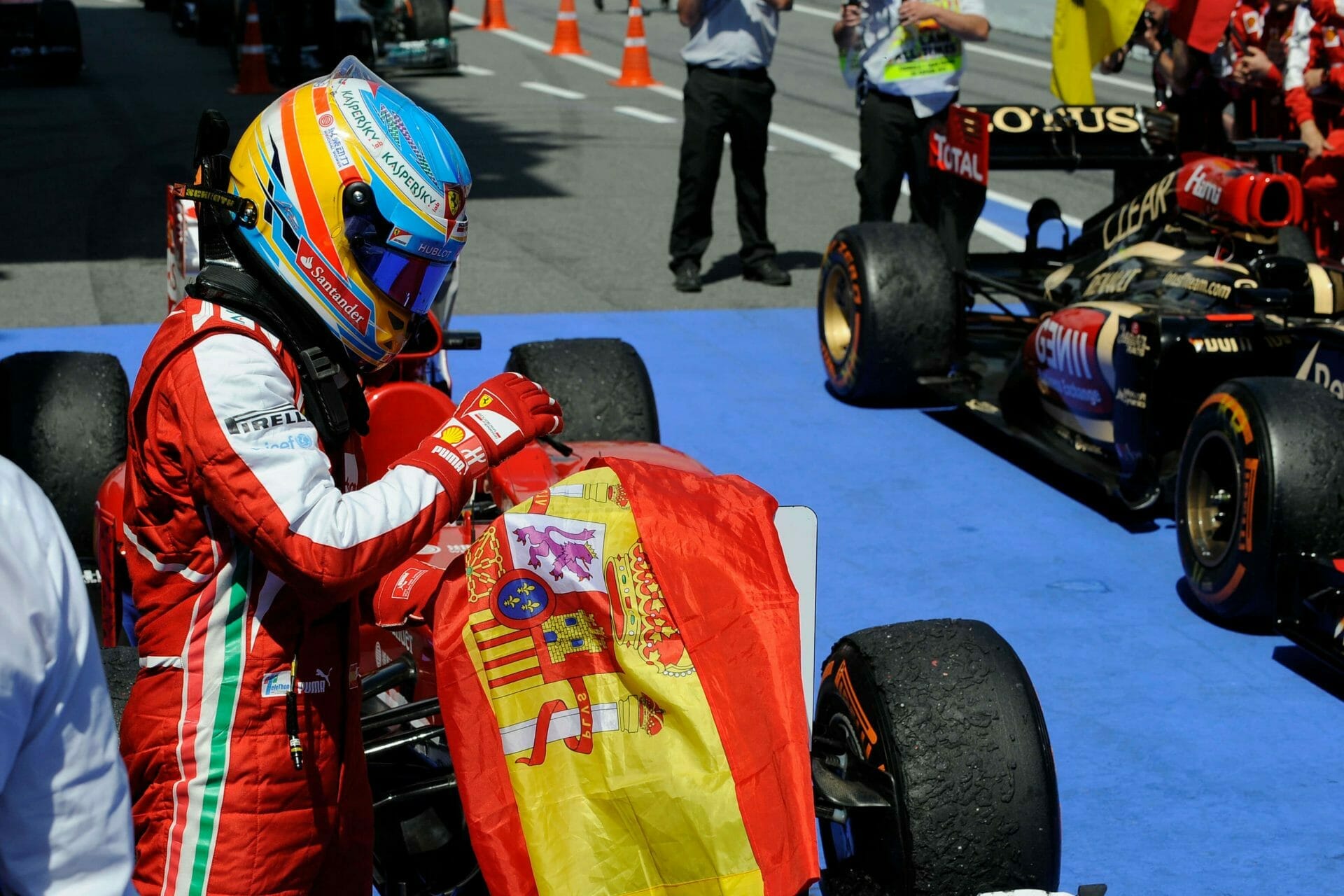 When you're a two-time World Champion at 25 years old, it would seem as if the race wins would keep on rolling in. That the championships would keep rolling in as well. The wins kept rolling in after Alonso left Renault for McLaren in 2007. If you're familiar with the tale of Fernando Alonso, you know what happened with the championships part of that equation.
Alonso and rookie Lewis Hamilton were the super team to end all super teams at McLaren Mercedes in 2007. They didn't just have the best driver of the present, they had the most exciting prospect F1 had seen in years. Alonso wasn't about to yield to a rookie teammate because he was the sport's next big thing, and Hamilton wasn't about to yield to a veteran teammate just because he was a reigning champion. They developed a beef, and after one season, Alonso left, falling just one point short of a championship hat trick.
Alonso really wanted to go to Ferrari after that. When that Ferrari drive wasn't open, Alonso went back home to Renault until that Ferrari drive became available. This wasn't the Renault of 2005-06. The cars looked uglier, they were slower compared to Ferrari and McLaren, this was a glorified upper midfield team that Alonso dragged, kicking and screaming, to two wins in 2008, and with an even worse car in 2009, to a pole position and a single podium.
And then the Ferrari drive opened up, and man, it looked like this was gonna be the new dynasty. Like Raikkonen's first year at Ferrari, it started with a win at the season-opener, then it hit a lull, before Alonso won Italy, Singapore, and Korea – three wins out of four. A third place in Brazil gave him an eight-point lead going into the final race in Abu Dhabi. Start engraving Alonso's signature on the trophy, this one's signed and sealed!
Let's make this story about myself for a second and my support of my favorite baseball team, the Atlanta Braves. Baseball writer Grant Brisbee put it best when he described all the bad beats the Braves suffered through from 1991 to 2005, excluding their championship season of 1995, as a legacy of failure that their 14 consecutive division titles converted into only one championship: "It wasn't proof that the Braves didn't know how to win. It wasn't evidence of poor roster construction. It was just the baseball gods drunkenly playing craps with stolen money." Sometimes Lonnie Smith just loses the ball in the lights of the Metrodome in Minnesota.
Sometimes, Ferrari tries to undercut Alonso and ends up getting him stuck behind Vitaly Petrov for half a race, while Sebastian Vettel drives to the win and his first World Championship for Red Bull.
That, and Alonso building a 40 point lead before the Summer Break in 2012 that slowly evaporated to a three-point championship loss, also to Vettel and Red Bull, sums up that theory of the racing gods drunkenly playing craps with stolen money after 2006. In Alonso's desire to get to Ferrari as soon as he could after leaving McLaren, he turned down a deal to race with Red Bull, and this is what everyone will point to as the turning point that kept Alonso at two championships instead of three, or four, or even five. Red Bull were ultimately hesitant to take on Alonso for a short-term deal, when they had a home-grown young talent of their own in Vettel that they could have had instead. That ended up being a smart move on Red Bull's part.
Alonso still knew how to win. He won 11 races at Ferrari over four years, more than all but 29 humans on earth – including Alonso – had for their entire F1 careers. There were special wins as well. The win at Monza for Ferrari. The thrilling win in front of his home fans in the otherwise dreary Valencia Street Circuit in 2012, coming up from 11th on the grid to defy the odds with perhaps the signature win of his Ferrari tenure. Even his last win in Barcelona in 2013 had something special to it: At a time where Pirelli tyres were criticised for having a prime operating window of 400 metres and forcing drivers to nurse their way to the finish, Ferrari just decided to take advantage of that and run an aggressive, uptempo three-stopper instead of nursing the tyres on a one or two-stop race.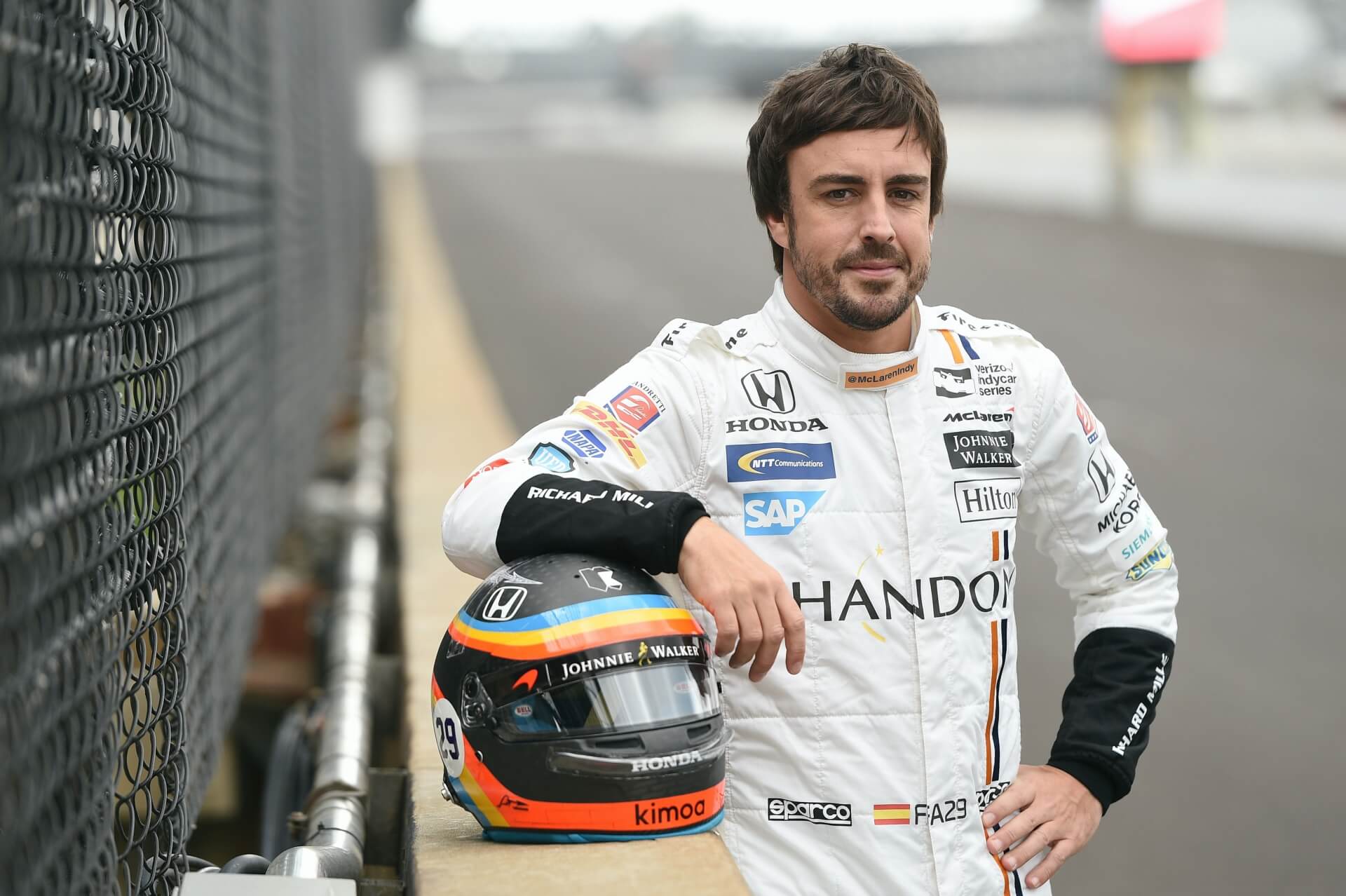 Fernando Alonso is a ruthless and ambitious driver that really, really, wants to win. That has its drawbacks sometimes. It's why his first McLaren exit was on less than amicable terms, with gossip of Alonso trying to blackmail the team if he didn't get undisputed number one driver status over his rookie teammate Hamilton. And it's why Alonso left Ferrari to go back to McLaren in 2015.
McLaren had just rekindled their legendary partnership with Honda, who had won four straight titles from 1988 to 1991. With Alonso and Jenson Button, the new Senna and Prost from the McLaren Honda of yesteryear, McLaren were willing to sacrifice a large chunk of their future to try and win now with a new manufacturer. And uh, yeah, it went pretty bad. When they were bad, McLaren Honda weren't just unreliable, they were slow, slower than all but the Manor team. There was a period in 2016 where they genuinely looked like they were turning it around, then with a total reboot of Honda's engine design and McLaren growing impatient, they regressed to where they were at the start of 2015, and divorced in 2017 without a win, or a pole, or a podium for any of Alonso and Button and Stoffel Vandoorne's collective efforts.
The quote of 2017 was that McLaren had, in the words of team boss Zac Brown, "the best chassis," betrayed by a poor engine. Ironic then, that the 2018 car was a poor chassis betraying an okay engine from Renault. The only reason McLaren is going to finish 6th in the Constructors' Championship is because they banked all the points early in the year, before the roof caved in.
This awful F1 form did have a positive blowback effect: McLaren were willing to not only build their F1 team around Alonso, but they were willing to let Alonso race elsewhere in the effort to get him back to winning races.
This is how we ended up with Alonso forgoing the 2017 Monaco Grand Prix to take part in the Indianapolis 500. Alonso at Indy made the race as big a deal as it had been, on an international mainstream scale, since the days before the damaging American open-wheel racing split of 1996. Alonso qualified fifth, led 27 laps, and before the engine let go, could have won the race on his debut. He embraced the challenge and the atmosphere of IndyCar with open arms. So much so that he'll come back in 2019.
This is also how we ended up with Anthony Davidson bowing out of the Toyota Gazoo Racing LMP1 squadron to allow Alonso to pursue victory in the other leg of the Triple Crown of Motorsport, the 24 Hours of Le Mans. He and Buemi and Nakajima won it on the first attempt as a trio. He helped to end 33 years of trying, 33 years of frustration for Toyota at Le Mans. Sure, the goal was opened massively thanks to the blowback effects of Dieselgate shuttering Audi and Porsche's LMP1 teams, but Alonso did his part and then some to justify the hype. He could likely win this race next year too, en route to the World Endurance Drivers' Championship.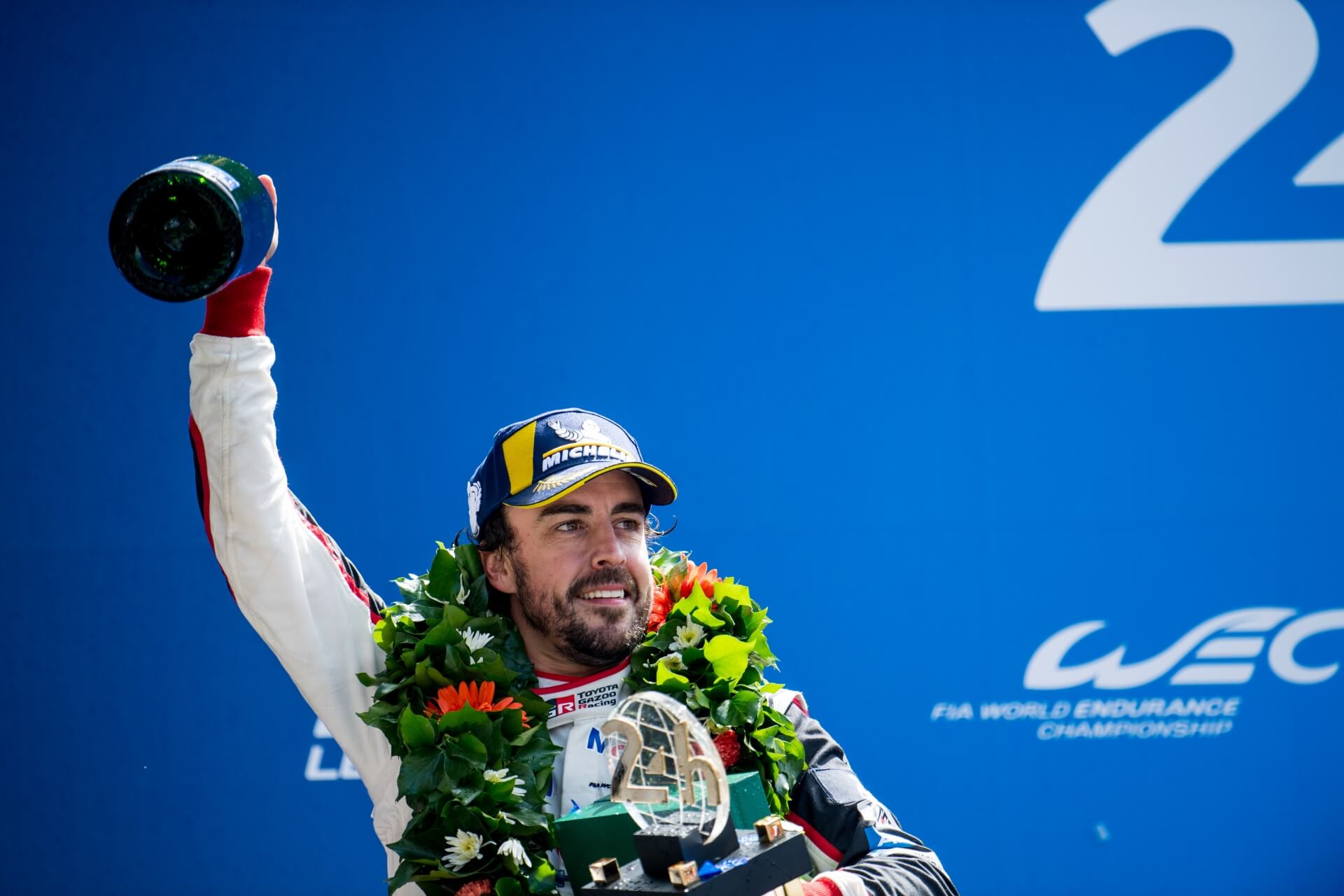 Fernando Alonso's F1 career began with him wheeling the hell out of substandard cars. It will end the same way, just with more orange paint and a lot more previous Grand Prix success for the team he's racing for. Emphasis on previous success.
This is the end of a chapter in his racing career and life. This is the end of one of my chapters in life.
The wins and titles at Renault were contrasted with myself, the nerdy social outcast in public high school who honestly may not have known what he wanted to do with his life instead of being an actor, and was prone to behavioral issues that nobody knew what to do with. Such is the life of someone on the autism spectrum. It took until I actually reached adulthood and got way, way the hell out of school and my old social circles until I found an actual support system that was worth a damn.
The years at Ferrari began in a bad place, apathetically drudging through university, a social life spent at the dredges of the internet subcultures that turned most people my age at the time into edgy, awful, sub-human gremlins that now openly endorse fascism and being cruel to people less fortunate than them. That could have easily been myself before I met new friends who had a lot more compassion and understanding and it was then that I realized, "wait, what the hell am I doing with myself?" and grew a conscience.
The second time at McLaren started with myself having just moved away from living with my mom to living with my dad, aspiring to become a voice actor, and has ended with myself settling into this motorsport writing gig and podcasting gig that I haven't really gotten out of. Between that, several "real" jobs including two that I straight up walked away from because I wanted something better for myself.
Alonso in F1 was something near constant in my life for the last 18 years. It was a bit like the trips to see my grandparents in Virginia as a child, the long road trips from Alabama with my mother and my sister and my brother to see my grandfather Francis, an Army veteran and retired realtor, and his wife Annabel, who were married for over 50 years and helped raise pretty much everyone on my mom's side of the family barring myself. Even today, I have a vivid image of that brick home in the tiny town of Prince George, which seemed frozen in time in so many places.
Francis passed away in 2004 of a heart attack. Annabel passed away this June after battling cancer for years. Their house is now sold to a new family. That chapter in my life is over.
A life from pre-adolescence to the start of earnest adulthood, framed in one large chapter of the racing career of someone that I have supported, admired, cheered for, screamed for, for 18 years. The only constant in a life that has taken so many twists and turns and could have been so so different than it is now, for better, and for worse.
Arigatou, Gracias, Merci, Thank You, Fernando – for the only stability in a young life uncertain.
-R.J.
R.J. O'Connell is the "other" American co-host of the Motorsport 101 podcast. He also writes for DailySportsCar.com and operates Super GT World. 
Images courtesy of: Formula1.com, Renault, Ferrari, Toyota, IndyCar Series