When I started Super GT World in July 2016, the first on-track action I wrote about was a two-day official test session at Suzuka Circuit for that year's Suzuka 1000km.
It was then that I came across one of the surprises of the test session: A nineteen-year-old sports car racing newcomer named Tadasuke Makino.
He climbed aboard the V8-powered, mid-engined, Lotus Evora MC (Mother Chassis) for GT300 stalwart team Cars Tokai Dream28 on the morning of July 8, and in short order, passed his rookie test and completed twelve consecutive clean laps above a designated benchmark time. The Lotus was the most powerful car Makino had driven to this point in his very, very young post-karting career – he'd only graduated to single-seaters the year before.
Later on that afternoon, he placed 2nd overall in the GT300 class running order. All in his first day driving a sports car.
"Mark this Osaka City native as one to watch in the month to come, and for many years thereafter." Those were the closing words I'd written in evaluation of a young prospect whose star was on the rise in Japan.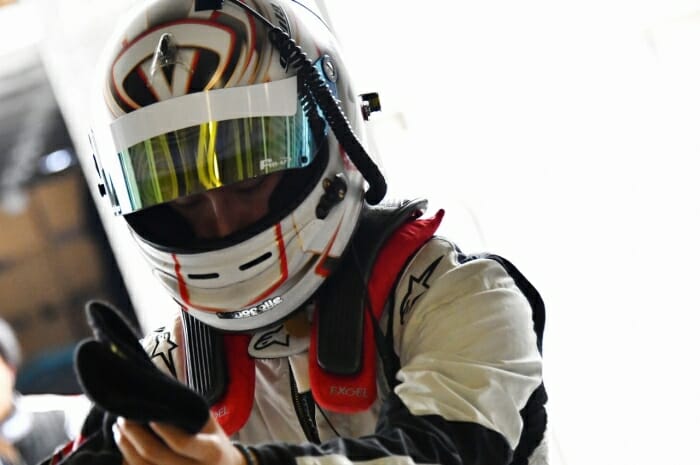 In 2015, Makino bookended the inaugural FIA Formula 4 Japanese Championship season with a sweep of the two races at the first-ever race meeting at Okayama International Circuit, and in a must-win situation in a tight title fight with Toyota-backed young driver Sho Tsuboi, another sweep at Twin Ring Motegi.
Makino's double victory in Motegi – adding to his two wins at Okayama and two more at Fuji – weren't enough to defeat Tsuboi, who surged ahead in the summer rounds and took the title by three points, finishing right behind race winner Makino in the final race. While Tsuboi shed tears of jubilation in parc ferme, young Makino doubled over in tears of a different kind – he'd driven his heart out only to lose the championship in the end.
But Honda saw something special in Makino, and they signed him in 2016 to the Honda Formula Dream Project (HFDP) – their junior driver programme for developing Japanese talent towards Formula 1. It also came with his promotion to the All-Japan Formula 3 Championship, driving for TODA Racing.
Makino's distant fifth-place championship finish, with four podiums and a single pole position, might seem underwhelming on the surface. But those results have to be weighted based on what TODA Racing lacked in horsepower compared to the new Volkswagen motors that powered B-Max Racing drivers Jann Mardenborough, Katsumasa Chiyo, and Mitsunori Takaboshi, as well as what they lacked in resources compared to perennial F3 powerhouse TOM's, eventual champion Kenta Yamashita, and Makino's F4 title rival Tsuboi.
Compared to his fellow HFDP prospects, Makino outshined the more experienced Keishi Ishikawa in the same equipment, as well as fellow F4 graduate Hiroki Otsu driving for the main HFDP Racing team.
And in between, was an awesome Super GT debut test that led to Tadasuke Makino earning his debut race start in the Suzuka 1000km.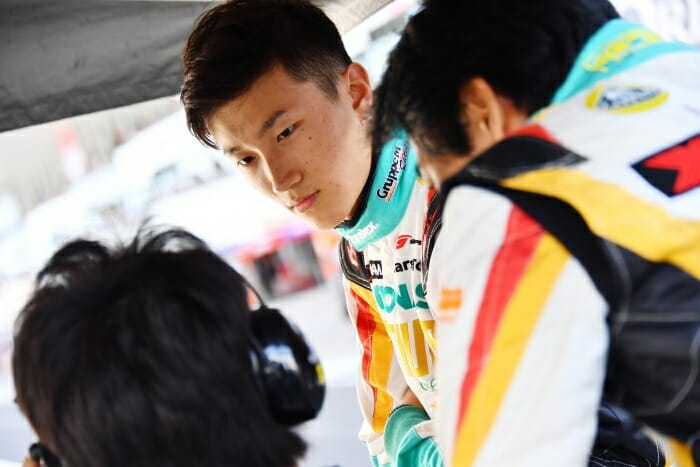 Makino would join his driving mentor, veteran GT300 standout Hiroki Katoh, and gentleman driver Kazuho Takahashi, at Cars Tokai Dream28 – the GT300 class-winning team in the 2005 and 2007 Suzuka 1000kms. Mooncraft Engineering, who built the controversial Daytona Prototype-derived Shiden MC-16 that won in 2007, were also behind the aerodynamic design of the Mother Chassis Evora.
The year before at Suzuka, the Lotus was on track to win the class handily, from pole position, before they were slapped with a severe 2 minute stop/go penalty for coming into a closed pit lane for service.
With Katoh and Makino leading the charge, the white and teal Lotus entered the 2016 Suzuka 1000km as one of the favourites to win the ultra-competitive GT300 class in Super GT's biggest showcase event of the year.
Makino was tasked to qualify in the first of a two-stage knockout qualifying session on Saturday afternoon, and in that Q1 session, Makino set a fastest lap time of 1'57.811. A new GT300 class lap record around Suzuka Circuit that gave Katoh the chance to go for pole position in Q2. Katoh ultimately wound up in 2nd, but the story of that time trial on the GT300 side was Makino, whose Q1 lap wouldn't be eclipsed in Q2 – not even by pole winner Yuhki Nakayama in his Dome-built Toyota 86 MC.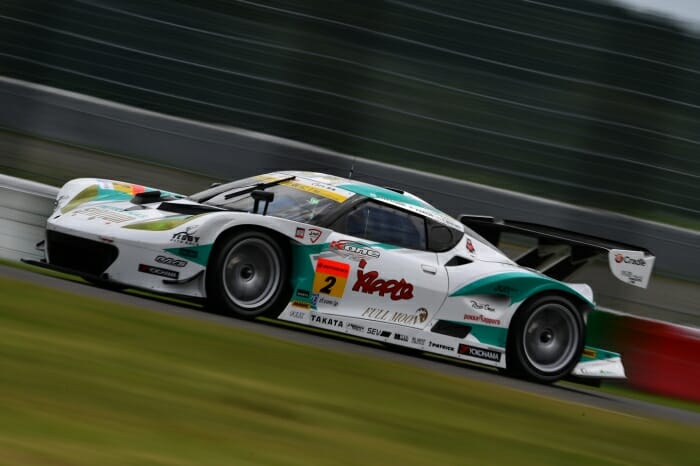 On Sunday, after Katoh drove the opening stint of the Suzuka 1000km, Makino climbed aboard for his very first Super GT race action. In a 34-lap stint, Makino climbed from 9th to as high as 3rd place. He set an identical pace to his mentor Katoh, not just over one lap but over the entirety of his stint in the car.
It was set to be the start of a star-making drive. When Makino got out of the Lotus, 63-year-old gentleman racer Takahashi took over for his first stint in the car.
Takahashi had struggled to maintain composure aboard the Lotus. In the GT300 class, the majority of the cars are FIA GT3 cars which come equipped with driver aids such as traction control and anti-lock brakes. This is because GT3 was originally a category specifically catered to sportsman racers. The Mother Chassis cars do not have these driver aids aboard. The Lotus oversteered coming out of Suzuka's fast Turns 1 & 2, and Takahashi could do nothing but brace for a race-ending smash into the sponge barriers.
Makino could do nothing further, his race was now over. Perhaps, he had the pace to get Cars Tokai Dream28 over the top and win the race. That we'll never know. What we did know was that a 19-year-old Super GT rookie had taken GT300 by storm that weekend.
Just weeks later, Honda would reward him with a chance of a lifetime on the big stage: The premier class of Super GT, GT500.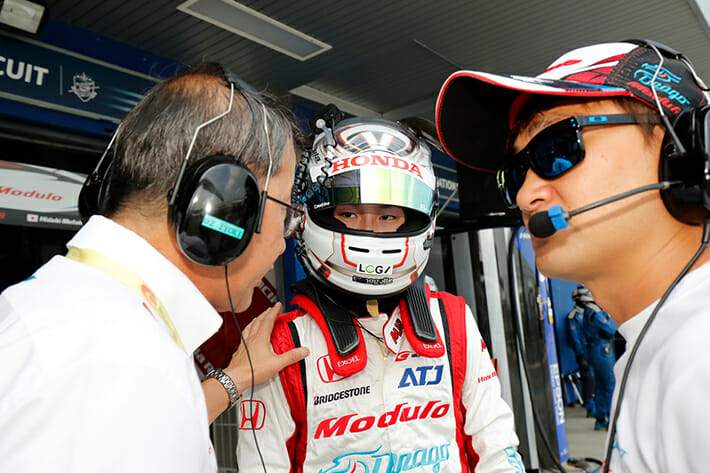 Honda were, at this point, having a wretched 2016 season in Super GT. As Nissan dominated the first half of the 2016 season by winning a record four consecutive races to open the campaign, Honda's NSX Concept-GTs were in a state of disarray. Introduced with the current GT500 engine formula in 2014, the NSX Concept-GT was originally built with a hybrid powertrain, the only GT500 car in the field. This made the car heavy and difficult to drive, literally outweighing the benefits of the extra power from the hybrid system. For 2016, the hybrid system was removed. It made the car lighter, but exposed the internal combustion engine's lack of power compared to Nissan and Toyota, and exposed the chassis' lack of rigidity and responsiveness.
The 2016 Suzuka 1000km should have been Honda's breakthrough race, as the #15 Modulo Drago NSX of Hideki Mutoh and Oliver Turvey qualified on pole position, only to retire during the race with an engine failure.
With Turvey set to pursue his commitments in the FIA Formula E Championship full-time in 2016-17, the final two races of the Super GT season clashed with the first two races of the upcoming Super GT season. It allowed Turvey to make a clean exit from the series, and for Honda to place Makino in a GT500 car for the final three races of the season, starting with the series' visit to Buriram, Thailand and the Chang International Circuit – a circuit Makino had never driven before. The manufacturer had little else to lose by giving one of their stars of the future a chance to drive in a top-level category.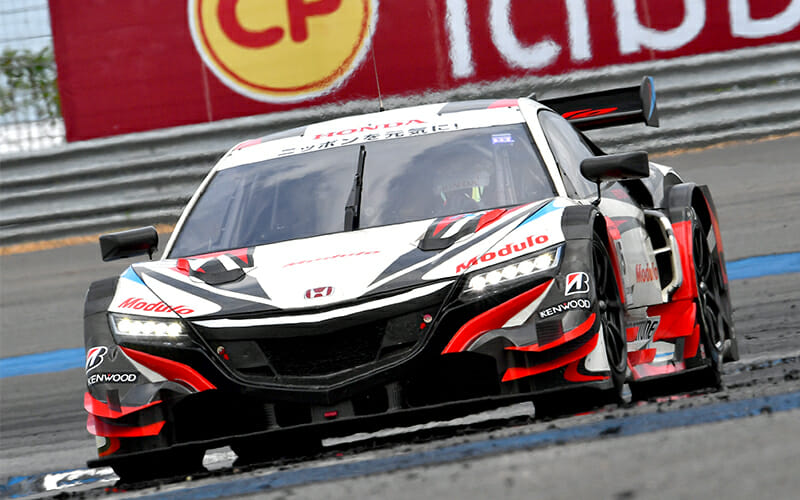 This was now the most powerful car Makino had yet driven. A 600-horsepower, turbocharged silhouette GT car, one that was much faster than the similar-looking cars of the Deutsche Tourenwagen Masters series, one that was much faster than an LMP2 prototype from the FIA World Endurance Championship. In fact, only three sports car prototypes on earth were faster than a GT500 car at the time: The Porsche 919 Hybrid, the Toyota TS050 Hybrid, and the Audi R18 E-tron Quattro. The three manufacturer LMP1 hybrids of the category's last golden age.
Saturday morning, in his first official practice session in the Modulo Drago NSX, Makino was fourth-fastest. Then, came the afternoon qualifying session. Only this time, Makino was appointed as the driver taking part in Q2. Meaning he was the driver tasked with putting the Drago NSX on pole position – as long as Mutoh, the 2008 IndyCar Series Rookie of the Year, could get into the top 8 in Q1. To his credit, Mutoh just got into the top 8 by a tenth of a second, giving Makino the chance in the final shootout for pole position.
On his final flying lap of the session, Makino got to within 0.033 seconds of pole winner Yuhi Sekiguchi and his Lexus RC F to qualify second on debut. In doing so, he outqualified, in the same session, the likes of Andrea Caldarelli (now a Lamborghini factory GT driver), J.P. Oliveira (the most successful GT500 driver without a series championship as of 2018), and Satoshi Motoyama (a three-time GT500 champion and four-time Super Formula champion, maybe one of the greatest Japanese racing drivers ever).
After he got out of the car and spoke to the press, Makino still seemed disappointed. As if he'd left something on the table in that final run. "I wasn't able to use the tires fully," said Makino.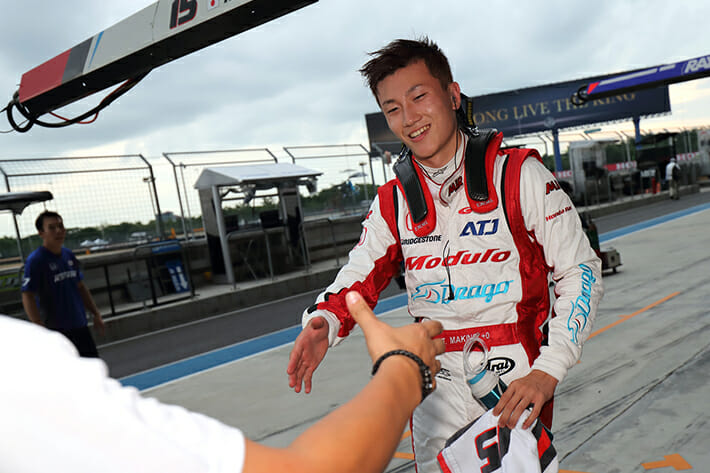 Just think about that for a second – if he could have gotten all the pace out of his set of Bridgestone tyres on his first lap, perhaps we're talking about Tadasuke Makino taking pole position in his first ever start in the premier class of Super GT, and by quite a staggering margin. Getting second place on debut was already a fantastic accomplishment for a teenage driver who, prior to that day, had never turned a wheel in a GT500 car in anger.
Then came the race on October 9, Sunday afternoon. The dominant car of the weekend was the #19 WedsSport Advan Lexus RC F of Yuhi Sekiguchi and Yuji Kunimoto. Sekiguchi, the ultra-aggressive charger who won pole position the day before, would start the race on pole position. Hideki Mutoh, the veteran of the two Drago NSX drivers, would start the race from second – giving Makino the finishing stint aboard the Drago NSX.
Sekiguchi bolted out of the gates in his 33-lap stint, but Mutoh still hung around in the top three before coming in on Lap 35, and pitting to change tyres, get fuel, and bring Makino in for his first GT500 race stint.
It is at this point that 19-year-old rookie Tadasuke Makino was about to jump into the deep end of one of the most competitive classes in all of top-level sports car racing, with a chance of victory on the line for himself, his teammate, his entire team of mechanics and engineers, and for Honda, who were in desperate need of a victory in 2016.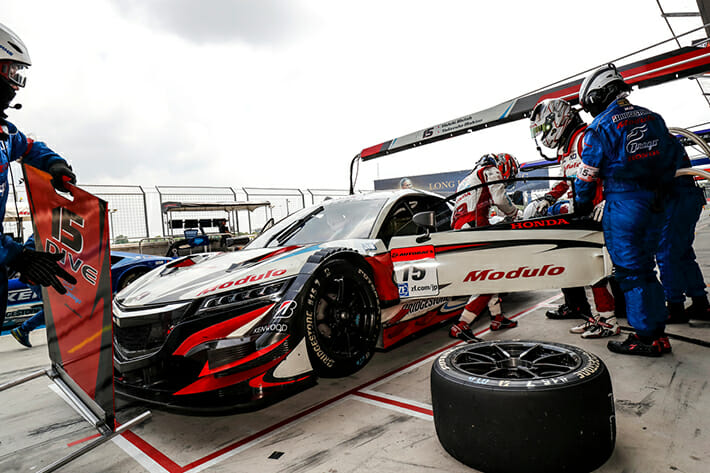 Makino took over in third place. The #12 Calsonic Impul Nissan GT-R was second ahead of him, but was summoned to the pit lane for a drive-through penalty for a pit work infraction. That meant that only the WedsSport RC F of Kunimoto was ahead of him on track.
And by this point, Kunimoto – who would clinch the Super Formula Drivers' Championship later in the month, giving him a chance to race for Toyota in the 24 Hours of Le Mans – was tasked to drive a conservative second stint. This was because Sekiguchi had blown a left rear tyre just a few hundred meters before the pit entry on his last lap of his stint, and with a first-ever GT500 class victory in sight for his team, director Masataka Bandoh didn't want to take a chance by having Kunimoto push too hard.
On the other hand, Makino was given the green light to push as hard as he could. He effortlessly carved his way through the slower GT300 traffic during his first 31 laps in a GT500 car, something that's difficult for any driver to do effectively if they're not used to multi-class racing – especially in a faster car, where a less composed driver will make mistakes in slower traffic. Remember, this is Makino's third year after graduating from karting.
And eventually, Makino kept gaining, and gaining, ever so slightly on the race leader Kunimoto, who was simply trying to be consistent and not push the car harder than necessary. The gap was ultimately too much to overcome in the end, but Makino did close it down to under 3 seconds and finished 2nd in his very first race aboard the #15 Modulo Drago NSX-GT.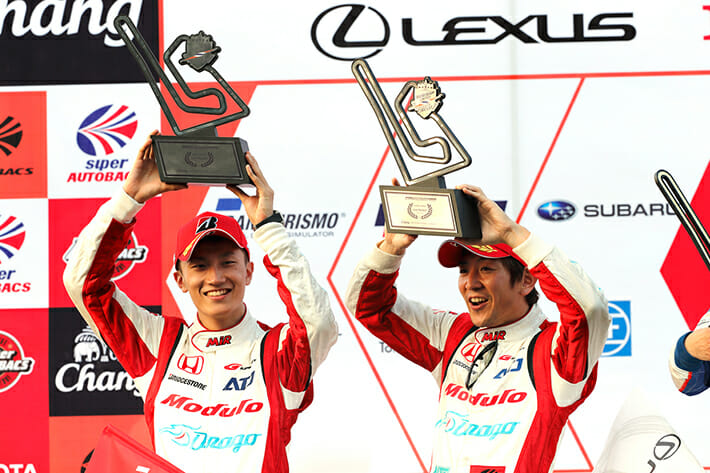 At 19 years, 3 months, 11 days old, Makino became the youngest-ever podium finisher in the history of Super GT's premier class. He never put a wheel wrong all weekend, and impressed the hell out of his team boss, Honda racing legend Ryo Michigami. On his first weekend as a GT500 driver, Makino was as quick as his veteran teammate Mutoh, who had years of high-level racing experience under his belt. He gave the winning team at Lexus Team WedsSport Bandoh a little something to think about before they could celebrate a popular and long-awaited victory of their own.
The 2016 story doesn't end well for Honda, who ultimately finished the season winless for the first time since 1997, with their five teams occupying the bottom five places in the GT500 Teams' Championship.
In the final race of the season at Twin Ring Motegi, the five Hondas locked out the five lowest positions after the chequered flag – a chequered flag that the Drago NSX of Mutoh and Makino didn't even get to see, thanks to a late mechanical failure. After the season, Ryo Michigami was to fold his Drago Corse teams' efforts, making it an even more bitter note to end the season on.
In spite of the on-track struggles, Makino's second-place finish on his GT500 debut resonated throughout the Honda motorsports division. They had two drivers already in Europe's ladder to Formula 1, Nobuharu Matsushita in Formula 2, and Nirei Fukuzumi in the GP3 Series. In the offseason, plans were in place to try and place Makino in the ladder as well. He'd overachieved with an under-powered team in the Japanese F3 Championship, and was now equipped with big-time racing experience in Super GT that put him squarely on the map as a must-follow star of the future.
Which is why it had been tough to watch the first year and a half of Tadasuke Makino's European adventures, which began in the European Formula 3 Championship with British-based Hitech GP.
Makino only had ten points to his name before breaking his wrist in the final race of the meeting at the Norisring in Germany, which would put him out of action for over a month. Then after his return, things started to click. If not for a post-race time penalty in the first of three races at the Nürburgring in September, he would have left the weekend with two fourth-place finishes. He then made up for that two weeks later in Spielberg, Austria, finishing on the podium with a third-place finish in the last race of the weekend.
It was only good enough to finish 15th in the standings as Lando Norris romped to the title over Joel Eriksson. From a performance standpoint, Honda wouldn't have been entirely unjustified in deciding to bring Makino back home to Japan, to drive in GT500 full-time, or to drive in Super Formula instead of pursuing a promotion to GP3 or another season in Formula 3. But it would have been disheartening to see the F1 dream end after one season in European F3, given that he'd already shown prowess on much larger stages against true professional drivers in Super GT.
What nobody expected was for Makino to test a Formula 2 car in Abu Dhabi in the winter for reigning Teams' Champions Russian Time, and for Makino to get a full-season drive with the team for 2018.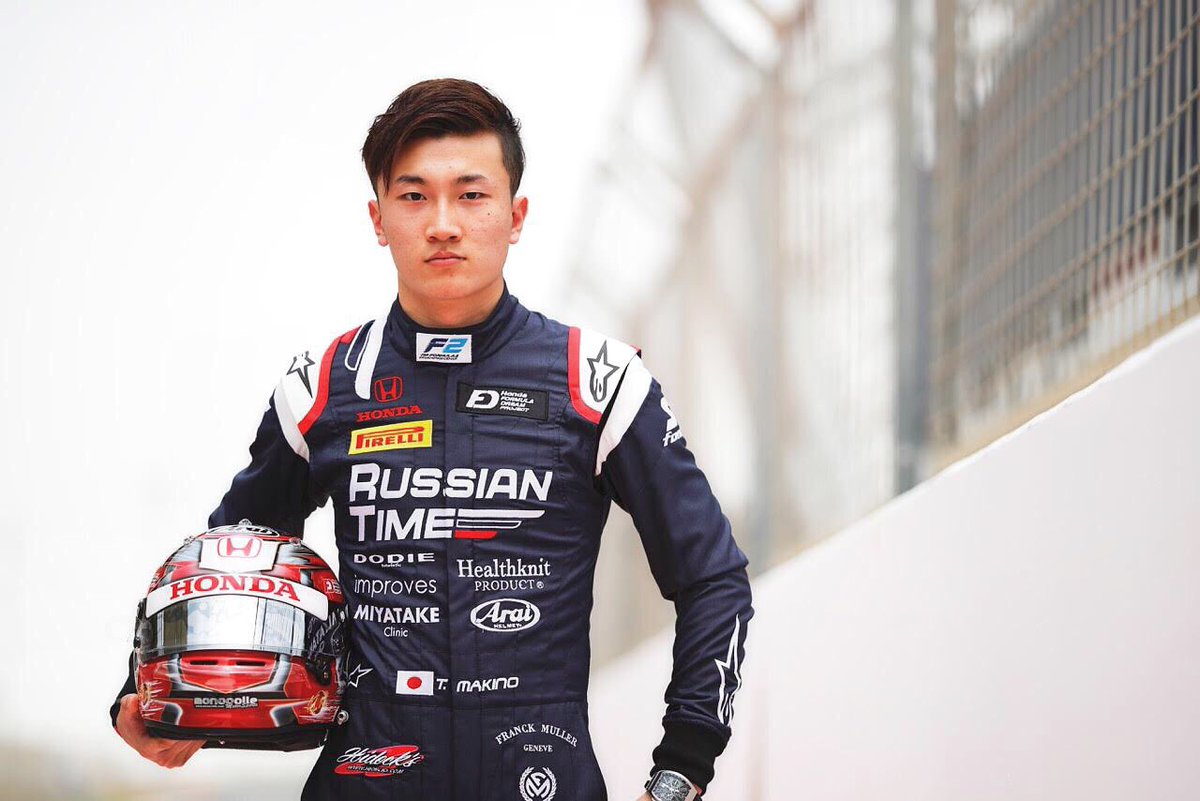 And once again, Tadasuke Makino struggled through the first nine meetings of an F2 campaign headlined by Norris and George Russell, the sudden rise of Alexander Albon from part-time plug to full-time title contender, an explosion of clutch issues with the new F2 2018 leading to a plethora of aborted starts, and whatever the hell Santino Ferrucci was doing at Silverstone.
Makino's season highlights, to this point, was finishes of 7th and 6th in the two races at Spielberg, winning reverse grid pole at Circuit Paul Ricard for the Sunday morning sprint race, and being the first successful test case for the unsightly-yet-effective Halo cockpit protection system, when Nirei Fukuzumi's car climbed over the top of his in a crash at the feature race in the Circuit de Catalunya-Barcelona.
What was different up to this point in the season was that, at least in qualifying, Makino was much better than advertised – including five top-10 qualifying results in the first six races. The speed was absolutely there, and reflected that Makino was actually getting better as he stepped up to more powerful cars than his Formula 3 cars of 2016-17.
When Makino qualified a pedestrian 14th on the grid at Monza, nobody factored him in for the victory in Saturday afternoon's feature race.
So him and his team took a gamble, to start the race on the hardest available compound of tyres while his rivals ahead of him started on the softest compound. Those soft tyres fell apart so suddenly, that Makino charged his way to the lead of the race – on merit – in just five laps. All he had to do was finish what he'd started so brilliantly.
Then, as he'd demonstrated so brilliantly in his first Super GT test, his first GT300 race that ended prematurely, and his close call with victory in his GT500 debut, Makino never put a wheel wrong all day. By the time he'd pitted, he had enough of a cushion over veteran teammate Artem Markelov to lead home Russian Time's 1-2 finish in the feature race at the fabled Autodromo Nazionale Monza.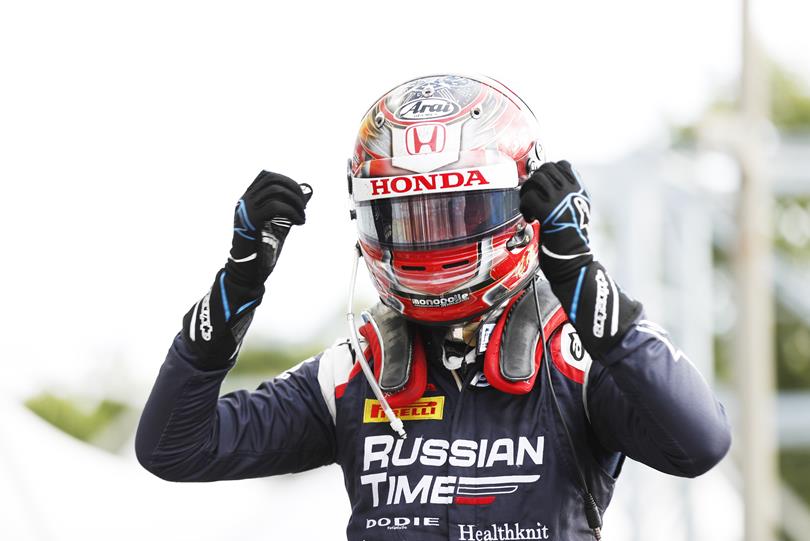 With the victory, Makino became the first Japanese driver to win a feature race in GP2 Series or FIA Formula 2 Championship competition. He doubled his season long points tally in just a single race.
Most importantly, he renewed Honda's faith in him as a young superstar driver of the future, and my own faith in him that I wrote about him when I nominated him as a finalist for Super GT's Rookie of the Year in 2016 after just a half-season:
"If he continues to ascend the ladder with the ability that he demonstrated in Super GT in the second half of 2016, Tadasuke Makino could finally become the breakthrough Grand Prix winner Japan has been waiting nearly half a century to see."
P.S.: It's pronounced, "tah-DAH-skay MAH-kee-NO". Thanks Alex and Davide.