Man, it's pretty crazy how suddenly the feeling shifts in a MotoGP team garage, isn't it?
Go back three rounds to Jerez, and things were bleak. The definition of Lemony Snicket's "Series of Unfortunate Events" as a rare Pedrosa/Lorenzo collision, ended with all three on the deck, and Marquez with a race in hand already.
Le Mans wasn't much better. Dovi was in prime position for another win, but tucked the front down the Dunlop Bridge and crashed. With Lorenzo running out of arm strength in the second half and falling to sixth, not only was Lorenzo one of the lowest scoring Ducati's, Dovi was now 49 points off the lead of the title. Oh, and Lorenzo rumours about his exit were now on fire.
But now, two rounds later, the dynamic has totally shifted. Jorge Lorenzo is back to his old ways, with back-to-back dominant weekends. A brilliant holeshot lights-to-flag win in Mugello, shocking everyone in the process given how poor his Ducati form mostly was to that point. And of course, this past weekend, Lorenzo coming back from a bad start on pole, to dominate Catalunya. It was like the man was back in blue again.
Oh, and he's going to the best team in the field next season. That helps.
It's hard not to admire what Lorenzo has done. He's never really complained about his struggles in red, he's gotten his head down and mostly got on with it. There were flashes of better form towards the end of last season. He led at Misano before a crash, in the wet too. He was 2nd at Sepang and was running 4th ahead of his teammate at Valencia before an untimely crash. Shrugged off controversy from the media regarding team orders too.
I don't care what anyone says to me, Jorge Lorenzo is needed right at the very top. He's the anti-meta that MotoGP needs. The Lex Luthor to Superman. He's not the spectacular rider that Marquez is, he's not the exuberant character that Valentino is, but he's a disciplined, strong rider who's the epitome of grinding, setting that metronomic pace. And he doesn't care who dislikes him for it.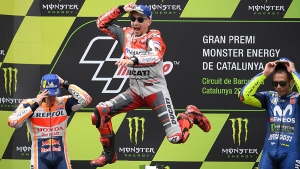 Catalunya was the proof many needed that 99 is back to something like his best. Many have put it down to the new fuel tank arrangement that Ducati sorted out for him in Italy after complaints about that age-old Ducati problem, turning in. Ever since he's been almost flawless.
If it was the fuel tank all along that's unlocked this improvement for Lorenzo, what took them so long to make this adjustment? I don't know if Jorge brought up this issue during last season but given the historic nature of Ducati and its GP bikes, I'm stunned that wasn't considered. Especially with a rider like Jorge, who's known for having such a smooth riding style.
The side of the garage with Andrea Dovizioso in it doesn't look so promising. I don't want to say it's a regression to the mean, but three DNF's in the last four races isn't pretty. Twenty points gained on Marquez with his crash in Mugello wiped out again with another tucked front. A race which was Dovi's first front row start of the season. Besides the brilliant Qatar victory, this is not the Dovi that gave Ducati hope. That beat Marquez on head-to-head, pushing the best rider of the last five years to the limit.
And now, after just a handful of rounds after Jerez, they both have the same number of points at 66, and Lorenzo is ahead of Dovi on countback. Both remain 49 points behind Marc Marquez. Both still aren't even top Ducati in the series with Danilo Petrucci's great consistency putting him just two off the independent lead of Zarco. This season might already be a right off, and I can't help but shake the feeling that Petrucci feels like a stopgap until Francesco Bagnaia is ready. And given how many team bosses have gushed over his talent, that may not take long.
It would be a little hilarious to me if Lorenzo turned it around for Ducati before bolting for Honda, but Dovi, the talisman of the team, needs to step up for the sake of their future. But man, what a difference just three races make.