…Still recovering? Yeah, me too. In terms of power rankings, silly seasons in Motorsport with piloting changes, MotoGP is pretty much always at the top. Having two world championships directly below, as well as World Superbikes on the outside looking in certainly helps.
In the space of about three hours, the status of the 2019 MotoGP got flipped upside down. I was bored at home on a day off from the full-time job, so I thought I'd try to break down my thoughts on the movers and shakers. It's a crazy one, trust me.
The End of an Era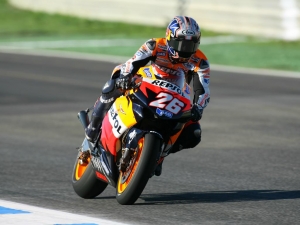 It all started around 11 am this morning, in a domino falling that may not have been surprising, but still was a shock. Dani Pedrosa, after a partnership of 18 years with Honda, from his 125cc days, is out at Repsol Honda.
As said, anyone who read between the lines could see this coming. New team manager Alberto Puig was never a fan of Dani's, and many in the GP paddock were suggested he wanted someone younger to partner Marc Marquez.
It's the end of an incredible partnership. Pedrosa leaves with three world titles in two different classes. 31 top flight victories, 112 podiums, 31 pole positions. A three-time top flight runner-up, and SEVEN times in the Top 3. He'd won a GP every year since 2002, 16 straight seasons. By any measure, a brilliant rider, the greatest to never win a top-flight title, and by all accounts, a class act. And I haven't even mentioned the countless injuries he's suffered. Or the fact he's been so great when he's a 5'2, seven stone man throwing around a 260 horsepower, 220mph prototype bike. If this IS the end, he can hold his head high, he moonwalks into the hall of fame.
This feels like the end of an era. And it should. But WAIT A MINUTE…
Jorge Lorenzo?!
Safe to say, Jorge's had an interesting week. He wins for Ducati on his 24th attempt, becomes only the 7th man to ever win for a 2nd manufacturer in the top flight… and signs for Honda. Just as the form book suggested.
If you had told me three years ago, or even 18 months ago, that Marc Marquez and Jorge Lorenzo would be teammates, I'd have probably guessed you were high. This is a bonkers one, by any measure.
Jorge has struggled in red. That much is clear. His riding style is ultra-smooth, taking massive amounts of corner and apex speed. He's not been able to do that in a brutal Ducati. It's physically difficult to get the bike to turn, even in its excellent GP17/18 forms. It's a bad fit for someone like Jorge… and he's just signed a 2-year deal with Honda.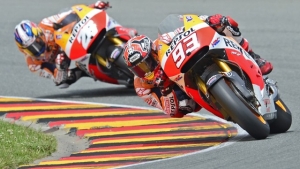 Honda, is a polar opposite to Yamaha, even more so than Ducati. It's extremely aggressive, especially on corner exit. Only two men in recent times have really gotten the maximum out of its incredible potential. And they were Casey Stoner and Marc Marquez. The two riders of the last decade with the most unique and freakish riding styles. If Jorge thinks he's having a hard time in red, the black and orange could be a nightmare.
He got out of a Yamaha team still heavily infatuated with Valentino. Joined a Ducati team that cracked the code with Andrea Dovizioso, and in the last 18 months, other riders have established themselves as top-tier riders, and more juniors have impressed. Johann Zarco, Cal Crutchlow, Danilo Petrucci, Jack Miller, Joan Mir, and Francisco Bagnaia to name a few. And with silly season deals being sorted earlier, and factories insisting on being done by June, Jorge was almost boxed in.
This may have been his last option. And on paper, it's an even greater challenge. Only three men in GP history have ever won on three different manufacturers in the top flight. And Marc Marquez, the best rider of this era, is on the other side of the wall. Deja Vu? I strongly suspect that not only was this financially motivated over the perceived "challenge", it could do more harm than good with their polar opposite riding styles.
Still, this is one of the most stacked teams ever. 11, maybe 12 world titles by the time we get to 2019, and over 125 GP wins. And two guys with history. Mouth-watering.
The Rise of Petrux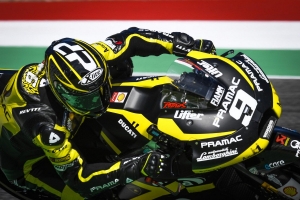 The next domino, was Motorsport.com reporting that Danilo Petrucci will be bumped up from Pramac's customer team. Ducati had an option for this that expired at the end of the month, and it's been exercised. Now from a personal standpoint, I think you have a heart of stone if you can't be happy for one of bike racing's true grafters. A former World Superstock 1000 runner-up, and who had suffered three years with the Ioda team right at the bottom of MotoGP's CRT era.
He went to Pramac and has been one of GP's greatest midfield surprises since. From the famous 2nd at Silverstone in the pouring rain to the several podiums more recently. He's a great character and is still only 27. I fear he could be a stop-gap for an elite youth product like Pecco Bagnaia, or even Jack Miller, but it's still a nice feel-good story about a former mini-cross guy come good.
Iannone out at Suzuki
It's a sadder tale for Andrea Iannone. Going back to 2016, I still feel he was unlucky to lose his Ducati seat out. He had an unfortunate crash with Dovi at Argentina, and his contract extension was taken off the table. Combine with that Jorge Lorenzo suddenly becoming available… The Maniac became collateral.
I thought him spearheading Suzuki would be a great chance to remind people of his talent. Let's not forget, he had his first top-flight win that season. But a string of poor performances, and reported strained relationships with the team, and some PR silliness burnt his bridge quickly. Alex Rins great upturn of form towards the end of last season sealed the deal. It looks like he's heading to Aprilia, a real downturn given their knack of unreliability. They're one of the weakest teams in the sport now, pound-for-pound. A real shame when you consider his talent, but this sport can be unforgiving with riders they can't trust. And Andrea, now probably falls into that category.
So what now?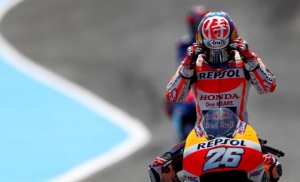 Well, the biggest piece floating around now is what happens with Dani Pedrosa. Will the mysterious Satellite Yamaha package come through, funded by Sepang's International Circuit? If not, will it be retirement? He'll have an announcement on his future at Catalunya next weekend so I don't think we'll have to wait long.
Hafizh Syahrin was confirmed at Tech 3 this morning. Andrea Iannone is likely heading to Aprillia. Joan Mir is all but confirmed at Suzuki, giving them one of the youngest teams in GP history. Taka isn't confirmed at LCR yet, but probably will, as will Tito Rabat at Avintia. Oh, and Alex Marquez is finally heading to the big boys it seems, alongside Franco Morbidelli, who signed a two-year deal.
The only team with next to no news regarding 2019 now left, is Aspar's Angel Nieto team, with Alvaro Bautista and Karel Abraham's futures up in the air. Bradley Smith looks like he's done, maybe even with bike racing altogether. Unfortunate as he's just gotten back to 100% with his broken leg he suffered a year and a half ago.
So, that pretty much covers silly season in MotoGP for 2018. A lot of crazy shit, a lot of questionable power plays, and we're technically still far from done. Good times. Now, I wonder where Daniel Ricciardo will end up…