It's just turned midnight on May 22nd, 2018. About 16 hours ago, I did one of my impromptu Q+A's on Twitter, and a repeated theme that came up was the fallout of MotoGP's French GP. Arguably, the 2nd race in a row that Marc Marquez shouldn't have won.
Le Mans is a stop-start sort of track, for lack of a technical term. It's never suited the Honda in recent years. Before Sunday, seven out of the last ten races there had led to Yamaha victories. The Honda's of recent years have been struggling on corner exit and the acceleration of the bike. Le Mans has a lot of heavy breaking, and slow chicanes, and technical corners. Not a good fit. Marc won by 2.3 seconds and even had the beautiful "Brucie Bonus" of three of his direct rivals – Andrea Dovizioso, Johann Zarco and Andrea Iannone, all eating gravel.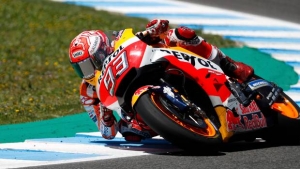 Time heals all wounds. Just six weeks ago, we were eviscerating this man for losing his mind in Argentina, a brief return to his more reckless days. He's been practically flawless since. A comfortable cruise in America. Breaking the pack in Jerez as Ducati called for an impromptu game of skittles, and now a silly mistake at Le Mans.
The damage report from this hat-trick? A 36-point lead. Despite the fact that he scored a goose-egg in Argentina. He could have had two races in hand already. For those saying the season might already be done… you may be right.
Let's weigh up the other aliens here. Andrea Dovizioso? Made another mistake at a critical time, as well as the bad luck of Jerez. Valentino Rossi is still an excellent racer, with brilliant craft and temperament, but his lack of ultimate pace in an era where 10 guys can pull out big lap times, is really hurting any chance of title #10. Him having an uncompetitive package doesn't exactly help.
Maverick Vinales was meant to take the fight to Marquez. It just hasn't happened. He clearly has more upside than Vale on a good day, but his floor is a lot lower when things aren't going his way. If he's mentioning to the media that he was "trying to crash" out of sheer frustration in the second half of his 7th place finish in Le Mans, things aren't rosy. As of yesterday, it's been an entire calendar year since MV's last victory. Yamaha itself has gone 0-15 since Assen 2017.
Johann Zarco has been making a mockery of the factory team for a while now. On 2016's chassis no less. He's been a brilliant qualifier – nine straight front row starts, but if we're putting him in the conversation with the "aliens", him not winning is never going to take him over the top. Especially with Tech3's limited resources. And let's not get started on Jorge Lorenzo and a Ducati that fundamentally goes against the riding style that made him so brilliant.
Marquez is quickly becoming the ultimate rider. Casey Stoner's ultimate one-lap speed. Jorge's metronomic consistency. He had another superhuman save at Turn 3, propping the bike up on his elbow as the front tucked. He can ride 0.2 of a second over the limit due to his otherworldly ability to save crashes no-one else can. And on inferior machinery. He can make ludicrous passes because he can lean deeper than anyone else. It's terrifying. And it feels like he's already got 2018 in the bag.
But hey, maybe World Superbikes can provide us with some ample relief fr- Ah shit, Jonathan Rea's at it again.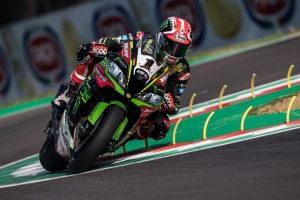 This year was meant to be different. Dorna had gone out of its way to bring in rev limits and concessions to nerf the Kawasaki. Deep down though, we all knew this was the "Jonathan Rea" rule due to his dominance over Tom Sykes. And everyone else for that matter. Signs were positive, but not in the ways we expected earlier on. Marco Melandri took a surprise double for Ducati to open the season at Philip Island. Rea struggled in Thailand, and after two rounds, Ducati's were 2nd, 3rd and 4th in the Championship, all breathing down Rea's neck. With the breakout season of Xavi Fores, all of a sudden, Ducati had seemed to become the dominant manufacturer.
We've had six races since. Rea's not finished lower than 2nd in any of them. I'm not even putting this down to Kawasaki getting 250 revs back after Aragon, but Imola seemed to be the tipping point.
Imola had seen Chaz Davies win the last four races there. It had become one of his banker tracks. But after sloppy starts and some minor insubordination from Michael Ruben Rinaldi, Jonathan Rea laid out a #BEATEMDOWN to take both races, at a canter.
And with Sykes, Davies, van der Mark and Fores beating each other up for Top 5 honours, just like that, Rea has a 47-point lead after ten races. A fundamentally changed bike after the Brno test, seemingly doing wonders. Kawasaki said they would embrace their "inner ninja's" and find a way to win, and they're doing just that.
Rea might be too good, and I suspect they'll be more crippling rev limit measures after Donington this weekend, but I don't think it'll matter. Donington is another Kawasaki round, and Rea looked set for at least 45 points there last season if it weren't for his rear tyre literally falling off at the Craner Curves. Looking at trends, I don't think Chaz, Rea's #1 "threat" since his Kawasaki switch, has another Aragon-esque strong circuit left.
So… anyone still feeling optimistic about this year's two major Championships?
Yeah, I get it. It's hard to be enthralled when the two guys at the top of their game look so much better! But, dig a little deeper, and not all hope is lost!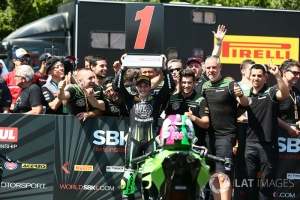 In MotoGP, the battle for 2nd is really close, with 13 points separating 2nd placed Maverick Vinales to 9th placed Dovi. Moto2 has a surprisingly decent top flight rise after being gutted again last season. Francisco Bagnaia is the current favourite, but Alex Marquez, Miguel Oliveira, Lorenzo Baldassarri and Xavi Vierge are close behind.
In Moto3, Jorge Martin, Aron Canet and Enea Bastianini aren't having it all their own way. Due to Canet's bowling ball impression at Jerez, and Jorge Martin having a woeful European tour to date, Marco Bezzecchi sits at the top. Fabio Di Giannantonio is coming of age in the class. Canet and Martin have work to do, and there's a good half-dozen riders who are just one big result away from being title contenders.
In the World Superbike paddock, the Supersport class is in a brilliant state, even post-Kenan Sofogolu's retirement. There's a legitimate brilliant group of six forming with veteran Jules Cluzel, Moto2 import Randy Krummenacher, reigning champion Lucas Mahias, plucky upstart Federico Cariscuslo and the sole MV Agusta of Rafielle de Rosa. Six world-class riders, 12 points covering the Top 5, and some brilliant performances all around.
And we have to talk about Supersport 300, which is becoming every bit as crazy as Moto3 is on the GP ladder. And a solid name from that championship now leads it, as Ana Carrasco laid out a hammering at Imola. Winning an 11-lap race by nearly 14 seconds, and qualifying on pole by nearly a second was crazy. Oh, and she leads the Championship now, the first time ever a woman has done so in a World Championship. Dig out the final lap of Assen again if you want to see bike racing at its most carnage.
So, like many things in life, if you're willing to scratch just below the surface, there's plenty to look forward to. I'm not one of those guys who insist on a title fight being the absolutely most important part of a championship. And for me, the bigger picture is still something that's worth hanging onto.