"Points mean prizes."
Hey folks, Dre here again. (That's seriously becoming my catchphrase on here isn't it?), and while we start the countdown for the 2015 Formula 1 Season, something came up a couple of days ago that got a lot of people talking, and that was an FIA announcement that revealed planned changes to the way that the FIA are going to be handing out super-licenses, which allow drivers to take part in Formula 1, from 2016.
While the FIA would never straight up admit it, I suspect that this is a respect to what me and Motorsport 101 co-host Ryan King would call "The Verstappen Law", as with Max Verstappen debuting in Formula 1 next year at the tender age of 17, I suspect this new system is a response to make sure this kind of decision never happens again. Can't say I blame them to be honest, the idea of a 17 year old in F1 just doesn't sit right with me. But that's a whole different debate for a separate blog.
So, we already knew that you now have to be over the age of 18 to be eligible, and in addition, you now have to have done a minimum of two years in any form of single-seat open wheel racing too. In addition, you have to have earned 40 "points" over a 3 year period in order to qualify for a license. So, how are these points distributed? See here, thanks to Autosport: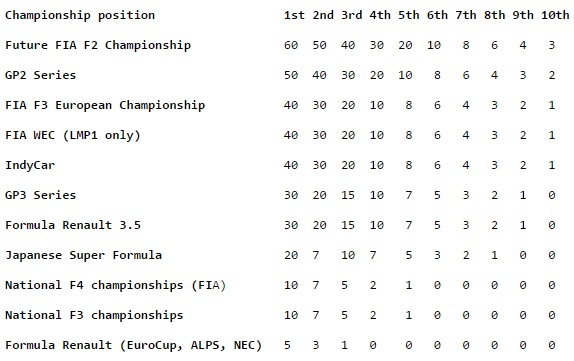 Finished staring at it? I know, it's a lot to take in, and a lot of people have already had their say on it, so let me break it down via some bite-sized chunks that ought to help, addressing key points that I think are worth noting, as well as addressing some large scale complaints that I've seen others make.
"Future FIA Formula 2 Championship?" – This is probably the biggest problem with this new system. At this point in time, we have no idea about the structure, rules, format, or…well just about anything regarding the FIA's new official feeder series. Well, besides its very mediocre sounding name.
And obviously, its extremely important given that it carries a maximum 60 points and for many drivers coming into a new system like that, it would be an automatic super-license earner just for making the Top 3. And I think a lot of whether this structure works or not will come down to how F2 works. Not exactly what you call "organized" for now at least.
For me personally, if it can be a series where test drivers like a Jean-Eric Vergne or former drivers like a Buemi, or an Alguersuari can sharpen their teeth and stay in or around the scene, then I think a series like this has a lot of potential. A entire league of younger drivers causes extra problems, including thinning out their own other series.
"Indycar's only worth 40?" – This is my other gripe with the scoring system. IndyCar's can hit 245mph, and in terms of quality is clearly the closest thing we have to Formula 1 itself at the moment, so why the heck is it only worth 40? It wasn't that long ago that Nigel Mansell was doing double duty in that league, or Juan Pablo Montoya making the jump. For me, IndyCar should be right at the top of the list and worth 60, instead of only the Championship winner earning enough to get in straight away.
"Where's Formula E?" – Got to remember, Formula E isn't even recognized as an official World Championship yet, and I'm not sure it should given points given the fact it's still an up and coming new Formula. Especially when the league itself has 14 drivers who have already taken part in Formula 1 at some point. For now, a good move. Let the league establish itself first, then give it the credit it deserves. And yes, I know it feels weird saying this when the top scoring league doesn't exist yet, but I don't think F2 should be there yet either, so meh.
[fusion_builder_container hundred_percent="yes" overflow="visible"][fusion_builder_row][fusion_builder_column type="1_1″ background_position="left top" background_color="" border_size="" border_color="" border_style="solid" spacing="yes" background_image="" background_repeat="no-repeat" padding="" margin_top="0px" margin_bottom="0px" class="" id="" animation_type="" animation_speed="0.3″ animation_direction="left" hide_on_mobile="no" center_content="no" min_height="none"][fusion_imageframe lightbox="no" style="bottomshadow" bordercolor="" bordersize="0px" stylecolor="
" align="left" animation_type="fade" animation_direction="right" animation_speed="1″]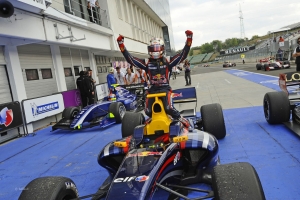 [/fusion_imageframe]"Why isn't Formula Renualt 3.5 scoring more? *insert driver name here* had success there!" – People. Listen and listen good. What are these drivers trying to enter? That's right, the FIA Formula One World Championship. Formula Renault is a rival feeder series. Why should the FIA give equal credit to a series it has nothing to do with?
I get it, it sucks from a competitive standpoint, but the FIA is a business, just like in any sport. We should be grateful that the FIA even gave FR3.5 a decent 30-point maximum total, because if the FIA really did want to drive competition away from the series, they could have easily not included it at all. Imagine the uproar then.
I understand that it might be a more viable path into F1 now due to the logjam and Champion removing nature of GP2, but like I said, the FIA owns the F1 Championship, and it makes sense to enhance their own divisions. If anything, it weakens the overall pot if you keep giving more and more outside series more points, which leads me to my next point…
"For this to work, you can't make the system top-heavy". Not really a positive or negative either way, just an observation, and that I'm glad the amount of super-high, 40+ options are small. Like I said in my last paragraph, you weaken the pot by giving away too many points, or by having too low a threshold to get in, everyone's going to be rocking licenses, and essentially, you'll have something that is similar to what we have now, a system where pay drivers can get in quicker, we all shake our heads when F1 teams take on pay-drivers, and then we all bitch about it on Twitter while continuing to make Pastor Maldonado memes.
And no-one wants that, do we? This system needs to be monitored and kept an eye on, for that very reason. And right now, at the moment, I think it looks good.
---
[fusion_imageframe lightbox="no" style="bottomshadow" bordercolor="" bordersize="0px" stylecolor="
" align="left" animation_type="fade" animation_direction="right" animation_speed="1″]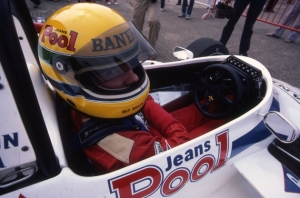 [/fusion_imageframe]The biggest issue that people seem to have with this system, is that it seems to be harder to get in, and they've often used modern-day or past examples to try and justify that. Martin Brundle, Will Buxton, I'm looking at you. Saying things like: "Five current drivers wouldn't be here now with this system", or "Michael Schumacher and Ayrton Senna wouldn't have it made it if it were like this!"
Bullshit. They would have made it no problem. And I'll tell you why, because they're Michael Schumacher, Ayrton Senna and Kimi Raikkonen. They're FREAKS, and some of the best drivers the sport has ever seen. Raikkonen had just 21 races before entering F1. Schumacher jumping in from Sports Car racing. Senna won the British F3 title, which was the best of its kind in Europe. You honestly don't think eventually, they would have made it? The sport is not the same as it was in 1985, 95, or 2005. The cream always rises to the top. The only difference here, is that it would have taken them just a little bit longer.
And as I've said, this system rewards merit, over money. You now actually have to be pretty darn good to earn a license, as well as have some experience under your belt. You may pay for your GP2/3 seat, but to get into F1 now, you need to actually be a title contender for some time, or win a solid single-seat series. Isn't that what we always wanted? Because I saw the backlash on Marcus Ericcson's signings with Sauber and Caterham, and believe me, there wasn't many positives being dished out.
Overall, I like the direction of the FIA on this one, and I suspect what many people are doing, is ignoring the three steps forward, and focusing on the one step back. With a little bit of refinement, we could be seeing a higher standard of driving in Formula 1 in just a few short years, and a system where money, may not be the be all and end all any more. And for that, I'm grateful and cautiously optimistic.[/fusion_builder_column][/fusion_builder_row][/fusion_builder_container]