"Why can't we just have a little fun?"
Remember when all the NFL media got pissed off with Marshawn Lynch because he essentially trolled them with the now famous line of: "I'm just here so I don't get fined"? We could be getting Round 2 of that right here in the IndyCar series.
I was really hoping my first fully fledged Indycar column would be over something really awesome. For those unaware, this 2015 season has been my first season watching IndyCar full-time, I've watched every round, and for the most part, I've thoroughly enjoyed it. Yeah, the season got off to a bumpy start, St. Petersburg had nowhere to pass and broken endplates everywhere, Long Beach was boring, and New Orleans was a destruction derby.
But once things got settled down, and we got over the whole 'Chevy aero package' problem that nearly ruined the Indy 500, the season has provided some fantastic action, with Alabama and Toronto creating a new star in Josef Newgarden, changing condition drama in both Detroit races, and one of the races of the century in Fontana, where y'know, 5-wide at 210mph was actually a thing.
[fusion_builder_container hundred_percent="yes" overflow="visible"][fusion_builder_row][fusion_builder_column type="1_1″ background_position="left top" background_color="" border_size="" border_color="" border_style="solid" spacing="yes" background_image="" background_repeat="no-repeat" padding="" margin_top="0px" margin_bottom="0px" class="" id="" animation_type="" animation_speed="0.3″ animation_direction="left" hide_on_mobile="no" center_content="no" min_height="none"][fusion_imageframe lightbox="no" style="bottomshadow" bordercolor="" bordersize="0px" stylecolor="
" align="left" animation_type="fade" animation_direction="right" animation_speed="1″]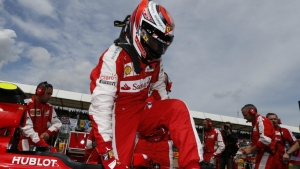 [/fusion_imageframe]But equally important to me as to why I've loved IndyCar so much in my first season watching, is its sense of fun, and its characters. IndyCar drivers on the whole, are pretty awesome.
I come from a background of Formula 1, and let's be real here, for F1, and for MotoGP, the drivers and riders in these series are often held back from truly being themselves, and the reason for that, is that their PR departments and their sponsors don't want their necks too sweaty. If a driver shows too much character and starts saying what they really mean, the PR bigwigs will bark down their necks to pipe down because they don't want any trouble, and that's boring, and it sucks balls.
In Formula 1, two of the most popular drivers are Kimi Raikkonen and Daniel Ricciardo. The former has an enormous following for being a no-nonsense, but really boring stereotypical Fin who's deadpan to the core and is basically, a bit of a dick. While Daniel Ricciardo smiles a lot and listens to Arcade Fire. Think about that – Smiling a lot gets you a cult following in Formula 1. That's how low the bar is here.
[fusion_imageframe lightbox="no" style="bottomshadow" bordercolor="" bordersize="0px" stylecolor="
" align="left" animation_type="fade" animation_direction="right" animation_speed="1″]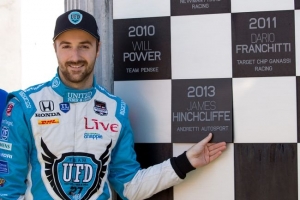 [/fusion_imageframe]IndyCar has CHARACTERS in abundance. Will Power's double bird salute is still iconic in the world of Motorsport memes. Helio Castroneves is basically the Brazilian "Fonz" of the four-wheeled world. Josef Newgarden has fangirls for days as the sport's new pretty boy. Juan-Pablo Montoya is STILL Juan Pablo-Montoya. James Hinchcliffe has got more charisma than 99% of athletes in sports, period. His bromance with Marco Andretti and Conor Daly on social media has to be seen to be believed. And hell, he calls himself "The Mayor of Hinchtown", what's not to love? When I can love IndyCar for more than just its on-track action, you're onto a winner.
Which makes today's decision from the series to effectively ban on-track criticisms, a mind-boggling decision. This all started after last weekend's thriller in Iowa, where Ed Carpenter wasn't impressed with 20-year old rookie Sage Karam, nearly running him into the wall during the latter stages of the race. Carpenter was LIVID after the race, hunting down Karam and nearly exchanging fisticuffs saying: "I wasn't impressed with your 'f***ing driving, man."
Now whether Ed was right to show these young'uns "what's what", is a debate for another column, but what I'm not happy about, is IndyCar's decision to limit these kind of incidents happening in future:
"Competitors must be respectful, professional, fair and courteous to others. At all times, Competitors must not, attempt to, or engage in conduct or statements that in the judgment of INDYCAR:
a) Threatens or denigrates any Official, fellow Competitor or the INDYCAR brand;
b) Calls into question the integrity or legitimacy of the Rules or their application, construction or interpretation;
c) Denigrates the IndyCar Series racing schedule or Event(s);
d) Threatens or denigrates any INDYCAR business relationship, including those with sponsors or broadcasters;
e) Otherwise threatens the integrity, reputation or public confidence of the sport, INDYCAR, or IndyCar Series."
[fusion_imageframe lightbox="no" style="bottomshadow" bordercolor="" bordersize="0px" stylecolor="
" align="left" animation_type="fade" animation_direction="right" animation_speed="1″]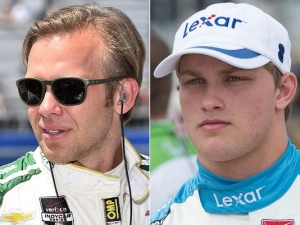 [/fusion_imageframe]So basically, you can no longer criticise the sport in public. This was basically the straw that broke the camel's back, after Fontana of last month, where many a driver questioned whether the sport was returning to the days of "pack racing" after two massive accidents involving Takuma Sato, Will Power, Ryan Briscoe, and Ryan Hunter-Reay.
Now, Will Power took it too far when he shoved a member of the safety crew and was rightly fined $25,000 for it, but nuzzling the drivers isn't going to solve anything. Not to mention, the media's going to be limited too, now knowing that drivers have to be less open and they can't criticize the series in public anymore, so the quality of the broadcasting suffers too.
And there's one other huge problem, and that's how the company handles itself. The series actively promotes the hashtag, "IndyRivals", and often plays up the rivalry of drivers in the series as part of its marketing efforts. Surely, you'd think that a primetime bust-up between a young star in Sage Karam, and an experienced team owner and driver like Ed Carpenter would be exactly what the series would want, right? Nobody likes a squeaky clean goodie-two shoes.
[fusion_imageframe lightbox="no" style="bottomshadow" bordercolor="" bordersize="0px" stylecolor="
" align="left" animation_type="fade" animation_direction="right" animation_speed="1″]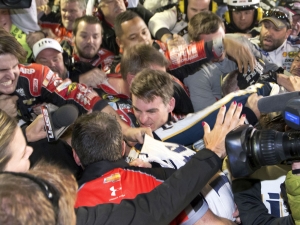 [/fusion_imageframe]Don't even try to deny it, we all love seeing a good scrap once in a while. NASCAR thrives off of shit like that. Seeing Brad Keselowski punched in the face earlier in the year got mainstream attention, something NASCAR never gets nowadays. I grew up watching basketball, and the "Malice in the Palace" with Ron Artest scrapping with fans, and Fred Jones getting his ass kicked was the craziest and most awesome thing ever. And whether we pretend to be outraged or not, bottom line is, its entertaining, and it provides great marketing. Sport is a soap opera, the ratings go up, and we're more excited for the next showdown… what's the downside here?
IndyCar having to play "Kumbaya" while we all hold hands in a circle and have everyone express their deep and meaningful friendship like Teah out of Yu-Gi-Oh may be great PR for the series and Mark Miles, but let's be real here, that shit is boring. And yes, while I agree, some drivers can go too far with this and put their feet (or fists) in their moves, you can't market your series out of rivalry and tension, then nip it in the bud the moment Sage Karam's nuts decide to drop at the sight of a pissed off Ed Carpenter getting in his grill. If anything, you're missing out on a golden marketing opportunity to promote one of the best rising race stars in America today, and at the same time, promote a season quickly reaching its finale, with Montoya coming under increasing pressure from Graham Rahal, the one-man team who's been on a tear since Alabama, and in a season that's had NINE different winners in its 14 races so far.
Motorsport in general is an industry that screams "Vanilla" and group hugs, because drivers don't want to upset the applecart in fear of losing their sponsors and making their PR managers cry, especially in 2015, where the Internet's made everything that little more "soft", with communities racing to be the first to be outraged at something. And as a new IndyCar fan, one of the biggest pull factors to me was that drivers could actually be themselves. This change worries me, because if 'Murica's biggest single-seat series can't break this cycle, who the heck will? Because I have to hear one more Kimi Raikkonen "Vodka" joke, I'm going to lose my mind.[/fusion_builder_column][/fusion_builder_row][/fusion_builder_container]