Motor racing isn't a fair sport. If it were, Radio Le Mans lead commentator John Hindhaugh wouldn't have had the names of USAC champion Bryan Clauson and MotoGP World Champion Nicky Hayden on the traditional pre-race "Roll of Honour" for their broadcast of the 2017 24 Hours of Le Mans – their annual reflection on the lives of those who had passed away since the last running of the race, in the case of Clauson and Hayden, both lost their lives while they were still far too young and had so much more left to give.
Comparing matters of life and death in sport, to sporting events that didn't go the way of our favourite teams and drivers, is well beyond crass of course. But in the case of the latter, especially when caught up in the heat of disappointment and dismay and the simultaneous attempts to put on a brave and courteous face under the circumstances – sometimes we just let it slip, and we think as the "wrong driver" enjoys success while our favorites writhe in defeat, that this sport just isn't fair.
It happens sometimes. I'm guilty of it. I think I feel for everybody that felt the same way after the 85th running of the fabled Grand Prix of Endurance a couple of weeks ago, just because Toyota Gazoo Racing didn't win the race.
This is not to diminish what the winning Porsche Team of Timo Bernhard, Brendon Hartley, and Earl Bamber did. Recovering from a mechanical issue that resulted in an hour (19 laps) of time and distance lost was remarkable under any circumstance in any era of this race. That's incredible. So is the fact that the Chinese-entered Jackie Chan DC Racing team got their two LMP2 class cars on the overall race podium – and that one of them was, for a glimmer of time, the odds-on favourite to win the race outright, which would have been the first underclass overall victory in twenty-two years. So was the amazing final-laps battle for the GTE Pro class victory, a class where the top five places saw all five manufacturers in the category represented after the imbalanced kerfuffle of last June.
Still…I can understand the feeling of melancholy that descended upon Le Mans by 1:30 AM local time, by which point two Toyota TS050 Hybrids had suffered terminal issues, and one more was knocked so far out of contention that victory after repairs that they simply couldn't have won the race.
Last year's heartbreaking loss for the crew of Kazuki Nakajima, Sébastien Buemi, and Anthony Davidson put Toyota's 32-year struggle to win Le Mans right into the mainstream racing spotlight. So many times they've come close, so many times they should have won it, so many times they've come up an hour short or less.
Whether it was the gearbox breaking right under Jeff Krosnoff's seat in 1994, and the frantic scenes of the late American driver physically putting it back in place with his bare hands. Or if it was the left rear tyre coming apart on the GT-One of Ukyo Katayama in 1999 in the final hour of the race at the treacherous run to Indianapolis corner. Or when Toyota came back, Davidson's career-threatening accident in 2012, or a loom wiring fire in 2014 as Nakajima led the race overnight.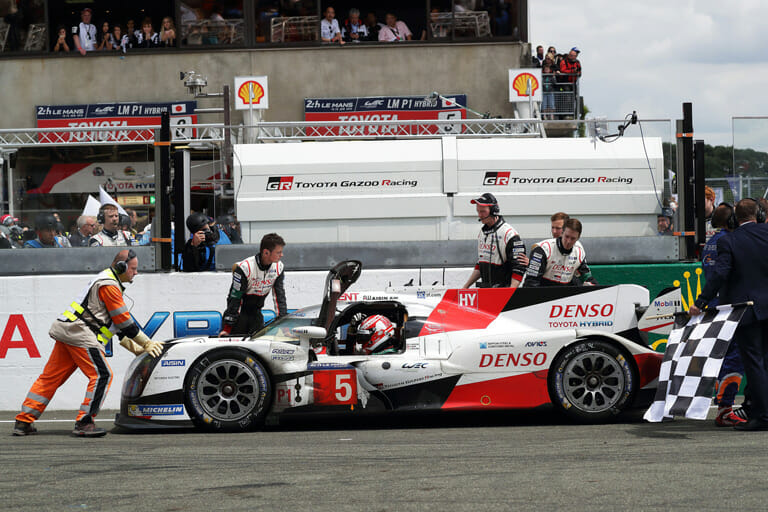 Or just last year, with three minutes and a lap to go, when Nakajima made the fateful radio call that's forever burned into the minds of many Toyota racing supporters – "I have no power" – just before the car came to an agonizing halt at the start/finish line on their final lap.
It just seemed like it would be fair for them to finally win it this year. The narratives favoured a long-awaited Toyota victory. So too did the numbers.
On paper, Toyota's three-car fleet were enormous favourites. They accounted for half of the depleted LMP1 field in the first post-Audi Le Mans of the century, an LMP1 field with no viable privateer platform until at least next year. The TS050 hybrids won the first two rounds of the 2017 World Endurance Championship, at Silverstone and Spa-Francorchamps, with a decided edge over their rivals from Porsche. One of them obliterated the all-time lap record at the Circuit de la Sarthe in time trials, breaking an average lap speed record that was set before the installation of the Mulsanne Chicanes to break up what was a 6 kilometer, uninterrupted, flat-out run through the forest.
Then you get to the driver lineups. Davidson and Buemi won the World Endurance Drivers' Championship at a canter in 2014. Buemi on his own will likely win a second Formula E title without winning a race. Nakajima has already won in three different series this year. Mike Conway was Indycar's best road course "black ace" for years. Stephane Sarrazin won't age or slow down. And of course, Kamui Kobayashi, who obliterated the lap record on the eve of the event, reminded us why, for just north of three years at Sauber and Toyota in F1, he was so highly regarded.
It says a lot that Toyota's third car has the reigning LMP2 Drivers' Champion (Nicolas Lapierre), the reigning World Touring Car Champion (José Maria López), and the reigning Super Formula champion (Yuji Kunimoto) all in the same car – and that they were, on paper, the least likely of their three crews that could win it just because Lopez and Kunimoto were rookies. That's how deep the talent is in manufacturer LMP1.
Even in a landscape in sports as a whole, where the Chicago Cubs can win Major League Baseball's World Series for the first time in 108 years, where the Cleveland Cavaliers can win the city's first pro championship in 52 years, where Leicester City Football Club can win the Premier League in England as a 5000-to-1 longshot of all longshots, certainly – if Leicester could win the league, if the Cubs could reverse the curse, then Toyota should have won this race.
And even when the #8 Toyota (Buemi/Davidson/Nakajima) went to the garage just shy of the one-third mark of the race with a hybrid motor failure that took two hours to fix, Toyota still had the #7 car (Conway/Kobayashi/Sarrazin) leading and the #9 (Lapierre/López/Kunimoto) steadily improving.
Within a half hour, a clutch failure took down the #7 car – and in the most bizarre fashion as well, after LMP2 driver Vincent Capillaire, whose gesture of innocent encouragement was mistaken for a "thumbs-up" from the stewards to get out of the pits – and resulted in the fatal blow that took the odds-on favourite out.
And before the #9 car could write its own narrative about being the unlikely hero for Toyota ala the all-Japan GT-One crew from '99, Lapierre tripped over another LMP2 car and crashed out of the race.
Within a half hour, Toyota were done. And despite the best efforts of the #8 crew to salvage a ninth-place overall finish and second in class, it was hardly a consolation.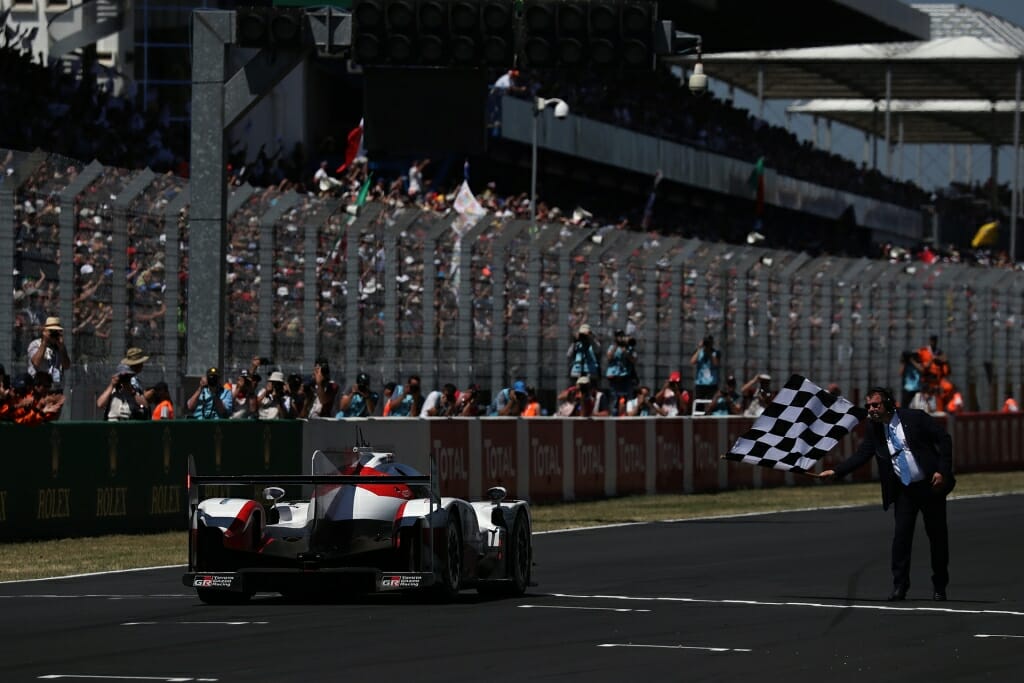 The LMP1 Hybrid bubble may have burst, if it didn't already upon the withdrawals of Audi and Nissan before them. Toyota aren't entirely committed to the 2020 regulations overhaul, nor should their participation over the next two seasons in 2018 and 2019 be taken for granted.
And then there's the thought that maybe, after all these heartbreaking losses, that Toyota maybe should just call time, leave Le Mans behind, and pursue another avenue in racing that will give them less grief. A thought that won't be entertained by CEO Akio Toyoda of course, but one that probably comes to mind when you think back to how much money and resources Toyota invested into Formula 1 for eight seasons, with no reward to show for it before the Lehman Shock of 2009 gave them an out.
By this point, if Toyota ever wins the 24 Hours of Le Mans, it'll be a massively popular win, no matter the circumstances or the competition in front of them. If you're superstitious, however, you might think they're just flat-out cursed at Le Mans – no matter how much encouragement has come their way, even from rival and neutral supporters. And in motorsport, there are no guarantees that a curse can be reversed like there are in other sports.
Toyota Gazoo Racing will now contest the rest of the FIA World Endurance Championship, in pursuit of their second World Manufacturers' Title. Chances are, they might win every race from the Nürburgring to Bahrain and take that trophy in style.
But they'll now have to wait at least another year to capture a trophy that has long eluded them – and may yet elude them even longer still, no matter how unfair it is deep down in a lot of our hearts.
R.J. O'Connell is a contributor to the Motorsport 101 podcast, the editor-in-chief and founder of Super GT World, and a contributor to DailySportsCar.