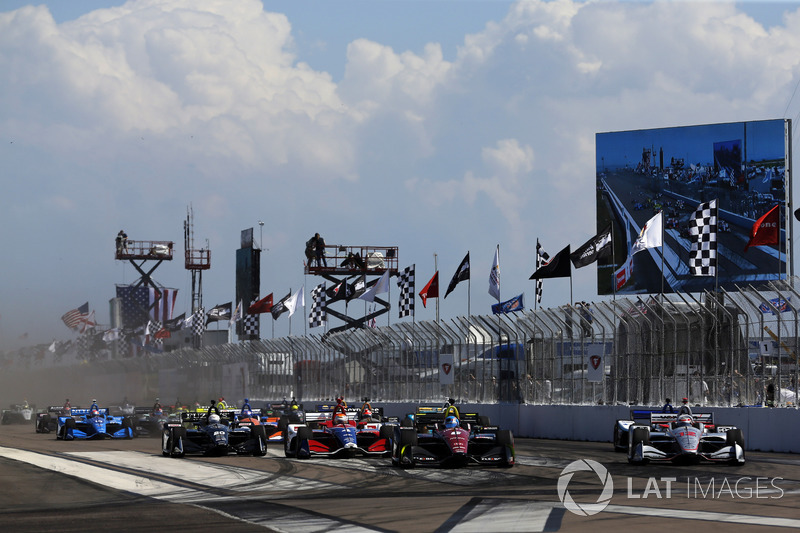 New season, new kit, new home…same old snark and opinions. Here's my top and bottom three things to take away from the first race weekend of the IndyCar season.
TWIN CHECKERED FLAGS
Overtakes for Everyone:
After listening to Josef Newgarden's presentation of the new kit back in January, expectations of what it would bring to the races was high.
Though maybe not high enough.
Throughout the field there was jostling for position right up until the end (though not always cleanly). The final count was 366 green flag overtakes on a street circuit.
Can't wait to see what we get on a proper road course for sure.
All the Camera Angles:
I've been a huge fan of the helmet cam, the 360 cam on top of the cars and the one looking at the drivers since the start, honestly didn't think they could top it.
Boy was I wrong.
Now we've got them trying the helmet cam on the mechanics as well as a nose cam. Now if I only I could have access to these angles on the app (despite living a Verizon free land) I'd be really happy…
Rookies Stand Up:
This year there's a good mix of rookies, from those moving up from last year's Indy Lights, finally getting a full time ride after a few one shots previously to those making the jump over from Europen open wheel and tour car.
Combined that with the new package and there's an opportunity to quickly get your name out.
With half the Fast Six consisting of rookies and Wickens (who none of you should of heard of despite Hinchcliffe and SPM's efforts throughout the off season) leading the most laps and would of probably won if it wasn't for a banzai move by emerging heel Rossi that took him out with only a handful of laps to go, the future is looking good.
SPIN
Penske Flop:
We knew some teams might not get it right straight out the box but I wasn't expecting it from one of the teams that had been involved in so much of the testing (as eventual race winner Bourdais complained as several test days came and went without Dale Coyne Racing ever getting a chance until the final ones).
From Newgarden's failure to progress from the first round of qualifying to Power's uncharacteristic spin at the start of the race, it was certainly a weekend to forget for the legendary team.
Probably their only one for the season though…
Scott Dixon's Kryptonite Track:
There's something about St Pete that just doesn't seem to agree with the ginger kiwi. A handful of podiums, none on the top step, is the best he's done here and today was more shambolic than usual.
Uncharacteristic mistakes had him ramming the back of Sato, being sent to the back of the field and getting a drive through penalty for pitlane violations.
As impressive as his recovery to sixth was, there was definetly an opportunity lost.
Always Bad Coverage:
I know, I know, what did I expect but, come on. The first race of the year with a new car and Jon Beekhuis has five minutes to quickly explain the changes as the cars are waiting on the command?! Then there's the awful timing of ad breaks during yellow flags that ended up catching even the British coverage by BT ESPN off guard as
they too had gone to ads rather than have their own commentator duo take over. Cheever and Goodyear's sleepy style was shown even more by Castroneves enthusiastic appearance in the booth.
Finishing with a rushed wrap up and honestly, I'm praying to every racing god that they aren't about to get their contract renewed.