So after an off-season where Lewis Hamilton wiped his social media, Williams were handling a Polish uprising, and we all laughed at McLaren's pre-season yet again, the 2018 Formula 1 season kicked off in Melbourne again this past Sunday… and amazingly, it wasn't another nightmare in Silver that took glory. Let's see how we got to this point.
Now, I don't normally talk about qualifying in media form, but it's got to be said that Lewis Hamilton's 7th pole position in Australia, a new ultimate lap record, was scintillating. Almost half a second faster than anyone in sector 1 alone, enroute to being nearly .7 faster than nearest challenger Kimi Raikkonen. Stunning. When he's on it, he's untouchable around 1-lap of a race track, and his case for F1's greatest qualifier only gets stronger by the race. A walking cheat code.
Let's get some of the nitty gritty out of the way. Aesthetics. Liberty Media's first F1 race, and a new graphical package and presentation. The new intro? Fantastic. I know Brian Tyler got a lot of shit for being a Marvel guy with an orchestra, but it was fantastic when used in the context of the broadcast. If you haven't seen the full version with the montage on F1's official YouTube channel, do so. Most of the new graphics I think are great, despite some colour clashes with the black and the dark blue of the Red Bull owned teams. And look out for the "nameless" additions during the race as well. Only issue was seeing the camera's strapped on top of the Halo's during free practise and I think they were largely scrapped by Qualifying.
As for the race itself, so it's ultimately a shame that at least in my opinion, the best man finished 2nd. Hamilton was comfortably fastest during the weekend, and after making a comfortable 5 second lead, was caught out by a Mercedes software glitch during the race's VSC. The team thought they had more of a buffer to hold off a Seb pitstop. Turns out they didn't, and with Albert Park still being nearly impossible to pass around, Lewis just couldn't find a way past.
Hard not to feel bad for Lewis and Kimi Raikkonen here. Kimi was comfortably running 2nd ahead of Seb and had out-qualified him too, only to be the victim of a Ferrari strategic pincer movement to put the pressure on Lewis, after Bottas was stuck in the midfield after his Q3 smash. For once, the Maranello boys actually got it right, and it paid off, even if it was at Kimi's expense again. Mercedes software "bug" sure as hell helped, another minor mistake costing the dominant team an easy win. Shouout as well to all the Hamilton fans who only NOW chipped in about the VSC being unfair when Lewis directly benefitted from it twice last season.
And that was just the problem here, once Seb came out in front, I knew he was going to win the race. Sadly, it's the nature of Albert Park as a circuit. It's fun as hell to drive around no doubt, but you can't reasonably pass around here due to a number of factors. The cars are fundamentally flawed, and most fans can see that. They generate way too much turbulent air to be able to comfortably run close. It's why I heard a lot of fans complain about engine management in the later stages. Not what you want to hear during a supposed dramatic finale, but it's the nature of the sport at the moment.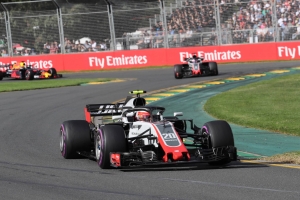 Pirelli again far too conservative with tyre compounds again and the race strategically was a 1-stopper with no wriggle room for alternatives. You were almost destined for a boring race. It was dramatic during live viewing, but it will age terribly.
I'm glad Liberty are already aware this is a problem, adding a 3rd DRS zone between turns 12 and 13 in an attempt to add more passing. However, it had next to no effect. Anything they do for now is essentially a plaster when the lack of entertainment being a car problem, is a gaping head wound. Only 15 on-track passes in a 58 lap race, and a lot of processions that while tense, ultimately lead to nothing.
Shoutout to Haas for being arguably the biggest surprise of the season so far. They have a knack of bringing a great starting package and this race validated the early hype. They were running 4th and 5th in the early going and could have had their best team result by a mile, but then two back-to-back pit-stop errors with loose tyres put both cars out of the race. Especially brutal for the 4th running Magnussen, who had pulled off a beautiful Turn 1 move to pass Verstappen. Also, a lovely touch to see Romain Grosjean console the team after his DNF. Let's not forget that in this often robotic, monotonous sport, there's human beings too.
Haas's loss was most definitely McLaren's gain, with Fernando Alonso being back in his new favourite 5th place, his best result since his return to the Woking team, with teammate Stoffel in 9th. I'm also going to be very curious to see how Red Bull get on in Bahrain, who had their races compromised from the get-go due to lots of dirty air running. They look fast, but Australia proved inconclusive.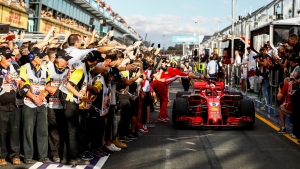 Other observations? Valtteri Bottas' season may be over before it's even begun. 8th in a race from 15th where the team was still conservatively aiming for a Top 6 isn't good. And after his qualifying wreck, he had to replace engine parts so he has a greater chance of taking penalties later in the season. And remember, he's only on a one-year rolling contract. Yikes.
Force India weren't bluffing about their testing speed either it seems, they never really looked like they were going to score points, even with the above average level of attrition. Williams too, looked nowhere, a plastic bag in the brake duct ending the debut of Sergei Sirotkin. Stroll? 2nd last of the finishers.
Shoutout to Channel 4 F1's Lee Mckenzie with the brilliant jab at Nico Hulkenberg, who after doubling down on his frustration that grid girls were being removed, Lee mentioned how he somehow managed to find his grid slot without one. Beautiful.
Australia was about what I expected out of it at this point. A nice surprise in the finishing order masking a lot of the same old problems the sport has had. Maybe Bahrain, a better circuit for racing, holds up a little better. Thanks for watching.
6/10* (*Seriously, it's a 3 on a re-watch)
PS: A salute to Lewis Hamilton for having the hashtag #MarchForOurLives on his race helmet. While only a subtle touch, it remains a powerful statement and I'm glad he's showed support with many of the US people protesting the disturbing level of gun violence the country goes through. Lewis is a transcendent figure in F1, and it's little things like that which can make a huge difference. I remind everyone watching that #Motorsport101 does not and will not stick to sports, and if that bothers you, our content probably isn't for you. Once again, thanks for watching.