…After 15 years of Formula 1, most of which were during the rise of Social Media as we know it, Sebastian Vettel joined Instagram last night to announce his retirement. As a fan, you have to laugh. I think that's about the most Sebastian Vettel thing I've ever seen.
Seeing the emotional outpouring of support today as he announced his retirement made me start crying, but not for the reasons you might expect. One of the most commonly asked questions the man was asked over his career was why he was never on social media to begin with. As much as he played down the boringness of his own life and the privacy that came with it, it was also because in the prime of his career, he was xenophobically abused, often called a Nazi, because our British dominated audience still have this warped obsession with World War II and the Germans being the bad guys. It became a part of our culture as the generations rolled by.
You might be wondering why I'm starting a Sebastian Vettel tribute piece with something so cold, and so nasty. But if you want to truly embrace the man's career, I don't think you can do it justice without mentioning the two sides of not just how he drove, but how he'll be remembered.
The last time I wrote about Sebastian at length here, I said that he was Formula 1's greatest antagonist. The anti-hero we didn't know we needed. I'm even more adamant about that today. In a Formula 1 climate that embraced the new stars of Alonso vs Hamilton as the two titans of the sport, Sebastian Vettel turned them into pillars of salt.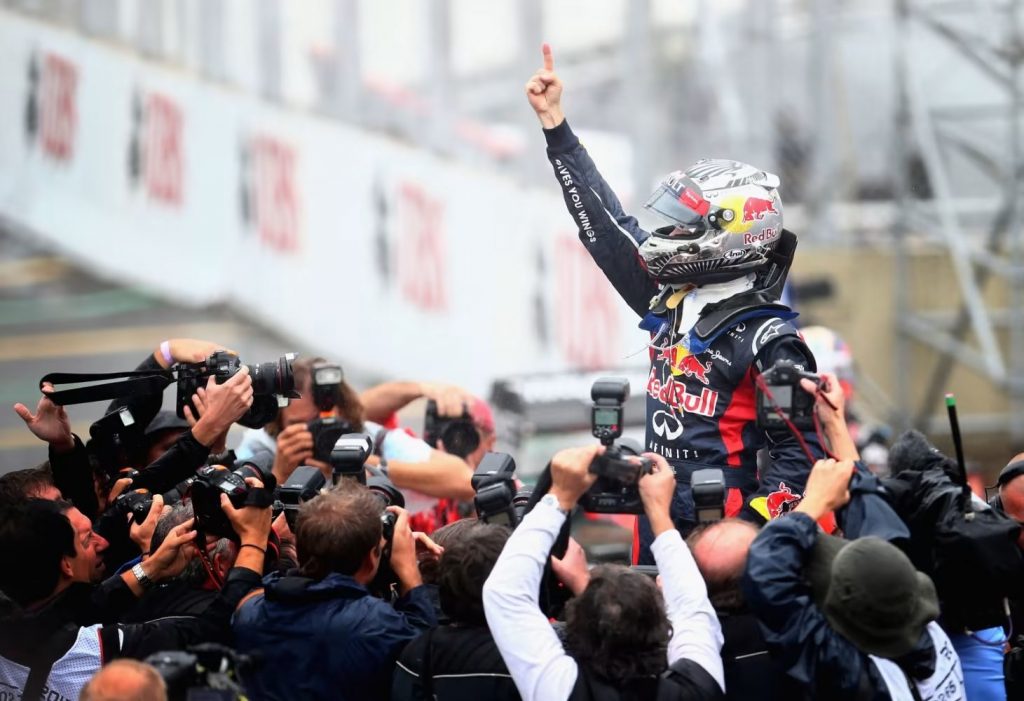 Those four seasons between 2010 and 2013 were some of the greatest ever seen in this great sport. Four straight Championships in one of the strongest grids in the sports history, with five other World Champions after Kimi's return. Thirty-four wins. Forty pole positions. The most wins in a season. The nine race winning streak. 15 poles in a single-season. The most laps led in a season. The back-to-back Grand Slams in Singapore and Korea. Two all-time points records for a single-season. The youngest to ever win a World Championship, having four by the time he was 26. The 2011 and 2013 seasons in particular, weren't just seasons of dominance. It was Sebastian taking the piss. Beating after beating. Being told off about going for fastest laps, then doing them anyway. Defiance, brilliance, unfuckwithable. It was a joy to watch.
He had to be spectacular to re-write those narratives about him. This sport was not ready for his greatness when it arrived, and he forced us to have those conversations by being That. Fucking. Good. And it still wasn't enough in the eyes of so many. The amount of hateful messages I had to clear out of my Ask.FM inbox. The constant jabs I personally had to face for liking someone in the minority of the "Big Three". The fact a finger point was deemed an obnoxious celebration in a sport crying out at the time for any semblance of personality.
The booing so many dig their heels in for now after three-quarters of a season simply for ignoring the sport's most universally hated cardinal sin – The team order. The narratives written about how Adrian Newey was the only reason for his success, so much so that Martin Brundle, one of our sport's finest broadcasters, mentioned exactly that as he was celebrating his fourth straight title in India, one of the most iconic title celebrations this sport had seen. There was always an asterisk. Always a convoluted argument. Always a way we could kick Seb to the curb as he rewrote the record books in real time. With the Schumacher's and the Verstappen's of the world, there were the flashpoints where the room was split. Sebastian Vettel just did his job. And that's what made him the perfect villain.
And that's also what's made the last half-dozen years of his career so fascinating. The need for validation faded as we saw the second coming of Lewis Hamilton and Mercedes, an even greater run of dominance. It gave perspective to the previous run we'd just had. But every one of those 14 Ferrari wins felt earned. Digging in. Giving some hope back to the prancing horse after a half decade of near misses and heartbreak of its own. The (mostly) friendly rivalry between him and Lewis, bantering about dodging seagulls despite fighting for a Championship. All the doubts, all of the petty reasons we found to dislike him faded away as we as an audience started to gather an appreciation of just how damn good a driver he was.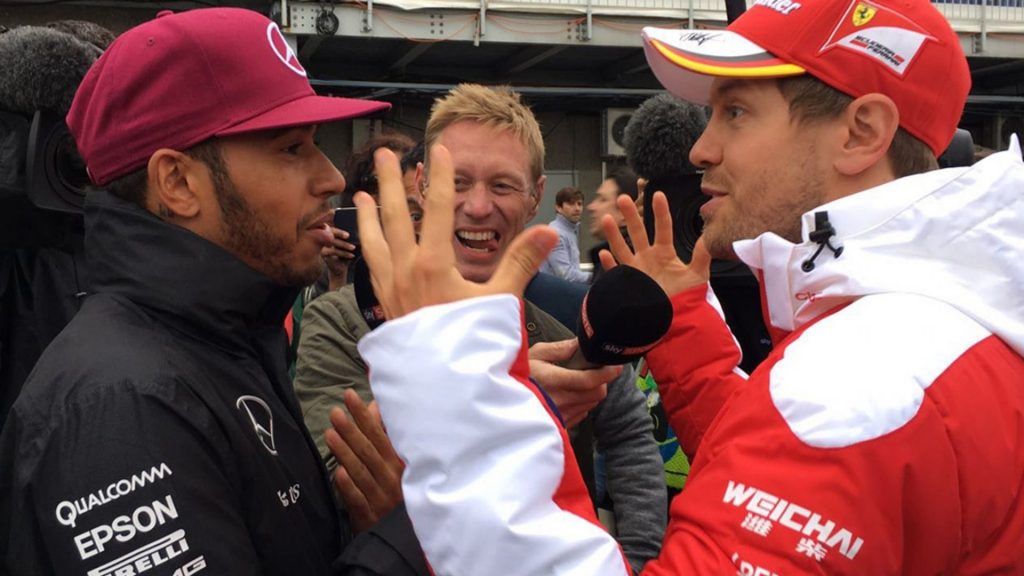 And even when things got ugly towards the end of his time in red, he didn't take anywhere near the sort of pasting I thought he'd get, despite the "Sbinalla's" and the rise of the incredible Charles Leclerc coming in and making Ferrari his own to start their next chapter. Yeah, there were jabs, but there was also nuance, shared accountability, a realisation that maybe the horse itself was the problem. Something we're still probably thinking now in 2022. Things had changed.
But the end of the Vettel era of Ferrari gave us all one final gift in his legendary career. Seb the human being. In 2020, when the sport and so many more had to look at itself in the mirror in the wake of George Floyd's murder, and the thinly veiled promises of #WeRaceAsOne, we got to see Sebastian Vettel, the ally.
The kneeling before the races we watched? Partially Seb's idea. He stood shoulder to shoulder with our sport's one black driver in Sir Lewis Hamilton, with #BlackLivesMatter on his helmet. He was the only other man on the grid with that specific, unfiltered wording. He auctioned an anti-racism helmet from Turkey, his final Ferrari podium in red, to raise money for children in Africa. He pressed for the kneeling to continue as others wanted to move on, feeling like they'd done their bit.
He expanded upon his support for anti-racism to also push for climate change activism, which could be the biggest challenge this world will face over the coming decades. Picking up rubbish left at the track inspired hundreds more to do the same around the world. Saving the bees and how important they are to the world's ecosystem. Accepting his own hypocrisy but challenging what he can do as he spoke candidly and confidently against the worst of the UK's government on "Question Time". All laced with the simplest of messages – You don't have to be an eco warrior like Greta to be an activist, but if we all made a percentage effort, we can all make a difference.
He embraced the rainbow at this weekend's Hungarian Grand Prix last year, draped in the rainbow flag to support the LGBTQIA+ community in a country whose government has openly decided to discriminate against their very existence. Even with the misguided talk he may have been disqualified after finishing second on the road because of it, he said he'd do it again. He ran women only racing clubs in Saudi Arabia, a small impact in another country where sports washing so effectively has taken hold. Seeing Seb on the cover of Attitude Magazine, talking openly about wanting to accept and welcome a gay F1 driver in the one of the most male-dominated, macho-man images of sports and pushing for their equal rights was inspiring to see.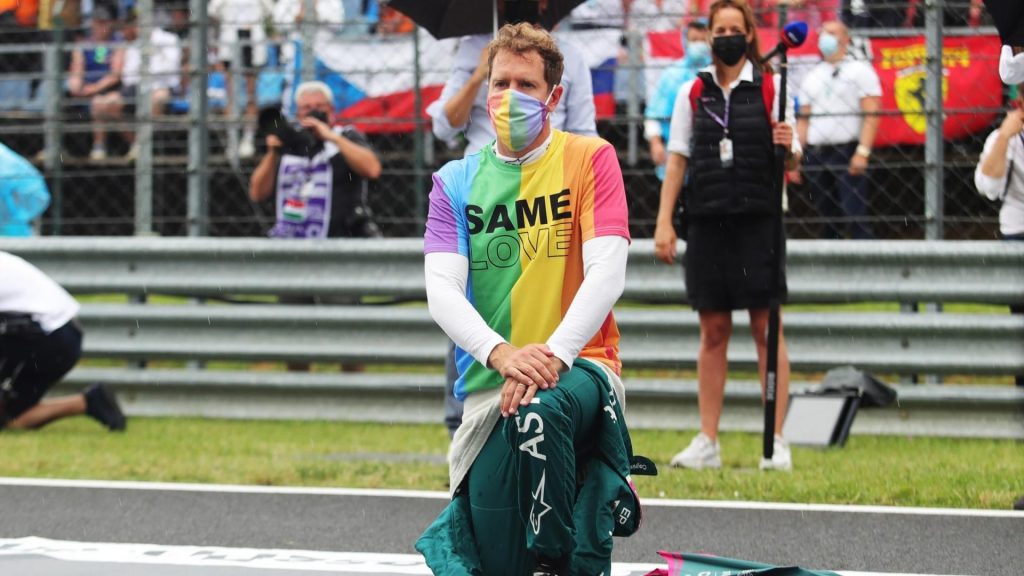 Sure, purely from a sporting standpoint, there won't be too much to add from the highlight reel of Seb in green, despite Baku and Hungary being magical moments. But more than that, it was the final cherry on top of Seb's second career, and most likely his next chapter. In a changing sports world that's challenged and asked for more from its greatest figures as we care more about their platforms and what they can do with them in the larger world, Sebastian Vettel has answered that call. And as a fan I couldn't be prouder of him.
So many of you as fans have followed my work because of our mutual love or disdain for him. The jokes about the Church of Dre will always make me smile, a direct result of dealing with his good times and bad. He was a huge inspiration for my work as a writer, a podcaster and a YouTuber who had the blessing of thousands of people who cared about what some pokey 29-year old black British fan had to say about the sport he loved. He's my favourite athlete of all-time and it's because of the joy he brought to a sport that personally, needed one after Michael's first retirement.
Sebastian Vettel's first career was coming to terms with one of the fastest rises to greatness in Formula 1 history. The second, was becoming someone even greater than that. The first never somehow truly felt fulfilled, where there always felt like there was a catch. Where every win, every milestone felt like it was inspite of the environment around him, not because of it. His second career, has him leaving the F1 paddock as one of the most universally beloved and respected drivers of all-time. When he was bowing to his RB9 nearly a decade ago, I wasn't sure that day would ever come. Today, as I shed a tear finishing this piece, it's not a tear of sadness, it's a tear of gratefulness. I already knew he was one of the greatest ever. Now, we all do. And that might be Sebastian's greatest win of all, as we all look forward to what comes next.
Thank you Sebastian. It's been an honour and a privilege, and thanks for everything you've given me and millions of fans around the world. Praise be, and glory to Sebastian Vettel.