(Credit to James Black for the pics in this one)
IndyCar continues what we here at M101 call "The Gauntlet" for the now seemingly annual return to Indianapolis and a Grand Prix named after the insurance firm owned by Max Chilton's Dad. Weird. But funnily enough, that's how I described a lot of what came out of the Gallagher Grand Prix. Here, let me explain.
Andretti's Visual Metaphor
It's been 1,133 days since Alexander Rossi last won an IndyCar race. His last win was at Road America in 2019. That was 47 races ago. And it's symbolic because the narratives behind Alex Rossi have changed very much in those last three years. In 2019, Rossi was arguably the #1 driver in the series. I called him a "three-tool driver" ala baseball. Someone who could win over all three major disciplines of the series, Road, Street and Oval. He already had a 500 under his belt and was a title contender back-to-back years but narrowly missed out.
Since then, he's declined. I don't think it's all on him, Andretti as a team is falling out of relevance as the third member of the esteemed "Big Three". They've not won either major title in IndyCar since Takuma Sato's 500 win in 2017. It's become harder and harder to justify their four car line-up as talent either fell out of their primes like Ryan Hunter-Reay, guys in the middle of or picked up the wrong youth drivers like Zack Veach and Devlin DeFrancesco. And Alex Rossi was part of that decline as more eyes were put on him to guide the ship as de-facto leader. And it didn't work out. Tensions grew, the results dried up. Rossi went from three-tool driver to midfielder with upside. He needed a change and hopped on the McLaren hype train as a safe pair of hands.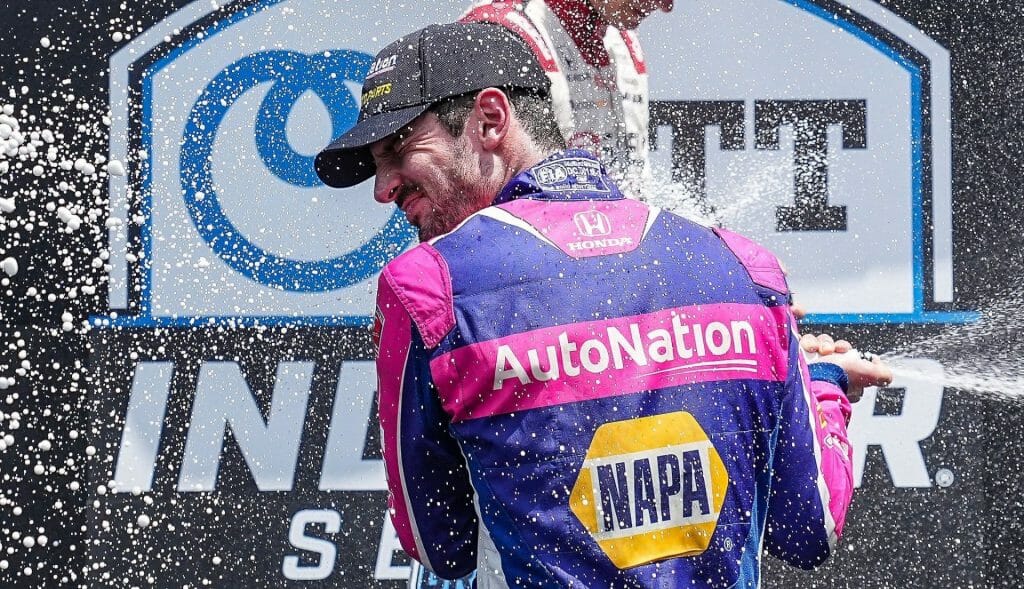 We know the score with Colton Herta. He is the one true bright spot Andretti's had since Rossi's last title challenge in 2019. 22, outrageously fast but still a little bit raw as a talent. Has also challenged for the title and has even been courted for F1 seats. But he's still rough enough around the edges where it will hold him back. Wrecking from 3rd at Long Beach was rough. The Carb Day wreck on Indy 500 week completely derailed his season. Herta is a sensational talent, as good as anyone in the series at their best. But they've not been fully able to utilise him, as well as CH26's own errors. This time, driving over a curb shut his gearbox down, another freak DNF.
They pissed away a year of Kyle Kirkwood's development at Foyt because they wanted the extra cash of Devlin DeFrancesco. Devlin's been poor enough to the point where a once multi-year deal is now rumoured to be broken off at the end of the season. And there's no getting around it, Romain Grosjean's first full season in the #28 car has been a disappointment. 14th in the standings with one podium finish is not it, chief.
Is there any stronger of a metaphor for the struggles and mess of Andretti that even after he takes his first win in over three years, it felt somewhat inherited? Yes, his pace was outstanding, but it was probably for 2nd here. The one constant as Andretti's crumbled around him, is the one now leaving, and not exactly on the best of terms after Mid-Ohio. As they say in sports, winning solves everything. The problem is, Andretti just isn't doing that often enough. IndyCar is quickly becoming a "Big 2" rather than three.
Your New Leader…
Just when Marcus Ericsson needed a bit of the sports writer's favourite word, "momentum", his engine essentially dies in Qualifying and he has to start from the back. Now while he did a pretty reasonable job to get back to 11th, this just wasn't a good day from Chip Ganassi with Dixon 8th and Palou struggling on the harder tyre in 10th.
It doesn't help for Marcus that Will Power is essentially Dracula. You can stab him, throw holy water in his face, whatever, he just comes back. After being caught in a three car concertina shove that spun Pato O'Ward out, he dropped to 16th, but by going off sequence and taking advantage of the yellow when Simon Pagenuad ran out of fuel, he got himself back into 3rd. I don't think enough has been said about Power's consistency. We know Penske is poor at the 500. He was hit in both Toronto and Road America. Every other race this season he hasn't finished lower than fourth.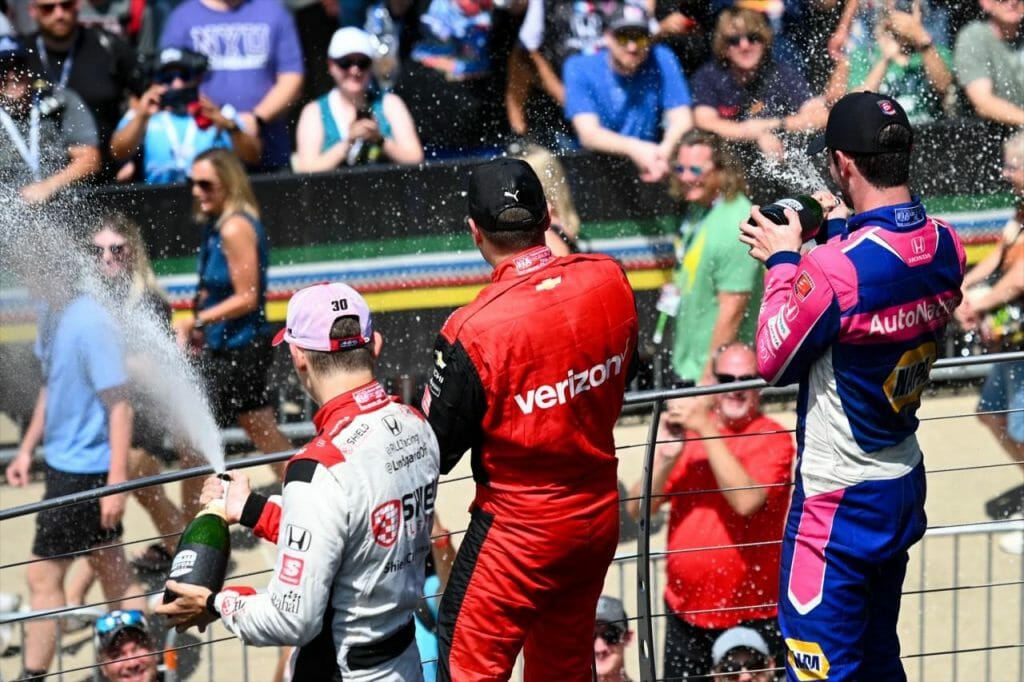 He's out Ericsson'ing Ericsson. And with a relative stalemate overall still has Alex Palou within a race's worth of points at -52, with four rounds left. I'd still keep an eye on Josef Newgarden in 3rd at -32 given he's one of the few guys who can genuinely dominate a weekend, but he's running out of time to land a big counterpunch and Power and Ericsson are giving them very little to work with here. We could be seeing the beginnings of the field thinning into a two-horse race for the Astor Cup…
The Lightning Round
Christian Lundgaard really, REALLY loves the Indianapolis Road Course huh? His very first run in an IndyCar there did more stock than two seasons of Formula 2, and now he's just finished a comfortable 2nd and the only man in Alex Rossi's postcode. He's had a very solid rookie season, just wish we saw a bit more of his class on other tracks. With Graham 7th too, a very good day for the struggling RLL team.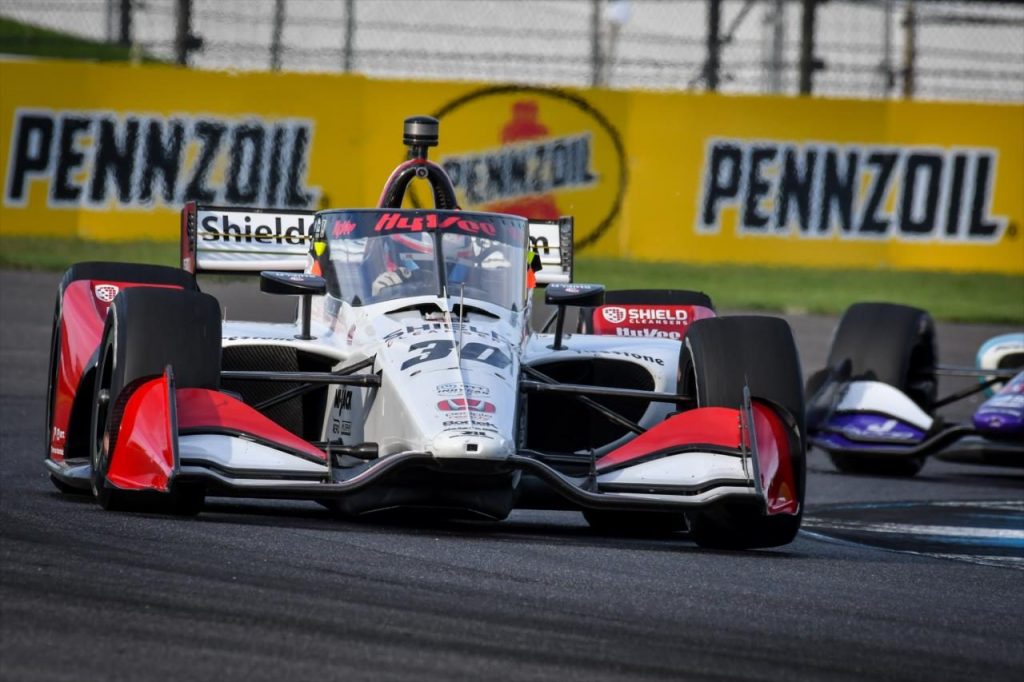 *Bernie Sanders voice* I am once again asking IndyCar to change the fucking delayed caution rule. It's dangerous and Motorsport isn't fair, suck it up.
I watched this race via a friend's subscription to Peacock. The amount of adverts… awful. I know IndyCar wants to make its TV deal as valuable as possible, but it actively hampers the product when there's an ad break every 7 laps. When the International broadcasts are better than yours, you've got a problem.
James Hinchcliffe is still an outstanding commentator when he doesn't have to talk about Alex Rossi.