On the Motorsport101 Podcast a few weeks back, my co-host Ryan King said that Toronto was the start of what he called "The Gauntlet" for this season. A five race block in 4 weeks across July and early August, with a little bit of everything sprinkled in. Toronto and Nashville's street circuits (The former a track that many of the IndyCar field had NEVER raced on), and a Road Course with Indianapolis' second race of the year. There was also an Iowa oval double header with a 250 and then 300 mile pair of races, that little did we know, would change the entire complexion of the title fight. Let's get into how we got to this point.
Race 1 – Newgarden Takes Control
Race 1 was a Newgarden #BEATEMDOWN for the ages. He qualified 2nd, took the lead off Power on the first restart after shortly after Jimmie Johnson brought out an early caution for a spin and never really looked back with 208 laps led out of the 250. Penske put up this near impenetrable wall where once they got to the front, it was nearly impossible to pass them. Josef won by a good six seconds and by the time it was over, only five men were on the lead lap.
The biggest intrigue we got was the early surprise of the back of the field all going off-sequence for fresher rubber and working their way up the field when Jimmie Johnson spun but DIDN'T hit the wall… only to take the safer option and get back ON sequence with their newfound track position once we had a second caution on Lap 111 for Felix Rosenqvist spinning into the outside wall. It was genuinely fascinating. A 250 lap race made for four 62/63 lap stints on paper, but the tyre wear was so heavy that there was a 20mph per lap difference in average speed between fresh tyres and old.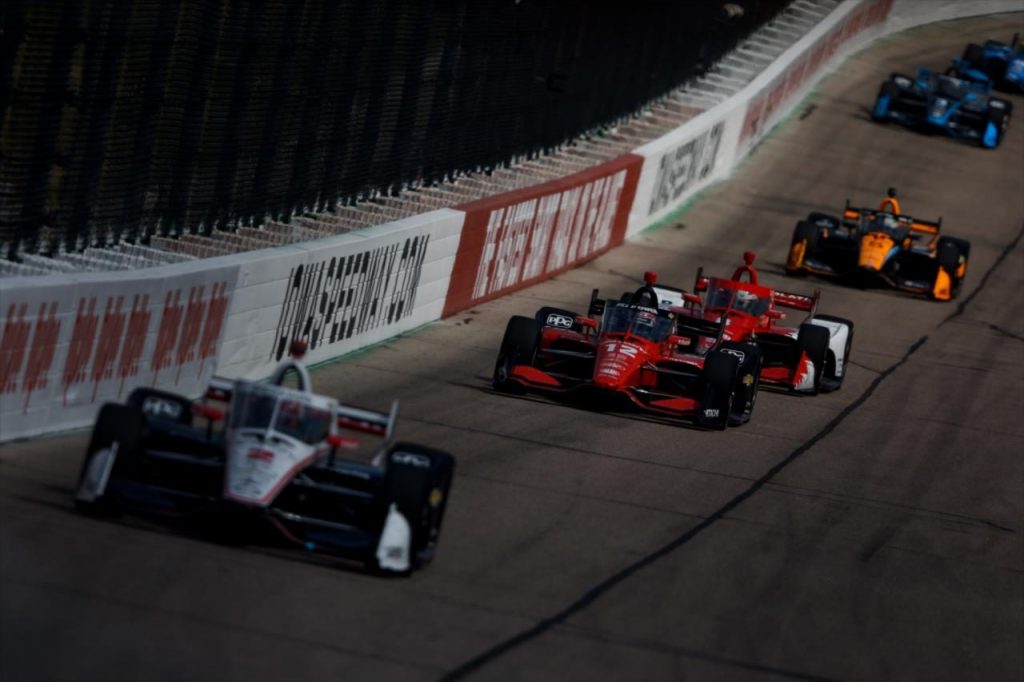 It meant we got to witness the furious comeback of Jimmie Johnson, who always looked like he was roughly an inch on the steering wheel away from ending up in the catch fence. It was IndyCar's version of Marc Marquez and it made for the most entertainment we had on the day. He was drifting, saving, making double overtakes, taking the highline… the works. The 11th placed finish won't tell it all, but Jimmie Johnson was the real story of this one. This was exactly the reason we wanted to see the man flourish in IndyCar, like we saw in Texas and teased at Indianapolis.
Newgarden's final stint, where the entire field was fuel-saving heavily to make it 80 laps to the flag and he was extending his lead a the end, was absolutely incredible scenes. We've added it to the nominees for individual performance of the year. It was utterly ridiculous.
Race 2 – Newgarden Loses Control
I was afraid that for two thirds of Race 2, Josef Newgarden was about to give us a carbon copy of Race 1 and take complete control of the Championship leaving Iowa. Newgarden was at the front, Power couldn't really stay with him, and Pato O'Ward was clinging on to the pair of them hoping for a miracle.
Pato got one.
It's weird. I was watching Race 2 on the M101 Discord and Zoeey, our part-time co-host was the first to point out that Newgarden's car was acting differently and he'd lost a good few seconds of his lead in traffic. Then his rear suspension seemingly collapsed and next thing you know, he was backwards in the wall. Just like that, his Race 1 win all of a sudden meant very little. I've never seen Josef so emotional after a wreck in his IndyCar career. He knew what a golden opportunity this was. He was set to leave Iowa with a double-digit point lead. Now he leaves it with a 34 point deficit, the crash being worth roughly a 45 point swing as the cars ran.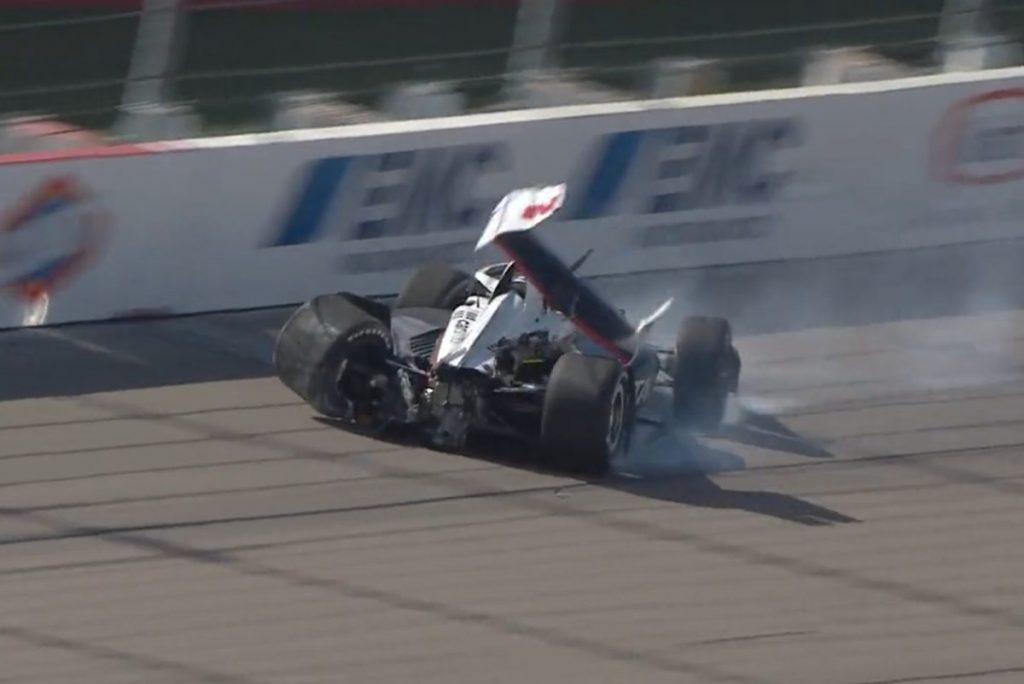 Then it got worse, Josef left Iowa with a nasty head injury too. Late last night, he lost consciousness and fell around his trailer. We don't exactly know why, but it left him with a head cut and he had to be helicoptered to hospital (The local hospital was 45 minutes out by car, and the concert on track was finishing up so it was just quicker to go by copter) to get checked out. Thankfully, he seems to be okay after having all his scans and checks come up negative. He'll be checked again on Thursday as mandatory IndyCar protocol for a heavy impact in terms of G-Force to see if he races again at Indianapolis this weekend. If not, Santino Ferrucci will take his place. But in any case, I'm just glad the man's reasonably okay. Head injuries are still so young in terms of study but still very scary to see in real time. Go well, Josef.
So, Pato O'Ward got around Power, who took the easy 2nd for the points and the Mexican would go on to take his 4th win in the series. Dominated once he led the train. And all of a sudden he's back in the title race, with the field seemingly thinning to six real contenders: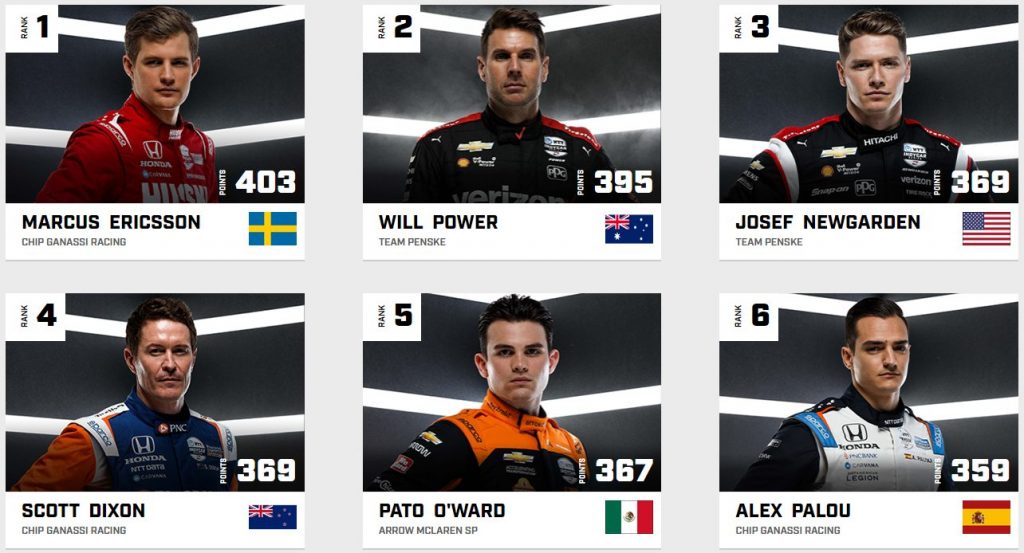 Marcus Ericsson – 403, Will Power (-8), Josef Newgarden (-34*), Scott Dixon (-34), Pato O'Ward (-36), Alex Palou (-44) *Newgarden is ahead of Dixon on countback, four wins to Dixon's one
Marcus Ericsson refuses to go down without a fight, but probably needs at least one more really good day. It's now looking like Will Power's consistency is finally starting to pay dividends, despite a poor 500. Newgarden has to play catch-up again after yet more erratic results. The sport collectively fucked around and found out to let Scott Dixon back in at Toronto. Pato O'Ward lowkey might be the best all-rounder in the series and is clinging on despite McLaren being largely unreliable. And Alex Palou is still in the mix, now in spite of Chip Ganassi Racing. Five races left. Let the Gauntlet continue.
Where Art Thou, Palou?
More tidbits on the Alex Palou drama coming through along the grapevine this week, and it seems like a complete communication breakdown at CGR. Alex Palou has claimed: "I'm quite happy, actually", despite openly admitting on Twitter he wanted to leave. McLaren thought they were acting in good faith despite Alex's management telling them he was a free agent. When he wasn't.
Chip was the one that leaked the fallout to the media in the first place, and now, Palou has been completely frozen out by his teammates at CGR, and has had data taken away from him. All this while Marcus Ericsson has also had less communication now due to the fact that three of their four drivers are direct title competitors now and it's going to get dicier down the stretch.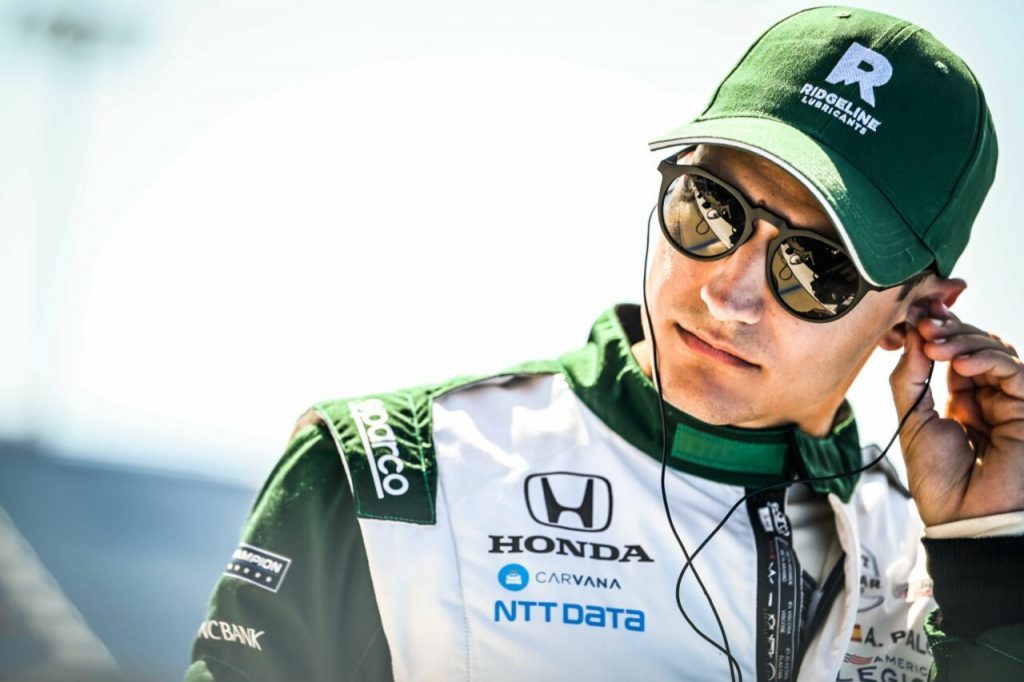 I still say Alex Palou was at best hopelessly naïve about how he handled a difficult contract situation. To a degree, I emphasise with him. The arguments for him wanting a better deal were absolutely valid. And it's becoming pretty clear that Chip is fostering quite a nasty team climate beneath the surface. But if you're going to try and strong arm two teams against each other like this, you're going to have accept the consequences that come with that.
With rumours getting stronger from IndyCar grandmaster journo Marshall Pruett that Chip might just let him go at the end of the season anyway, and McLaren allegedly now refusing to financially aid any sort of contract buyout, Palou might be completely stuck for 2023. All this, with an Astor Cup at stake reaching a critical phase. Wouldn't want to be coming to work on Monday morning there. Frosty.
The Lightning Round
Props to HyVee as the title sponsors of Iowa this weekend. The amount of money and dedication they poured into the track and the overall experience was incredible. The extra grandstands that contributed towards a sold out weekend. The convenience store IN the track for the campers that you could ship supplies to. And the concert over the course of the weekend that had Blake Shelton and Gwen Stefani perform. For the series that you could make the case has done the least to innovate itself in an changing North American Motorsport landscape, this was awesome, and something I feel the series should be doing more often.
I know Felix Rosenqvist is probably getting shipped out to Formula E as collateral for Zak Brown's driver expansion, but it'd be a damn shame for two reasons. 1) He's genuinely been as good as he was with Chip Ganassi since the month of may, 2) His bromance with Pato O'Ward has genuinely been adorable and Motorsport needs more tenderness. I'm being serious.