I love visual metaphors. And last week's British Grand Prix was the embodiment of how I felt about Valtteri Bottas as a driver. Allow me to explain…
Lap 1. Valtteri gets a better launch on the dirty side of the grid over Lewis Hamilton. He backs out a Turn 1 pass despite having maybe half a car alongside. Okay, fair enough. As we've already seen with Charles Leclerc, you can't win a GP on Lap 1, but you sure as heck can lose one. I'm never going to be too harsh on playing it safe on an opening lap. However…
The final lap of the race. Valtteri suffers a freak puncture and falls to 11th. But on a fresh pair of tyres, he's taking chunks out of Sebastian Vettel, per sector. Vettel's been struggling all weekend with lack of running and multiple car issues. This is the fight for 10th, the final point, and something for Val to salvage from a bad GP that just didn't go his way.
He gets ¾'s of a car alongside Seb into Stowe on the final lap. He backs out of it. Vettel defends into the final chicane complex and keeps 10th. Val leaves Silverstone with nothing. That just about summed up a lot of people's feelings about Valtteri Bottas. Yet another conservative lack of racecraft from a man who we all know is in the vehicular equivalent of a nuclear warhead.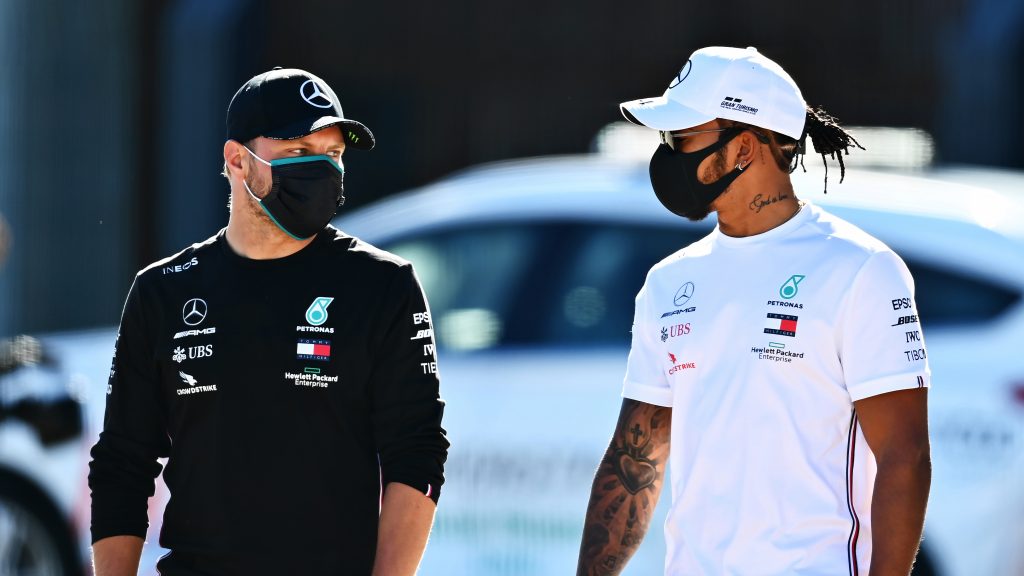 So of course, yesterday, Mercedes announced another one-year contract extension for the Fin, taking him into 5th season with the Silver Arrows. I would make a joke here about the crowd going "mild" but it was largely just snarky remarks on Twitter. A day that ends in Y.
To a degree, I get it. Valtteri isn't the sexy pick. He never really has been. He was the no-brainer Rosberg replacement when he suddenly hung up the gloves in 2016. To make matters worse, we as an audience finally realised just how good he was, years after he walked out of the door in his Age 31 season. And Val was without a doubt, a factor in that way of thinking when he all quickly realised he wasn't going to be the Hamilton contender we wanted him to be.
Reminder for those new here – Nico Rosberg was really goddamn good at race cars. Now, everyone loves a good head-to-head record, and while Rosberg did go only 1-3 against maybe the greatest racing driver we've ever seen, you read between the lines and you see that Rosberg kept him honest pretty much every year bar 2015. And after the "windy day" at COTA that cost him the title, he won seven straight to put Hamilton under the gun to start 2016.
The development of Rosberg's mental game as a driver, matched with bottle, grit and a little bit of luck in Malaysia, turned Rosberg into a World Champion and to this day, the only man to beat Hamilton in the hybrid era.
This isn't all on Valtteri. The sport has gotten more competitive in the time since Valtteri joined. In the three years of the hybrid Hamilton/Rosberg rivalry, only EIGHT out of 59 GP's were not won by a car in silver. In the three years since Valtteri replaced Nico (16'-19'), that's gone up to 24 out of 62. Don't let Mercs running the table in 2020 so far fool you, the field is stronger than it was back then. Sebastian Vettel was a genuine title contender for a couple of years. Ricciardo, Leclerc, Raikkonen and Verstappen snagged the occasional win in there too. That just didn't happen in the Rosberg era. For Valtteri, until this year, which seems to be repeating itself from 2014, the margin of error for him is a heck of a lot bigger.
It goes alongside something that many fans just didn't realise until Nico retired, or even beyond that – As an audience, we were spoilt as hell during the Rosberg chapter of Mercedes, and we didn't even know it because we never acknowledged him as a worthy threat to Hamilton, the latter already having an elite reputation from his time at McLaren. Rosberg until the hybrid era, had three career wins, and even they were deemed as "hometown bias" due to his Monaco-based childhood. It's our own fault, really.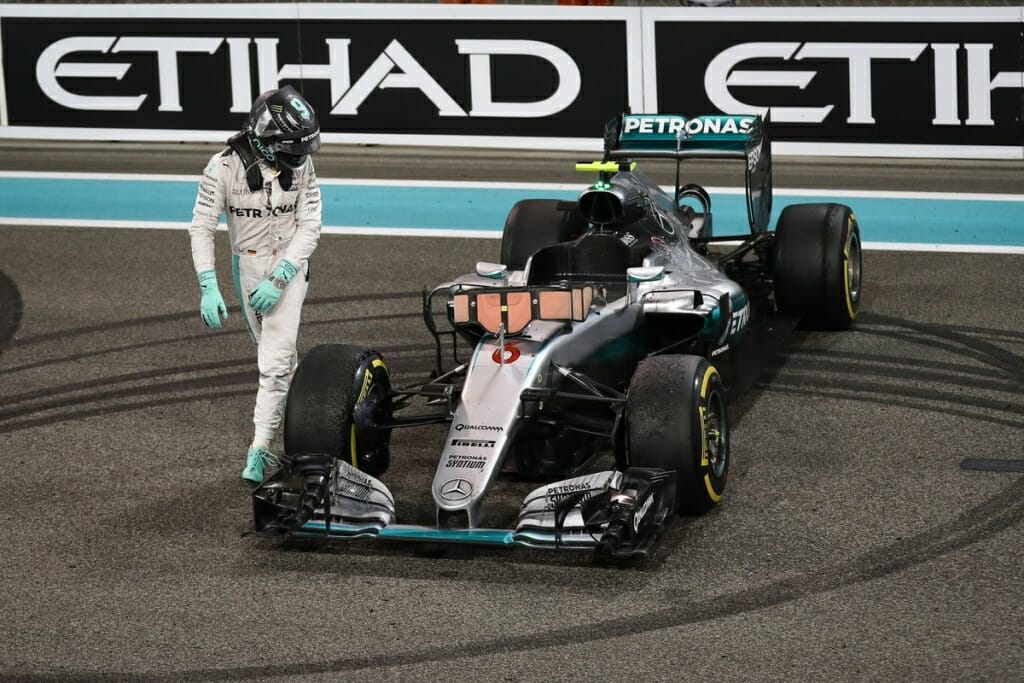 And that's the problem with Valtteri Bottas. When it comes to being teammates to juggernauts, Bottas is right in the middle of the scale between Rosberg and on the other end, say someone like Eddie Irvine. Irvine was there to make up the numbers, and couldn't really give his rivals of Coulthard and Hakkinen real trouble. Especially in 1999. Bottas is clearly a cut above that. He's an underrated qualifier, having more pole positions than Lewis did last year. He CAN win races on his own merit, like Austria just this season. He's genuinely one of the better defensive drivers in the field too.
Let's not forget, he's an excellent teammate and team player. Val gave up a win in Russia a couple of years ago so Hamilton could get a two-race points lead. Agreed to let Lewis past him in Hungary so the faster Lewis could go at a Ferrari 1-2. He is completely unproblematic in the Mercedes setup, and it's something that we as fans often forget. That as much as Rosberg and his influence in that camp was fantastic to watch, it was also completely toxic from within the Mercedes camp.
If you were Toto Wolff, you would never in a month of Sunday's want to constantly be in fighting with two drivers that took each other out on multiple occasions. Who broke rules on engine mapping to try and beat each other. Who took had nasty jabs at each other, and the team when things didn't go their way. Remember the cap throwing at the end of 2015? Imagine being a fly on the wall in that team, the apex of their silver war? Woof.
Toto Wolff had three years of that. Even Brawn in the last year of the V8's had a team orders fallout in just Hamilton and Rosberg's 2nd race together. It was just overshadowed by a certain Red Bull fallout further up the field. This is part of the value of Bottas. If you came off the back of Rosberg, his retirement was probably a relief to someone like Toto. I've seen the more harsh critics call Val a lapdog for it, but it's just a much better fit for the dynamic of an F1 team coming off the back of a blood feud that could have ended in greater consequences had it continued.
I get it. We as fans have "Shiny Hood Ornament" syndrome. We want to see cool, interesting driver/rider moves to make us go "ooooooh!", and mainstream top-tier Motorsport just doesn't do that. I remember in MotoGP year after year seeing fans determined to see someone else be in Dani Pedrosa's seat, and when he finally was replaced for Jorge Lorenzo, the issues within Repsol Honda were soon laid bare for all to see. Seeing his influence getting KTM up the field while Honda tries and PR their way out of the hole they've dug themselves in is eye-opening, to say the least. The very nature of Motorsport is to mitigate risk, and that includes driver management.
That management is in direct conflict with our curiosity as fans. And that leaves poor Val stuck in the middle. Between a team that loves him for his role, a 300-point, 4-wins a season, consistent clean-up man. And a fanbase desperate to give the dominant Hamilton some sort of challenge. This after three and a half years of Ferrari and Red Bull stumbling over themselves, and a Mercs team that refuses to roll the dice on the most lucrative seat in Motorsport.
"Bottas 2.0" never really existed. Neither did the "Porridge Boss". We manifested them for memes and the faint hope that he might just be that new Hamilton threat. He's not. But you know what… that's okay.