The last fortnight has been a strange one for MotoGP. Three weeks ago, we thought Marquez more or less snapped his arm in half and it might be a career-altering injury. The man who once dropped off a bike at Mugello at 210mph with mere scratches, and was seemingly made of rubber, finally ran out of luck.
We snapped at Honda for putting all their eggs in the Marquez basket, then finding out the basket was actually made of cake. From Cal Crutchlow being compromised as Honda's third wheel, to dumping Alex Marquez to the junior team for 2021, before he'd even turned a handlebar in anger in 2020. A man Honda knew had a reputation as a slow learner, on a bike known for beating rookies into submission.
I suspect a wobble and tweak in FP3 ultimately convinced Marc that this wasn't worth it. But most of us knew that 25 laps were way too big an ask. But we as an audience lapped this shit up. My old mate Adam Johnson described it as "bravery porn" and it was hard to argue with him.
MotoGP had WAY more interactions than usual for Race 2, from fans who DON'T normally watch. Seemed that way on my timeline too. Marc even trying to race 6 days after the broken arm was exactly the sort of gladiatorial narrative that we as sports fan love. From Michael Jordan's Flu "dodgy pizza" game to Terrell Owens winning a Superbowl with a broken leg, we as humans who would normally spend 6 weeks in a cast, crying our eyes out will always stand in awe of the person who's trying to ride a 300hp, 220mph bike with one arm. I can't blame people for that, but man… if you weren't watching him on that Saturday morning with your head in your hands, in fear, you're crazy. 
Maybe, this one was one too many for me. I'd seen Jorge Lorenzo's Assen heroics from 2013. How he raced 48 hours after breaking his collarbone in a hellacious high side. An incident the sport itself used to promote Marquez's return. How Rossi and Marquez himself in recent years both came back from broken legs in super-quick time. Let's not forget that this is a sport that's had four fatalities since the turn of the century.
To be fair, the culture's changed. This injury recovery genuinely split the room. For every tweet praising Marc's "Will to win", there was another begging him to stop. For the first time, we asked questions of the Doctors and what riders have to do to come back from a significant injury. Cal Crutchlow after all, was cleared to ride 9 days after being diagnosed with concussion-like symptoms. I think it's absolutely valid that there's been more noise and pushing for riders to be saved from themselves.
The fact of the matter is these guys don't ride these bikes because they're paid well. Half of them would do it for free. They do it because they love it, and they don't think and act as us "normal" people do. For many, you'd have to kill em' for them to stop. Personally, I hope that theory isn't put to the test.
Editor's Note: Since the original writing of this post, turns out Marquez bent the plate he had put in his arm. He's had to have another surgery on it to replace the plate and is now out of the Czech GP this weekend. He may even miss the Austria double header too. Honestly, it's probably for the best he does. Honda now has nothing to race for this season. It's a lost cause. Marquez has no reason to hurry back besides pride and merchandise sales. Hope he learns from the mistake, and Honda heed their bikes weaknesses because something like this happens again.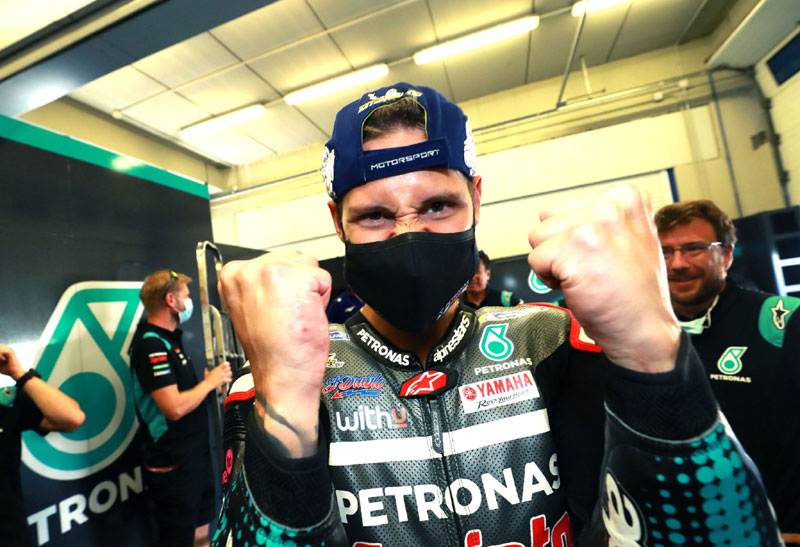 I don't envy the bosses at Dorna. They might have traded one necessary evil for another.
We had two very different races at Jerez. The first, a reminder of how insane Marc Marquez can be, and a reminder of the knife-edge the Honda provides. The second, a reminder of Valentino Rossi's class, a war of attrition, and breakthroughs for Francisco Bagnaia and Franky Morbidelli, ruined by reliability. Both races though had one thing in common – Fabio Quartararo was untouchable.
In Race 1, he took off in the second half as Jack Miller and Maverick Vinales squabbled and couldn't handle their tyres. In Race 2, Maverick swung for the fence on Fabio on the opening lap, missed, and that was the end of the race. Fabio was in a different league. He was one of only two guys in the field who actually listened to Michelin and scrubbed his race tyres to get them to speed quicker. And it showed. If you didn't know any better, you'd think that was Jorge Lorenzo again.
Fabio is exactly what the sport needed. The Anti-Marquez. Sure, it's taken a 50+ point swing to balance the books, but MotoGP was starting to get the boredom chatter associated with domination we're only just started to get in F1 now with Lewis Hamilton. Fabio's a likeable, young, handsome 22-year-old who is finally making good on the hype he had back in Moto3's Junior World Championship when he was hailed by the sport as the "French Marc Marquez".
You see him on social media being friends with Kylian Mbappe and Romain Grosjean, getting front-page newspaper spreads in L'Equipe, and when you realise it's been 21 years since fellow countryman Regis Laconi was the last time the sport had to play La Marseillaise at the end of a race, you realise just how big a deal it is for France to have someone genuinely elite back in the top flight. That ball was so badly dropped with Johann Zarco, let's not forget.
I am fearful thought, that a dominant Fabio might be even more problematic for a sport that's desperate to shake off Alberto Puig's dodgy (And BS) remarks about a tainted championship due to lack of races, or the fact that maybe the best bike rider ever is actually human every once in a while. Fabio's got all the potential in the world to run away with this Championship. The factory Yamaha's still don't seem to be firing at full cylinders compared to SRT, and Dovi's already 26 points behind and looked extra strugglicious in the hot weather. A factor that could be a common trend with a condensed, summer calendar. Dovi still has two banker rounds in Austria, but the signs aren't positive, especially when their satellite team Pramac look stronger than they do at the moment.
Is replacing one dominant rider for another really gonna help the sport? We'll have to wait and see if the crowds turn on "El Diablo" as they have with Marc, who at least was a bit more entertaining at face value when he was winning. And who knows, maybe Yamaha's engine issues early on may come back to bite them.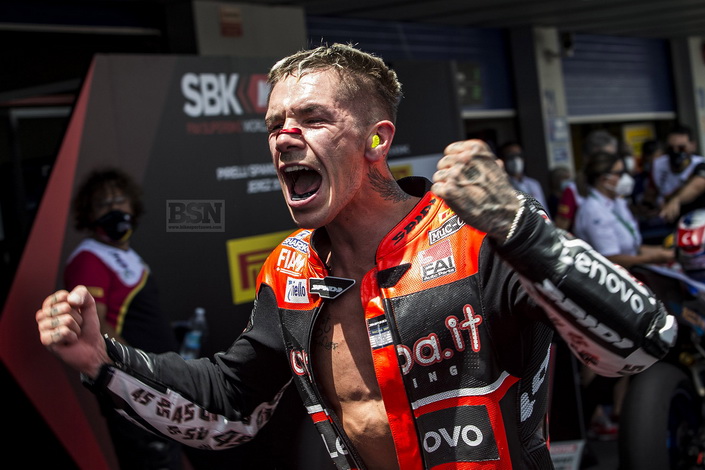 It's really nice to see Scott Redding winning again. He is a classic example that MotoGP isn't the be-all and end-all for bike riders and that he was severely under-appreciated in his time in the top flight of GP.
I remember his 2013 Moto2 season like it was yesterday. Redding was nine points clear of two future MotoGP stars, Pol Espargaro and Tito Rabat. He heads to Philip Island. The track's just resurfaced with the diamond cut grooves. It was inherently dangerous as a tyre-shredder, as the mandatory stop MotoGP race followed that weekend. Redding crashes and misses the weekend with a broken wrist. Pol wins. He returns at Motegi. Is taken out at Turn 1 by Rabat. Pol wins again and wins the title. Yikes.
His top-flight GP career was plagued with awful machinery. He was on an open class Production Honda as a rookie and only finished eight points behind Alvaro Bautista, his much higher reputable teammate who was on the full-bodied satellite prototype. Then he moved to Marc VDS to get that satellite Honda, and he struggled because the Honda is the worst bike in the field when learning in the top flight, but still managed a podium at Misano. 
He had a half-season dogfight with Danilo Petrucci to determine who became team leader when Ducati was only giving one of their two team slots a newer Desmondici. Redding lost, and then bailed out of the sport because it was probably a better time than joining Aprilia. 
I admire the fact he went to the British Superbike Championship, a series with some very talented names in it (Brookes, McKenzie, Iddon, Hickman, Bridewell), and won at the first attempt. He's handled the new Panigale really well, stepped into World Superbikes against a juggernaut in Jonathan Rea, and is leading the Championship after his first two wins in the series in Jerez. He won pretty comfortably and mastered some pretty freaky superhot track conditions too. 
It's nice seeing Redding with a platform and a team that believes in him so we can see his true talent shine. While MotoGP is such a dominant player in the field, the sport as a whole can only do better with a loaded World Superbike series. And with Redding, Rea, Lowes, Toprak and Baz all fighting for wins, there's life in the old dog yet.