It's my own fault, really. My expectations were still too high.
Formula 1 restarted in a difficult time for the world. No fans due to a global pandemic. And in a climate more racially tense than ever before. Within it, Lewis Hamilton led the charge to make the sport look at itself in the mirror in terms of diversity, maybe for the first time ever. An all-black Mercedes. A review into their own astonishing lack of diversity, a team 97% white. 88% male. Putting his own money where his mouth is with a commission investigating all elements into the lack of ethnic minorities in the sport and adjacent careers. A massive influence into F1 pumping seven figures into its own diversity programme, #WeRaceAsOne. Amongst the horror and tragedy of George Floyd and Breonna Taylor's murders and powerful response of the #BlackLivesMatter movement, this… this felt different.
…I gave the sport too much credit.
Austria looked promising. End Racism T-Shirts. The logo blasted out over the track. Tribute helmets from Valterri, Sebastian and Lewis. We got an "End Racism" banner on the front of the grid… and then six drivers stood while the other fourteen knelt. Truly a "united" front. 
It's kinda humiliating when you think how other sports have handled this. The Premier League has had every single player kneel before every single game played post-lockdown. Cricket, another sport that's badly dropped the ball in terms of diversity, had everyone involved take a knee when England played the West Indies, the latter, raising fists in the slips. NASCAR, the most racially segregated sport on Earth, unanimously rallied around Bubba Wallace when he was the victim of an alleged hate crime. The return of three of the US's "big four" sports leagues (Baseball, Basketball and Hockey) all returned this week with power anti-racist messages, speeches and protests. Just two days ago, Matt Dumba became the first black man in Hockey, to take a knee during the National Anthem.
The fact that something as simple as a kneel could split the room in an F1 paddock is utterly horrendous and asks many, ugly questions about the state of the people we claim to admire. 
The stand-up six was bad enough. The repeat performance the following week was even worse. Drivers showing up late, followed by the TV Director cutting away to show pre-recorded footage of skydivers, ruining yet another chance to make a point. Sky Sports' own Simon Lazenby had to step up and ask the hard questions about the seriousness of F1's commitment to the cause, hammering home the importance of keeping the message alive. Like so many on the streets campaigning making that same point – The importance of black lives is not a trend. This was not a problem that was going to be solved overnight. Not a performative flash-in-the-pan like adding a black box to your Instagram feed.
It somehow got even worse in Hungary. A disjointed mess of a display. Missing T-Shirts, drivers scrambling to their socially distant footmarks, kneels, non-kneels and then the sudden playing of Hungarian's National Anthem mere seconds later scrambling everyone back to their feet. When normally docile bumbling Ted Kravitz calls you a "total shambles", you know you've fucked up. In hindsight, Sebastian Vettel yesterday called it a "let down" from the FIA. He wasn't wrong.
The FIA listened. A proper, organised moment in the schedule was published. A whopping 27 whole seconds to the drivers demonstrating their "ending of racism", "in their own way". I thought, maybe, just maybe, if everyone gets their shit together, we can finally have something that shows the sport united against the most basic element of humanity, equal treatment for all.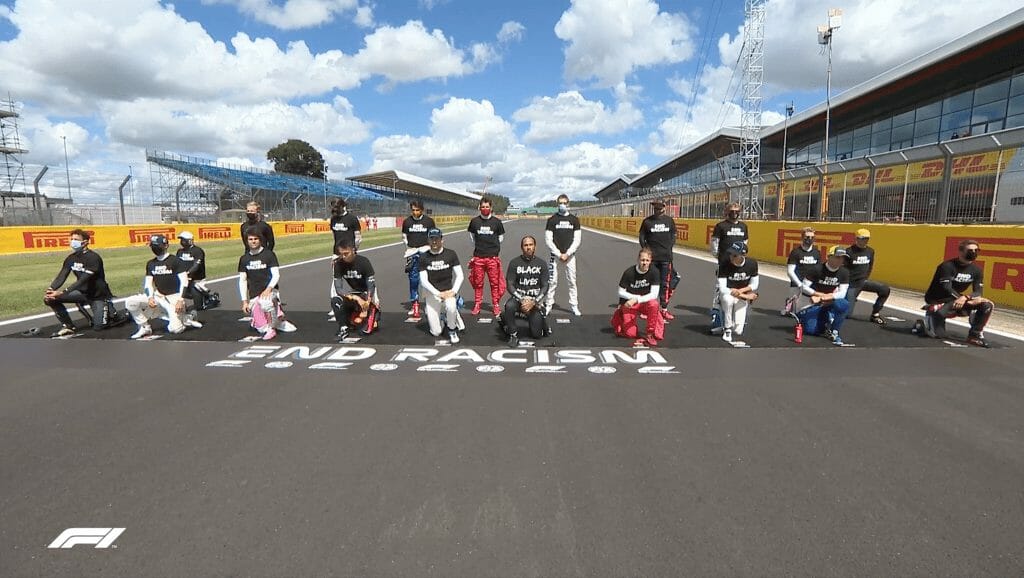 Another black and white filtered, cringe video message. Not quite Aaron Paul levels of half-baked apologies no-one asked for, just a generic "We won't accept racism" video montage, which, given the inaction of nearly half the field, just came across as disingenuous. The platform on the grid? Just another, differing, obtuse display that in my immediate line of thinking, made me wonder why they bothered. It was exactly the same as before, just look into a little neater when now seven, more drivers than ever, stood up in the back row once again. Like really, is this your best?
Of course, they all got behind the two minutes of clapping and the flyover for the NHS and keyworkers, because that's easy. Backing the NHS on a performative level doesn't hurt anyone. Doesn't make anywhere near the same amount of people feel uncomfortable. And deep down, we know it, and the sport knows it. It makes us feel good about ourselves. Meanwhile, those same nurses are also protesting on the streets themselves, only to be abused on social media for the sheer audacity of wanting better pay. While in a global pandemic. With many paying the ultimate price for the sake of the greater good, saving innocent lives. At this point, the clapping's condescending and every bit as performative as most of the big brands we turn a blind eye to. Especially when so many of F1 denounced kneeling as an "empty gesture" in itself.
If you've been listening closely to the limited questioning of the drivers and their stances on the matter, my cynicism was justified. Max Verstappen comfortably sat on his fence. He declared that "racism is complicated", and that he had a right to "protest how they want". But yet, has done nothing else publicly to validate that claim, or justify his lack of a message. This opened the door for some of his own countrymen to trend a Twitter hashtag translated into English as "Kneeling Is For Idiots". Not a shred of acknowledgement from one of their biggest sporting stars. An enabler, pouring gasoline on the fire for more racist abuse on the Internet.
Charles Leclerc, one of the first to speak for Black Lives Matter after Lewis Hamilton's indirect call to the sport for action, stood up, clearly out of fear. He admitted in Austria that he didn't want to cause "controversy in some countries" by refusing to kneel. Like… where? I'd call him naive in not wanting to rock the boat, which is kinda the whole point of a protest, but he was clearly busy spending too much time liking dodgy "BLM is a lefty Marxist cult" opinions from the sort of people who missed the irony of their fellow white man giving a Churchill statue the Nazi salute.
I can almost understand Danill Kyvat not wanting to upset his fellow Russians back home. But their cultural dismission of the kneel is based in history that's 600+ years old. Not only would it have made it an even more powerful gesture BY kneeling, his reasoning isn't really valid in modern society. 
Carlos Sainz was probably the least surprising of all. A man who had already fired off xenophobic remarks about China via Estrella Galicia back in April, doubled down this weekend when he claimed he was a "free man who wanted to express himself in a way that's convenient to his culture" and demanded we "respect that". A thinly veiled attempt at not wanting to piss off his home country, and a chest-beating of his own privilege by only wanting to fight racism at his own convenience. Call the man what he is – A bootlicker. And the fact that I know journalists have pushed McLaren for comments on his disgusting statements only to be silenced internally and externally, fills me with rage.
Kimi Raikkonen's entire fan-appointed "brand" is not giving a shit, so neither will I. His teammate should know better too. Kevin Magnussen has a hell of a lot to answer for this week after initially kneeling, then changing his mind in Britain. Why?
Romain Grosjean, one of the three heads of the Drivers Association last week, claimed that one kneel down was enough after Austria. The walking embodiment of why the "We ended racism!" meme exists. When Lewis Hamilton rightly outed him to the press, then had to have a 45-minute conversation with the man on the phone explaining why dipping his toes in the water and running a mile might be problematic, he admitted he was speaking on behalf of those who disagreed with the kneeling. An idea he and Sebastian Vettel came up with themselves.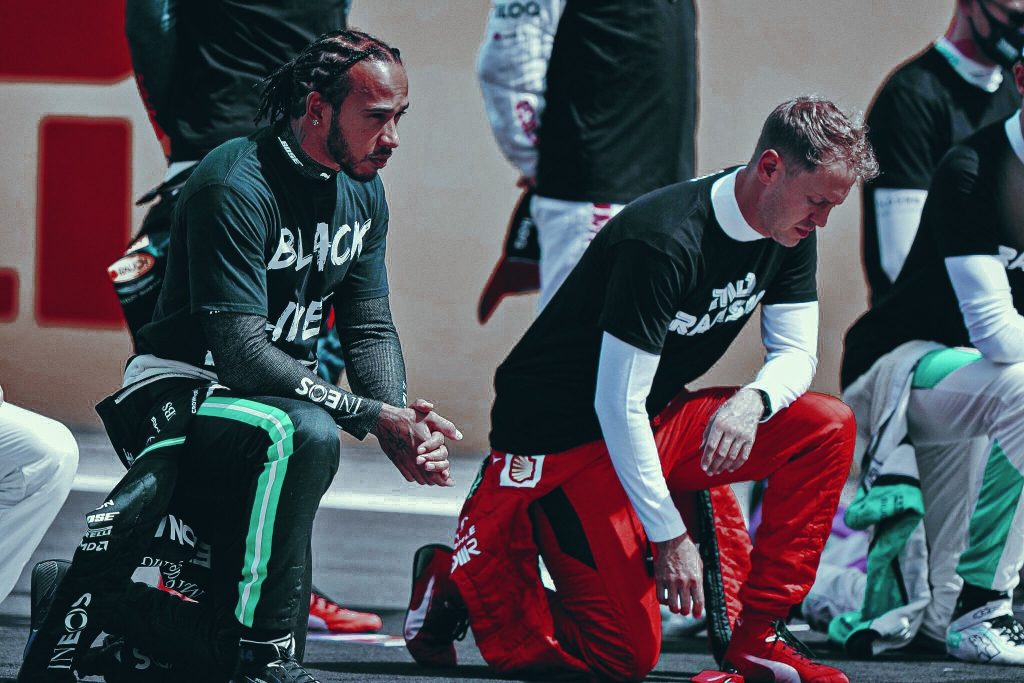 Romain had the audacity to give Lewis the old "both sides" treatment to a man racially abused within his own sport. And he represents the field. It's embarrassing enough that that's your drivers representative, but it's even worse that Lewis has to go beyond the call of duty, again and again, to explain why you're being ignorant and unhelpful. You have failed Lewis and failed your job as a driver's rep. It should not have to come down to the sports one black representative to carry this burden, and the fact he's working so goddamn hard within the sport and beyond to spread his message is a testament to his greatness.        
The president of the FIA, Jean Todt, called his own wife a racial slur before dismissing Lewis' campaign with the "All Lives Matter" copout. Jackie Stewart and Mario Andretti dismissed Hamilton's own, 25-year history of racial abuse within the sport, with the latter going as far as calling Lewis "militant" for pressing on an issue he felt "didn't exist". The funny thing is, I agreed with him on Sunday. It IS inappropriate to be forced into doing anything as a protest. Besides, I'd rather no protest at all than one that's insincere. Especially when he and so many of his adversaries are so good at exposing themselves.
I don't think we should be asking white men with no understanding of racism who raced nearly half a century ago for opinions on Motorsport's diversity. But I fear that these men are used to try and temper the justified outrage of so many on the outside. "Look, Jackie said it's fine, what's the problem?" When Willy T.Ribbs has to clap you back on Twitter, you know their opinion is invalid. 
I just rattled off the problematic behaviours of 40% of the current field. Men we hold to a sometimes stupidly high moral standard. This is who they are. Men who even if they couldn't kneel for BLM, couldn't even do it for their black co-worker who many of them KNOW, has been racially abused in their own backyard. They don't deserve that precious benefit of the doubt that half their fans are so quick to give them. That unconditional love that spares them from the valid questions that so many want to ask them on the hypocrisy of their "anti-racist pledge". 
And that's what hurts most. I've been a black fan of this sport for over 20 years now. You WANT to give them that benefit of the doubt. You want that thing you love, that's shaped your life, the passion that's inspired you to be the person you are today, to love you back. To make you feel like you're appreciated in their world. But I don't. The culture of Formula 1, is too scared to publicly claim they care about black lives. Too worried about offending their racist fans, our "Republicans buy sneakers too" moment that Michael Jordan had to deal with when he was too scared to publicly back Harvey Gantt. 
And yet, this sport claims "We Race As One". Slapping their adopted rainbow over everything it can, encouraging us to buy their merch so we can send money to a diversity plan that as of August 3rd, we have no idea where it's going and what exactly it'll be towards. In a sport where still only ONE team out of ten has committed to improving diversity with their own ranks. In a sport where nearly half of the youngest, most accessible and socially aware grid we've ever seen, don't know how to handle the simple concept of declaring their public support of basic human rights. It's one step forward, five steps backwards, and its a door slammed in the face of fans like me, who feel more than ever like we don't belong. 
No, we don't race as one. We've NEVER raced as one. And if you want to truly want the sport to be that way, find your voice and start talking, because we have a lot of work to do.