Welcome to the not so glorious life of being Danill Kyvat. Until a fortnight ago, the man seemed to have it made. He beat out fan favourite Antonio Felix da Costa to leap from GP3 straight into Formula 1 with Toro Rosso, and for a while, was F1's youngest ever points-scorer at just 19 years old. He then got the chance to join the Factory team over another fan-favourite in Jean-Eric Vergne, when Sebastian Vettel made for the prancing horse. But that all seemed to change today, as it was announced that he is swapping seats with Max Verstappen, as he will be promoted to the Red Bull Racing team in his place. Damn.
Of course, people like Dr. Marko and Red Bull's PR department will say this is a fine use of their resources, and that Kyvat was too reckless in Sochi last weekend. But don't let that fool you. This is another F1 "catfish" moment to trick us all. This has little to do with that rough weekend at home. This is Dr. Marko generating the perfect "out" to make his ultimate power play. Because if you think otherwise, then the history of the Red Bull Driver Academy suggests otherwise.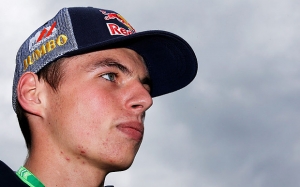 We all know it – Max Verstappen is the golden child. He was a win/win acquisition for the Red Bull academy. Even if he didn't work out, he'd have the media spinning about having the sheer audacity of hiring an 16 year old, which as it stands given F1's rules, will NEVER happen again. But it turns out, despite being a little rough around the edges, Max is a wet dream for F1 – A no-nonsense, ruthless Dutch/Belgian bastard who is fearless and will capture fans imagination with his aggression and skilled overtaking, in a sport desperate for entertainers. He's been the vocal point of said academy since his hiring, because Dr. Marko could offer Max the one thing Mercedes couldn't – A chance at history, and an immediate race seat. It's in Dr. Marko's best interests to keep that Max camp happy, rather that than risk losing him, and this is a kid that wants regular podiums, and soon.
What we're reacting to today, was the power play – This was always going to happen at some point. Danill turned 22 a fortnight ago. Carlos Sainz is 21. Max Verstappen is 19. They got to keep the conveyor belt moving here given their teams are two of the youngest in the field. And as we've seen before, if Red Bull stop believing in you, you will be kicked to the kerb. Sebastian Bourdais, Sebastien Buemi, Jaime Alguersuari to name a few. And in F1, second chances are few and far between. Red Bull's effectively ended just as many careers as it has launched. Because ultimately, if they can generate a Sebastian Vettel or a Daniel Ricciardo every 5 years, who cares who you have to step on to make this happen, right?
Kyvat has sacrificed his spot for our sins. And it's a damn shame because I admire the young man. He defied everyone wanting him to fail because he wasn't the "popular" choice. He's taken every opportunity that's dropped on his lap since he won the GP3 Championship, and it's hard to believe that was barely 2 years ago. He was on the podium just a fortnight ago.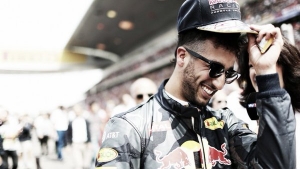 He out-pointed Daniel Ricciardo last season, and as much as the Honey Badger wasn't the "Future World Champion" we were quick to label him as last season, that's still a heck of a platform to match. He's earned his place in a Top 3 team, without question. But hey, we gotta keep the prodigal son happy, so send him back down as "visual punishment". Dr. Marko saying he couldn't handle Ricciardo's "pressure" is the biggest pile of garbage I've ever heard from him.
And think about the logistics of this decision – There's a LOT of ways this could go very badly wrong, and really not many where this can go right. If Verstappen turns out to be the prospect we all thought he was, you could risk losing Ricciardo, the backbone of your team in the post-Vettel era.
If he doesn't work out, you just threw the house at Max and it failed. What do you do? You can't bring Kyvat back. You've broken his confidence, you've publicly humiliated him in the eyes of a VERY public "demotion" and and you look like fools if you bring him back because you look like hypocrites. And then you have Carlos Sainz, the 4th of the pile, robbed of statistical merit because of an unreliable car, a teammate that's taken a lot of his credit, and now, has confirmed his spot as the "fall guy" given Marko's belief in other guys in the team. Carlos will most likely never drive for Red Bull now. Way to go guys.
Really? one bad race and Kyvat's dropped, what about the podium in the previous race? #Shortmemories https://t.co/8YDBZPDP3v

— Jenson Button (@JensonButton) May 5, 2016
The crash in Sochi was the excuse needed for Red Bull to push their youngest, and in their eyes, brightest talent. Verstappen will rise from this opportunity, he's an exceptional talent, and I think deep down, we all saw this coming eventually. But the way the team has gone about this has been even more ruthless than any team business I've ever seen in F1, and I think the long term damage, with Dr. Marko fiddling while Rome burns, could have catastrophic circumstances.
At some point, you have to ask if the Red Bull Academy is doing more harm than good. This could be the breaking point.