I can't lie to you folks, I'm a pessimist when it comes to watching Formula 1 these days. Why? Because the 2016 season so far has given me all the reason in the world to stick by this. And what's amazing about this season so far, is that if you strip away all the political horse manure and drama, the racing so far this season, has been been good! [fusion_builder_container hundred_percent="yes" overflow="visible"][fusion_builder_row][fusion_builder_column type="1_1″ background_position="left top" background_color="" border_size="" border_color="" border_style="solid" spacing="yes" background_image="" background_repeat="no-repeat" padding="" margin_top="0px" margin_bottom="0px" class="" id="" animation_type="" animation_speed="0.3″ animation_direction="left" hide_on_mobile="no" center_content="no" min_height="none"][fusion_tooltip title="I don't do Race Reviews here any more, but Australia, Bahrain and China were 8, 7 and 8/10 respectively.." placement="top" trigger="hover" class="" id=""]Very good in fact[/fusion_tooltip]! Sure, Sochi sucked, but I think most people had low expectations given it's… inconsistent track record.
A lot of the optimism has come from Ferrari. Now obviously in 2015, the little team who could from Maranello had their strongest season since 2012, winning 3 races, keeping Sebastian Vettel in title contention until COTA, and generally, gave a lot of fans in red a genuine cause to root behind. But here's the thing – Was Vettel's season that much more different than Daniel Ricciardo's the year before? In 2014, Ricciardo also won three races, was an Driver of the Year contender, and the guy who most often was the thorn on Mercedes side whenever they did mess up. What's the difference? Ferrari are liked more than Red Bull, who still had the whiff of the "We don't want them to win because they 'dominated' the first half of the decade" mantra.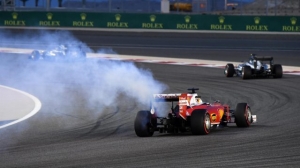 If anything, I'd make the claim Ferrari's gotten worse. There's no getting around it, they've been sloppy from Day 1. They let a blatant chance to win in Australia go begging because they didn't realize by now that if you want to beat a Mercedes, you have to stay ahead of it by any means necessary. Track position was king, especially in a place like Australia where the dirty air made it near impossible to pass. Throw in a pair of engine failures and some pretty rough luck in Sochi, and it already seems like Ferrari (And Seb) are out of the running in their respective Championships.
And it doesn't help that Mercedes are so bloody paranoid about the "Prancing Horse", that they talk themselves down at every opportunity. When established and respected figures like Toto Wolff do that, people buy into what he says. (Unless it's a Lewis conspiracy squasher, but still.)
Ferrari have been awful this season given where they were just 12 months ago. By this time last year, Vettel had podiums in 3 out of the opening 4 rounds, and scored a race win on merit, that was so encouraging for the field, people genuinely believed it was "game on" for the Championship, as Nico Rosberg so eloquently put it on that Malaysian podium.
Then we have the reverse effect in the Hamilton camp. He's now 43 points behind Rosberg after a real rough start to the season, affected by bad starts, and power unit reliability. I've had many fans of Lewis tell me the seasons over. On a man who's won 21 GP's in the last two seasons and who won both of his last two titles by over 50 points respectively.
Sure, reliability factored into both of those margins, but that's just the point. There's no way on earth given Mercs sketchy reliability that Rosberg will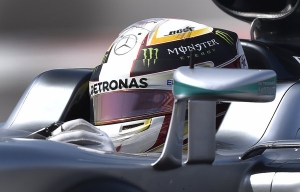 get the rub of the green for all of the next 17 rounds. Lewis more than anyone else, has maximised opportunities when Rosberg has faltered. Last season was a prime example of this. Rosberg's two major breakdowns, Lewis took both wins. When he had the puncture in Hungary, Lewis finished ahead, despite one of his worst ever performances. It's days like those that'll win you Championships – You're only as good as your worst race after all.
All it would take would be for one Rosberg DNF and subsequent 25 point swing, and Hamilton's 18 behind, and his bad start is quickly forgotten about. Of course, it's a narrative that'll only get pushed stronger by the fact that Hamilton is the victim, but anyone saying the Championship is over already is CRAZY.
And over in Milton Keynes, Danill Kyvat's first real blunder in F1 has Sky jumping all over the possibility of Max Verstappen getting his seat for next season. Because of course. Narrative. And of course, the optimism of seeing Max in a better car, given how excited he's made many fans with his aggressive driving style and strong early performances.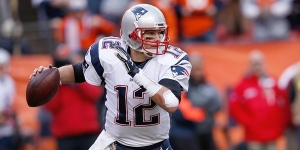 Of course Kyvat was at risk, three quarters of Red Bull's drivers are under the age of 23. There was always going to be a logjam in the conveyor belt by going so young in the first place. Three into two doesn't go, and someone's going to have to be the unfortunate victim. This is Red Bull we're talking about, who has been ruthless over the years when dealing with capable young drivers… and Sebastian Bourdais. But the list is strong with Jean-Eric Vergne, Sebastien Buemi and Jaime Alguersuari all victims of the way Red Bull promote their talent, reminiscent of Bill Belichick of the New England Patriots, when he got rid of Drew Bledsoe so quickly as Tom Brady took over. "Next man up".
The media inevitably take a massive responsibility where this is concerned. Sometimes when there just isn't a story, they'll have to make one up by putting two and two together and making twenty-two. They have to get their clicks because they have bills to pay too, but we as fans need to be a little bit more careful in how we drink their kool-aid, because the perceptions many people have leaped too, and we're just four races into a twenty-one race calendar, is alarming and unhealthy.
Call me crazy for being pessimistic as hell with this 2016 season far, but trust me, it's made a lot more fun. This season has been full of drama, storylines we weren't expecting, and the racing's been great so far. Lewis Hamilton will most likely have to chase for the majority of the season. Haas has stunned the F1 world. Force India and Sauber are struggling hard. The midfield has genuine intrigue. It's been a nice surprise. Now there's something to be optimistic about.[/fusion_builder_column][/fusion_builder_row][/fusion_builder_container]