Last column, I wrote about the difficult situation Red Bull had put themselves in. Isn't it amazing how a month changes things?
Red Bull had come off an awful 2015 by their standards. No wins, a podium count you only needed one hand to measure, and a very public breakup with their power unit suppliers in Renault, and awkward tensions with their fans in a season where many still feel Jean-Eric Vergne should have been given the nod over Danill Kyvat. And if anything, the Russian's breakthrough second season, out-pointing the Aussie, might have been the highlight of an otherwise drab campaign.
But 2016 has been an improvement.Christian Horner himself said today of their season so far, that their result have been "more than anybody could have dreamt of at the start of the year". Red Bull might already be back to being the #2 team in the field again, Max Verstappen had given the team a boost with that unprecedented debut victory in Catalunya, and lost within the shuffle of what's already been an incredible season for drama and circumstance, Daniel Ricciardo has returned to the dizzying heights of the 2014 season that made him the star he is now.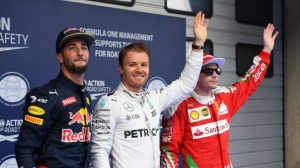 Despite the early struggles of the season, Ricciardo opened the year with three straight 4th place finishes, in a scenario where we thought Ferrari were the biggest threats to the Mercedes juggernaut. The Chinese GP the standout result of the three, as Ric came back from a puncture in the early going to finish 4th in one of the comebacks of the decade. The Pole Position in Monaco, the first of his career, and Red Bull's first since Brazil 2013, seemed to be the highlight reel moment that people realized just how awesome a season he's having. The lap to put him 3rd in Spain and derail the Verstappen hype train rings a bell as well.
But twinned with this exposure has been the bad luck that may have robbed him of so much more. An unfortunate circumstantial victim of the Kyvat crash in Russia, dropped him out of the points. A 3-stopper gone wrong in Spain robbed him of any chance of the win, taken with both hands by his teammate. And as well saw in Monaco, a ridiculous own goal in the pits from Red Bull cost him a nailed on win. It's the amazing thing about Mercedes – They're still the near unassailable monsters in the field, but they've had moments of real vulnerability and for the most part, rival teams have failed to take their chances. It's the Chelsea v Barcelona Champions League Semi all over again, only with David Croft replicating Gary Neville's verbal orgasm.
Post-Monaco, we saw a different Ricciardo, one different from the usual laid-back, happy-go-lucky, charismatic charmer from Perth. We saw a man riddled with frustration with a team that may have ripped not one, but two wins from out of his fingertips.Of course, given that Motorsport media is slowly becoming "football twitter", many immediately speculated over his future, and repeated the Ferrari rumours from last season. And as much as I would normally laugh this kind of thing off, the more I think about it, there's some method to the madness here.
Giving credit to friend of the show Len Morrison, you could make a real argument to suggest that Daniel Ricciardo's at a real crossroads with his F1 career. His quote on Monday after Monaco summed it up better than I ever could: "I'm 27 soon and don't have anything close to a World Title". And it's crazy how so many describe or described Ric as a "Future World Champion", when he's in his 6th season in the sport, and the German GP return will be his 100th in F1 on July 31st, a month after his 27th birthday. I mean, let's be real here, we throw that term around as much as I use a Jennifer Lawrence analogy. Remember when Bottas was given that same tag after 2014 before we found out that Felipe Massa's still a damn good driver? Yeah… We're fickle on this one.
Daniel's right. He really hasn't got a lot to show for his incredible work since grabbing the top seat opportunity we wish of so many guys in the midfield. 3 wins, 11 podiums, and just the 1 pole position in 2 and a third seasons. I know a lot of that is the nature of Mercs, but on paper, it doesn't tell a fair story of what he's done to date. Is Red Bull holding him back? Maybe.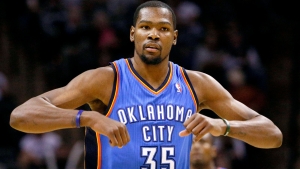 I was watching the NBA Western Conference finals on Monday night after an incredible Game 7, and Daniel's situation reminds me a lot of what Kevin Durant has had to go through in his career. He's an incredibly unique, 6'11" monster of a Small Forward, a Top 5 player in the league, and the only guy in the league who shares a team in another Top 5 player in Russell Westbrook. They've made the Western Finals every year since 2011, made the finals when Kevin was still just 23, but has never quite had the tools, or the team to go all the way. And he's about to become one of the biggest free agents in the history of basketball. See the parallels?
Here's the problem – Ferrari may just be another sidestep. They have similar, near-limitless resources compared to the Dairy Milk car from Milton Keynes, and I'm not sure he's going to want a rematch with Sebastian again, he may not be so lucky second time around. And if he's not with a team that can win multiple rounds a year on merit, then what's the point? Furthermore, Ferrari you could argue, is replicating Red Bull last season, who came into this year with a legitimately good car, but their own issues has seemingly crippled them.
Ferrari have let two wins go begging this season as well, with the bad strategy calls in Australia (When will people learn that track position is king when facing Mercs head-on? and at Spain, and have had three power-unit related failures since the season began. So, for all the talk of Red Bull's incompetence with Ricciardo, do you think joining an even more disappointing setup in Maranello is the way to go?
Not to mention, the only way for Danny is up, and Mercedes have ZERO reason to deviate from the Hamilton/Rosberg soap opera, that's currently in its dramatic fourth season. Lewis Hamilton is probably the world's best driver, and a marketing department's wet dream – And at worst, Nico Rosberg is a hometown hero who is guaranteed 300+ points a season, a perfect, competitive role player in a team determined to seal every Constructor's title imaginable. The Klay Thompson, to Lewis' Steph Curry.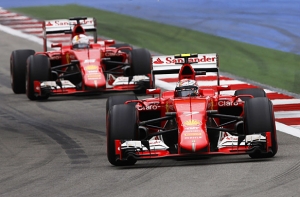 And with no other viable contender, Daniel's options in the short-term look bleak. Sure, he'd probably be the top free-agent in the sport if he were to leave, but the seats just aren't there to justify the switch at present.
Ricciardo's in a tough jam, and his refusal to speak on his future proves it – There's no magic solution here. Either stick it out and lead a team that still looks second best, or take your chance elsewhere and hope that someone else seizes the mantle. Neither seem particularly promising.
But that's the fork in the road Ricciardo has to choose between. He's a credit to the sport, the most charismatic and likeable driver to his the sport since Jenson Button at the turn of the century. He's a brilliant, elite level driver. But like so many "fresh out of the frying pan, into the fire", it's what happens next that could define a career that still hasn't reached Top Gear.