1,974 is a poignant number after a pretty solid Canadian Grand Prix. It's the career point totals in Formula 1 for both Lewis Hamilton and Sebastian Vettel. And it's amazing how just talking about a flock of seagulls can make you want to talk about the impact of two of the sport's greatest, and how they can be massive opposites of the spectrum, and yet, here they are, the two biggest names in a sport that has a bloodlust for star making.
You look at their career paths to get to this point, and the ups and downs of how they got there, it's an amazing thing to consider.
It's hard not to give Lewis the "golden child" stereotype, because that's what he was. Making TV appearances on "Blue Peter" and being scouted by Ron Dennis from the time he was 10. Had all the funding and support as he climbed the junior ranks. His star power was already on the rise in GP2 in 2006 for THAT double overtake at Donington, and his multiple appearances on ITV's coverage before he even got in an F1 car. And how many guys get to walk into the best team in the business at the time? A McLaren team who were bouncing back from losing Kimi Raikkonen and narrowly getting pipped by Renault.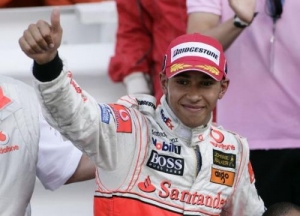 And what a rookie season he had, leading the majority of the Championship with brilliant consistency, four wins, and a young man who came across as incredibly professional and likeable, especially in the midst of a team that had very public struggles, from "Spygate" to a teammate that openly tried to screw him when the penny dropped that McLaren thought Lewis was "their guy" for the future.
He was a very unlucky runner-up in 2007, but came back even stronger (And got that little bit of luck he missed out on), in 2008, to take his first World Championship. And while Lewis never reached those dizzying heights in the chrome of Woking, he was able to manage the incredible expectations of being McLaren and Britain's leading man – Even after Jenson's miracle title win in 2009, and that difficult 2011 where his love life was thrust into the limelight, and his very public feud with former friend, Felipe Massa, making contact in several rounds towards the end of a season where both were dealing with harder times.
2012. More Nicole drama, Lewis leaking telemetry, and one of the biggest driver deals in recent times, as Lewis was trading one silver for another, as McLaren was out, and up-and-comers Mercedes were in. I remember the backlash being massive, Mercedes weren't trusted yet. They had gotten their first win that season with Rosberg in China, but were also incredibly unreliable and still in that upper-midfield shot. It was only seen as a move backwards.
It turned out to be the best decision of his career. Not only has Mercedes grown into the juggernaut it is now, not only has it shown just how brilliant Lewis Hamilton is, but it's also allowed him to cut loose, and spread his name into other walks of life, potentially bringing in new fans, and becoming F1's first real "Social Media" era superstar. He hangs out with Bieber and Kanye. He has almost has as many Twitter followers as Nico Rosberg and Fernando Alonso combined. He's the face of a sport that's still watched by 400 million worldwide.
And while he's had a fair few questionable moments, it's never really brought him down, and he gets that F1 could be a way to extend himself beyond the confines of a sport that still takes itself really seriously, and lives almost in a bubble exclusive from other sports.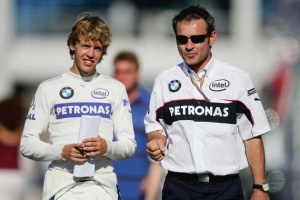 Then you have Sebastian. While Lewis was a city man, Seb was a farmer's boy. Didn't have that glowing Junior career Lewis had, and he may have never gotten that chance in Formula 1 if it wasn't for that awful accident that put Robert Kubica out of action in 2007 for a round. A BMW Sauber debut, chucked in at the deep end, and he became the youngest ever points scorer. He was picked up for Toro Rosso and despite early struggles, a 4th in China showed the potential he could have had… despite smashing Mark Webber from behind at Fuji. Whoops.
2008 was a bumpy year, but he excelled in the second half – That breakthrough win at Monza, complemented by a handful of other strong Top 6 finishes. And getting the measure of Sebastian Bourdais, who had an incredible reputation winning 4-straight Champ Car titles in the States.
2009 was another superb season, as Vettel took four wins, and took the Championship fight to Jenson Button, after his incredible start. Then in 2010, despite one of the darkest moments of his career in Turkey, he came back hard and despite not leading the Championship after any given round, he won three of the final four to become the youngest ever World Champion at just 23, taking Lewis' own record.
2011 was one of the greatest individual seasons ever. 11 wins, 17 podiums, 15 pole positions, the all-time single season points record with 397. 2012 he had to comeback from 50 down to beat a rampant Fernando Alonso in the consistent Ferrari, in one of F1's most dramatic seasons.
But 2013, was a different story. Sure, Seb dominated. We all know about the 13 wins, and the 9 straight after the summer break. But on top of that, he became the panto villain that F1 loved to hate. "Darth Vettel" ran true throughout F1, after defying team orders to beat Mark Webber at Malaysia, and the boo's that followed Seb for the next 10 races. A combination of fans bored of his brilliant dominance, and his disrespect to his popular, sympathised teammate. The dynamic had changed. Vettel was the bad guy.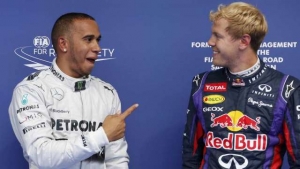 And the fans got their wish to see the supposed "arrogant, finger pointer", brought down to size as the hybrids came in, and new teammate Daniel Ricciardo had shocked the world with what was a brilliant first season with a big team, finishing 3rd overall and taking three wins, as Seb struggled to adapt to the hybrids. It's what's triggered many fans to speculate whether Seb was a fraud, given the strength of Newey's Red Bull cars, that had won them four straight constructor's Championships. I read many articles saying: "Seb's a fraud." And "He can only win with the best car".
Then Maranello called.
It's the move that Seb had also so badly needed. A chance to silence the doubters. And a brilliant 2-stopper in Malaysia in just his 2nd race was the shot in the arm the sport needed. And while the consistent threat of Ferrari never really came in 2015, his three wins gave fans hope for the future, for a more competitive Championship. And while the hype train has since derailed, Vettel's 2015 season was a reminder of his class, a Driver of the Year candidate by many, and his reputation cemented as one of the sport's greats.
When you look back at both of these drivers, you realise the polar opposites at how they got to this point. Lewis on top of the world, going beyond F1's confines, and Sebastian, who had to fight tooth and nail to beat the odds and fight for his reputation. But not only that, but their off-track characters too.
Lewis embraces the limelight, realising the potential of branding, and trying to raise the profile of himself and the sport. While Sebastian actively shuns it, he's an incredibly private person. Like the Caravan owning Irish in movie "Snatch", you'll never find him if he doesn't want to be seen. Lewis will be partying, Seb will be riding his classic bikes up the Austrian hillside. Lewis is a 31-year old single man, working all those TV commercials. Seb's got a family with two girls and doesn't have as many obligations.
Their public perceptions have switched as well. Lewis went from corporate, restrained clean-cut guy at McLaren, to Mercedes giving him the freedom to cut loose and forge his own path, from Roscoe appearances, to bling, to Private Jets and photo shoots. He's F1's modern day "Ric Flair", just minus the dressing gowns. There's a good reason he rocks all those different caps now. And as a result, he's gone from universally liked, to being the most polarising driver we've seen since Michael Schumacher in the 90's and 00's.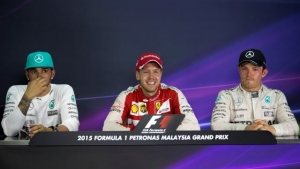 While Sebastian Vettel I feel has always been a witty, happy-go-lucky kind of personality within F1, this side of him as only become more prevalent after we stopped associating him with winning, and "cheating" during his Red Bull days, and the pedestal we the fans put him own. We were cynical with Seb, now he's pretty much universally liked, his press conferences from last year a highlight of what was on the face of it, a season that never really got out of third gear.
The post-race debrief from Canada had one of the best Interviews the sport has had in modern times, as Sebastian and Lewis bantered with each other, over some seagulls on the racing line. It sounds stupid. It was, and that was the beauty of it. Despite such different stories, despite their branching paths from their days of racing each other in the Formula 3 Euro Series in 2005, while much has changed, much has also stayed the same. And it's a genuinely wonderful thing to see two drivers at the top of their game, exhibit such incredible respect and good will between them.
In a sport that so often has drawn towards the cynical with some of its rivalries and how they played out, like with Alonso, like with Schumi and Hakkinen, Hill and Jacques, to Senna vs Prost, Lewis and Seb are both modern superstars in very different ways. And as much as rivalries are narratives we often make up to try and draw interest where it isn't there (See Rosberg, Nico), we've had these two all along, up and down for so many years. It reminds me very much of James Hunt and Niki Lauda, and while the worst between them was so often received, it was a rivalry based around the same values – Respect.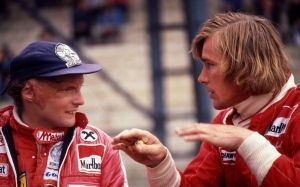 Ever seen the movie "Rush"? I love the end scene at the airfield more than any other in the field, because it makes you realise that those different personalities was made them better drivers, and better people. Hunt's determination to beat Lauda in Fuji was so great, he kicked all his other habits to bed and drove harder than he ever did. And Lauda, who before his fire, had only ever thought about calculated risks, became a better human being because of Hunt's influence, and that "ying and yang" friendship, reminds me so much of them both.
The Canadian Grand Prix's story was one I had to sit back and admire. We were witnessing the two greatest drivers of our generation, in their respective primes, at the peak of their powers, trying to push each other with some incredible lap times. They've won seven world titles, won nearly 90 grand prix's, and already told some amazing stories as their careers have come full circle. And I feel there's still so many more to tell.
Admire what we have people. Lewis is 31, Sebastian is 29 in three weeks time. We may not get much more of this. In F1's environment, where we're often digging so deep for positives and it's so very easy to nit-pick the present and hype up the future, we can take some pride in what do we have here, and that's two of the very greatest. And thankfully, their careers share a great deal more, than 1,974.