Not to make it sound too obvious given the title of this blog, but Marco Melandri is a very interesting man indeed. He's what many of us English folk would call "a character".
I can't lie to you readers, I loved him in his MotoGP days. I loved the fact that Honda and Fausto Gresini took a chance on him in 2005 when Yamaha put all their eggs in the Valentino Rossi basket and figured out that yeah, Colin Edwards ain't winning you anything here. He took that ball and ran with it, and in his first season on a competitive bike, he was the best of the rest as a prime Vale decided to kerb stomp the rest of the field. He looked as a good guy could after being on the receiving end of a 147-point beat-em-down.
And that powerslide at Phillip Island. Oh man, it made my heart sing. Without question, the coolest thing, I've ever seen someone do on a Motorcycle. I mean, look at this shit:
Unreal. And while he never maintained the heights of 2005 and 2006, he was still a charismatic entertainer, which makes it such a shame he faded into obscurity. Then he joined World Superbikes with Yamaha's factory team in 2011, and it was like the old Marco was back.
Amazingly, he was still just 28, but in his first season over, he won his third ever race in the sport, would win twice more that season, and would be an unfortunate runner-up as Carlos Checa had suddenly just decided to go apeshit and win 15 races in a season. Now, don't get me wrong, World Superbikes was still finding its feet again after its pool of talent had slowly been gutted out by the rise and fall of MotoGP – But even so, I dunno how you couldn't be impressed with Marco's speed.
His run in Worlds lasted for four seasons, and in that time, he won 19 races (and an astonishing 49/100 podium finish rate), including 9 for BMW as Yamaha felt the pinch after the credit crunch, and despite the rather awkward return to MotoGP, Melandri left the class in top form, winning four of his final seven with Aprilia in 2014, before returning to MotoGP to spearhead their return to the big time as a factory team.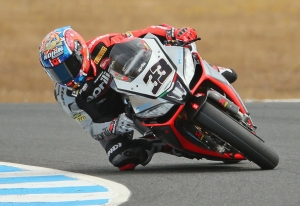 …And if you're reading this, you probably know how that ended. Embarrassingly. No finish better than 18th. Often multiple seconds behind teammate Alvaro Bautista, who was essentially riding for his career after being ridiculed next to rookie Scott Redding the previous year. He quit the team after just eight races, not even making the summer break. It was like someone had replaced Marco with a corpse.
He's not ridden since. Which is interesting that Factory Ducati team have just announced him to be Chaz Davies' partner for next season in Worlds, and I'm not sure how I feel about this.
On one side, Marco is a great move for Ducati. Massive Italian bike-riding name, a much bigger star than the man he's replacing, and he's always been excellent in World Superbikes, right from the start. A proven top-contender and at worst, second scorer for the manufacturer's title, in case Chaz has an off-day. At best, you could be looking at your leading title contender, again, something Chaz had the honor of being as he's battled the superior Kawasaki's the last two seasons.
However, there are question marks. Marco didn't exactly end his first Superbike run on the best of terms, especially after he was wishy-washy with team orders and his teammate Sylvain Guintoli as he was gunning for the title; letting him through to win Race 1, but trying to please his own sponsors by not doing the same for Race 2. See, that's that "character" kicking in.
And of course, that MotoGP return has got to leave a bitter taste in the mouth. He admitted in his own words that he'd rather have stayed with the Superbike team for 2015, a team that hardly missed him given the strong pairing of Leon Haslam and newcomer Jordi Torres. Now, that early Aprilia was basically an ART painted silver, but even so, it doesn't excuse just how woeful he was upon coming back. How much of that was the team? Could it be the start of a decline in Marco's abilities? I mean, he does turn 34 next month. Despite Worlds not having quite the same level of career fatigue that MotoGP seems to have (Heck, Max Biaggi still won a title at age 41), in sports modern ruthless age of "What have you done for me lately?", I'm not sure this is the right move for Ducati…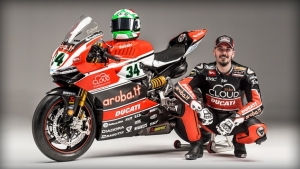 …Especially when you look at Ducati's current climate. Ducati is moving on from Davide Giugliano. A rider who has shown tremendous speed and ruthless aggression, but have still not lived to touted potential. Despite a handful of pole positions, he's still winless and had battles with injury, which ruined his 2015 season before it had really gotten going, starting late, and not finishing the eight races to close the season. I'm not the biggest Davide fan in the world, but is Marco really the better option? I'm not so sure either.
It wouldn't hurt for Ducati in the long run if it could have a second weapon in trying to unseat Jonathan Rea as Worlds' new king, but they're a team stuck in limbo, so for me, I don't think it's a bad gamble, but one that's certainly an eyebrow raiser to say the least.
Me personally, I hope Marco flourishes. He's one of the few guys that'll make a series more captivating, just for being there, and I'd like to see him close his competitive career on a high note, as opposed to that bitter Aprilia MotoGP return. That's what Marco does as well as anyone in the world. He makes things interesting. And that alone is worth watching.