"If you are, what you say you are, a Superstar…"
Sorry to disappoint you folks, but this is another Lewis Hamilton piece. I know, you're probably sick of them by now. But hear me out, because trust me, this isn't one of those idiotic rants where he's a "bad role model" or something. There's a lot going on with Formula 1 and how Lewis is right now, that I think many people have missed.
I think it's fair to say, that Lewis hasn't had the best month, on or off track. Nico Rosberg has had the perfect start to the season, winning the opening two rounds, and Lewis has had a handful of faux-pas' off the track. From taking a selfie on a Motorbike, to complaining about Casino service, to recently, being caught smoking shisha out of a pipe.
Of course, this is the kind of coverage that's going to split people. Of course, those in the Hamilton camp, or who are more laid-back, will treat it like it's no big deal, where certain others, will condemn him out of status and mention things like "responsibility" and "representation". And when Lewis himself has changed so much from the quiet Karate Expert from Stevenage with the "humble" beginnings at age 22, of course, people will cry bullshit.
But here's the thing… Lewis Hamilton really is one of a kind in today's Formula 1. Let me explain why.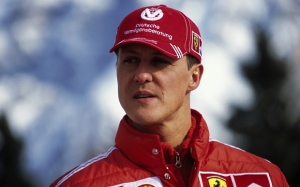 It's not that he's successful. Of course, his most hyped-up title rival drives in red and is a four-time World Champion this season. It's not even that he's becoming that crossover star that I've talked about so frequently on here before, like a Roger Federer, a Steph Curry or a Ronnie O'Sullivan. It's the fact he's both, at the same time, something we've never seen before in Formula 1.
Of course, he's not the first major F1 star of an era. F1's had many an icon. But Lewis is different because he's clearly chosen the path of embracing social media. Sebastian Vettel could have easily been that guy when he was the dominant force of the early decade, especially when Multi-21 blew up in his face and became such a polarizing figure… But he actively shuns the limelight and is incredibly private about his personal life. Jenson Button had arguably the year from hell for 2015, losing his Dad, his marriage and his home was burgled and it was relatively under the radar by comparison to Lewis's… fashion habits. Mad huh?
We've never had this situation before with Lewis. When Michael Schumacher was the King of F1, the Internet was only in about a quarter of homes, Social Media was still "Friends Reunited" at best, and not to mention, Schumi's personal life was as private then as it is now, rarely would you ever hear about anything to do with him outside of the Scarlet Red. And seeing Lewis become the next big thing is amazing… And I'm not sure we as consumers in the F1 world quite know how to deal with that yet.
A good friend of mine said that he felt like Lewis was getting an unfair deal, because of people like James Hunt in their time, got off with far worse. While true, the world has very much changed since Hunt was in his prime of 76'. Back then, the sporting maverick was heralded and applauded. The only difference was, you could get away with a lot more – Casual sex, drugs, rock n' roll (And sadly as we found out a few years ago, paedophilia). You think we'd be all behind James Hunt if his kind of self-destructive personality was around today? I don't think so. We're smarter and more aware as consumers today. Look at Johnny Manziel in the NFL for proof.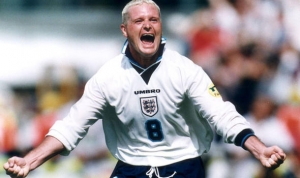 It reminds me a lot of how we treated Paul Gascoigne as his career developed in football. He was a beloved, National Icon, from representing England, crying his eyes out, his relationship with Jimmy "Five Bellies", the banter, the drinking, etc… Right up until he stopped being amazing. And then the drinking crept back in. And the domestic violence. And as a nation, we've kicked Gazza to the collective kerb and given up on him.
And I think the media are setting up for that same fall with Hamilton, but it just hasn't happened yet. Middle of last year, Nico Rosberg had that run of winning three out of four, from Spain, Austria and Monaco. The questions were asked as to whether Hamilton's "off-track life" was affecting him on track. He then won five out of the next seven and basically told the media to shut up and write some better stories.
But as I also said on the Drebrief, some athletes just will not get a fair shake in today's "TMZ" style of reporting, and how "the game" is. Serena Williams might be the greatest tennis player ever. Maria Sharapova always got the headlines (And this before the drugs). Anna Kournikova was the most marketable female tennis player ever, pound-for-pound when we all know she was never Grand Slam quality.
Sebastian Vettel was labelled a sport killer in F1 during 2013 and boo'ed for breaking team orders, when his run of dominance was never as massive as we liked to believe it was. Especially given 2012 was a season where Fernando Alonso blew a 45 point lead. See? When you're at the top, people will look for a way to chop you down, because there's always money in either; A) Going against the grain in journalism, and/or, B) Because many people in said media need a story as they look to athletes like Lewis Hamilton as their easy meal ticket.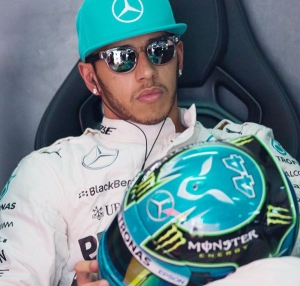 A lot of this I also fear, is a generational problem. Formula 1 has a similar problem to what Baseball is going through now in the States, where it has a massive issue in getting new, younger fans. I think we all collectively raised the finger when Bernie backed his sponsors of Rolex's and Whiskey, but given his "old man" way of thinking and ignorance of the younger audience who so desperately want to support F1, it was hardly surprising.
Lewis could be the man to bridge that gap as a modern ambassador for the sport, and instead of embracing that, we're begging the press to leave him alone? What? Bernie would be choking you out for those kinda comments, even if he's only 4'11" and still thinks the year is 1976.
I was born in 1992, and when I was young, I was a child who got to bear witness to the rise of David Beckham. He was different. He was never the best player in the world, but he was one of the first footballers to really tap into his marketing potential and brand power, and he's now an icon for the game, arguably its most famous name worldwide. Another aspect that I know Lewis has spoken about wanting to do – Building his brand. I can relate, it's what I've been trying to do for years on this very site.
Listen, people. I get it. We're witnessing a Superstar rise in front of our very eyes. And we're not sure how to take it, because we just haven't been here before as a fan of the sport. Trust me, we need to embrace this side of Lewis' game. We don't have anyone else in the sport like him, and we're unlikely to again for sometime. It may seem like he's getting needless "hate" or that the "HamCapers" are giving everyone else a hard time, but in actuality, he's doing what he's always wanted. He's a Kardashian sister but without the fake tan and self-awareness, and while it's easy to nitpick the coverage, it's coverage nonetheless.
On the whole, until he does something really stupid, we're all gonna have to sit down, drink the coffee and realize, that when you're Lewis, every aspect of your life is going to be scrutinized. So, enjoy the ride, it may just rub off on the sport you choose to love so much.