Dre 1: It's ridiculous how we're talking about transfers and MotoGP Silly Season, and you can still smell the Michelin rubber from the opening round in Losail, man…
Dre 2: Well, you can thank Bradley Smith for that one, clearly following in the footsteps of Sam Lowes in booking his 2017 seat FAR too early. The Brits are clearly plotting a takeover. Reckon they have a group WhatsApp or something?
Dre 1: I dunno. But it's certainly an intriguing move and the first real one of the season. What do you make of the Bradley Smith to KTM move?
Dre 2: With hindsight being the wonderful thing that it is, it's a move that makes a ton of sense for Bradders. I mean, the mood was pretty ominous in the Tech 3 camp on Thursday Night when he made the big reveal that Ponch wasn't going to be keeping him regardless of performance. And to be honest, Brad has been under that umbrella for what, 5 years now? I think he's gotten just about all he can get out of that camp anyway. Tech 3 is a developmental team for Yamaha nowadays. You don't "win" anything here.
Dre 1: True, and he was desperate for a Factory deal of "some" kind. It's fair for him to think that way, especially after destroying everyone else on Satellite machinery in 2015. In context, he was one of the best riders of 2015. Period. But KTM though? We sure this is a good idea? I mean, we've seen Aprillia struggle since their return enough as it is…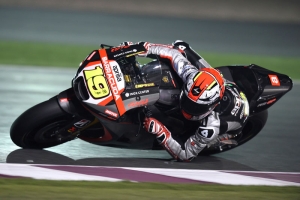 Dre 2: Fair question, and it's a difficult one to answer because of the differing fortunes of both returning factories. Suzuki have shown a lot of promise, are catching up with their rivals having gotten the seamless downshift gearbox, and Maverick Vinales has come along very strongly. Aprillia… haven't. No doubt though, the KTM boys are gonna wanna try real hard to get this right, especially with their strong Moto3 and Ajo affiliations, so there's a lot of potential there. And the new bike is loud, so that's always a plus. So… What does that mean for Tech3, as that's a big hole to fill given that's a Yamaha B-Team slot?
Dre 1: It means, Pol Espargaro is probably a very nervous man right now. He was sworn in as the "Rossi replacement" after he won the Moto2 title in 2013, when Vale was seemingly in decline, was awesome in his rookie season, but if anything, has regressed since. And it only makes it worse now Yamaha's line-up seems pretty set in stone for at least another couple of years. If I had to guess a replacement right now, it would probably be Alex Rins. It's obvious, he's another stud rider with alien speed, and he adapted to Moto2 almost as quickly as Maverick did. He's in THAT group, and a Yamaha B-Team spot would be perfect for him going forward.
Dre 2: Funny you mentioned Yamaha's camp though. Is Jorge Lorenzo's spot so secure? Valentino getting that two-year extension when he originally said he was going to think about it at first, with Jorge's still on the table, does seem a little off, no?
Dre 1: *sighs* Two more years of shitty mind games. Wonderful. I mean, if you left a Championship winning team to one who sucked for two years, I wouldn't be praising your bravery, I'd be questioning your sanity. But whatever, aren't we bored of this Lorenzo to Ducati story that comes up every year?
Dre 2: It's like a Guillem Balague La Liga transfer story. You don't want to believe it, but there's just enough on the table to make it sound plausible. Of course, Lorenzo has his old mates in that camp, and Ducati will no doubt make a blockbuster offer in order to try and snag him, especially if they go another year without any major success. Given how strong Ducati believe in their new regime of bikes, they're probably going to try and eliminate the possibility that the riders aren't the problem.
Dre 1: Amazing how you can have a team of Andrea Dovizioso, and Andrea Iannone, and it may not be enough?!
Dre 2: I know right? But do Ducati really wanna go all-in on another veteran name? Loris Capirossi, Nicky Hayden, Cal Crutchlow, Valentino Rossi… It's a who's who of failings like notches on a bedpost.
Dre 1: I think going young may be the way to go. I mean heck, if there's one other thing they could copy from their bike being ludicrously fast like in 2007, surely that would be investing in a top-tier youth product? *plays Danger Zone on Spotify*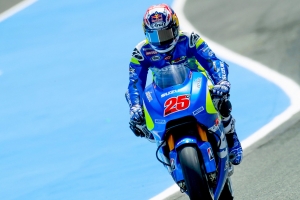 Dre 2: Ah, I was waiting for Maverick Vinales to get a mention. Surprised we even took this long.
Dre 1: Well, he's probably the #1 potential team target on the board. Maverick's agent is no idiot, they were wise in sticking an opt-out in his contract at the end of Year 2 in-case Suzuki shat the bed. Is Suzuki good enough to stick around with though?
Dre 2: If Maverick wants wins, the answer is no. That Suzuki just isn't there yet. They may be closer in more technical circuits, but Qatar wasn't a good sign, especially given Aleix Espargaro was so far missing, he may still be coming over the finish line. Believe him when he says he's had offers from all the factories?
Dre 1: Water is wet, grass is green, bears, woods, etc. Like I said, Maverick is the #1 target on the board. He's stupidly fast, getting faster, and he's still only 21. You could very well be looking at Marquez #2 and we don't even know it yet. Who wouldn't want him in their line up?
Dre 2: Luis Salom? But in all seriousness, it's no surprise at all. But where does he go? Tech 3 is too far down the order, it would HAVE to be Yamaha's Factory Team, right?
Dre 1: Probably. Lin Jarvis has already said he has a back-up plan in mind if Lorenzo goes for the full Italian, and if Maverick isn't Plan B, he's out of his mind. Perfect man to back-up Rossi until he makes the team his own.
Dre 2: Or he goes to Ducati and replaces Dovi?
Dre 1: Yeah, that's probably the only real alternative, as Honda have got Dani Pedrosa tied down until 2017 because… He makes fangirls happy I suppose?
Dre 2: *headdesks repeatedly*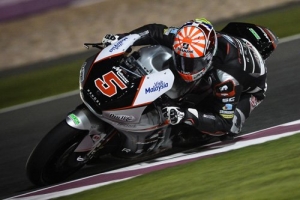 Dre 1: Yeah, understandable. Amazing how he always does JUST enough year-to-year to prevent all the major replacement talk.
Dre 2: He's just lucky that Alex Marquez has been a relative flop in Moto2 so far.
Dre 1: Also, true. So, does Suzuki keep Aleix around beyond this season? Is there another name worth gambling on?
Dre 2: Not sure to be honest. Moto2's only real "alien" at present with real upside for now, is Rins. Lowes is already confirmed. Johann Zarco is an interesting case. Late bloomer in Moto2, very much like Rabat, but he's already 26 in July. That seems like a stopgap more than a genuine progressive move?
Dre 1: Yeah, I'm not sure Zarco's the ticket either. He seems more likely to be Smith's partner at KTM, given the Ajo affiliation, you could just bump him right in.
Dre 2: So any other names of interest?
Dre 1: As said before, I think Dovi's riding for his job this season. He needs another big year. He's just turned 31, and while he's a consistently good rider, I'm not sure he's going to be THE GUY for them going forward, especially with the ever emerging upside of a prime Maniac across the garage.
Dre 2: Do they look to Pramac for a fill-in?
Dre 1: Maybe. It worked with Iannone in 2014 after all, given how superb he often was on that bike. If anything, the Petrucci/Redding teammate battle is one of the most underrated in the paddock. Petrucci had a breakout 2015 and was sensational on older machinery, but it's also fair to say that Scott Redding is an upgrade in teammate compared to Yonny Hernandez. Scotty's bitched and moaned about under-whelmimg bikes since he got here in 2014, that excuse is about to run-out, and he needs a big season for people to ask whether he just isn't as good as he thinks he is. Top 10's ain't enough, he needs to be aiming for Top 6's now.
Dre 2: Anything else in Moto2?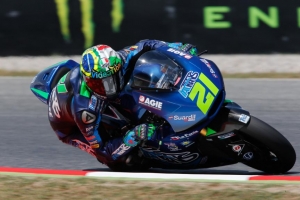 Dre 1: Frankie Morbidelli might be one to watch. He just seemed to be turning a corner at Italtrans last season, he got that first podium in Indy, and then hurt himself and just like that, his season was done. And now he's joined the best resourced team in Moto2 with Estrella Marc VDS, which is basically a MotoGP team in sheep's clothing. Not to mention the affiliation with the VR46 academy, as he's their greatest product to date. If Qatar and Argentina was anything to go by, a big season could be imminent. Wouldn't rule out Jonas Folger with his Red Bull affiliation if he has a big season either.
Dre 2: But it was also a race where he lost to the great yardstick in Thomas Luthi… That's a guy you need to beat more often. Not to mention, it had no Rins, Zarco or Lowes in contention either.
Dre 1: PLEASE, Miguel Oliveira, improve quickly, Moto2 seems so dead this season. Okay, so, early prediction switches, what do you reckon?
Dre 2: Okay – Alex Rins to Tech 3, Lorenzo stays, Dovi gets the heave-ho for Danilo Petrucci, and Maverick sticks around for one more season to wait for Honda to move Pedrosa on for him, and Bradley Smith and Johann Zarco partner up at KTM.
Dre 1: And Cristiano Ronaldo returns to Manchester United?
Dre 2: I wish.