"The alien has returned."
If you had told me last month that Marc Marquez would have an 8 point lead at the top of the Championship, I'd have laughed at you. But that's the funny thing about Marc and MotoGP… You never quite know where it's going sometimes. But in one of the craziest races in MotoGP history, it was the 23 year old baby alien who rose to the top. It's what happened behind that will blow your mind. Again. Let's talk about Argentina.
---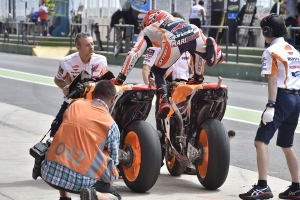 Triumph In Chaos
In some ways, he never left. I have no idea why no-one was talking about Marquez winning this race, given the history of how ridiculously strong he has been around Argentina since its debut in 2014. And this was no exception despite the ridiculous nature of the weekend.
After Scott Redding had a very scary blowout in FP4, Michelin couldn't guarantee the safety of its tyres, so they had to introduce a new rear with a very hard canopy, add an extra session in the morning so riders could get used to the new rubber, and reduce the race to 20 laps, with a mandatory pit stop to compensate. Phillip Island 2013 anyone?
Now, despite early pressure from Rossi, after the pit stops, Marquez was gone, obliterating a struggling B-bike Rossi was he went on to dominate and win by 7.5 seconds. Meanwhile, everyone around Vale just couldn't keep it upright. Why? What I call the Turn 1 "Bump of Judgement", as an undulated bump was wreaking havoc with the MotoGP riders entry in, causing several crashes, such as Cal Crutchlow and Aleix Espargaro's synchronized crashing (and running), to World Champion Jorge Lorenzo hitting the deck on the exit, to the devastating blow of seeing Maverick Vinales crash out from 2nd, a crash very reminiscent of Aleix's in Catalunya last year from 4th.
But Marc was in another league today, his pair of passes on Rossi and Dovi to take the lead in the first half was just an embodiment of his class, something I think we have taken for granted since his 2015 struggles.
Also, have to give a mention to Eugene Laverty finishing 4th. On a Ducati 14.1. And he went from 8th to 4th on a single lap. The luck of the Irish is strong with this one, back-to-back career high finishes, proving that winning a war of attrition can yield great rewards.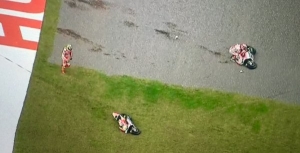 Has Iannone gone too far?
Oh, Andrea. The other one. Iannone has incredible upside, that much is clear, but I have to question his thought process. Last time out in Qatar, I questioned why he felt the need to attack Dovi so hard with 17 laps left, when they could have potentially towed each other to try and break the leading pack. This time, it was a dive bomb at the penultimate corner on the final lap that ended up with Iannone losing the front, and Dovi, getting collected.
I get that Iannone wanted that podium, but not at the risk of taking your partner out too. And this marks the fourth consecutive race where Iannone has crashed out. I wonder if "The Maniac" is trying just a little bit too hard – Something he may have to avoid if the Jorge Lorenzo rumours persist. This latest incident marked four consecutive retirements, dating back to last season.
A penalty point and a three place grid drop a fair punishment for the crime. A damaged Ducati locker room though? Priceless. Ironic, given its Ducati involved.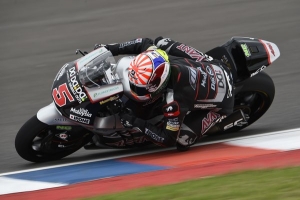 Zarco's Back Too
Yes, a subtle reminder that Zarco is still really good at this bike riding thing. Zarco is the kind of rider who you need to hold down before he gets out of control. Once he took his first win here last season, he racked up another 11 consecutive podiums. He was in complete control and never really looked like he was in major trouble, despite the pressure from Sam Lowes, who was looking strong, until he ran wide in the middle stages, costing him a real chance of staying with the Frenchman.
Great performance from Jonas Folger in 3rd, showing the Qatar pace was no fluke. I only hope this is a sign of more consistent running from the 22-year old German. Also, a real bummer that Franco Morbidelli slide out from the "Bump of Judgement" in true Marc Marquez @ Misano 2014 fashion. Alex Rins had a tremendous race pace, but again, was robbed of a real chance of the win due to other traffic in the way.
Starting to see the top contenders emerge for 2016 in Moto2 – Zarco, Lowes, Rins, Morbidelli and maybe Folger too. This season could be superb. Could.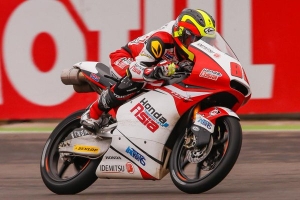 Pawi's EPIC ride
I'm not going to exaggerate here when I say this – This might be the greatest riding performance in the history of Grand Prix Motorcycle Racing. Let me give you some context here. Last year here, Danny Kent won by 11 seconds and we were shocked. Khairul Pawi is a 17 year old Malaysian rookie. It's his third ever race in the Championship. He's never raced in Argentina. He rode slicks on a damp track. He won by 26 seconds. HOW IS THAT POSSIBLE?!
I was watching in awe, and I have literally never seen anything like it before. A ride nothing short of heroic. And you could have gotten 500/1 odds on a Pawi victory the night before. This is a mega win for the series, and for Motorsport in Malaysia, their first ever Grand Prix winner. And it could have been a 1-2 finish for Malaysia too, if it weren't for Adam Norrodin highsiding at the final corner, running his wrecked bike over the line to still finish 11th.
Brave performances further back too from Brad Binder in 3rd, Joan Mir in 5th, Jorge Navarro in 2nd, and John McPhee for Peugeot finishing 7th after starting from 25th. But this race is worth digging out alone for Pawi's incredible performance. My words alone cannot do it justice.
MotoGP – 9/10, Moto2 – 6/10, Moto3 – 7/10