My first kiss was a shock to me. I was 10, finishing a swimming lesson in Hanwell. A girl called Francesca admitted she fancied me and I was shit scared. We hid underneath the kiddie pool where the lifeguard wasn't watching and we smooched. I was amazed. We wrote to each other for a year, and when we finally met up, her going to a different high school… it flamed out. Apparently, her friends didn't like me. Damnit.
"You don't forget your first…" can apply to a lot of things for better or worse. They can make you. They can break you. But I can promise you this, I wouldn't be the writer I am, the sports fan I am, or the person I am today if it wasn't for Michael Schumacher. He was that "first" which so many can relate to in life. Michael was my first sporting hero, and he means so much to me. So much so, I wanted to write about him, as the third anniversary of his tragic accident and his 48th birthday have come and gone.
I didn't get into Formula 1 on my own accord. In fact, almost everything sporting in my life was first channelled through my Dad. Manchester United, the LA Lakers, watching MotoGP, all through him. But the one that stood out to me the most was Michael Schumacher in the early Ferrari days. There was something about the combination. A guy that seemed invincible behind an F1 car, the podium leap, the scarlet-red Ferrari… It stood out so much in a sport that many argue at the time, was at its most spectacular.
I was in awe. I grew up a petrol-head, thanks to two books of cars my Dad's mate Melbourne (I know), and even in that, it was the Ferrari section that I kept going back to. The 550 Maranello. I had a book on the history of GP racing, and the older modern day Ferrari's made my eyes light up. So naturally, I warmed that way in F1 as well. It was super cool getting into F1 in 1999…
…Until the British Grand Prix happened. There was a rear brake failure, Michael Schumacher crashes into the barrier at Stowe. Broken leg. Season over. I was gutted.
We all know brighter times followed. Over the next five years, Schumi became the first real modern day "God" of F1. He broke every record in the book. Became the face of a global sport. Captured an entire generation of new 21st Century fans. You may not have been an F1 fan, but you knew who Michael Schumacher was. When comedic sketch shows like 2DTV were making fun of you, you knew you made it.
You REALLY knew you made it when the sport was so scared your bubble would break the sport and change the rules to try and cripple you. I mean, imagine being so good, in such a destructive car the sport actively tries to bring you down?! It would be like saying, "Aaron Rodgers only gets to play with 4 linemen, he throws too well." What was funny was, changing the rules to stop tire changes wouldn't have even been the best way to cripple Schumacher, was probably to ban refueling in hindsight.
See, that's the beauty of YouTube, you can look back at epic moments of his career that you never saw live. Take Hungary in 1998 – It highlighted what Michael was so good at, turning a 300km race into four 75km sprints. Everyone was running 2-stoppers. Michael had to go three, banged out 20 Quali laps, amassed a 25-second window, would go on to win. On the face of it, it's kinda boring, but when you break it down, it's part of what made Michael a driving genius. And I've not even touched his wet weather ability, like that first Ferrari win in Spain of 96', when he curb stomped the field as others crashed.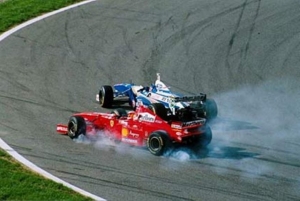 I love the fact he embraced the villainous side of Formula 1, something that we really hadn't seen before in the sport. Taking out Hill in Adelaide 94'. Trying it again on Jacques Villeneuve at Jerez in 97'. Parking his Ferrari at Monaco in 2006. The blatant, in-your-face team orders at Austria in 2002. Even potentially running Rubens Barrichello into the wall at Hungary in 2010 when he returned.
He had that Senna mentality of doing anything to win, but he took to uncomfortable levels and forced us as fans to ask difficult questions about driving standards and what we want the sport to truly be. Just another precedent that came about as a result of his legacy.
Schumacher essentially re-wrote the rulebook on being an F1 driver. Nigel Mansell would test a car, then would head down to the golf course. Schumi was at the gym with a ridiculous workout regime. He was almost a "Frankenstein's Monster" of an F1 driver, a hybrid of everything great that came before it; the raw speed, ruthlessness and passion of Ayrton Senna, the intelligence of Alain Prost, the work ethic and brutal nature of Niki Lauda, and the bravery of Juan Fangio. All in one ridiculous package that would go on to win 91 races and change how we look at F1 forever.
When he "retired" in 2006, I remember the leaving celebration he got a Monza. The fleet of Ferrari's, one of them being given to him as a gift, the lap of honour, and that incredible standing ovation once he was back in the garage, and the hugs from all the prominent figures of Ferrari at the time. From Ross Brawn, Jean Todt, [fusion_tooltip title="(Yes, an actual person of colour in F1. I know, they're rare.)" class="" id="" placement="top" trigger="hover"]Balbir Singh[/fusion_tooltip], to Luca Di Montezemolo, who would probably walk through hot coals for him given how important he was to the brand. Ferrari's car sales TRIPLED when Schumi was on top during his time as President. I admit I was 14 and I was crying like a baby.
I didn't take view Formula 1 with the same amount of passion for a little while afterward. Amazing given how much the sport opened up post-Schumi. Kimi broke the glass ceiling with Ferrari just a year later, Lewis Hamilton a year later at McLaren, and we had [fusion_tooltip title="You'd have to go back to 1982 for the last time that happened in F1." class="" id="" placement="top" trigger="hover"]five different world champions[/fusion_tooltip] by the time we got to 2010. Even now with my fortunate liking of Sebastian Vettel over the last few years, nothing has gotten my passion of the sport back to the level it was when I was a teenager, enthralled by the scarlet red.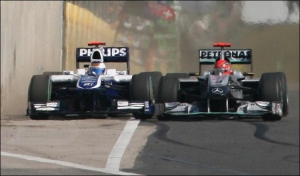 Even when Michael came back in 2010, it just wasn't the same. I already had my doubts about his ability on a return. Brawn GP got pegged back hard in the second half of 2009, and Schumi was 41. It was like seeing The Rolling Stones go back on tour again. You love them for what they were, but you just know it isn't the same. If anything, I was kind of sad because his return became the overwhelming narrative of Mercedes as a factory, so much so that Nico Rosberg's rise to become a truly elite F1 driver was overlooked.
On the other hand, I'd be lying to you if I wasn't emotional over that Monaco 2012 pole position. The last bit of genius of a somber, fading Schumi, one where the sport had moved on, and the opposition, greater than it had ever been. Vettel, Hamilton, Alonso, and just below, Rosberg, Grosjean (a bit later), Perez… the next generation had arrived.
But he gave me one last beautiful moment before he rode off into the sunset – Brazil 2012 and the season finale, as Vettel would chase his third consecutive title, the last man he passed to get there, was Michael. And the first man to congratulate him on that feat was Michael as well. I don't know about you, but it felt like a passing of the torch. As a "Vettelian" now, having a legend such as him in Seb's corner was a wonderful, prideful thing to have.
And then, the accident. Skiing off piste while on holiday. I still hate the media storm over the injury when it initially happened. I hated the internal conflict it caused. On one side, millions of caring and loving fans left in the dark, but also the complete understanding of a family that had every right to its privacy, and the bloodlust that generated between us and his camp. I wrote a piece about it at the time that I now somewhat regret because I played "devil's advocate" with it when the latter half of the conflict should be the end of the conversation.
Three years on, not much has really changed. We as fans still cling to any hope of information and if anything, get frustrated at good acts from their camp, like Schumacher's new social media camp and charitable campaigns. I get the frustration from both camps. It's all so saddening on so many levels, and I just hope one day, a happy medium is found.
Why does this affect me so much? My auntie, Christine, lived up in Nottingham. She was in her late 40's, working really hard to make a new live for herself with my Mum in London. But one day, out of the blue, she got really homesick, and drastically sold up and heading back to Nottingham. She was in a bad way mentally, and no-one was quite sure what was going on until she took a routine eye test because her vision was blurry. Turns out there was a gray substance in the back of her eyes, and that she was told to go to a hospital to check it out.
…2 days after Schumacher's accident, we find out it was a brain tumor and that she needed surgery as soon as possible. Merry Christmas to the Harrison family.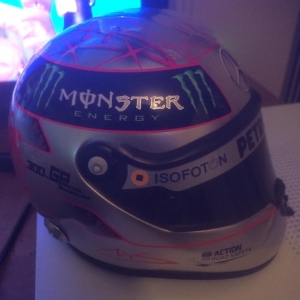 From my experience, brain health is still somewhat of a Pandora's box. There's so much even the best Doctor's don't know. They operated. She had a series of "mini-strokes" and a bleed on the brain after removing the tumor. Her brain is damaged beyond repair. She's slowly, slowly regaining parts of herself. She can't speak normally, but she does recognise my Mum, she's able to communicate via moving her head and blinking. She's never going to lead a normal life again. Now, I can't speak for Michael, but I can relate to the pain his family is going through, and trust me, it breaks my heart even further to see the parallels, not only for one of my own family but for my first sporting hero. I can say with confidence, the Michael we know and love is probably gone forever.
And while that is so saddening to admit and to acknowledge, I also want to look back and say thanks. Because very very few people have influenced the direction of my life more than Michael has. From become an F1 fan, to finding my feet as a journalist, to looking at myself in the mirror as a human being and taking inspiration from him, the bar he set so highly for himself, and the joy he brought to me as a child and as a sports fan who took awe in his accomplishments and the impact he's left on one of my favourite sports.
Thanks Michael. You'll always mean the world. And thank you for being a part of the person I am today. And please, please, keep fighting.