Formula E has been an incredible story from its inception. From raw concept to fully competitive racing series in less than three years, and just like that, we're in the middle of its second season. And no matter what you think of the concept of electric power as the future, it's nearly impossible to deny that it's carved out a niche audience in a loaded Motorsport world, with it's unique premise, it's exciting driver line-up, and it's fantastic embracing of Social Media. Not to mention, the racing on the whole, has been pretty superb with a bunch of early classics already in the series short history.
However, yesterday's inaugural race in Mexico City marked a true flashpoint for the history of the sport, and one where I feel the FIA dropped the ball on a key decision that could harm the series going forward.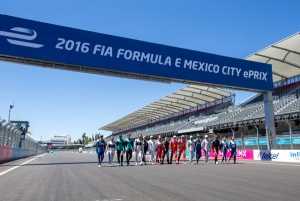 Mexico City was a race that had a lot of potential. Its return to the world of Global Motorsport was largely recognized last year by Formula 1's return, where the track produced a boring spectacle, but was universally praised for its atmosphere and genuine passion for the sport, and it's leading star in Sergio Perez.
Sadly, the Formula E wasn't the same – Just 45,000 for the race led to a lot of grandstand space, and a layout of the track which was butchered to accommodate the series, but did more to harm it with blatant areas to abuse track limits and extra chicanes to reduce the possibility for overtakes, with that same amazing stadium vibe neutered.
And I think the track layout played a massive factor in the heated battle for 2nd between Jerome D'Ambrosio and Sebastien Buemi. Jerome was hard, but fair in his defence, where Buemi just couldn't get enough of a run to make a passing attempt stick, the track itself producing less than a half dozen overtakes due to its awkward first and last chicanes. But Buemi, snapped out of frustration, cut the opening corner to pass D'Ambrosio, and when he refused to give it back, Jerome cut the final chicane on purpose to reclaim 2nd*, a place he'd ultimately keep.
Now, at the time of writing, the FIA hasn't handed any sort of formal punishment to either driver for this. Should they have? To me, most definitely. Now, I don't believe one man is any more here to blame than the other. Sure, Buemi instigated it all with his nudge earlier on in the battle, and then subsequent illegal overtake, but Jerome also blatantly did the same in the chaos of the lap afterwards. Two wrongs do not make a right here, so if you're going to punish, you have to do it equally.
And this is where I think the FIA and Formula E's stewards have gotten this so badly wrong. In context, as mentioned earlier, Formula E has grown INCREDIBLY quickly. I genuinely didn't think it would be taken seriously until it's fourth of fifth season, as regulations would open up for aerodynamics and bigger, more powerful batteries. It turns out, the popularity of the series has taken it to the point where we're taking it seriously, NOW. If anything, this race was the shot in the arm the series needed after finding it's footing in the beginning.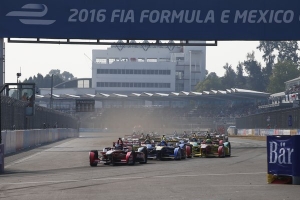 With an incident as serious as this, Formula E had the chance to stamp out what could be a dangerous precedent. Jerome and Sebastien cheated. There's no getting around it. The only blessing being that it didn't dramatically affect the order of the finish, doesn't give it a pass. This is the kind of action where action needs to be taken to ensure such liberties aren't taken again. Instead, they've gotten off for free, and everyone will now be watching that tape, thinking they can now take their chances at maneuvers that may cross the line from aggressive, into straight up cheating. Sure, you could argue that this was a freak incident, but given the nature of the series, where so often, it's hard to pass, I believe there's genuinely a possibility that the "red mist" could descend again. They're racing drivers, adrenaline-filled nutters at the best of times… would it really surprise you?
This wasn't even the most questionable stewarding call of the race, with Prost punished for a VERY harsh unsafe release, and Antonio Felix Da Costa punished and then reversed, something I've never seen before. But that was small change compared to Seb vs Jerome. This was a decision that could impact the very nature of the series itself, a series that has grown in stature far faster than I think anyone can anticipated. But the great series, stay ahead of the curve, and continue to find ways to improve. Formula E is truly an electrifying series, and a great asset to Motorsport, and the future of automotive engineering as we know it. But today, was its first real short circuit.
---
*Well, turns out, given Lucas Di Grassi was disqualified for an underweight car, meaning Jerome inherited the win. Highlights the situation even more, no?