Look people, I'm going to be completely honest here. I have about as much hype for the 2016 as Sauber's F1 Team does, but I kinda felt like there was JUST enough worth talking about regarding the season to warrant this damn blog. You're all welcome. I'm going to do this team-by-team and we'll see how this turns out.
---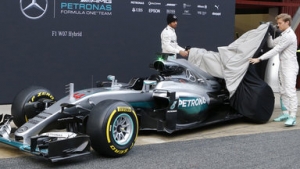 Mercedes – The Unnecessary Fourth Movie
Yes, I'm fully aware I said Rosberg would win the World Title on RaceWorld, WHAT OF IT?!
In all seriousness, as Ted Kravitz said on Sky Sports F1 commercials, I think Hamilton (As well as most F1 fans), are pretty bored of this shit by now. As I said on this here site back in November, we've reduced Nico Rosberg to charity status. We're happy for him when he wins, but title aspirations? They're more out of hope than expectation. This year is kind of the same, and to be honest, there's even less of a reason to give Rosberg a chance, because out of the three seasons he's been fighting against Lord Hamilton – 2015 was his biggest fundamental beating.
Rosberg has all the tools, and without doubt will become the most successful driver to have never been World Champion. But he'll most likely also lose to Hamilton by 40 points unless Lewis gets caught in an elevator Snapchatting, instead of being in a car for the race. Oh, and Mercs still probably have the best car and win at least 17 out of the 21 races. Mark that one down.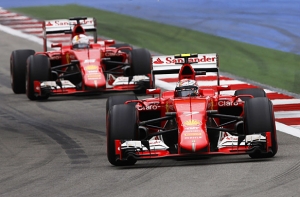 Ferrari – Luke Sebwalker, you're our only hope
Setting an over/under to 89.5%, how many F1 fans are begging Sebastian to be the one to destroy the Death Star? I'll give you a hint: Take the over.
The biggest hype story of 2016 will definitely be the hope that Seb's Ferrari is good enough to give Mercs a race, something the entire F1 press and fandom has been begging for since… Well probably the day after Abu Dhabi 2015. Even if they have no real logical proof to base that off of. Ferrari were just as far back from Mercs as Red Bull was in 2014, only difference being, we're more emotionally invested in Ferrari, and people hate Red Bull for their dominance. (I mean seriously, people have already completely forgotten the last two-team title fight was less than 4 years ago, but whatever.)
From a driver's point of view, if Ferrari isn't there (Which I project, they aren't), Seb will be the opportunistic win stealer from 2015 again, which will be nice for about… 3 races. And even if they are, they're not going to win the constructors as long as Kimi Raikkonen continues to steal a living. But he's bound to be the biggest domino dropper when it comes to "Silly Season", so that should still be fun, right? (Seriously, if Ferrari keep him for another season, I'm going to dropkick Arrivabene.)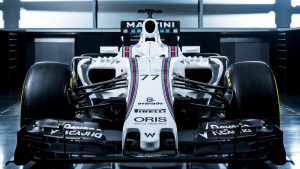 Williams – The Bronze Medal still counts right?
Williams at this point I feel, are a GB Olympic Team, who gets really happy just to get the bronze. And to be honest, there really isn't much to talk about with them going into 2016. Felipe Massa is still criminally underrated, and Val Bottas could still be really good, but I'm also increasingly of the belief that we're not going to find out as long as he continues to drive for them. Man needs to get out of there. Maybe he can use his boy Mika to get that Ferrari seat.
Of course, Williams will keep trying to crack the Top 2, but like last year, I don't think they have the resources to beat them. So, Bronze again? A fight with Red Bull for 3rd? Could be fun, right? No? *sighs*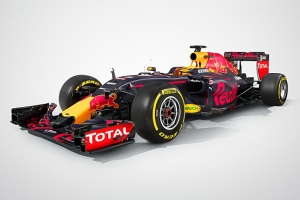 Red Bull – There's actually some interesting shit here
Okay, being serious for just a moment here, a LOT of the interesting stuff for 2016 is going to come out of the Red Bull camp. They remain "Friends with Benefits" with Renault, but are developing their engine themselves, and they're going to spend a BOATLOAD of money to try and get back to where they were. And I'm talking about 2014 standards, yet alone 2013.
One of the biggest stories of 2016 will definitely be one of seeing if Red Bull genuinely are better at engine development than Renault (IMAGINE if that's true). And I feel there's more riding on this than many think. Daniel Ricciardo is in the final year of his contract, and he's openly said he'll consider his future if Red Bull don't improve. He's 27 this year, and to be honest, he's still kinda dining on that 2014 season where he as a DOTY Contender. The longer he sticks around, the more his stock drops, especially when he was beaten head-to-head by Kyvat last year. Another bad season, he's gonna be angling for a move. And don't forget, they have their biggest potential marketing weapon in Max Verstappen ready to go if they need a replacement. Carlos Sainz is going to get "Vergne'd", bruh, you watch.
Still, if Red Bull shit the bed again and try to angle to quit again, I swear to God, they will be boo'ed out of Milton Keynes. But seriously, this is a massive season for Red Bull, and they're not gonna like being out of the top for three years running, and for every season they don't do well, it makes the fee for quitting $100 smaller… Just saying. So when's Eddie Jordan gonna make up another fake Audi rumour? If he hasn't by May, I'll be stunned.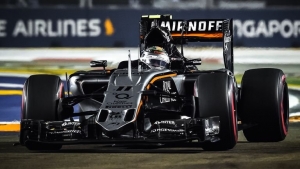 Force India – So, now what?
Force India just seem to be caught in the middle. Superb drivers, solid car despite the teething problems, but not really good enough to crack that stacked Top 4, but clearly a cut above the other midfielders. Given that 5th is the "best of the rest" role for this season, and that Force India in 2015 was their first time in said Top 5, they'll take that for now.
Me personally, I'm most intrigued over the driver battle as we get the rubber match between Perez and Hulkenberg. Hulk took the first round, Perez was sensational last year, and I wonder if Nico can bounce back after his first disappointing season. I still think he gets a bad rap because we've all inflated how good we all think he is, and that made the Perez beating all the more painful last season, as every Perez mark/Hulk doubter went: "Ha, got eeeem!" (And I think a lot of people REALLY want Perez to be the guy again, so, it goes hand in hand, especially after people looked sympathetically at him after his failed year at McLaren.)
Oh yeah, and Vijay Mallya is running away from his home country. That must be GREAT for morale.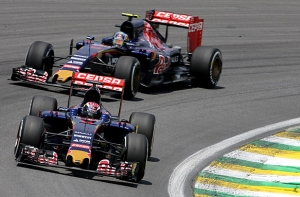 Toro Rosso – Now with 100% more Ferrari. And Hype.
MAX VERSTAPPEN HYPE! …Ahem, sorry.
To be fair, there is good reason to be excited about Toro Rosso given they have Ferrari power now. Toro Rosso were pretty darn good in 2015, and their drivers absolutely delivered. The problem was, they had terrible reliability and it cost them many a points-scoring performance. (How did Carlos Sainz not have a mental breakdown by the time Brazil came around?)
IF Toro Rosso can get the Ferrari power unit working properly, they have no reason why they can't finally make a Top 5 attempt like Franz Tost has been aiming for the last two years. As for the drivers? Well, I'm still adamant that Carlos Sainz would have given Max Verstappen a much closer run if it weren't for the SEVEN mechanical retirements he suffered in 2015. I think this will be the real battle between two of F1's best young hotshots. The biggest test for Carlos though, could easily be the media hype machine, given how desperate F1 is for a young superstar.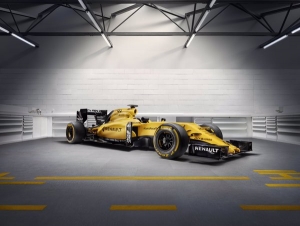 Renault – The Slow Burners
Nice to see Renault back as a proper factory team, but they have some work to do. The Enstone boys have been bailing water out of their sinking boat for the last two seasons, and they need to get a better chassis together, as well as continue to bridge the gap where they're lacking with their power unit. Safe to say, there's a lot of work to do.
But to their credit, I like the direction they've taken their driver line-up in. Pastor's finally out for running out of money, so Kevin Magnussen, the People's Champion, comes in alongside GP2 World Champion of 2014, Jolyon Palmer. Just like that, Renault now have the third youngest team in the field, and some exciting talent. Palmer will be leading the charge as the next British hopeful, while K-Mag's speed should definitely help, if he can keep his debatable racecraft in check, and he should be hungry to grab a rare 2nd chance in F1.
I'm glad Renault have been modest since returning – They've openly admitted it's going to take them three years to get where they want to be, and I'm going to be watching their development with intrigue. There's still a lot to like about this camp, but there's also a lot of work to be done.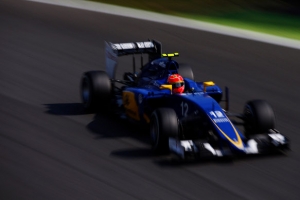 Sauber – Oh dear.
Sauber just seem like the poor man's Williams, spinning their wheels and not really going anywhere. But hey, they're automatically having a better pre-season than last year, so that has to be a plus, right?
Yeah, there's nothing particularly inspiring coming out of the Swiss camp at present. Marcus Ericcson and Felipe Nasr was retained, the 2016 car didn't debut until the 2nd Barcelona Test, and until last week, their staff was paid late, showing the company clearly has cash flow problems. And now, they have to look over their shoulder because McLaren are bound to improve, Manor will have improved, and Haas could easily get involved on their same power unit.
I wish there was more optimism or potential story out of Sauber… But there just isn't, really. Blergh.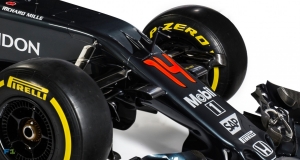 McLaren-Honda – It can't get any worse, right?
…Right? As I've said before, I totally understand why McLaren left Mercedes for Honda. They're a winning team with a winning pedigree and they were never going to be that while clinging on Mercedes coattails. But, they were made into a laughing stock in 2015 due to Honda's poor performance and even worse reliability. I still think they owe the FIA more grid spot penalties.
This is the nature of having an engine supplier that joined the party two years late, and still thinks there's drink left in the punch bowl. But you already knew that. They're bound to better, law of diminishing returns with those around them warrant that. How much? Who knows. I think they should at least be aiming to get back in the Top 6, but that's a tough ask unless Honda has found maybe another 100 horsepower.
Just pray to God that Ron Dennis doesn't make any more stupid claims. Also, why the hell are they stagnating Stoffel Vandoorne's career? If the car is this bad, you might as well throw him in for Button and see what you have, right? He's been race ready for 2 years now, McLaren are goons.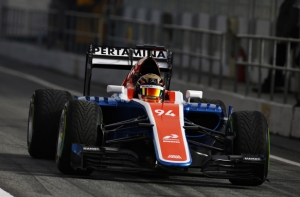 Manor – Are they actually good now?
Well, on paper, they should be. A stud prospect in Pascal Wehrlein, fresh off his DTM Championship, and Rio Haryanto, a Mercedes power unit, and hopefully, an improved chassis, because that'll be the key to seeing if they can get over being the bottom team in the field.
They have about 2.5-3 seconds to make up if they can get there, and I'm looking forward to see where they can go, even if the team is a husk of its former self. The time to be sympathetic with Manor is over. It's time to see whether they're actually good enough to be here.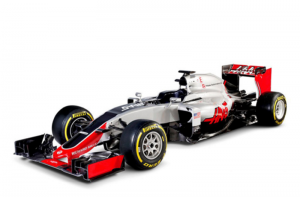 Haas – The Americans Are Back!
Yay, Murica! And they have potential to be really good pretty quickly. As I've said before, they have a very strong line-up in Romain Grosjean (In his continued mission to be a Ferrari spare wheel), and Esteban Gutierrez making a return. Maybe he'll finally live up to the hype that Will Buxton keeps thinking he has.
But they also have a big and growing team, Gene Haas having more than $100m a year to burn on this, and a star driver in his corner. There's certainly worse ways to start a team. I said on RaceWorld that I think they could score as many as 50 points, which would be amazing for a brand new team from scratch.
---
So, that'll just about do it, all my thoughts laid out on the table ahead of 2016? Can we please just have a decent season and a lack of stupid stories please? That would be nice. See you out on track.