In this episode of Dre vs Dre, I go back and forth with… myself (That still sounds really weird to say) on Fernando Alonso's confusing legacy as he enters the Twilight of his Formula 1 career. Thanks for the early feedback for the series so far, glad you enjoyed it. I decided to hold off on the Senna episode for a little while, because I have this weird tendency of changing my mind on spur of the moment decisions! Right, onto the discussion:
---
Dre 1: Sup, Dre? Apparently, we have to talk about Fernando Alonso on this one.
Dre 2: OH GOD, I want none of this.
Dre 1: Why, exactly?
Dre 2: Listen man, Fernando Alonso has a REALLY passionate fanbase, my man. I posted this one really sweet picture of Hamilton and Vettel at Monza, and I said, "The two best drivers of this generation", and people came AT ME caping for Nando and his lack of inclusion. Mentioning his name can often make him immune from criticism apparently.
Dre 1: Yikes, that does seem pretty savage. BUT, they may have a point?
Dre 2: Really?
Dre 1: I'd say so, but I can't lie, it's hardly straight-forward. But the numbers say a lot in his favour. He's got 2 World Championships, 32 wins, 97 podiums in 254 starts, and he was the all-time F1 points leader, despite racing for a good while with the old 10-6-4 system. On numbers alone, he's a Hall of Famer. Maybe even Top 10 all-time level.
Dre 2: I'm not sure on Top 10. Lewis Hamilton's been the dude to knock Alonso off the perch in recent years now, when it comes to this holy trinity we so often talk about now in F1. But yeah, purely on the numbers, he's in on a first ballot. So what makes this so confusing?
Dre 1: Easy. He's been on an F1 rollercoaster and I don't think he's ever come across like he's truly the #1 guy in the sport.
Dre 2: But how, he won back-to-back titles in 05 and 06!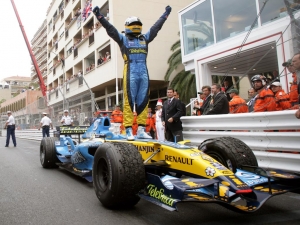 Dre 1: Depends how cynical you want to be with this one, but it's almost indisputable that Fernando Alonso's greatest run in F1, was on the back of Michael Schumacher being crippled in 2005 after Bernie had gotten sick of Ferrari's 6-year reign of terror. For me, it throws a hellacious spanner in the works.
Dre 2: Harsh, fellow Dre. Remember, he became F1's youngest ever winner at Hungary in 2003. And that was his first season in a good car too! Alonso was 22 back then, he was clearly another stud in what was a stacked top class by then, with Raikkonen and Montoya being younger pretenders to the throne.
Dre 1: You make a fair point. And to be fair, Ferrari had pretty much bounced back by 2006, and despite that, Nando was insane. But… We can't talk about Alonso without talking about that 2007 season at McLaren. What in God's name happened there, and there's now way you can tell me Alonso came off well afterwards?
Dre 2: It was probably the season that exposed how massive Nando's ego truly is. Now as much as we know how great Lewis would become, Nando got beaten on countback by a 22 year old rookie when he was the reigning Double World Champion. But don't you think that season was exagger-
Dre 1: He lost out to Lewis, he missed out on a third title in a row by a point, complained that Hamilton was getting preferential treatment, and walked out on the best team in F1, alienating them in the process after Hungary's qualifying that season, taking his ball and going home to Renault, like Stone Cold walked out on the WWE. Dude, if this was 2015, we'd be telling Alonso to "Hold this L" for being a bit of a bitch.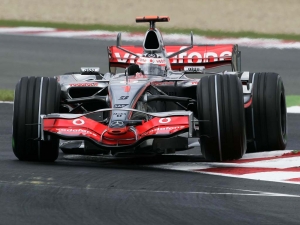 Dre 2: …Yeah, there's no getting around that one. Especially leaving McLaren after Year 1. That was a red flag to me. (Pardon the pun) He let his ego pretty much ruin two years of his career, and if Spygate had never happened, would have cost McLaren the constructors too. And then he went back to Renault, ugh! Why?
Dre 1: Well, the options are always going be down if you believe you had to leave the best team in the sport at that point in time. Ferrari had an awesome line-up of Raikkonen and Massa at the time, Williams had their young stud in Nico Rosberg, and Honda had JB, who had just turned the corner, and Rubens Barrichello, who still still an awesome team player. Why not return to the team who pretty much kissed his feet all that time?
Dre 2: …You do know he could have gone to Red Bull, right?
Dre 1: SHIT. Imagine that. Although at the time, what did they really have? A midfield level car, and a pair of veterans in DC and Mark Webber. Why would Alonso join them, then? Newey was essentially still a lottery at that point in time.
Dre 2: You KNOW what I'm getting at here.
Dre 1: Did you predict Red Bull becoming the best team in the sport, just two years later?
Dre 2: They had the money, they had Newey, and they actually started giving a shit. It wasn't completely out of the question.
Dre 1: And hindsight is a wonderful thing. So, what did you make of his Ferrari run?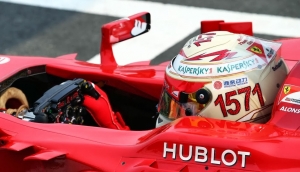 Dre 2: Weird. It was the time where everybody just straight up embraced Alonso as the Pound-For-Pound King, even though he never actually won that third title he desperately craved, and was a runner-up on three separate occasions. Why was that?
Dre 1: Because for the first time in his career, Alonso was the underdog. He was in a title dight and he DIDN'T have the best car. If he was close, which he was, they'll always back the dude doing it in the weaker car. And he was driving for Ferrari, the most popular team in the field. Against Red Bull, the common case of the new boys we all got sick of REAL quick. Alonso was always going to look like the better guy. Combine that was the surprise element of Vettel's rise to glory, you had the perfect formula for a P4P King.
Dre 2: …I still make the claim that the 2012 Ferrari was close.
Dre 1: Agreed. Bad cars don't win 4 races in a season. The only reason Red Bull won both titles was because Felipe Massa couldn't back Nando up enough. Their best drivers having 3 points between them kinda says it all.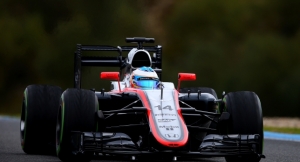 Dre 2: So is it fair to say that Alonso just isn't good at developing a car, or managing a team?
Dre 1: I dunno. He was the don at Renault, and it worked, but how much of that was an OP car in a Ferrari weakened field? He did five years at Ferrari, he was only in contention for two of them, and he often caused tension in the camp with how Felipe Massa was treated, and how he'd moan if things didn't go his way. Not to mention his… "questionable" (non)involvement in Crashgate…
Dre 2: Yeeeeeeeeeeah. Best to leave that one there. But that's the amazing thing about Fernando Alonso. A dozen more points in his career better distributed, and he's a 5-time World Champion and we don't even have this conversation.
Dre 1: Crazy, huh? But you know what element of Alonso's management I'd want to be a part of?
Dre 2: What's that?
Dre 1: His agent. The fuck does his 20% pay for?
Dre 2: Good GOD, that's an excellent question. His career decisions have definitely been, questionable at best. I maintain they're not all bad, as many were kind of forced hand decisions, but even so, he's been rather unlucky there. He didn't have options in 2007. 2010, Ferrari was a no-brainer and nearly succeeded immediately. The McLaren departure was stupid. He HAD to get out of Ferrari at 2014…. And going to Honda wasn't ridiculous at the time of asking.
Dre 1: … Not if he knocks on Toto Wolff's door. You telling me he keeps Rosberg over Alonso?
Dre 2: And have a re-run of 2007? This is Alonso we're talking about here. I don't think he's ever sharing a garage with Hamilton again.
Dre 1: Even now? I think he'd walk through hot coals to get that seat now.
Dre 2: No way! He loves McLaren-Honda! They'll be on the podium next year! He doesn't regret his decision at all!
Dre 1: I think you need to stop watching his interviews. Or stop drinking Absinthe.
Dre 2: No idea what you're talking about. *hiccups*. So, where do you sit on Nando's legacy?
Dre 1: Top 15 driver of all-time. Brilliant racer, ruthless, consistent. Never the fastest over a lap, but would kill you in a race if he had half a chance. He'd be Top 10 if he could manage a team properly, like Sebastian and Lewis have done, and I'd still take them both of him, as I think they're the complete package.
Dre 2: Can't argue with that. Now where's the whiskey? I need a lie down.
Dre 1: You and me both. At least he takes a good selfie.