Well, that was a highly eventful morning. Sadly, for all the wrong reasons. Formula 1 debuted it's new Qualifying system today in Australia and… Well, let's put it to you this way; I've been watching Formula 1 since 1999, and I've NEVER seen such unified disapproval of a rule change. Ever. I've seen F1 fans, teams, and drivers in unison like this. It's mental. Why didn't it work? Is the format salvageable? Let's take a look.
Having now seen it in action, I suspect a hybrid system with a conventional Q3 would have worked better. The system actually wasn't too bad for Q1, but the new system has one fundamental flaw. In order to do 2 Quali runs in today's F1, you need FIVE laps. Obviously, an out lap, a flying, an in-lap, another out-lap, and another flier. On a track like Australia, that's easily 8 minutes. WITH a racing pit stop. In a 16 minute session. Eliminations start after 9. By the time you get to Q2 and 3, with smaller sessions, those windows get even smaller. You might as well bring back the one-lap Quali from 2005, because essentially, that's what this system is.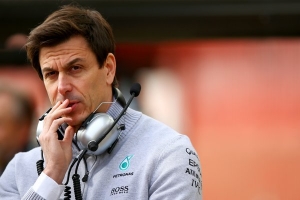 It was a system designed to try and get more cars on track, and increase the spectacle. But in Q2, no-one was on track the final three minutes. In Q3, Vettel didn't bother with a 2nd run, and by the press conference, had already gotten changed, while Ricciardo and Verstappen were on the weighbridge with three minutes left in the session. How in God's name is that more captivating? The format of 90 second eliminations and not being able to finish the lap you're on (A fruitless suggestion because of the lack of right to reply), meant by the time a bottom car was out, you already knew the next two or three who were out.
Can it be saved? I've seen suggestions. Maybe make it three minutes per elimination and have two drivers drop out at a time, giving teams more time to respond? That could work, but is hampered by another problem, Pirelli have designed tyres that can only run at peak performance for one lap, so there just isn't a good reason to run long, because your first time will always be your best. It's now a system that's based on people making mistakes, almost as much, if not more, than outright pace.
It's a shame this overshadowed another brilliant Lewis Hamilton pole lap, a 1:23.8, the second fastest lap ever seen around Albert Park, and a testament to the incredible engineers improvement on these hybrid packages. And it was his 50th career pole too, a remarkable achievement.
This system has overshadowed the entire weekend. It needs changing, and quickly.
---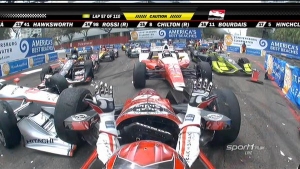 Meanwhile, there's a couple of races I needed to catch up with, that while I didn't think needed full reviews, for example, IndyCar's Grand Prix of St. Petersberg.
The biggest stat going into the weekend was that Penske had won at 7 of the last 10 occasions, and they did it again with Juan Pablo Montoya taking his 2nd straight St. Pete victory, with Simon Pagenaud close behind in 2nd. "Darth Pag" as he's now become known, was superb in the early going, leading for nearly half the race, but got caught in the 2nd half and Monty, never looked back. Penske finished 1-2 and 4th, with Ryan-Hunter Reay spoiling the fun in 3rd, passing Helio Castroneves late on to be highest finishing Honda.
One of the highlights of the race, was Rookie Conor Daly leading for 15 laps, as Dale Coyne went off strategy in the hopes of a Caution… Which he got, when teammate Luca Filippi closed the door on Marco Andretti, causing him to spin out. Turns out he ended the race like that too. Given it was his birthday, he probably took the term "Pre-Drinks" a bit too seriously…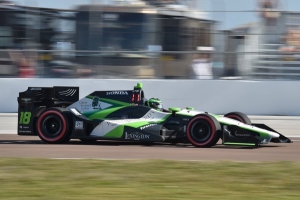 Anyway, Daly was set for a Top 5 finish, until Carlos Munoz closed the door on him from the outside in a 3-wide into Turn 4, and broke part of his front wing, which then got stuck in the radiator vent, forcing Daly to pit an extra time. Amazingly, this also happened to ALL FOUR Chip Ganassi cars at some point in the race. What is it with St. Pete and Endplates causing problems?
But what really wrecked the field was after the caution where Munoz tried an ambitious pass on Graham Rahal, spun him around, and next thing you know, there's an eight car pile up. Somehow, I don't think Munoz will be welcome at any Steak n' Shakes anytime soon. These two incidents wreaked havoc with the field. Mikael Aleshin finished in the Top 5, Takuma Sato was 6th, and the Rookies placed well with Rossi, Daly and Pigot all finishing in 12th-14th respectively.
St. Pete 2016 was WAY better than 2015, we got more passing, I like that the P2P is stronger this season, and we had enough drama to keep me entertained for the whole distance. 7/10
Also, what on earth was the deal with Will Power? Had that awful crash in FP1 on Friday, passed a concussion protocol on the day, but failed one on Saturday so he couldn't race, and now it turns out, he was mis-diagnosed. Now as much as I'm glad IndyCar are taking more protocols on concussions, but you have to get decisions like these right. If you're not sure what I mean, google "Second Impact Syndrome". Say no more.
---
Also, World Superbikes had their double header in Thailand this past week, and I had some interesting observations to take from it.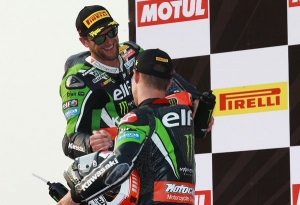 Tom Sykes BADLY needed to win Race 2. Jonathan Rea has completely stolen his thunder since he rocked up at Kawasaki, and he's already 29 points behind after his awful Philip Island weekend. This isn't so much about points, this was about reputation and the good of the series, because I don't think anybody really wants Rea to run away with the Championship for a second year running, especially given the excitement over Yamaha's return, and Honda's resurgence.
Speaking of which, the Honda hype seems to be real. If you had told Michael Van Der Mark that he'd finish every race so far this season in the Top 4, he'd have bitten your arm off. I was a little unsure on being so bold about this, given PI is a track where it's very easy to follow along, but I was wrong, fundamentally, the Fireblade is sound. Sure, it isn't Kawasaki yet on the more technical circuits, but it has the power to compete with the other guys in the podium hunt.
Is Chaz Davies being 40 points back already too many I wonder? In the context of the field, given he was runner-up last season, Chaz has to be evaluated against Jonny as prime title contender, but the pool of men from 2nd to 5th beating each other up is only going to hurt in the long run. And don't get me started on Davide's weekend. Ducati need to do better.
Oh, and shoutout to Reiterberger for the BMW's out there. Brilliant weekend from him.
Race 1: 8.5/10 Race 2: 8.5/10