"The Twilight Of The Doctor…"
Seven years ago today, Valentino Rossi won his 9th World Championship. The world was at his feet. But now, you get the impression that this wasn't the way the story was supposed to end.
Marc Marquez did something many thought was practically unthinkable around March this year. He won his 3rd MotoGP World Title in four years, and Valentino Rossi looks set to finish as runner-up for the third year running. Ever get the feeling that this wasn't the way the story was supposed to end?
If someone had told you in 2009 that Vale would never win that 10th title he's so desperately craving now, you'd recommend they be sectioned. But here we are, seven years later, and with the narrative of title number 10 coming into play more as Rossi gets older, we're now asking the question… Is this the beginning of the end?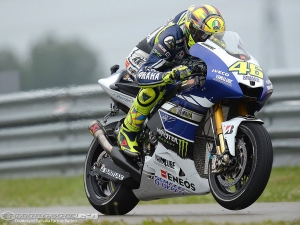 To be fair, it's not been the first time I've contemplated this. At the end of 2013, many were seeing Rossi's breakup with long-time crew chief Jeremy Burgess as the last roll of the dice. This, in a season where all three of the other "aliens" were in a title fight themselves. One of them a 20-year-old rookie that shocked the world. The sport had a new star. Outside of that emotional Rossi win, he was yesterday's news by comparison. A distant fourth from the rest of the field.
2014 was the cementation of Marquez as the world's best. A season of records being shattered. 10 on the bounce. Six in a row with Pole AND the win. 13 wins in a season. But, very quietly underneath it all, was Valentino Rossi, 2nd overall. A bounce-back year beating teammate Jorge Lorenzo, a team that had become his after the infamous Ducati departure. Fuelled and motivated by the Spanish alien that blindsided the field, learning from his new "body out" style, Rossi was back.
Last season, was one of Rossi's greatest, regardless of his nine World Titles beforehand. To be leading the Championship through 16 of the first 17 rounds, at age 36, was incredible. Unfortunately, the ego of Valentino put pay to that in Sepang. I've written about that enough on here as it is, but we all know how it ended. Cinderella didn't fit the glass slipper. Or in Rossi's case, the pasta was overcooked, distracted by his desire to make a point blinding him from the prize at the last second.
[fusion_builder_container hundred_percent="yes" overflow="visible"][fusion_builder_row][fusion_builder_column type="1_1″ background_position="left top" background_color="" border_size="" border_color="" border_style="solid" spacing="yes" background_image="" background_repeat="no-repeat" padding="" margin_top="0px" margin_bottom="0px" class="" id="" animation_type="" animation_speed="0.3″ animation_direction="left" hide_on_mobile="no" center_content="no" min_height="none"][fusion_counters_box columns="4″ color="#1e73be" title_size="" icon_size="" body_color="#000000″ body_size="" border_color="" animation_offset="" class="" id=""]
[fusion_counter_box value="346″ delimiter="" unit="" unit_pos="suffix" icon="" direction="up"]Career Races[/fusion_counter_box]
[fusion_counter_box value="114″ delimiter="" unit="" unit_pos="suffix" icon="" direction="up"]Race Victories[/fusion_counter_box]
[fusion_counter_box value="65″ delimiter="" unit="" unit_pos="suffix" icon="" direction="up"]Pole Positions[/fusion_counter_box]
[fusion_counter_box value="9″ delimiter="" unit="" unit_pos="suffix" icon="" direction="up"]World Titles[/fusion_counter_box]
[/fusion_counters_box]
It was a season that reminded me of Adrian Peterson, an American Football superstar the year before. Coming off an ACL tear the year before, he was just nine yards away from Eric Dickerson's all-time rushing record for an NFL running back. The story didn't get its happy ending, but I didn't need it to declare that the greatest season I had ever seen from a man in his position.
There's going to be one brutal looking post-mortem for Yamaha come November. They have now gone nine races without a win, their longest dry spell since 2014. And this is with the strongest team MotoGP has ever assembled, and a bike that was expected to destroy the field. Jorge Lorenzo's wet weather pace and poor tire selections costing him dearly. But on the other side of the garage, Valentino Rossi had a fundamental problem this year, something I've never thought I'd have to say after 15 years of watching this sport as a fan…
…He tried too hard.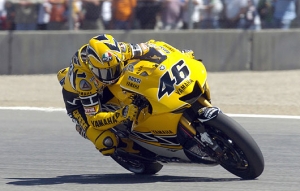 It wasn't always this way for Vale. If anything, it probably caught him by surprise. Valentino Rossi, for lack of a better term, had it easy in his era. Sure, learning a 2-stroke was hard, but in just his 2nd season on the 500's, he was World Champion. And for five years, with two different teams, and two different fundamental designs of a bike, he dominated a series that just couldn't produce a threat. Ukawa, Biaggi, Gibernau, Melandri… All second best.
Those aforementioned seasons, Vale won by 106, 140, 80, 47, and 147 points. Oh, and the 08' and 09' titles he bounced back with post-Stoner? 93 and 45. Bless Sete, he actually put up a decent fight in 05'. But ultimately, it was clear – Valentino Rossi was dominant and could win with an arm tied behind his back.
Then 2006 happened. Yamaha made an unreliable bike, one that was fast, but inefficient. The door was left open. Rossi had to give chase to Nicky Hayden. Down 12 with two rounds to play. Estoril happens… And well, you know where this is going. Toni Elias' unthinkable photo finish and a crash at the final round and Nicky dethrones the King via trial by combat. Rossi had to try. And look what happened.
10 years on, and it's the same story. Especially given that he seemed to have the formula right last year. Win what you can, force your opponents to try harder to beat you in the long run, and most of all, kick your non-relevant nemesis in the sidep- Oh wait.
This year, Marc Marquez has done just that. He realized after falling at Le Mans that he just isn't going to be capable of winning every round. So, take what you can get, don't override the bike like he did last season, and wait for the results to come to you. And after Yamaha's wretched run of wet weather results around the summer break, that's exactly what's happened.
But the signs were there, right from the start. Sure, he had the stunning win on Lorenzo's home turf, but tucking the front at COTA was a rookie mistake, and a costly one given it's basically owned by Marquez at this point. At Assen, he bins it in the rain while leading. Germany, he refuses to listen to the team and costs him an easy podium, at another Marquez premium circuit.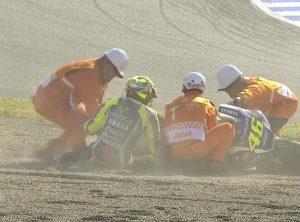 Only winning twice isn't going to help. And Motegi, the final nail in the coffin, losing the front in a crash even he couldn't explain. Rossi had gone from the mature, disciplined Champion-elect, to a rider lacking the upside to really take meaty points out of Marc, and making mistakes he shouldn't have made. It's amazing how things can suddenly change so quickly.
With Rossi's fall from grace this season, it's made me look back on 2015. A title he genuinely believed that Marquez and Lorenzo conspired to take away from him. A title he thought he had. The ugly and personal accusations that followed Phillip Island, Sepang, and Valencia. The boycotting of the award ceremony… It all paints the picture of a bitter old man that couldn't accept his fate.
A year to the day of that Sepang clash, the desperation has shown. The precious Number 10. Signing that extension before the season had even started. Hiring a new riding coach for the first time. The fact he forced himself to chase after the COTA crash, where he put himself 33 points behind. The fact he still showed resentment towards Marquez for last year after calling him an "idiot" when he sat down with Suzi Perry at Aragon. Paints a picture doesn't it? For the first time in maybe 16 years, Rossi is undisputedly NOT the best rider in the world anymore. Even if you think he still is, the problem is that he has nothing to show for it.
And looking ahead, the future isn't exactly rosy. Marquez has Honda in his back pocket, the successor to Casey Stoner has one of the sport's dynasties behind him. The other thorn in his side, Lorenzo, is heading to Italy, seemingly to escape the kingdom Rossi himself created. And alongside him next, Maverick Vinales, an incredible talent, who's single-handedly taken Suzuki to a level even they didn't anticipate in their second year back, and now, a top-flight race winner. Rossi's probably never going to have it his own way ever again. This is the greatest roster in MotoGP history. It's no coincidence we've had eight different winners this season.
MotoGP's greatest ever name, was meant to withstand the pressure, take World Title #10 over Jorge, confirm himself as the greatest rider in MotoGP history, and take this year as a retirement tour. David Jeter style. Collect some hearty gifts at every circuit. Maybe give all his ex-girlfriends fruit baskets too. The last hurrah. But now, Rossi's under more pressure than ever before to try and bow out, his way because of what's come before, and what's led to this point.
This wasn't the way the story was supposed to end. Why? Because Marc Marquez has torn out the final page.[/fusion_builder_column][/fusion_builder_row][/fusion_builder_container]