"The kick seen around the world."
I know what you're thinking, and you're expecting a run of the mill race review of Malaysia. In this case, I think it's fair, given the rather unusual circumstances, that we erm… kick that format to the kerb, just this once.
The win of Dani Pedrosa was brilliant, but it was overshadowed by an enormous scrap and a contact based crash between Valentino Rossi and Marc Marquez. I won't bother re-posting it here because you've probably already seen it from 114 different angles, but the result was a Marquez DNF, and Valentino getting 3 penalty points, meaning indirectly, he starts from the back for the season finale in Valencia in a fortnight's time.
First of all, this a messy one and an awful day for the sport. There was some brilliant performances in the field today, Bradley Smith in 4th, Danilo Petrucci in 6th, Stefan Bradl in the Top 10, etc. It's been completely overshadowed, and that's a shame. Dani Pedrosa, who won, had to interject in the post-race press conference. Jorge Lorenzo had to play diplomat. Dogs and cats, living together, mass hysteria!
[fusion_builder_container hundred_percent="yes" overflow="visible"][fusion_builder_row][fusion_builder_column type="1_1″ background_position="left top" background_color="" border_size="" border_color="" border_style="solid" spacing="yes" background_image="" background_repeat="no-repeat" padding="" margin_top="0px" margin_bottom="0px" class="" id="" animation_type="" animation_speed="0.3″ animation_direction="left" hide_on_mobile="no" center_content="no" min_height="none"][fusion_imageframe lightbox="no" style="bottomshadow" bordercolor="" bordersize="0px" stylecolor="
" align="left" animation_type="fade" animation_direction="right" animation_speed="1″]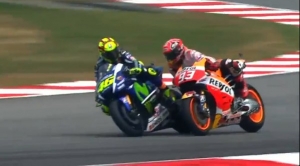 [/fusion_imageframe]So, what did I make of it all? For me, it's 100% on Valentino, and his name is what's caused the controversy and overblown reaction.
The Valentino fans and a lot of neutral's in general, I believe are looking towards Marquez, like he's a scapegoat. I've never heard terms like "overly aggressive" and "He rode like a dick" used before in MotoGP, or any form of bike racing, like all of a sudden there's an unwritten code for track etiquette.
As Casey Stoner tweeted, if this was any other rider, they would be calling for his head right about now. People are looking at this with the same rose-tinted spectacles they condemned Andrea Iannone for just riding his race at Phillip Island, the same fans that Rossi himself criticized at that infamous Thursday press conference. Valentino, in moments such as Jerez 2005 pretty much invented the format and riding style that Marquez has now emulated, the ultra-aggressive, force the move or crash mentality that Marquez has used to incredible success… y'know, like following your idol would naturally do.
For me, it was pretty clear Valentino had no intention of making the apex of the penultimate corner. He looked behind him twice, saw where Marquez was, planted his bike there, and left him nowhere to go but his knee (Which Marc didn't headbutt by the way). For me, it's about as stone wall and deliberate an incident as you can get.
[fusion_imageframe lightbox="no" style="bottomshadow" bordercolor="" bordersize="0px" stylecolor="
" align="left" animation_type="fade" animation_direction="right" animation_speed="1″]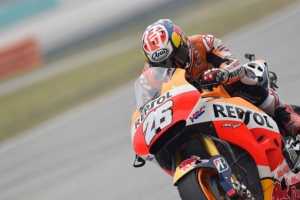 [/fusion_imageframe]The punishment itself? Stupid. I think it was a blatant marketing move from Dorna to channel this hype into the season finale. Given how the penalty point system works in MotoGP, you need 4 points to get a back of the grid penalty. Assuming a rider is clean (Which 90% of the field is), that incident would have been NO PENALTY whatsoever. And that's nonsense. Especially given Karel Hanika was banned for a race for his hit on Juanfran Guevara after Jerez last season. Stewarding consistency has always been a problem in MotoGP, and this was no different. And in any case, it's put a taint on this Championship. If Lorenzo wins, he'll be accused of having won it on the back of this decisions. If Rossi wins, he'll be known as the guy who kicked a rider off the bike in order to it, and his actions could taint that special moment, and what's been an incredible season for The Doctor.
I feel especially for Lorenzo, who will no doubt be accused of being biased to try and win the Championship, when in actuality, he has always been quick to call people out like Marco Simoncelli for being over-aggressive. He was diplomatic, passionate, honest and made some great points. I gained a lot of respect for him today.
In anycase, this was an amazing fight, ruined by a boneheaded moment by a 20-year MotoGP veteran, who took the bait of the young'un who god forbid, tried beating Rossi at his own game, and backing his corner. As I've said many a time before, everyone loves a good, aggressive scrap, until someone loses out, and the defensive nature of the enormous Rossi fanbase, means this won't go away anytime soon, and Marquez will be blamed for being a dangerous rider, which is completely unfair in true context. And that's a shame that the yellow army is now about to condemn the best natural talent to enter the sport since Rossi arrived.
This fight represents the "Alien vs Predator" of MotoGP dogfights, and a relationship turned sour. For the first 9 laps of the race, this feud was personal. And just like in the movie, whoever won, we lost.[/fusion_builder_column][/fusion_builder_row][/fusion_builder_container]