Being in the right place at the wrong time, is a hard habit to shake…
Congratulations to Nico Rosberg, who on his 200th Grand Prix this past weekend, claimed a brilliant win at Singapore, the 22nd of his career. The man has come a long way from that bright debut at Bahrain in 2006, scoring a pair of points on his debut and finishing with the fastest lap of the race. Man, how time flies.
But it was also a significant race in terms of the Championship. Rosberg has been hovering around 4/1 with the bookies to win the last three Grand Prix since the summer break, and it's easy to see why. Before he started poking fun at tigers, Hamilton was on a tear, having won 6 out of the previous 7 races, with a 62 point swing eliminating Rosberg's perfect start. The season looked dead and buried, but just like that, Nico's back on top again, out of nowhere. We may actually have a compelling title fight again, especially given Hamilton may have to take another engine penalty if he wants an upgrade.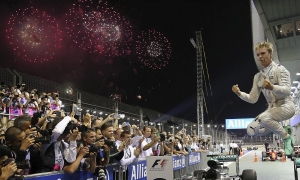 But there's a good reason Nico Rosberg had those utterly ridiculous odds – We've stopped taking him seriously because of Lewis Hamilton, and that saddens me, because as a result, we've consistently overlooked him as a driver, a situation with no nuance, for the past three years, because he isn't as good as LH – Which when you consider his next win will be his fiftieth… That may just be a little unfair.
And it's not like we're consistent in how we judge title challengers. We all cast damnation on the quote unquote Sebastian Vettel [fusion_builder_container hundred_percent="yes" overflow="visible"][fusion_builder_row][fusion_builder_column type="1_1″ background_position="left top" background_color="" border_size="" border_color="" border_style="solid" spacing="yes" background_image="" background_repeat="no-repeat" padding="" margin_top="0px" margin_bottom="0px" class="" id="" animation_type="" animation_speed="0.3″ animation_direction="left" hide_on_mobile="no" center_content="no" min_height="none"][fusion_tooltip title="Which for what its worth, was a myth…" placement="top" trigger="hover" class="" id=""]era of dominance[/fusion_tooltip], but we looked sympathetically upon Mark Webber, especially after Multi 21, where breaking team orders, a rule a lot of fans hated, was frown upon as Vettel got boos on the podium for the next 10 rounds. Webber was 0-5 against Sebastian head-to-head in his career.
As I've said on previous episodes of the #Drebrief series, we the media more often use Rosberg as a scapegoat to make other ridiculous narratives. Remember just this time last year, his mental game was questioned after "letting" Hamilton barge him off the road in Japan, and now, ironically, we're doing the same thing with Lewis after not winning in 3 rounds. Amazing how these things turn out.
I know with more races, and a stupidly good car statistics are a little inflated, but Rosberg now has 22 wins, 29 pole positions, 19 fastest laps and at worst will end the season as a three-time runner-up. That's Top 15 all-time in all major categories. And it's worth remembering, three of those wins were before this hybrid era even began. Rosberg's been a top-tier level driver for quite some time now, even before he became the walking scapegoat many perceive him as.
Nico Rosberg is a victim of circumstance. The right place at the wrong time. The greatest victim of Mercedes taking a power play to move Michael Schumacher out of the door, after he himself went 0-3 against Rosberg in a term that was built around him. Mercedes made the best free agent pickup the sport had seen since Schumacher and have reaped the rewards ever since as one of the greatest teams the sport has ever seen, with another of the sport's most marketable drivers.
You wanna know who Rosberg reminds me of? Stirling Moss, but without the admiration. Stirling is regarded as the greatest driver to have never won a World Title, and Rosberg's getting dangerously close to that territory. Stirling Moss was another driver who was 0-3 to a superior teammate, and that man was Juan Manuel Fangio, a contender for the greatest driver ever. See? Victim of circumstance. The only difference being, we gave Sterling a knighthood, we give Rosberg shit on Twitter. Kinda scary how parallel their careers now are. Both 0-3. Both in Silver. Both still chasing that elusive first title.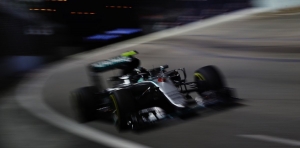 Nico Rosberg is World Class. A Top 3-4 driver in the world today. His win at Singapore cemented that on his day he's as good as absolutely anyone, even when his team threw his win away to help Hamilton score a podium.
And ironically, it was that same mental game so many have questioned that shined brightest under the Singapore floodlights. I can only hope in down the road when it's all said and done, whatever Rosberg's legacy ends up being, we remember him for days like Sunday.
We've always warmed and understood those in the shadows of legends in F1. In my lifetime, Juan Pablo Montoya, Rubens Barrichello, David Coulthard, Felipe Massa, and Mark Webber to name a few… And I think Nico Rosberg is a cut above all of those names, yet, we perceive him in a different, more cynical light. Is he just an outlet for our frustration with Lewis Hamilton's reign of dominance? A dominance we ourselves somewhat manufactured out of his own popularity and need for clicks? In a sport which has a dominant British World Champion for the first time since Sir Jackie Stewart?
I hope not, because he deserves so, SO much better.[/fusion_builder_column][/fusion_builder_row][/fusion_builder_container]