"Jenson Button… WINS! GET IN THERE!"
So in a week where Felipe Massa decided to hang up the gloves, just a few days later, McLaren gave us their donation into the silly season fund by announcing their 2017 Driver Line-Up early as Stoffel Vandoorne was announced alongside mainstay Fernando Alonso… Who apparently isn't retiring. There's a joke from a previous Drebrief episode in there somewhere.
And in what was ultimately a bizarre situation, Jenson Button isn't really retiring, and instead, taking a sabbatical from F1 after 17 consecutive seasons. By the time we get to Abu Dhabi, he'll be just the third man in the 300 races club, alongside Rubens Barrichello and the great Michael Schumacher. It's the "Mika Hakkinen" Sabbatical all over again!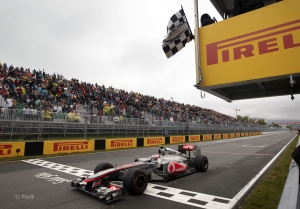 And what makes this decision all the crazier is McLaren's recent driver history, which, safe to say, has been pretty erratic, to say the least. Until this season, this was the first time McLaren had retained the same driver line-up since 2012. Since Lewis Hamilton's departure, Sergio Perez's relative inexperience came back to bite him, and Kevin Magnussen was collateral damage for Fernando hitting the free agency after five years without a title in red.
Now Nando is clearly going to get a team built around him again for better or worse, and the team had pretty much reached the point of no return with Stoffel Vandoorne. As talented a "junior" driver we've seen since maybe Nico Hulkenberg, Stoffel will be just past his 25th birthday by the time he makes his full debut, and this is a guy who probably should have been in F1 immediately after his rookie GP2 season in 2014; where he finished 2nd overall, winning three feature races, and only losing out to far more experienced Jolyon Palmer… And we all know how that's worked out at Renault.
McLaren having a loaded den of [fusion_builder_container hundred_percent="yes" overflow="visible"][fusion_builder_row][fusion_builder_column type="1_1″ background_position="left top" background_color="" border_size="" border_color="" border_style="solid" spacing="yes" background_image="" background_repeat="no-repeat" padding="" margin_top="0px" margin_bottom="0px" class="" id="" animation_type="" animation_speed="0.3″ animation_direction="left" hide_on_mobile="no" center_content="no" min_height="none"][fusion_tooltip title="Don't forget Nick de Fryes too… Although he's probably been more valuable for Tooned than F1…" placement="top" trigger="hover" class="" id=""]young talent[/fusion_tooltip], but lacking the resources to give as many opportunities out as a certain energy drink firm was always going to lead to McLaren having to make difficult decisions like I mentioned above! And Jenson is still for me, a very serviceable driver, capable of strong results, even if he may be just a half step behind Fernando in this day in age.
But on the other side of the coin, I think this was a decision that McLaren had to make and had to make now. Stoffel Vandoorne had waited so long by now, to the extent that if McLaren wasn't going to give him a seat, someone else would. Think it was any coincidence at all that Toto Wolff was basically guaranteeing a seat for him? You know, the team which has both its young drivers in F1 with Manor as of right now?
Yeah… There's some gamesmanship there, the nature of a sport where factories are trying harder than ever to stockpile talent purely so other teams can't get them. Just look at Renault – They had Ocon on loan, with two prime GP2 title contenders in Oliver Rowland and Sergei Sirotkin in their back pocket. Even so, if you're McLaren, could you imagine the potential backlash of keeping Stoffel back for four years, only to let him go for a team that doesn't have the car to justify their "win now" line-up? Yeah. Brits would be (rightfully) flipping tables.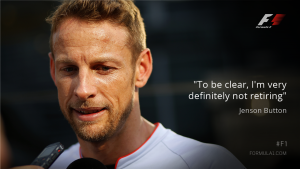 Which ironically, is exactly what McLaren has done incredibly well with this move. They finally get to push the young driver they've had since 2013; Fernando gets the central focus, Jenson can some time to himself after 17 years of being on someone else's schedule, McLaren can still use him to push the brand (Which Ron Dennis absolutely loves), and if anything else goes belly up, you can slot Jenson right back in again like it's no big deal.
It's a win/win for McLaren, even more so when you realize that they've just forced Williams to look elsewhere in a dwindling driver market, where Claire made it no secret he wanted him on the team for… nostalgic reasons I guess? And having JB mentor Stoffel and keeping him in the simulator while he takes the occasional triathlon isn't a bad runner-up prize.
The only shame is, it's going to be unlikely a then 38-year-old Jenson will be brought back in 2018, especially given how stacked the F1 paddock and junior scenes are. There's a strong possibility that this is the last hurrah for one of F1's Hall of Famers. On and off the track he has been a tremendous ambassador for the sport. No doubt it's also a bummer that probably won't get the fanfare that Felipe Massa will get on the way out, but I think JB and his next chapter won't be too begrudged by that. So a salute to Jenson Button, one of the good guys, who's won all the big and important races, and I wish him all the best for the future, because really, the sport needs more guys like him.[/fusion_builder_column][/fusion_builder_row][/fusion_builder_container]