Laguna Seca 2017 isn't going to go down as a particularly memorable weekend in the land of World Superbikes. A sombre affair given it was the first American round since Nicky Hayden's tragic passing, but one where the racing was… unspectacular at best, with Chaz Davies and reigning champion Jonathan Rea splitting wins.
This seemingly led to a bit of a public outcry given this weekend came hand-in-hand with calls from Carmelo Ezpeleta that implied he'll be looking for ways to make the field more competitive in future, including having standardised electronics and a reversion towards "Superstock 1000" rules as early as 2018 – Rules that basically means teams will be running their bikes right out of the factory as standard with next to no room for custom parts and development outside of what manufacturers make for their customer bikes.
In the eyes of the bosses upstairs, this would be good for the series as it would reduce costs, potentially bring other smaller teams and manufacturers into play, encourage more "customer" participation, and including a lot more wildcard entries, like we saw at Donington when British Championship riders Leon Haslam and Jake Dixon took part.
So, is the public turn justified? Has the measures Worlds taken in the last few years helping? Short answer: Maybe, but I'm not sure this is the right approach.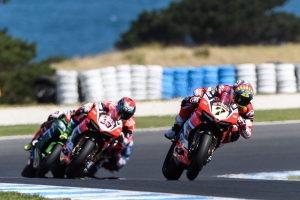 First of all, I'd make the argument that despite the rather brilliant dominance of Jonathan Rea for the third straight season, the "journey" in how he's gotten here has been more intriguing than the destination. Of course, entertainment is subjective, but in the eyes of this writer, Phillip Island, Aragon, Assen, Donington and Misano were all weekends with at least one great race, and even though Rea had won seven out of the first eight races, they had great action, fights between multiple manufacturers (Including an improved Yamaha and Jordi Torres' BMW in Misano), and were generally, really entertaining.
So I genuinely think the memory of some Worlds viewers are short, or they expected more given Laguna Seca is a marquee circuit and people were making an extra effort given the more friendly Sunday night timeslot.
But I openly admit that there is an elephant in the room here, and that's the shift in dynamics in the last three seasons. By a country mile, since his switch from Honda, Jonathan Rea, Tom Sykes and Chaz Davies have been the three top-tier riders in the class, and no-one else has really come close since. It's a two manufacturer championship between Kawasaki and Ducati, and Ducati's not really had a second rider on Chaz's level to take points out of the "green monster".
And this is where I think it's going to be hard for Worlds as a series to come to terms with. Take Kawasaki for instance. They now have the World Superbike dream team of Rea and Sykes. Rea has been THE GUY in the series since 2015, finally getting a bike that showed off his incredible speed, and Sykes was the established Kawasaki guy who already had a World Title, and is still the Superpole King, Laguna Seca being his 40th in the series. Rea is outstanding, and would walk into the top half of a MotoGP paddock tomorrow.
Sykes and Davies wouldn't be far behind, the latter often being linked with a customer ride for Pramac. As for Kawasaki as a factory, as they're no longer in the business of making prototypes in MotoGP, they've become the established racing Superbike manufacturer of recent years, with the last three team titles, the 2014 British title with Shakey Byrne and more top contenders in recent times with Leon Haslam, James Ellison and Luke Mossey.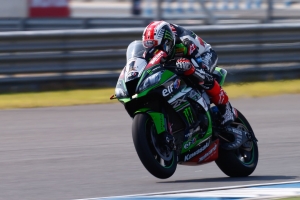 For Kawasaki, this is their greatest promotion for their road bikes, and will mostly dedicate the most potential resources into trying to win their series, more so than others like Yamaha (Crescent), Honda (Ten Kate) and BMW, who all have third party teams running their bikes with varied levels of factory backing (Althea, running the BMW's, get nothing from the factory themselves.)
Even if you were to run stock bikes, and had standard electronics, the sheer number of hands on deck may still give Kawasaki and Ducati the edge, even more so given the quality of their riders. It reminds me a lot of IndyCar, where even though the series is mostly spec, Team Penske's resources have made them the most consistent high performance team, with World Class drivers like Simon Pagenaud, Will Power and now Josef Newgarden as either Champions, or contenders.
You can double down on that when you look at the minimal success of the Race 2 "Reverse Grid" rule, which has mostly made very little difference to the finishing results. If anything, Race 2's this season have become infamous for seeing Jonny Rea's ruthless aggression carving through the field and in the Top 3 within the first three laps.
However, even if they were to have the same net product, having more bikes involved in the main fights is hardly a bad thing. Having more high level customer wildcards would be great, like we saw with Haslam finishing on the podium on home soil. Worlds has already taken great strides to have the level of different manufacturers involved and a rule change can take it one stage further.
And it's easy to forget that Dorna who own the series, has done a tremendous job in saving MotoGP. It was only six years ago they had 16 bike fields. The CRT rules got the customers back in, and now via their helping hands, the sport now has six full factory teams, with the customers in the mix for race wins with Johann Zarco, Jonas Folger and Danilo Petrucci all impressing in 2017. They know how to save a series and protect itself, and there's no reason they can't do the same in Superbikes.
With World Superbikes having dramatic changes to their sport in the last few years, they opened Pandora's box, and basically admitted that things needed to change. So far, the effect has been minimal? If you ask me, I think they should be leaning on greater concessions for teams outside of the Top 3, and clamping on the bigger teams from stretching their legs on resources, which often makes the difference. I think it'll make a bigger difference than clamping down on bikes themselves.
Despite the changes, I think Worlds is in a good place. It has a legit star in Jonathan Rea, some great characters like Sykes and Jordi Torres, and a great range of bikes and teams on display. But I also think we as race fans deserve TWO great biking series, and I grew up a Worlds guy first, and I'd love to see them back to something like their best.
Dorna have admitted something has to give. That's part of the problem, but it could also be a start to a solution.