October 9th, 2016. Suzuka.
Nico Rosberg wins the Japanese Grand Prix. And according to the man himself, it's when Nico truly started believing he could win the World Championship. He went 33 points clear, and at that point, for the first time in their 4 years together, he was able to control his own destiny to win a Championship. For the first time, the Championship was out of Lewis Hamilton's hands…
…And Nico thought about retirement. He thought that if he won the World Title, he'd hang up the gloves. Y'know what that was? The ultimate peace of a man who had his dream in his hands, 25 years in the making.
Nico Rosberg wins the World Championship just six days ago. And in incredible fashion too, dealing with incredible pressure from Hamilton backing the pack up, Sebastian Vettel coming from behind, and a pass of the year contender at a critical time to free himself from Max Verstappen, his nemesis for the year. And what I remember most, outside of the tears of course – Was his interview with Channel 4's Lee McKenzie. His candid honesty. His emotion. His relief. And his excitement that a lifelong dream had been realised. My favorite interview of the entire season, because it said so much more than the face value on TV.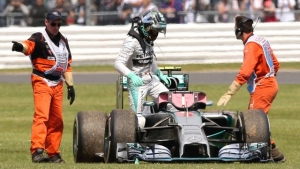 Sympathy is for many, a hard thing to exhibit in Formula 1. To many, driving incredible machinery at 220mph, 21 times a year, and getting paid eight-figure salaries is an incredible, carefree, life of luxury. And of course, there are elements of truth to that. But we as fans and consumers of Motorsport often take many elements of the sport for granted like the thousands of hours of hard work, the physical and mental demand – The fact that you're on the road for 9 months a year, the fact that you'll have a million people in your face time and again, and not to mention, your every move and performance scrutinised.
That's not as easy a life as many people think. Especially when you're Nico Rosberg – A man who had become a father this year, and got married the year prior. Anyone who knows Nico knows his family is an incredibly important part of his life. And he's mentioned that being away from his family was so difficult. So when Martin Brundle goes out of his way to tweet his confusion over Nico retiring out of the best seat in Motorsport history…
"Confused. Paid handsomely to drive probably the greatest racing car of all time, one driver threatened to quit, the other retired early" – Martin Brundle
…It's clear that even the finest broadcaster F1's had this century is clearly being more closed minded and doesn't truly understand that other side of the coin that we as consumers of F1 conveniently ignore. This coming from a man who basically made a second career for himself after his racing career came to an end.
This goes hand-in-hand with the environment that Nico Rosberg had to create for himself in Formula 1. I mentioned it before on here, but this was a man who had a monkey on his back from the moment he got in, due to his Dad being a World Champion. He went to Mercedes in 2010 and had to fight for column inches alongside the return of an aged Schumi, a man he thoroughly outclassed. We all talk about that pole lap at Monaco – Not so much about Nico's first win for the team that same season in China where he destroyed the best field the sport had ever seen. In the field's FIFTH best car.
"It's been a long time coming"@nico_rosberg's first #F1 win came in his 111th race. His first world title was sealed at his 206th & last pic.twitter.com/s83hOomo4o

— Formula 1 (@F1) December 3, 2016
Then Lewis Hamilton came along. Best friend of 15+ years and a strained relationship due to multiple incidents followed. Lewis nearly quit. And as Lewis won back-to-back titles, we the fans and the media turned on Nico. He was the pinata the sport needed to craft a new narrative, a new F1 world where Lewis Hamilton would be its judge, jury, and executioner.
I'll stand by this – Nico Rosberg has been the most openly mocked driver I've ever seen in F1. And for what? Not being as good as the greatest driver of this generation? The man with only one superior on race wins? BRUH. Perception is ten-tenths of the law here because it just wasn't fair. Even when Nico did well, we found a way to tie it back to Lewis in some capacity. Even today where Sky posted a headline asking whether Lewis's intense pressure forced Nico in retirement. Like, what?!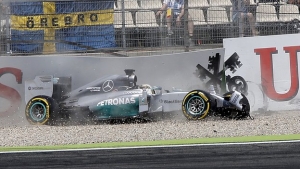 It's the backstory to Nico's title – The plight of Lewis Hamilton's mechanical gremlins and subtle ignorance of his mistakes to enhance the agenda that Lewis won the "moral" fight. And it saddens me that we have such a toxic consumer environment in F1 that you have to wonder what Nico had to do in order to truly get credit – Especially when Andrew Benson are putting the ka-bosh on Nico the World Champ within hours of actually winning the damn thing…
…And criticising him for not getting gigs on The Ellen Show? Puh-lease. Not everyone wants to be F1's version of a Kardashian sister. Ask Sebastian.
The most beautiful thing about Nico Rosberg and his rise to the top has been the class and decency he has shown in the last few years. When the worst of it was a petulant throw of a cap after losing a title just 13 months ago, then I think it's fair to say that Nico is just as fine an ambassador for Formula 1, as anyone else in recent times. For all the talk of pressure, the questions about his mental fortitude, he found an answer. The Singapore win. The consistency as Lewis came roaring behind him not once, but twice this season. The smiles and the wit as Sky asked him inane and shit-stirring question after shit-stirring question, and association with Lewis at every turn… He came out the same guy. And won.
And now, he can ride off into the sunset. I don't know why we as fans were so quick to dismiss this retirement as a sign of cowardice. He walked away from the most competitive team, and the best car the sport has ever seen, so he can meme' it up like Guile out of Street Fighter – Telling the world he's going home to be a family man. That wasn't cowardly. It's one of the bravest decisions I've ever seen a driver make.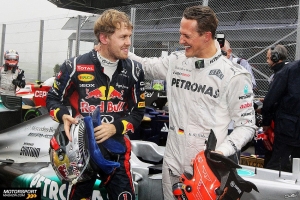 We see it all the time in sport. Guys who hang around just a little too long and the book closes on a sour note. Michael Schumacher. George Best. Michael Jordan as a wizard. Chuck Liddell. Tiger Woods. Nico gets to close it out on top. The media, try as they might, will have to make Nico the center of attention. He gets to go out, his way. Breaking every narrative and every negative story out of the water in a blaze of glory as he lifts his World Championship trophy high. Coward? I can't think of a better way to bow out.
So a salute to you, Nico Rosberg. An incredible career, and a win for all the true grafters out there who had to fight from the ground up on nearly everything he got in F1, and wrote his own story on the way out, and not the one that sells you the most papers, or gets you the most clicks.