"The end of a Yamaha dynasty…"
This past Sunday's Valencia felt very different compared to last year. In 2015, the sport had never seen such dissention as Valentino Rossi vs The World rolled in. This year, there was excitement in the year, but also, the sense of an era ending as Yamaha and Jorge Lorenzo said goodbye after an incredible nine-year partnership.
Lorenzo's Yamaha numbers are outrageous. 44 wins. 107 podiums. 39 pole positions, his first being at his very first Grand Prix at Losail in 2008. And of course, three World Championships in 2010, 12' and 15'.
In MotoGP, I've been fortunate enough to see Lorenzo grow as a rider, and the transformation he has gone through has been amazing. I remember 2008 like it was yesterday – Him debuting at age 20, a lollipop constantly in his mouth, criticised by many in the paddock for his cockiness. And it came back to bite him. Despite flashes of brilliance like that debut pole and that first win in Estoril, he was inconsistent and crashed multiple times, outclassed by Valentino Rossi and a distant 4th behind Rossi, Stoner and Pedrosa.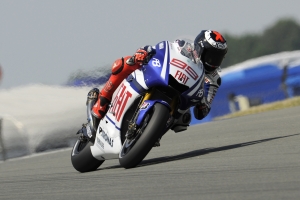 But as he got a little bit older, what I've come to admire most about Jorge is the ways he channelled his confidence in a different way – He got his head down, concentrated, and became a rider of supreme consistency. A much improved runner-up spot in 2009 behind Vale, before taking advantage of his brutal leg break in 2010 to achieve one of THE great MotoGP seasons. 383 points, 9 wins, and finishing all 18 races in the Top 4. In today's ridiculously competitive era of MotoGP, you'll probably never see anything like that ever again.
That 2010 season was the one where Lin Jarvis was ready to declare Yamaha was now Jorge's team. He told Valentino frigging Rossi to take a pay cut or take a hike. The man that had saved the brand of the team, and winning World Titles again for the first time since 1992. Yamaha, was now Lorenzo's. And he made it his own – Even when Vale came back in 2013, the tables had turned. Sure, Rossi found his feet again, but this time, Jorge didn't crack under the pressure and took the GOAT head on… And won. That 2015 Championship over arguably the best Valentino Rossi in a decade for me, will be the cherry on top what's been an incredible run.
That's the most amazing thing about Jorge Lorenzo. His career has been forged by fire, molded by the challenge of a mountain most would find impossible to climb. Debuting for the reigning team champions. At age 20. And the greatest rider the world had ever seen, the face of a sport, 10 feet away from you across the garage. And he won. A lot. He came back and won another World Title after an Assen 2013 horror highside forever damaged that confidence that made him the rider he's become today. (Which for what is worth, is still one of the bravest weekends I've ever seen from a MotoGP rider.)
And that mental fortitude came into play when Rossi rediscovered his mojo. When Rossi started conspiring towards the end of the season, he couldn't tap into Lorenzo for mind games, so he had to go for Marquez instead. At Misano last year, when Rossi block passed him early on, he was fearless of going for the Doctor's throat, pointing out his ludicrous double standards. That attitude of taking on any and all threats, no matter how big, was something I always found admirable about Jorge, even if some of that confidence could easily be perceived as ego…
But that's just the beauty of it. You need a level of confidence to be a great in sports. You just do. If you don't believe in yourself, who else will? Or should? There's a good reason sports psychologists are all the rage, why Ronnie O'Sullivan had the greatest run of his career after Dr Steve Peters coached him into destroying Snooker's elite at age 37. Mind games are a part of the sport, and call it whatever you want, but it's worked for #99 and made him stronger.
But that's ultimately what makes this Lorenzo move to beautiful, and yet, kinda sad. For all the talk of Lorenzo being a massive part of what's made Yamaha so great over the last nine years, the way the tide turned towards the end of the run is hard to ignore. I remember MotoGP broadcaster and journalist Julian Ryder talking about the internals of Yamaha and the contrast between the two. Rossi and his entourage 20 men deep, compared to Jorge on his own like any other man on a plane.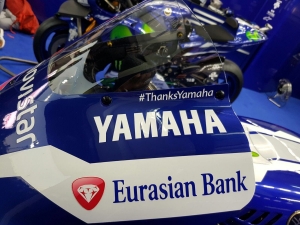 A Yamaha crew member off the record saying the team would "Celebrate a Rossi title more than Lorenzo winning five". The wall between them. The catfights. As much as Lorenzo wants to dress this up like it's a new challenge – When Ducati themselves admitted they didn't even have to try real hard to get a rider many consider to be one of the greatest ever… There was clearly more to this than "a new challenge".
Someone needs to make a docufilm on that partnership. You don't just stick two of the seven or eight greatest riders ever in a team and NOT expect fireworks and general anarchy.
Speaking of challenge, 2017 could be Jorge's toughest yet. Ducati's chewed up world class riders and spat them out for the better part of a decade now. The last thing the sport needs is Jorge Lorenzo hampered with a team he can't win with. That would be a great shame given the potential in this sport is brighter than it EVER has before.
Ducati now have a track they're near guaranteed a win around. They'll always be strong in the rain. They've been competitive in other rounds like Qatar and Phillip Island. I've been critical of this move, but given more thought… it really wouldn't take much for Lorenzo to take them over the top. After all, Marquez won another title having won just five races this past season. I've never thought Ducati's riders were the issue… But then you realise, they've had someone like Lorenzo on a truly competitive red machine.
But lest we forget, Lorenzo in the Yamaha blue. Valencia was almost a perfect goodbye how Jorge would have wanted. A quiet, smooth, efficient weekend with his ridiculous speed on full display. That 29.4 pole time had to be seen to be believed, and he took an easy lights to flag victory. That style of win many will call boring, but there has never been someone in this sport that's made it look so easy. Especially in a field so strong.
Lorenzo's already one of the fastest, most consistent riders that MotoGP's ever seen. He's a first ballot Hall of Famer if he hung it up today. But for me, I'm glad that the story of his career, has at least one more intriguing chapter left to tell.