I know, I know, the title is weird. Apologies, but it's the best analogy I could find at four in the morning last night. But I think it fits for how I ultimately describe the 2016 Formula 1 Season. Bear with me on this, you'll see where I'm coming from.
Now the season has come and gone, I've heard varying opinions on how it will ultimately be perceived. Some say it'll be underrated, others have already slapped the "unworthy Champion" on Nico Rosberg and want to forget this shit ever happened. Me? I'm somewhere in the middle.
For me, how I'm going to remember 2016 will be as a season where we got some genuinely great moments, but man did we have to wade through some steaming horse manure in order to get there…
The entire "Qualifying" change debacle. Oh man, this was a doozy. I've said it time and time again – Because teams will never want to potentially risk the performance of their cars for the sake of the "greater good for the fans" regarding entertainment… they have to look for other ways to appease the fans. And with the tyre situation finally sorted out, we go to the other long-rumoured potential solution… Screw with the format.
Call forth the elimination clock! Without the entire paddock being too stupid to realise that a clock kicking in essentially reduced Qualifying to a "one-shot" format for 80% of the field because the current tyres are only good for one hot-lap, and you need to do three laps to complete a "run". Some of the smartest minds in the world in F1 and no-one could figure that out. Hell, we thought the whole thing was going to be canned at one point because the FOM couldn't work out a graphics package for it. Really. And this sport makes TWO BILLION A YEAR.
Most of you probably forget that whole thing ever happened – Sorry for making you remember.
On the other hand, the three tyre-weekend plan was for me, an overwhelming success. I loved this element of change from the teams. Having more strategic options is rarely a bad thing and it showed right out of the box in Australia, where Ferrari and Mercedes had a legitimate tactical battle for the win. Same in Canada when Ferrari boxed Seb under the early Safety Car. It's the little things like that which made a difference on the track, and opened up the field for more passing and more intriguing races on several occasions. Let's not forget the ending of Singapore as Daniel Ricciardo nearly stole another win from under Mercedes' noses. It's nice to see Pirelli hit the sweet spot after years of being the whipping boys between an FIA agenda, and bowing down to the teams who wanted their tyres a certain way.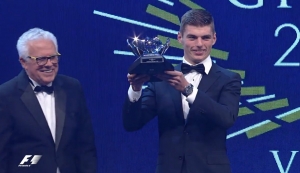 The rise of Max Verstappen was one of the most polarising elements of 2016. His promotion was all sorts of ugly – Yet more proof that Red Bull will literally ruin careers as long as it can get a golden goose every 5 years, a cover up for a very vocal camp not getting their own way. And of course, on the flipside, he was also pretty friggin' insane in a car.
Of course, what's the ideal way to squash the negative talk about your team's employment habits? Win your first GP with the team, and be just the third man to beat a Mercs in this era. Of course. Max has been the spark of excitement throughout this season. His pass on Rosberg at Silverstone was my pass of the year. His comeback at Brazil, while a little overrated in this writer's eyes, was understandably a show stopper for many fans. In fact, I'd go as far as to say that Verstappen's rise has given birth to a new era of his fans on the Internet, inspired by his behaviours on track.
However… and I'm going to be honest here… He's kind of an asshole. Not entirely down to him, more so the environment that he was allowed to "flourish" in. He got away with more rule-breaking passes then anyone in the history of F1. The clash with Rosberg in Germany, the double moves under braking at Hungary and the brake checking at Spa, etc. Then doubling down on those actions when questioned, unrepentant like that kid at school who flooded the toilet and then blamed someone else for it. He is THAT guy. What guy? THAT guy.
And what didn't help was that the stewarding this year was a goddamn joke. Max wouldn't have been half the nemesis he was this calendar year if it wasn't for the fact we didn't get a Verstappen penalty until Race 19 of 21 for cutting Turn 1 at Mexico, which [fusion_tooltip title="And no, the fact there was a Safety Car doesn't mean he should have gotten a pass either." class="" id="" placement="top" trigger="hover"]Lewis Hamilton didn't get punished for[/fusion_tooltip] in the same race. He got nothing for Hungary while Nico Rosberg got 10 seconds for Malaysia, and 5 seconds for the Germany incident where Verstappen turned under braking – The biggest no-no in the book. It's partly why I don't even blame Max for half the shit he did this season. What's the point when the stewards are the ones who let him get away with it? We as fans took our frustrations out on him, when it should have been the stewarding.
However, and this is an important one – The quality of the races really weren't as bad as many think. At least in my opinion. There was no great all-time classic like we had in 2014 (Bahrain, Hungary, Canada), or 2015 (COTA, Hungary again), but there was a nice little mix of 7/10 or 8/10 races in there.
Brazil is going to end up as a microcosm of my entire thoughts of the season. A race that was brimming with action pretty much from start to finish – But the rain delays, and indecisiveness of race control that caused legitimate danger when Jolyon Palmer, Marcus Ericsson and Kimi Raikkonen all had massive accidents left a bitter taste in the mouth. Can't have anything great in F1 without there being some sort of deal-breaker that comes along with it.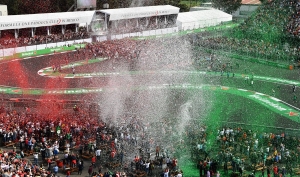 Mexico had a stunning, dramatic ending that had us asking many questions about the ethical standards we held drivers to when Vettel told Charlie Whiting to "vacate his premises", but the 95% of the race was boring as hell, with Lewis Hamilton getting away with cutting Turn 1 having a massive impact on the race, and the final result not being in until Midnight at British time. Not ideal.
For what it's worth too – I think the Australian, Spanish, and Canadian Grand Prix's don't get enough credit as solid races. Furthermore, did you know, that this season had the most overtakes since 2012? Sure, there's an extra race, but let's be honest with ourselves – We've buried F1 seasons before for having less issues [fusion_tooltip title="2014 anyone?" class="" id="" placement="top" trigger="hover"]than this[/fusion_tooltip].
Abu Dhabi had the best title finale in years, but it was only down to Lewis Hamilton deliberately backing the pack up. Again, partly our own fault as fans given we have double standards when it comes to ignoring team orders and "artificial" entertainment, but in any case, a thrilling end as Lewis' "last act of a desperate man" had millions worldwide glued to their TV's.
Talking the Championship in general, we genuinely had a brilliant title fight between two men who were practically equal. Lewis Hamilton had the bad start, Rosberg had a massive advantage – We saw the best of Hamilton leading up to the break by reeling him in. Then we saw the best we've ever seen from Nico Rosberg to bounce back and retake control of the title race before the wildcard Malaysia blow-up kicked in. That was awesome. It told a great story… But then the Hamilton engine failure happened and we all started asking questions about "worthy" Champions like we did in [fusion_tooltip title="Nando > Vettel?" class="" id="" placement="top" trigger="hover"]2012[/fusion_tooltip], [fusion_tooltip title="Take your pick out of the four…" class="" id="" placement="top" trigger="hover"]2010[/fusion_tooltip], [fusion_tooltip title="Massa > Hamilton?" class="" id="" placement="top" trigger="hover"]2008[/fusion_tooltip], [fusion_tooltip title="Hamilton > Raikkonen?" class="" id="" placement="top" trigger="hover"]2007[/fusion_tooltip]… You get the gist.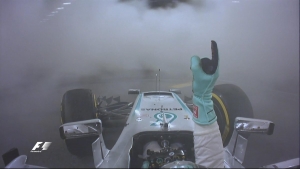 It's a boring, cliched narrative we keep digging up because we like to ignore the reality of Formula 1 being a sport where the driver actually plays very little in what the ultimate result is – Despite the fact that we as fans are incredibly invested in their drivers, because we will always take the most captivation in the human element of the sport, over the technology. The imaginary asterisk so many have put on Nico Rosberg this season is a discredit to the incredible season he had, and the path he took to win that title.
And that's ultimately how I feel about 2016 as an F1 season. Like picking your nose. You know it's disgusting, but sometimes you do it because you know you want that relief at the end of it all. Every element of genuinely great stuff we got from the sport this year could easily be countered by something equally frustrating and extremely… "Formula 1". Even looking at 2017 reeks of: "Hey, the cars look nice! They'll smash lap records! More mechanical grip!" followed by, "Shit, they're adding more downforce?! Dirty air? F***!"
This wasn't the best season by any stretch, but it certainly wasn't the worst either. Here's hoping for better things in 2017. Now if you'll excuse me, I'm going to eat a tub of Ben and Jerry's in one sitting and then feel awful afterwards. Might as well double down on the season, right?