Drama. Politics. Embracing chaos. All the natural elements of being a Formula 1 fan. And for me, no team has been the personification of this since their return in 2010, than Mercedes. With one of their most trying months ongoing as they start a new chapter, I thought it would be fun to take a little look back and see the ways this team got embedded in Formula 1 and how they became the omnipotent juggernaut they are now in the sport's landscape.
2009. Ross Brawn a bunch of investors saves what left from the Honda team, develop a "Double Diffuser" system and proceed to batter the field for half a year. By that point, everyone else tripped over themselves trying to chase them so bad, Button and Brawn still won the title, which was lovely, even with BBC's Jonathan Legard spouting: "He's got a problem", every 22 seconds.
Brawn being a smart businessman, sold his team to Mercedes, making a tidy profit and stayed at the helm, rebuilding the team as JB went off to McLaren to complete an all-British press circle jerk dream team, and Rubens did what many Brazilians do in their twilight of their careers… join Williams.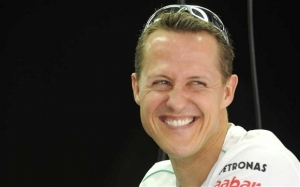 When rebuilding, Mercs hired a hometown kid that was coming off a breakthrough season at Williams. Some 25 year old hotshot called [fusion_tooltip title="Wonder what happened to him? " class="" id="" placement="top" trigger="hover"]Nico Rosberg[/fusion_tooltip]. Anyway, he was great in 2009, had the odd podium and many Top 5's for a Williams team in the midfield, so maybe he can be the ideal guy to build a new factory aro- NO WAIT, THEY BROUGHT BACK SCHUMACHER. 41-year old, retired for 4 years, Michael Schumacher. Sorry Nico, but you ain't shit in this town no more, F1's modern-day Superman was back.
…And mediocre.
I get it. There is so much emotional investment in [fusion_tooltip title="Even more so now than then, for obvious reasons…" class="" id="" placement="top" trigger="hover"]Michael[/fusion_tooltip], but let's be honest with ourselves. His comeback was a bust. Maybe he was too old at 41. Maybe he was too rusty. Maybe the retirements were unlucky on his part. Nico Rosberg being really good back then didn't help either. Mentioned this before, but he went 3-0 against Michael, but we got the capes out for slightly-washed Schumi because we got nostalgic over the past. Fun.
For example. What's Mercedes highlight of the 2012 season? Not Nico Rosberg's first win at China… It was Michael's pole position at Monaco. Even if it didn't count because he drove into [fusion_tooltip title="(Which he did again at Singapore later in the year)" class="" id="" placement="top" trigger="hover"]Bruno Senna's rear diffuser at Catalunya[/fusion_tooltip].
Speaking of Singapore – That's when we got the mic drop moment from Mercedes. Michael Schumacher jumped before he was pushed retired again, as Mercedes wanted to snag the biggest free agent of the last decade – Go get Lewis Hamilton, who was busy taking time out of his busy schedule of leaking team telemetry to take a £100m deal to finally get out of a McLaren team that were amazing at throwing away easy wins in 2012. Safe to say, it turned out okay for him.
2013 was[fusion_tooltip title="And this is coming from the Internet's Sebastian Vettel representative…" class="" id="" placement="top" trigger="hover"] largely forgettable as an F1 season[/fusion_tooltip] – Although I must admit, I did find it funny that Mercedes had their own team orders scandal in just their second race together because "Oh shit, the Mercs is actually really good this year!", and it got completely swept under the rug thanks to Multi 21. The lucky bastards. Shoutout to Nico Rosberg for taking one for the team. He did that a lot, it's the nature of being a teammate to Lewis Hamilton.
So the hybrids come along. We watch Nico Rosberg win by half a minute and we all collectively as viewers go: "So THAT'S why they tanked the previous 2 years!!", as Mercs won 16 out of 19 rounds, and took our lunch money in an epic battle of "Who deserved it more?" with multiple retirements scattered out throughout the season. It was a foreshadowing to the 2016 reboot – like Star Wars, only this prequel was actually somewhat watchable.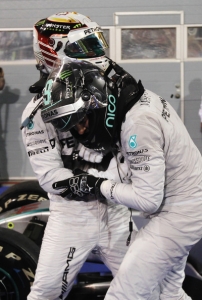 For me, I will always remember 2014 for two things. The rise of Daniel Ricciardo, and the start of Hamilton vs Rosberg: The blood feud. And what saddens me about it was that Bahrain was such a brilliant, captivating fight that they both enjoyed, and it got bitter real quick after the summer break.
The Belgium crash where Hamilton basically accused [fusion_tooltip title="Then proceeded to run Rosberg off the road from here to Narnia…" class="" id="" placement="top" trigger="hover"]Rosberg of doing it on purpose[/fusion_tooltip] even after winning the title. The countless times they [fusion_tooltip title=" See the Season Review DVD for more on that one." class="" id="" placement="top" trigger="hover"]used team-illegal fuel mixes[/fusion_tooltip] to try and beat each other in head-to-head dirty-air faceoffs. The time Lewis Hamilton [fusion_tooltip title="Never happens again, honest." class="" id="" placement="top" trigger="hover"]ignored team orders in Hungary[/fusion_tooltip] and got praised for it, and that amazingly touching moment in Abu Dhabi where Nico Rosberg fell on his sword with a crippled car, but finished anyway, head held high. That was cool.
2015? That was what I like to call the "Double Down" year. The timing of Nico's retirements from 2014 made the title fight look less decisive than it actually was. I call it the "Double Down" year because it was the year the British media doubled down on Lewis Hamilton being not only the best driver in the world, but maybe the best driver of this generation… All at the expense of giving Rosberg the pinata treatment.
The sad thing was, Rosberg was still relatively close until the Italian Grand Prix. His team dodges a bullet with tyre pressures that may or may not have been low – Rosberg's engine gives, and Lewis leaves Monza with the world title all but sewn up, despite having the most shambolic PR disaster in recent F1 times when he ignored the Justin Wilson minute of silence. F1 is a cruel, fickle bastard at the best of times, but that one took the cake.
…And what were we doing? Breaking down fire takes from Sky F1's midweek reports that Nico Rosberg needed to book himself a sports psychologist because apparently you need a [fusion_tooltip title="I still don't know what that means." class="" id="" placement="top" trigger="hover"]"World Champion" mentality[/fusion_tooltip] to barge another man off the road, like Lewis did at Japan. And COTA. All I say now in hindsight is, "Ha."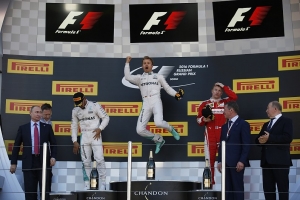 I think all that was what mad 2016 so much more fun. The ridiculous Rosberg start of winning the first four rounds was what added a new dimension to the rivalry – Essentially making it a 16 round season with Hamilton -42.5 after Spain. But of course, this wasn't without discussion, as Lewis subtlety was making ambiguous statements about his side of the garage, inviting conspiracy talk as to whether Mercedes was favouring one driver over the other.
It saddened me earlier this year to have to read a passionate, heartfelt blog post from [fusion_tooltip title="A genuinely brilliant team at that." class="" id="" placement="top" trigger="hover"]Mercedes own social media team[/fusion_tooltip], having to make pleas to take themselves at face value, explaining that they would never favour a driver. I was embarrassed as a fan to have to read that. IMAGINE the shitstorm in Brackley's PR department if they felt THAT was necessary. In a race where Lewis still finished in 2nd after a part was flown in overnight, and still had zero water pressure as he crossed the line. Those 18 points were nothing short of a miracle. The problem was, that this issue came up again later in the year at Malaysia, where Lewis halfheartedly implied that he was the only one suffering Mercedes engine problems compared to everyone else… and then had to backtrack again on his Facebook page after rightfully being called up.
…And I'm not even going to go there again regarding whether Nico Rosberg was "deserving" or not. Because at this point, you're going to have to change reality to suit your own agenda, and personally, I think that's whack.
Even the end of the season caused a stir – Lewis ignoring a team order for the third time at Mercs in a desperate play to win the title. For what it's worth, I had no issue with Lewis' actions, or Mercedes' call – Both were understandable in the circumstances. But it also begs the question… How valuable is a driver you can't trust?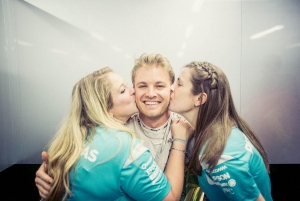 And now, here we are. Nico Rosberg rides off into the sunset, and now the greatest seat in the history of Motorsport is up for grabs. And Mercs are even making a horlicks of that too.
They have a superb academy, led by rookie Pascal Wehrlein, but given the free agency so far, it's becoming obvious that the team doesn't trust him, and/or thinks Ocon's the better prospect. Before Nico's retirement, Ocon was locked into Force India – Last season's 4th best team, and Wehrlein was a free agent, and was in the middle of negotiations for Sauber. SAUBER. Think about that.
On top of that, Mercedes have made it clear, they want Valtteri Bottas, and are willing to throw in Paddy Lowe, Pascal's rights, and cash off their engines for the season, and apparently that is STILL not enough, Claire Williams refusing to budge on the 27-year old Fin. Do I detect a hint of arrogance regarding Mercs thinking they could just get whoever they wanted? Because Nico Hulkenberg, Fernando Alonso and Sebastian Vettel have all already either knocked them back, or their teams have refused to let their contracts be bought out. This saga will drag on, and I totally expect to be thoroughly underwhelmed by the outcome.
So here we are. 2017. Mercedes has become a full on, F1 dynasty. That 2014 reboot of the rules has given birth to the greatest spell of dominance this sport has ever seen. 51 out of the 59 races since the hybrids began. But even before that time, this team has put itself through the ringer. I didn't even mention Ross Brawn going fishin' at the end of 2013 and the amount of headaches Toto "Terminator" Wolff has had to go through managing two of the finest drivers this sport has seen this side of the millennium.
So, a salute to Mercedes F1 AMG Petronas Team. One of the greatest and most entertaining teams F1 has had in recent times. But could you do us all a solid and give the rest of the field a chance? I'm only 24 and I'm not sure my heart can go another round.