I'm going to say something that will shock no-one that knows Formula 1 pretty well, especially if you have a broader outlook on Motorsport… There's just not enough seats in the sport right now.
Pardon the Hamilton-isms here, but we've been blessed in recent times with one of the most stacked junior scenes that single-seater racing has ever had. Half-way through this season's GP2 series, we legitimately had six names in the mix for title contention, from Pierre Gasly the eventual Champion, to Antonio Giovinazzi, Oliver Rowland, Sergei Sirotkin, Raffaele Marciello and even [fusion_tooltip title="NOT NOW!!!" class="" id="" placement="top" trigger="hover"]Norman Nato[/fusion_tooltip] were in the mix. It was amazing, the racing was superb, and from what I saw on the Internet, the hype and excitement around GP2 had never been greater.
There's a good chance none of them will end up in Formula 1 next season. The recent news of a Manor takeover could see the beloved Giovinazzi get in, but even so, it's a sad indictment of the state of "the game" when it was announced this past weekend that Pierre Gasly has to go to Super Formula over in Japan because Red Bull Racing has nothing for him, and he's got to do something due to GP2's heavily flawed "Champions Rule". Doubling down on that, Christian Horner said today that Carlos Sainz Jr. was off the table for that vacant Mercedes seat.
….That right there summed up everything that I dislike about the start of the junior scene in Formula 1.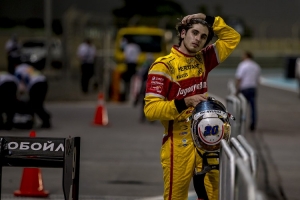 As said earlier, it's obvious that F1 will never have enough seats to accommodate this new era, but I've noticed a couple of troubling differences in the market. We've beaten the drum about Formula 1 being a money game enough over the years. But for me, it's starting to run deeper than that. Teams are starting to actively starting to sign young talent and horde them so that other teams can't have them… almost like they're scared shitless incase that same driver comes back to harm them. I mean, would it be totally inconceivable that Carlos Sainz would go Mercs and win a World Title? Imagine the complaints in Red Bull's HR department… Yeah, that would be ugly.
I spoke a lot about Red Bull's academy situation in a Drebrief episode on Danill Kyvat earlier in the year, but it's worth repeating that they've made a habit over the last decade of curb-stomping their talent as long as they get the golden goose at the end. Alguersauri, Buemi, Bourdais, etc. But there's other examples too. Renault just made Nico Hulkenberg their franchise driver, while they still have Sergei Sirotkin and Oliver Rowland in the back, who may never end up driving for a team rebuilding for a run at the top. Stoffel Vandoorne has had to wait 4 years for his full-time shot in F1 since joining McLaren's programme in 2013; despite having to race in Japan too, given McLaren's "win now" roster of Nando and Button, with a car that had zero chance of winning at all.
Now Carlos is CRUSHING it at Toro Rosso, yet he's stuck. Unless Daniel Ricciardo leaves because he too is in a title-winning logjam, that could be Red Bull's line-up for the next 5+ years. Ricciardo is a Top 3 driver on the planet, and Verstappen is that new golden goose. The odds of him every driving for the factory team is about the same as me scoring that date with Jennifer Becks. But he can't really leave because there's no guarantee he gets a better seat. When Prost got the chop from Ferrari in 1991, he HAD to take a year out. And that was Alain Prost for crying out loud!
It's a difficult situation for GP2. They are the main feeder series, but all of a sudden, they've been outshone by Europe's Formula 3 series with former Champion Esteban Ocon, Max Verstappen and now current champ Lance Stroll coming through their league. They have their Champions rule purposely designed to give new talent a greater chance to rise to the top, but if there isn't a guaranteed F1 seat at the top as the endgame (Ala Indy Lights), you potentially could be hurting yourself as a driver if you're Champion.
I sit here today on December 15th, 2016 and I'm not sure if Gasly will ever get into F1 due to Red Bull's amazing team, Sainz being an amazing #3, and an academy that for once, is actually standing by one of its drivers, even if he could very well be damaged goods at this point. How good a look is it for GP2 that both of their last two Champions had to take a branching path to get into F1, rather than directly?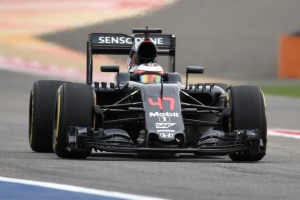 As my Podcast co-host Ryan King said to me on Slack yesterday: "F1 and it's ladder is too expensive for everyone without an outside source of income. It's not self-sustaining by any means. That's why Mercedes, Ferrari, Red Bull, and McLaren are so successful and powerful. They can outspend all of their competition and cherry-pick the best talent."
It's why Gio's F1 career could be hanging by a thread. Why we've made Mitch Evans the "working class hero" of GP2 for never needing a penny of funding. It's why Raffaele Marciello has given up his dream, despite getting into FP1 sessions and has been in and out of the paddock for years. That's nothing but a negative for everyone involved when talented, young drivers, have to change paths because the cheque you need to write has a zero too many.
It's only going to get worse with Max Verstappen becoming F1's new poster-boy. THAT is now the standard that other factories are going to impossibly chase – Amazing drivers, able to captivate and build brands, and a potential 15+ year career. How many guys have fit that mold in the last 30 years? Schumacher? Vettel? Hamilton? Nando? Maybe Jenson for longevity sake? The demand required is unrealistically high.
And that's the most frustrating thing about this entire landscape. We could have had something. F1 basically kicked Stefano Domenicali and Gerhard Berger's plan to the kerb of a standardised ladder system. Reducing eligibility for super-licences, but cost-capped plans so that teams would have next to no choice but to pick based on talent, over marketing assets. But that boils back to F1 being an unsustainable, arms-race of a sport where if you're not in the Top 4, and/or not a factory, every season is a fight for survival. By now, Monisha Kaltenborn would be more ready to be dropped in the Arctic than Bear Grylls.
I would love to be able to sit here and tell you the future of F1 is bright, but eventually, the sport needs to have deeper and more meaningful conversations about the state of its junior scene, otherwise, we're going to be sitting here wondering why so many brilliant racing drivers never got a fair shake. Oh wait… We already are.