No really, MotoGP is a bit of a mess at the moment. I love this series to death, it's my favourite out of all the series I cover. And while on average, their action is for me, better than anything in Motorsport, there are some serious logistical cracks that the sport is losing control of, and needs to be addressed rapidly.
The Stewarding
Catalunya was overshadowed by the horrible Nakagami/Rins/Bagnaia crash just seconds in. An error on the brakes from Taka that caused him to lose the front long before the corner. Then he smashes his head against the back of Bagnaia's bike, collecting him and Alex Rins' Suzuki at the same time, breaking the Spainard's wrist in the process.
It was an ugly incident, turned even uglier by the stewards deciding that no further action was warranted. Rins was understandably seething with rage, wanting Taka banned in the same way that Denis Oncu was banned for 2 rounds for his weaving that caused the Circuit of the Americas wreck. As much as I don't think Taka's error was worthy of that level of punishment, the "all or nothing" approach the stewards have had lately is alarming. Where if someone crashes, well "That's punishment enough." It's going to make people question whether the guys in the control tower actually know what they're doing.
This isn't a case of a track limits breach, or a 60/40 incident where a small penalty would be fair enough. This was a MAJOR case of irresponsible, dangerous riding that could have very easily ended in tragic circumstances. You can't let riders get away with that sort of mistake, because he's only endangered himself and his fellow competitor. Freddie Spencer and the steward panels' explanation of "He broke in line with the field" just doesn't add up given he was going to miss the corner by so much he was probably going to end up in Portimao.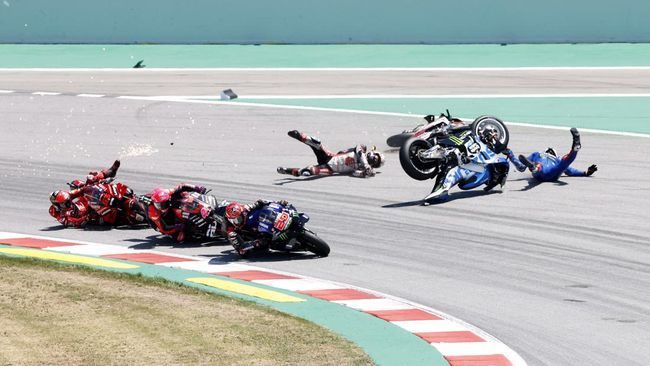 It's not the first time this new steward system has been criticised. In the same race, Joan Mir overtook under yellow flags. He was told to drop just one position. At this very race last year, Fabio Quartararo tossed out his chest protector in the middle of the race. A key piece of safety equipment. He nearly crashed with an exposed chest. He should have been parked. He got a three-second time penalty.
This chapter is the latest in 20 years of erratic stewarding that the sport has never been able to properly control. Back then, Taka would have been suspended for a race. MotoGP was handing out race bans like cotton candy back then. John Hopkins and Loris Capirossi were both on the received end of those during their careers for reckless riding. When Rossi punted Sete Gibernau off at Jerez 2005 and wasn't punished, it changed bike racing tactics forever. The block pass, even with deliberate contact became legal.
We never quite knew where that line was after that. I thought the penalty point system had the potential to fix a lot of these problems. Then Valentino Rossi kicked Marc Marquez off a motorcycle and in a vacuum, faced no formal punishment for it and got to keep his 3rd place. The only reason he started Valencia 2015 at the back of the grid was because he already had one of the four penalty points needed for a back of the grid start from a separate incident. The backlash was so severe in Motorsport's greatest viral moment the penalty point system was scrapped less than two years later.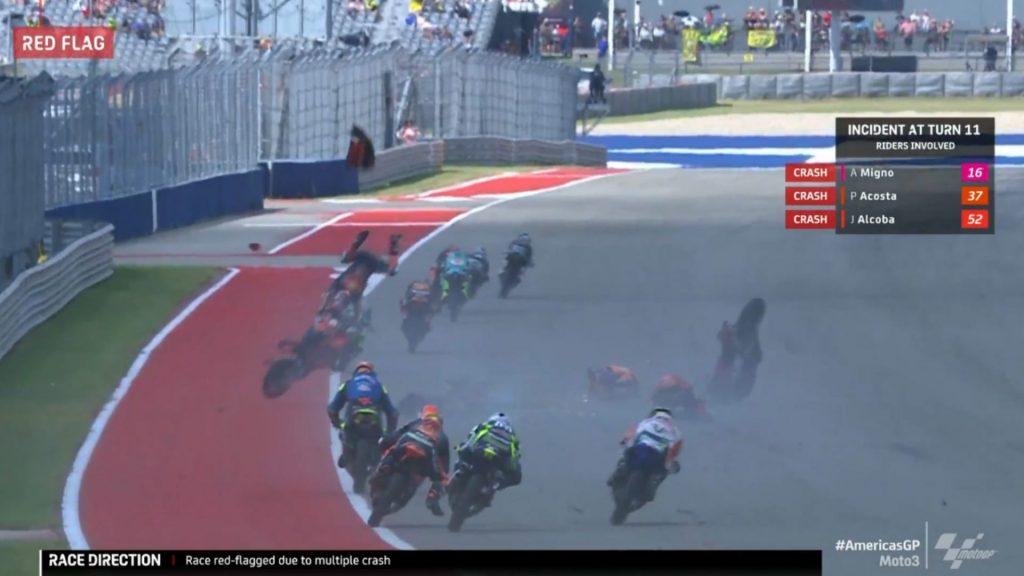 …I've not even mentioned Moto3 yet. We saw yet more racing line and off-track dawdling at Catalunya, looking for slipstreams in Sector 4, and fans and journos alike were asking for Race Bans. In any other scenario, this would be stupid. But given we've gone through grid penalties, long lap penalties, pitlane starts, both of the last two combined and it still isn't enough of a deterrent. These requests for race bans have genuinely become reasonable. Think about that for a minute and what we've had to go through to get to this point.
Trust me, raising the minimum age to 18 isn't going to do a damn thing when the stewards sit on their hands until they absolutely have to. Remember, Dennis Foggia started a race this season from the back, had two long-lap penalties added on, and still finished two seconds off the win. If you're ever going to stamp out this sort of riding, you've got to hit the teams where it hurts. Because what they're doing right now, isn't.
The stewarding in MotoGP right now isn't fit for purpose. It barely has been for a good decade now. It's as simple as that.
Oh. And they can't pass either. Sound familiar?
These bikes are technological marvels. The way the sport has progressed in the last 5 years has been incredible. From the winglets introduced to add more aerodynamics, to the ride-height devices that improve acceleration off the line and out of corners. These bikes can hit 60mph from a standing start in under 2.5 seconds now. Jorge Martin got to 226mph just a fortnight ago in Mugello, the third time a speed over 225 has been clocked in the last 18 months.
But they have one big fundamental problem – They make the bikes harder to overtake. MotoGP has become what they can't stand most. It's all gone a bit Formula 1.
I personally first noticed this back at Jerez. Marc Marquez and Aleix Espargaro spent 20 laps stuck behind Jack Miller's Ducati because Marc couldn't risk overloading his front tyre pressure by taking a lunge at him into the final corner. Why? Because that's what staying behind another bike does in 2022, and the Michelin isn't as responsive with the front tyre as the old Bridgestone's were beforehand. It's what made Marquez so good in the "teen" years.
Get that wrong on a Michelin, you're going down. Marquez nearly did a lap after passing Miller, a superhuman 66 degree save the only thing keeping him upright. After Aleix Espargaro cleared the way for third, he was going three tenths of a second a lap faster than he was in traffic, and beat Marquez to the line by nearly two seconds by the end of the race.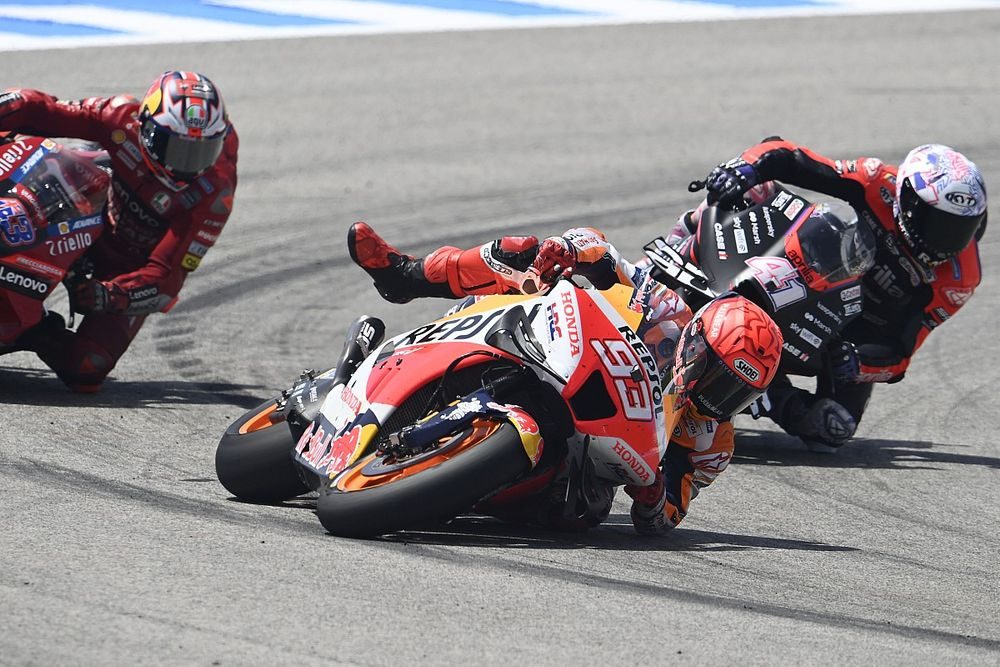 And that was before we saw the bombshell that Mat Oxley dropped in-between then and Le Mans that showed that almost the entire field had cheated the minimum tyre pressure rule at least once throughout the year. Even worse still, was the gentlemen's agreement had between the sport itself, Michelin and the teams that let them break the rule with no punishment? Francesco Bagnaia won the Spanish Grand Prix on an illegal bike and barely anyone cared.
We saw more evidence of this at Le Mans. Just four overtakes over the course of the race in the leading group. Enea Bastainini tyre whispering his way through Miller and Bagnaia, the latter immediately crashing when trying a counter-attack. All of this is adding an unnecessary amount of risk to overtaking, and indirectly hampering the entertainment of the product.
We're going to see standardised tyre pressure sensors and a ban on front-ride height devices in 2023, so hopefully this will go some way to mitigating the problem. But it is concerning that the key element of what's made MotoGP as good as it has been, in its most competitive era ever, is being compromised by politics and going too far on increasing the speed of the bikes.
Concussions
And one more thing – The sport has to do better when it comes to head injuries. Alex Marquez went to hospital on Saturday with his team boss admitting he had concussion-like symptoms. "A very light concussion" was what went public. He raced 24 hours later. Amazingly, this doesn't concern me as much as the fact that this is the 4th time I can remember hearing similar stories like this. I remember Tetsuya Nagashima's former team boss Aki Ajo admitting he raced in Jerez with one in 2020. Denis Oncu was knocked out cold from a crash he had at Misano in Moto3 where he admitted he had blacked out. Raced the next day. I made an entire Drebrief video around Danilo Petrucci racing with what seemed a heck of a lot like a concussion at Aragon in 2016 when he was still at Pramac.
He crashed into Scott Redding that day. While concussed. Where second impact syndrome can kill you in the worst of circumstances. To me, it looks like those within the team are saying the quiet parts out loud, while the gladiatorial nature of us as a biking audience is just shrugging its shoulders as the show goes on.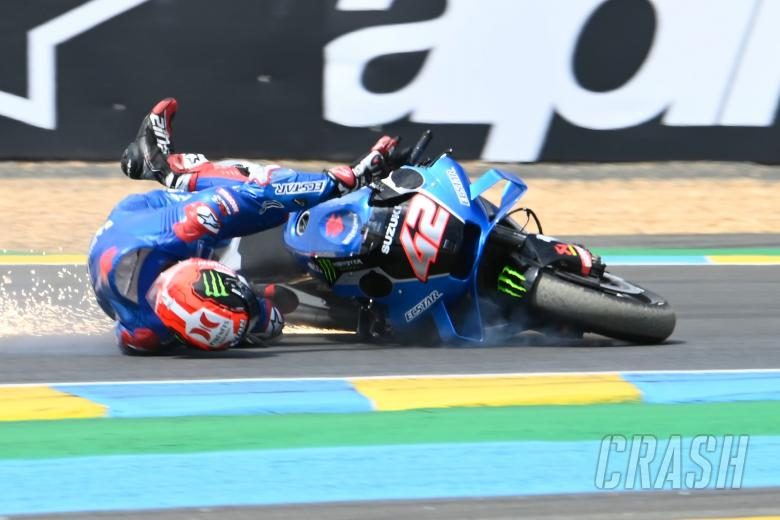 I can't help but shake the feeling that the sport is still way behind even football in how it treats head injuries. And even they are starting to introduce concussion substitutes like Rugby has in recent years, a sport far more progressive in terms of player safety. I'd like to see the sport institute a mandatory 7 day riding ban for any rider diagnosed with concussion-like symptoms. I'd like to see teams take more responsibility and pull their rider for the weekend if they can see the rider is hurt, like Sam Lowes, who seemingly had a delayed concussion at Le Mans, complaining of dizziness during Sunday warm-up.
And I'd like to see the British Superbike rule instituted where a rider who has fallen off their motorcycle can't rejoin. Alex Rins took a big blow to the head when he launched himself off his Suzuki at Le Mans, but he was able to continue. This is a compromising scenario because he can't get checked properly until he's back in the paddock. And who knows what might happen between those points if he rejoins the race.
That would be a start. Let me say again, I love MotoGP, and I love many, many things about it as a series. But there's a growing list of frustrations within that are starting to grow genuinely tiresome. Work is being done in some areas, but the stewarding needs a complete rethink, as does the medical procedure with head injuries. I hope at some point, the bosses at the very top take notice.