Hey folks! Dre here. In needing to write about 7,000 more words and I'm almost halfway through November already (Great pace, idiot), I thought I'd take the easy way out and answer some of your questions about Motorsport, Podcasts, and Dinosaurs! Because of course! Onto the questions and thanks to everyone curious enough about me and my lukewarm takes to ask me stuff, I really love doing it!
"Now the 2020 grid is basically complete. How many on that grid which hasn't won a race have the potential to or are top-quality drivers?" – Dom
Right, so non-race winners narrow this down to 13 out of the current 19 confirmed seats (Nicholas Latifi probably getting #20). This highlights the classic problem with F1 grids and how they're calibrated. Right now, at best three teams have the real possibility of winning races, which makes six seats. And five of those guys in them have already won GP's. Sorry, Alex. 
Of those left, it's hard to say who ends up being great when most of them, will never actually drive a car capable of winning. So I'm kinda guessing here. Of what I've seen, George Russell is a potential superstar that's already outgrown an awful Williams car.
Carlos Sainz is an absolute stud and very consistent. Lando Norris has been about as good as you can be for a 20-year-old rookie. K-Mag's a bit better than people give him credit for. Amazingly, I've got fewer question marks about him than some of the others that have dabbled in top-tier cars like Kyvat, Gasly and Albon. Weird.
So of the current grid: Russell, Sainz Jr, Norris, maybe Magnussen and Albon too. PLEASE MAKE THIS SPORT MORE COMPETITIVE FOR FUC-
"Out of all these riders who is the most likely to challenge Marquez for 2020 (Fabio or Mav or Rins or Dovi)?" – @ViandraMonisyaf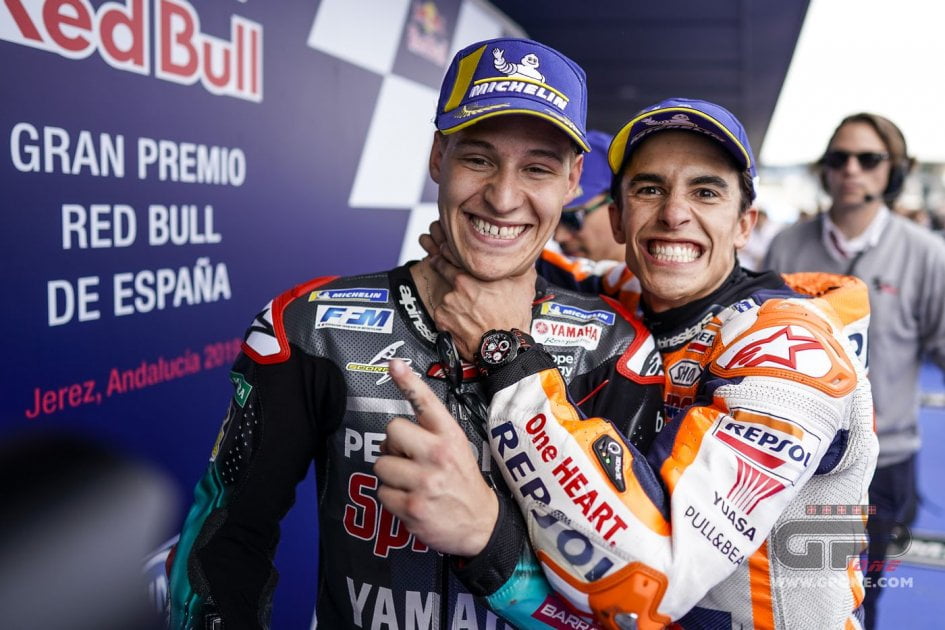 Isn't it amazing how ANY of these names are a long shot in the most competitive era of MotoGP ever? 
I would still lean towards Dovi and Ducati on this one. Think about it, no-one else in the field has even beaten Dovi over the last three years in GP, let alone Marquez. The Desmosedici isn't the juggernaut it was this year due to Honda finding more power, but if the Italians can figure out how to get the bike turned? Look out. We already know Dovi is the only man who can consistently beat Marc over a lap after all.
Everyone else has significant weaknesses that make it hard for me to back. Alex Rins doesn't have one-lap pace and often gives himself too much to do. Probably too many crashes too. Maverick Vinales seems to be getting back to something near his best but has mostly struggled in the first half of races to find his rhythm. A shame given his raw speed is outstanding.
And as much as Fabio Quartararo is the next big thing… he still hasn't actually won a race yet. Yes, he's a rookie. But he's failed to convert from pole five times this season. He won't get the same reprieve in 2020. 
The best toolbox to beat Marquez is Dovi. The problem is, he's fallen more and more behind as the years have gone by. Whatever it is, it's going to take a cataclysmic shift for anyone to topple Marc over 20 rounds next year.
"Not a slight on Hamilton and obviously a hypothetical question but how many titles do you think Seb could have won for Mercedes in this era?" – @EoinLH15
NOT a slight on Hamilton?! Smithers! Release the hounds!
Just kidding, Eoin. Of course, being hypothetical here, it's hard to say. Usual caveat. But if the Mercs was catered towards Sebastian's driving style (Planted rear end, etc.), and if it still took three years to get the best from Nico Rosberg… I don't think there's a World title that Lewis won, that Sebastian couldn't have taken himself. And let's not forget… *whispers*… Nico got damn lucky with the 40+ point swing that Malaysia had on that season that a lot of Nico admirers gloss over.
Even with Lewis pushing that envelope in the last couple of years, twinned with Seb's struggles, I really don't think Seb's that far behind. Maybe 2014 goes the other way given it would be his debut year in the hybrids and took Seb a year to get to grips with them in real life too. So short answer – somewhere between four or five out of six?
"Who will be the next F1 cult hero after Kimi leaves?" – Conrad O'Keefe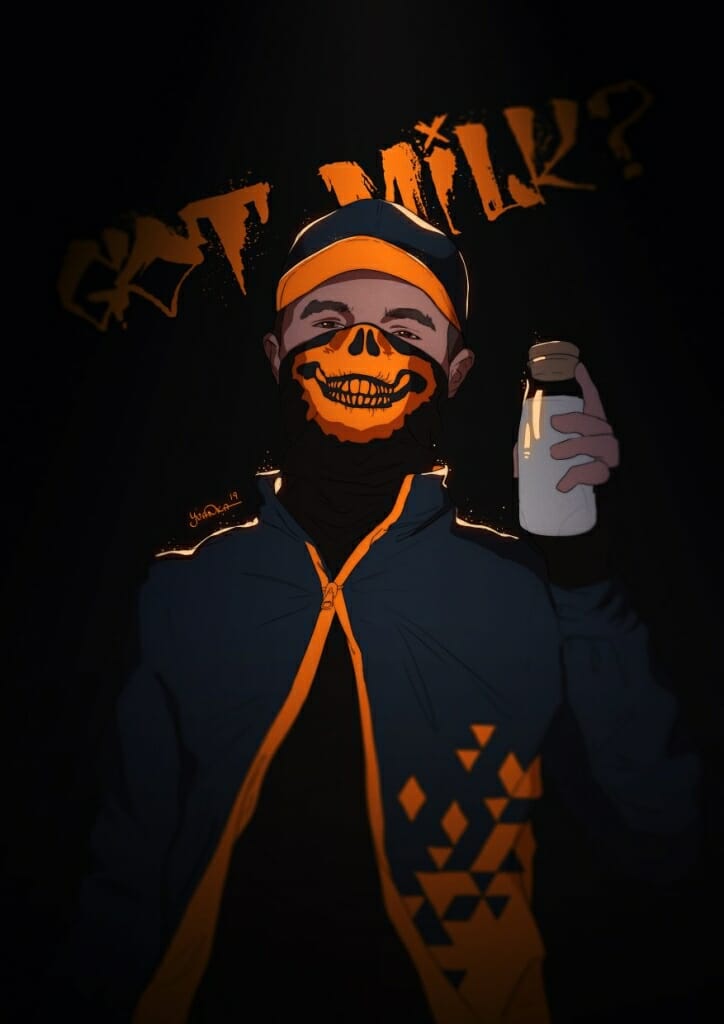 Isn't it obvious? It's Lando Norris. He's THE Gen X F1 driver that new fans have always wanted. He streams. He's self-aware. He has an incredible arsenal of memes and doesn't take himself too seriously. He has a fun teammate who's in on the joke. And he resonates so well with that 16-24 fanbase that every sporting demographic craves. It's Lando Norris. Now available in semi-skimmed!
"What's your favourite dinosaur?" – @Beckitastic
You know you've made it on social media when Becki asks you the dino question. Easy, Stegosaurus. Mostly because of Robot Wars to be honest, but robotic dino's count too, right?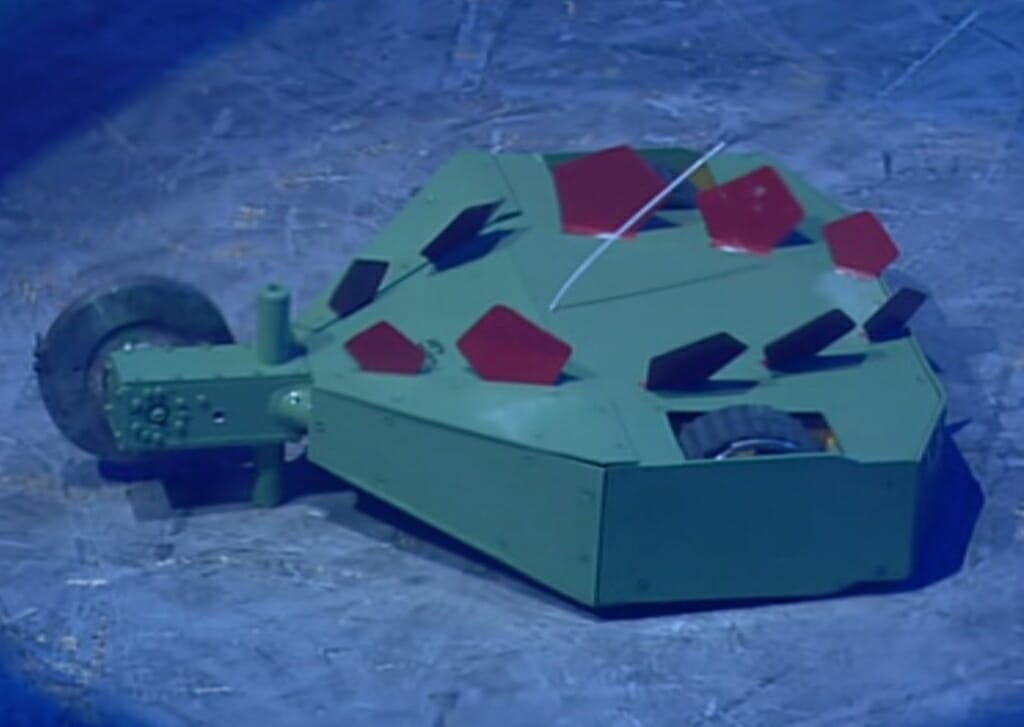 "After the Indy hybrid and DTM electric proposals, what will be the next series to announce a green move?" – @Jontys_Corner
FORMULA ONE.
Ah, this was after their announcement yesterday, so I can't look cool anymore. Bugger. Well, just about every series and their mother now has some form of hybrid tech coming (Touring cars, IndyCar, WRC etc.), already has it (WEC, F1), or has entire series dedicated around it (Formula E, MotoE). It's a massive influence on major motorsport now.
Going back to F1 briefly, we all know the tech is already there and is only going to get better and more efficient as time goes on. What I'm curious about now is who takes the logistics behind the series and try to make their whole series sustainable, like F1 is aiming for. Because I'd argue that's just as big a challenge, as the racing itself.
"What driver/rider would you like to see make the jump to another series, and what series would that be?" – Josh Wilcock
My favourite "what-if" scenario has always been wondering if Josef Newgarden had stayed in Europe, how would he have done in F1. And now he's the best all-round IndyCar driver on the planet having won 2 of the last 3 major titles, I'd love to see how he'd fit in the current F1 paddock, my first racing love. 
The other major one – Livio Suppo at Honda promised Jonathan Rea a MotoGP seat when he was putting Honda on his back in World Superbikes. Marc Marquez came along and saved Dani Pedrosa's hide when Casey Stoner suddenly retired. If Jonny Rea had gotten in over Dani P, what would have happened?
"Shag, marry, kill: your three personal favourite M101 episodes." – Danny Brennan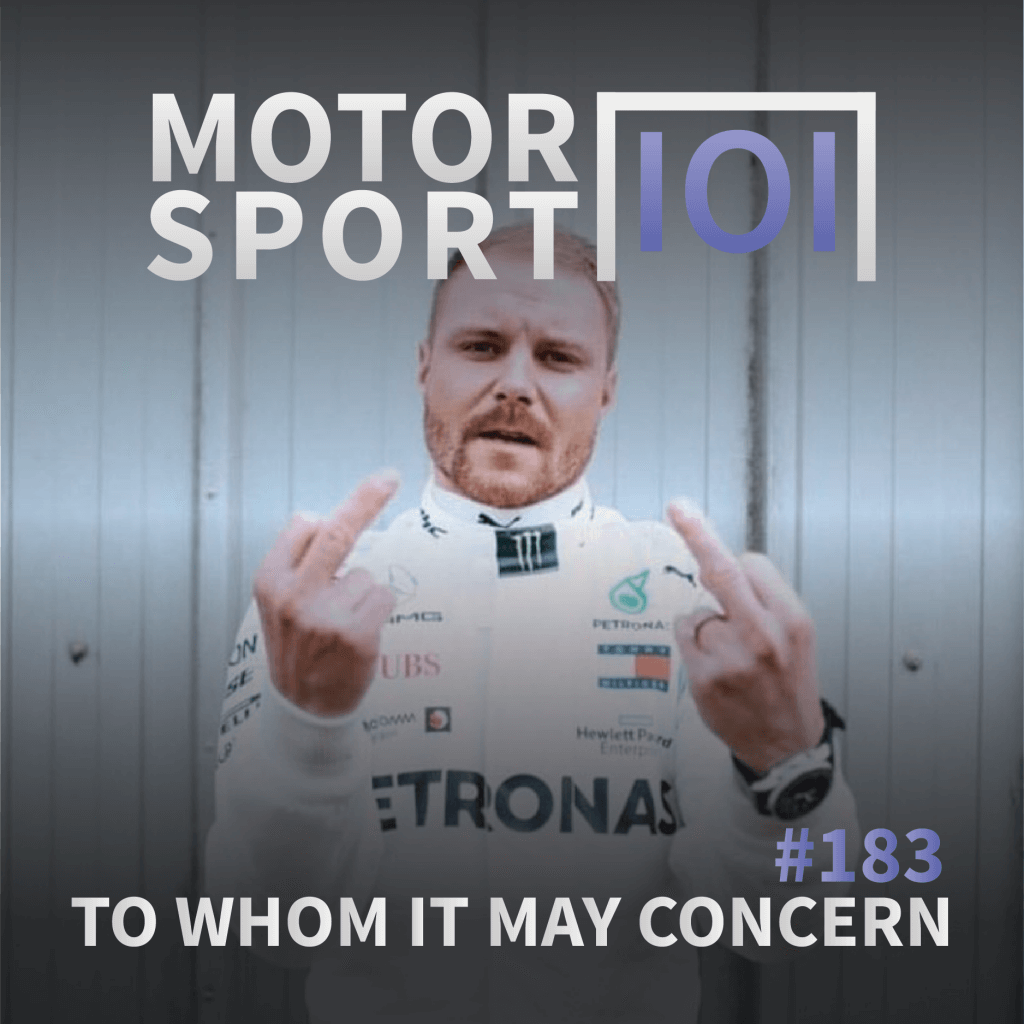 Oh come on, this is like choosing between my future children! Okay, two-parter. My three personal favourite M101 episodes are probably:
The Draft – This was so much fun. The first-ever five-person show, the surprise picks of guys like Romain Dumas by Matt, King going all French (And Monaguese) me getting the #1 pick, and the surprise public ballot and how the results played out. One of the shows I'm most proud of. 
Episode 63: "The Booty Call to Ayrton Senna" – Without a doubt, the funniest single moment in the show's history, and a Mailbag question that brought out the best and worst of us. Me saying "I'd shag Ayrton because of his passion" will end up on a T-Shirt one day, mark my words.
Episode 192: "Vamos Juncos" – The episode where Alonso got bumped. And we broke down in tears of laughter breaking down just how spectacularly they fucked it up. 
We have to shag Episode 63. It's a given. I'm marrying the Draft and killing McLaren's IndyCar dreams. Nothing to do with James Hinchcliffe getting dropped. Honest. 
"How would you compare drivers who were dominant in one category of Motorsport (Hamilton, Ogier, Marquez) vs drivers who have managed to win races in multiple racing categories (Montoya, Mario Andretti, etc.)" – Michael Cardamone
Good question! It's a hard debate because guys like Mario Andretti we don't think of so much as an F1 legend despite it being the pinnacle of Motorsport, but more of a Motorsport legend (Especially in the States), because of all the disciplines and series he did drive-in for a long time.
It depends on how much as a fan do you value achievement in multiple series, which is always impossible to differentiate fan to fan. Personally, I'm not as high on all-rounders as much as some are because I think if you're skilled, you're skilled regardless, but I can totally see how others can value that higher. So generally, I'll rate the one series dominance higher.
"MotoGP: lots of riders will swap around for 2021 – should KTM present a blank cheque to Marquez?" – Jack Pickering
Should I marry Kendall Jenner if she's offering it to me on a plate?
But honestly… It's not worth bothering. Marc Marquez is not going to KTM. Rumour has it he could be getting £20m+ a season when he signs a new contract next year, so money isn't going to be an incentive for him. And he's already on a team where he has a massive influence on development and success. He has no reason to leave unless his ego is Valentino sized and he wants to try and replicate him winning with different machinery, the most overrated of all Motorsport achievements. 
KTM has had a plethora of great talent pass through their doors. It didn't work out with Johann Zarco, but Pol Espargaro has been tremendous in orange for them to date, Brad Binder is joining them and Miguel Oliveira is an A+ calibre prospect who probably should be where Binder is. The talent isn't the problem, it's the fact they've gone backwards overall in the last two seasons. Get that bike up to speed, the big boys will come to you. Ask Jorge.
"Do you have any concerns over the f1 grid potentially decreasing even more?" – Evan
Of course. Formula 1 is still a highly uninvestible sport and if you're not in the Top 4 or 5, you're surviving because the big teams stay strong. Really, massive regulation changes are the only things that give smaller teams a chance, and even then, they will resourcefully make their way back to the top in the end.
The cost cap doesn't do a lot to reassure me, reason being, most teams don't spend $175m a season anyway. If they're not addressing the prize structure, where the top teams get win bonuses, Ferrari and Williams getting historical bonuses and teams outside the Top 10 don't get a Championship bonus, I don't know how they ever expect the sport to grow again. This sport shouldn't be one of survival.
"You've been put in charge of making the greatest racing series in the world that has zero restrictions. What type of cars and power units would you want utilized in this, what car manufacturers would you like to have involved, and build your ultimate race calendar." – Michael Cardamone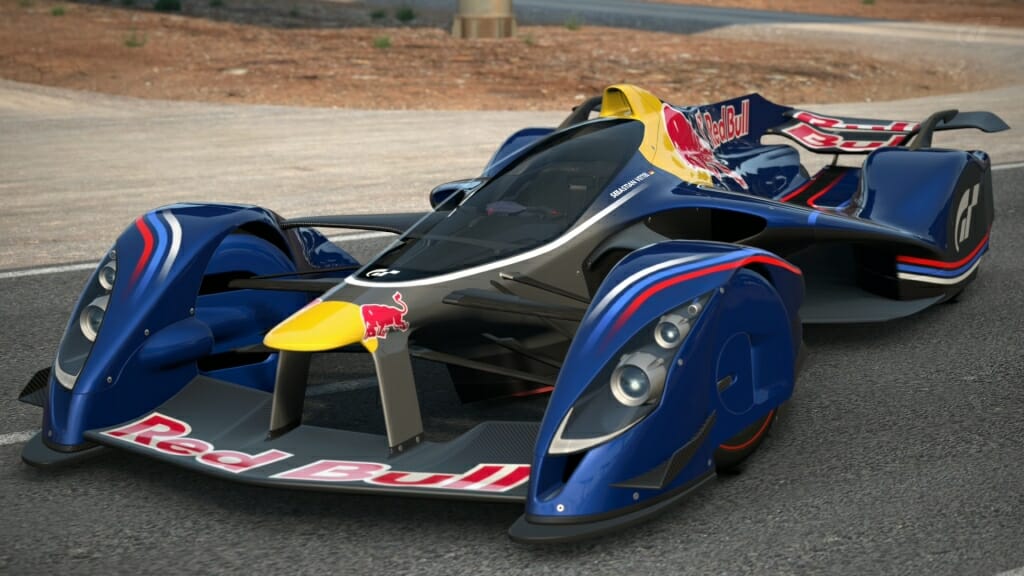 Nice, straight forward question here. Right then… *cracks knuckles*
…Okay, I've just been told by my lawyers that I can't just remake Wipeout Fusion for the PS4. But here's the basic idea;
Do you see the Red Bull X-Series of cars in the Gran Turismo series? Replicate the X2014 Standard car in particular. Around 1,000hp, closed cockpit cars. Air conditioning units inside the design to prevent drivers from being slow-cooked like brisket. Scrap the fan underneath, you don't need that much downforce or 260mph top speeds. Hopefully, people way smarter than me will work out dirty air avoidance and will aim for not needing DRS.
Power units? Hybrid obviously. Probably V6's again to ensure the size is kept down. Keep Ferrari, Mercedes, Renault and Honda, maybe add BMW and Chevy as suppliers as I'd like some American influence. 
Race calendar? Well, I think F1's calendar is a good place to start but thin it down. Motorsport is trending up with races per year, I want to make every event feel more special, and give staff more time off. So we'll go for 16 races. Here's the calendar I'd have:
Australia (Albert Park), Malaysia (Sepang), Bahrain (Sakhir), China (Shanghai), France (Le Mans, FULL circuit), Great Britain (Silverstone), Italy (That track from GT Sport), Germany (Nurburgring, GP Circuit), Japan (Suzuka), a SPECIAL oval race at Indianapolis, but a second USA race at COTA, Belgium (Spa), Canada (Montreal), Abu Dhabi (Yas Marina), Turkey (Istanbul Park) and a season finale at Interlagos, the one true home for F1 shit-housery finales.
Who's in?
But seriously, thanks so much again to everyone who took the time out to send in your questions, I got some great ones here and I really enjoyed going through them. There was one that I missed out about the disillusion of F1 fans though, and that, I'll address, very soon… Till then, sayonara…