"Frustratingly great."
Consider this, the difficult third album from Milestone as they bring forth MotoGP 15, available on current-gen consoles, PC, as well as on Xbox One for the first time alongside the PS4. The game has received next to no real promotion and has very quietly gone under the radar on sale 3 weeks ago, but how does it fair? Is it an improvement on the solid, but unspectacular 14? Has Milestone been limited by working on the flawed "Ride" in-between? Let's find out. (Note: I'm playing the Xbox One version)
First up, let's talk visuals and performance. The graphics are very similar to last year, which isn't totally a bad thing given how good the 2014 engine was, but the game doesn't perform well. The game only plays at 30 frames per second on console, and there was notable frame rate drops when riding in wet weather, a shame given the improved visual effects of rain, including the large amount of spray. A shame, in today's gaming, 60 frames makes a huge difference and is now almost a must for racing games, as it makes a huge difference, like the newly released F1 2015, or Project Cars, for example. This is the third Milestone bike game to release on next-generation consoles and I think the excuses are going to wear thin soon, and I think it's a next step that Milestone definitely needs to consider. Or at least, aim for a smooth 30 in ALL conditions, as riding in the rain was frustrating at times.
[fusion_builder_container hundred_percent="yes" overflow="visible"][fusion_builder_row][fusion_builder_column type="1_1″ background_position="left top" background_color="" border_size="" border_color="" border_style="solid" spacing="yes" background_image="" background_repeat="no-repeat" padding="" margin_top="0px" margin_bottom="0px" class="" id="" animation_type="" animation_speed="0.3″ animation_direction="left" hide_on_mobile="no" center_content="no" min_height="none"][fusion_imageframe lightbox="no" style="bottomshadow" bordercolor="" bordersize="0px" stylecolor="
" align="left" animation_type="fade" animation_direction="right" animation_speed="1″]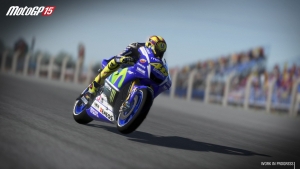 [/fusion_imageframe]The game is well presented, but there is definitely a vibe of "same old, same old" about it. The same rotating outside paddock main menu shot, the same menu designs, very similar Motorhomes used in career, etc. It's a small drain on that excitement you get from breaking open a new game, especially when on the outset, it looks very similar to last years, but that's an issue with Sports games in general.
But, how does the gameplay hold up in this year's version? The answer, is excellently. Milestone have taken a huge step forward with the games handling model. You have to be much more precise on the body weight of the rider, even on lower physics settings like Standard. If you don't lean back under braking, you'll endo the bike into the corners and throw it off balance. You can't just powerslide into every corner like Sam Lowes and expect to stay upright.
The bikes have a weightier feel to them, and you have to be more precise when taking on corners. These effects are only greater highlighted if you're a hardcore player, who rides with no assists, or on the higher physics engines. The learning curve is slightly steeper, but the game is so much more rewarding and satisfying to play as a result, to the point where at times, I couldn't put it down. As an experience, the handling in MotoGP 15 is as good as any bike game I've ever played.
[fusion_imageframe lightbox="no" style="bottomshadow" bordercolor="" bordersize="0px" stylecolor="
" align="left" animation_type="fade" animation_direction="right" animation_speed="1″]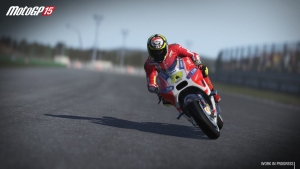 [/fusion_imageframe]The AI is still rather underwhelming. Sure, they can battle each other and it looks great, but they still have no awareness of your presence, which is disappointing. And while playing the game, because they battle so much, you will constantly see races finish with "0.000" seconds between them, even when it's obvious one rider's won by a wheel length. For some reason, Milestone still can't time bikes within 0.016 of a second, and will just call ties, and then glitch by giving the wrong guy the win. It makes no sense, and it will screw you over at some point. Not a deal breaker, but still frustrating at times when you've finished 8th, but the game thinks you came 10th.
On the other hand, I'm very glad the game now has mandatory penalties for cheating. Similarly, you will have time added on to a lap/race time if you are seen to have gained an advantage via cutting a corner. This can also result in a 2-strike system that could lead to a ride-through penalty. A welcome addition. What is frustrating though, is the game needed additional DLC to complete the rosters in Moto2 and 3, again. Seriously? The game comes out in May and June, why can't you have the rosters finalized by then?
[fusion_imageframe lightbox="no" style="bottomshadow" bordercolor="" bordersize="0px" stylecolor="
" align="left" animation_type="fade" animation_direction="right" animation_speed="1″]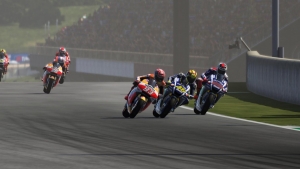 [/fusion_imageframe]What also frustrates me is the game's very weird performance indexes and levelling system. Why can't I use my favourite rider from the start? Why can I ride as Yonny Hernandez but be Level 51 to ride as his teammate, Danilo Petrucci? Why do I have to be Level 61 to play as Scott Redding? Why do Cal Crutchlow and Jack Miller have the same team performance rating when Cal has a Factory bike and Jack has a production one? And why is Cal's rating so much greater than Scott's when THEY'RE ON THE SAME BIKE?! Why do I have to be Level 30+ just to unlock all the colours for gear? It's silly.
The official roster should be playable from the start in its entirety. Imagine being a huge Redding fan before realizing you gotta drop 20 hours into the game to play as him? That's rough. It's okay that custom riders on bikes and the classic bikes are something you have to earn as they're special, but the official roster should be there from the get go. Cleaning up some of the performance ratings wouldn't go amiss either. And why do I have to be Level 66 to unlock a Paddock Girls video? What is this, a Mia Khalifa shoot?
The game's main meat returns in Career Mode, which is largely unchanged, but with one big new addition – the ability to run as a privateer team. When you ride full-time, you have the option to earn GP Credits, which you can then use to run your own team, buying the bikes you want (Like Mahindra, Honda or KTM in Moto3), as well as attempting to attract better sponsors as the season goes on, getting more credits for the bigger sponsors, instead of doing the usual of climbing the ladder and hopping from team to team. It's a superb and welcome addition and while the customization options in terms of the look for your bike are limited (There's only a couple of livery options), on the whole, I love it, and I hope it gets polished for future versions.
The Scenario based mode, "Real Events" return, where you can simulate real life events that took place during the 2014 season, giving you the challenging of recreating some classic moments, or re-writing history. There's also a version of the mode for the additional content, the 2-strokes making a return for MotoGP 15, and a new batch of 4-stroke DLC. I LOVE the 4-strokes being added. Personally, it's my favourite era of the sport, and it brought back some amazing memories. Sete Gibernau's Movistar Honda, Max Biaggi's Camel Yamaha, the Ducati of Carlos Checa and Troy Bayliss, the LCR Honda of a young Casey Stoner, it goes on and on. A fantastic addition, and they are a dream to ride. And they even chucked on last year's bikes, so if you really wanted to ride Michael Laverty's PBM, now you can! Overall, there's a ton of content you can ride as, and that's great, and are awesome to break up alongside the MotoGP, 2 and 3 bikes you'll use more frequently.
[fusion_imageframe lightbox="no" style="bottomshadow" bordercolor="" bordersize="0px" stylecolor="
" align="left" animation_type="fade" animation_direction="right" animation_speed="1″]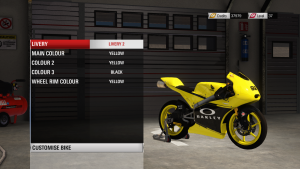 [/fusion_imageframe]Online's been given a nice update too, with a new "Sprint Season" mode to freshen things up, gaining points to move up divisions, bike classes and to win Championships, very similar to what's been done before in the Madden and FIFA franchises. There's also "Split Times" mode, where not only does your position matter, but also getting the fastest times in individual sectors, similarly to MotoGP's "Ultimate Timing" on TV. Both are nice additions to break up the usual monotone matchmaking. The netcode for the game is acceptable, there's a small amount of lag, but nothing particularly annoying, only a small shame that the online presence for the game itself is small, but that can't be helped.
Overall, MotoGP 15 is an excellent game. Don't let my negative tone earlier spoil your view, this is one of the best bike games ever made from a pure gameplay experience. The problem is, this game also suffers from some bad habits from Milestone that have carried over from previous games, that really do need to be addressed. From the timing issues, to the monotone AI, to the silly levelling system, to the more important performance problems.
It's a shame, as most of these are just minor issues, but they add up to be a small, but still significant damper on what's otherwise, a brilliant experience. I'm only harsh in pointing out these issues, because it's the only thing that's stopping the MotoGP franchise from not only being a great bike game, but a true gem of a racing game that could and should be in everyone's library. It's so close, but it needs to stop making silly mistakes, and gave the game that little bit of extra polish. If it does, we could be looking at true greatness down the road.
8/10
[/fusion_builder_column][/fusion_builder_row][/fusion_builder_container]