Return of the Dentist
Ladies, gentlemen, friends outside of the binary. I have a confession to make. I really, really like Miguel Oliveira. He's one of the most overlooked riders I can ever remember in bike racing. When he broke through for the Ajo Moto3 team, I was watching on BT Sport. A network that's very "boys club" and extremely patriotic about how it handles their British talent.
Danny Kent was running away with that Moto3 title back then, and in the second half of the year, Miggy reeled in a huge deficit to take it to a decider and finish as runner-up. By the end of that season, I thought Oliveira was the most impressive and talented rider on that grid.
When he rejoined KTM Aio in 2017, he was excellent there too. 3rd and 2nd in the Championship, only beaten by Thomas Luthi (One of the best smaller bike rider gatekeepers of all-time), and 2 top-flight Championship runners-up in Franco Morbidelli and Francesco Bagnaia, By any measure, elite company.
Even now in 2022, the only people in MotoGP with more top-flight wins than him are Quartararo, Vinales, Dovizioso and Marc Marquez. This man's ceiling is off the charts, which almost makes it bittersweet when he wins a treacherous, difficult race like we got in Indonesia.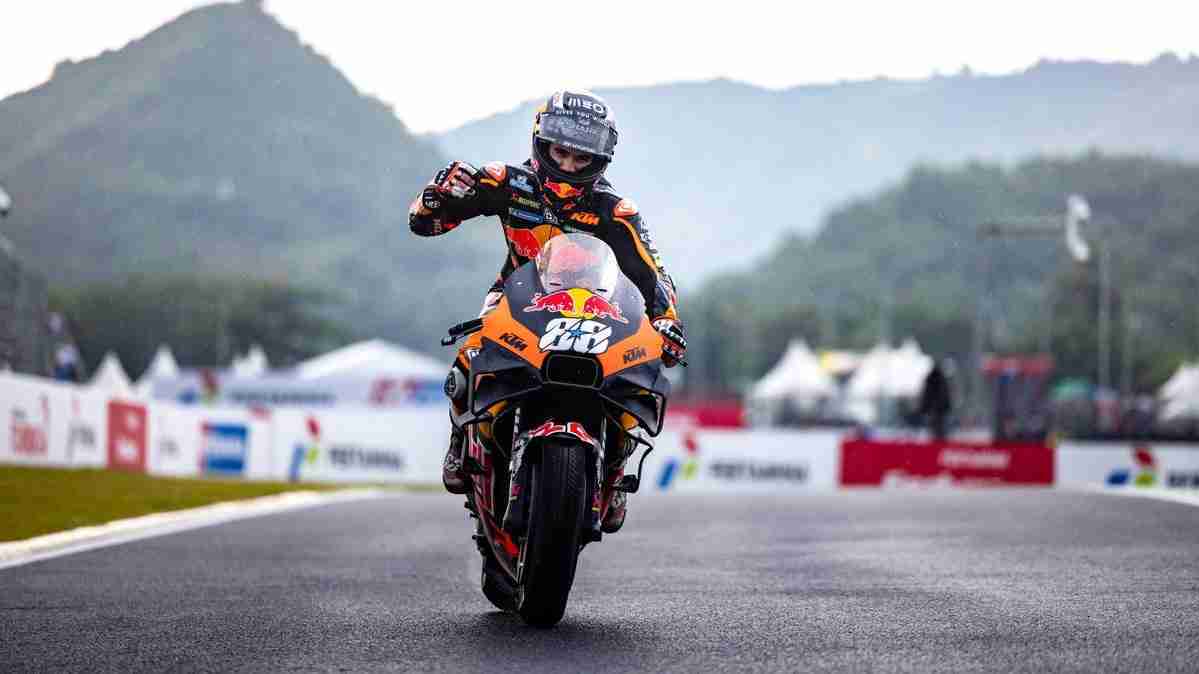 Miguel was exceptional. He had the bravery to find some extra confidence on the opening lap, passed Jack Miller, another great wet weather rider and then took complete control as everyone else diced for position. Even when Fabio Quartararo broke into 2nd place late on and gave everything to try and close the gap, Miggy upped his own pace and matched him. It was impeccable riding and brilliant to watch. I just wish he showed this side of him more often.
I don't want to get too "silly season" on this – But Miggy is the one under pressure in the KTM Camp. Remy Gardner and Raul Fernandez are awesome prospects that will be given time to flourish. Brad Binder was a rider of the year candidate last year and was rewarded with a 3-year extension. Pedro Acosta is an orange-colored elephant in the room. Miggy is the one under pressure to either get a new deal, or sell himself to another factory team
Now, this isn't all on him, KTM's development as a factory team has been erratic to say the least, but Binder is proof of concept that there is performance to be extracted out of the RC16. This was Miggy's first Top 10 finish in 11 races. I love what he can do on a bike. Proper thinking man's rider. But this can't keep being a one-off with him. BUT HE WAS SOOO GOOD YESTERDAY FOR FUC-
PS: KTM now have 2nd and 4th in the Riders Championship, and are now leading the Teams and Manufacturers Championship. Because of course.
A Blessing In Disguise
Is it a good sign that the wet race and delay in Indonesia was probably a good thing given the state of play? A track that was ¾ resurfaced just weeks prior and was literally coming apart at the seams given the hot weather, to the point where the Moto2 and GP races were shortened to 16 and 20 laps respectively. Then we had tyre problems.
Michelin already had approval ratings that would rival Donald Trump within MotoGP, but when safety fears due to the temperatures made them bring a 2018-spec tyre to Mandalika, it was never going to go over well. Especially with Honda and Suzuki. Joan Mir said on Saturday that he reckoned he wouldn't be finishing if the race had stayed dry. Pol Espargaro went one further and claimed it was bias from the tyre supplier to favour Ducati. And this was all before Marc Marquez's ridiculous viral highside took him out of the weekend in warm-ups, with thankfully just a concussion.
I've been watching bike racing in various forms for 20 years. I've never seen a highside as big as that one. 115 miles per hour and his throttle wasn't even open. Absolutely terrifying. Aleix Espargaro saw it first hand and ended up stiffening his rear brake to the point where it wasn't even working properly, after he himself had a couple of near misses. Thank goodness he was able to walk away from that.
Darryn Binder's Flowers
And you know what – Give Darryn Binder his flowers. Maybe I've gotten softer as I approach my fourth decade of life, but I always felt like people were being dicks when they were talking about him. Some of it was deserved for his conduct in Moto3. But when you've got MotoGP riders actively debating whether to turf out the entire junior ladder system to stop YOU from racing against them, it's hard not to feel slightly sorry for Darryn. That must suck.
So for him on just his second race on an unfamiliar, uncompetitive bike to finish 10 from the back of the field, is a superb effort. He was as high as 8th in a stacked dogfight with his brother, both Espargaro's, Alex Marquez, last week's hero Enea Bastianini and Francesco Bagnaia of all people. A superb effort, and at the very least I hope it shuts some people up for a week or two, he's earned that much respect.