PJ-None
I love IndyCar. I really do. Gotta be honest here though, I was kinda dreading this one. IndCar raced in Texas twice last year and both races were hampered by NASCAR's meddling and the strip of PJ1 tarmac that meant you could barely go two wide through the corners. I commend the series for recognising that and running an extra half an hour of practice, trying to get some extra rubber down on the PJ1 so cars could run high.
Did it work? Absolutely not, but as I said, it was worth a go. You could still flirt with the PJ1 on the corner entry and exit, but the racing line was two cars and a cigarette paper wide. Amazingly though, it didn't stop us from getting some genuinely fascinating racing.
Scotty Gets… "Scottied"
This review is named what it is for good reason. The first half of this race was entirely forgettable. Scott McLaughlin took Felix Rosenqvist's pole position very quickly and dominated the first half of the race. But after a series of silly cautions all caused by one man (More on that later), the final 100 laps produced some stunning racing.
McLaughlin, Josef Newgarden, Will Power, Rinus Veekay, Scott Dixon, Marcus Ericsson and Simon Pagenaud all played roles in a game where you never really knew who was on top, who was fuel saving and who was going for track position. I don't normally score these races anymore as I felt I was getting a bit too "Game Reviewer", but if we're using the old Dre scale, this was a 4/10 race with an 10/10 second half.
With 20 laps to go, it was becoming clear it was going to be McLaughlin vs Newgarden for the win. And with final lap traffic playing a hand, it was Newgarden who gambled on the outside lane and stole McLaughlin's lunch money with 500 yards to go. It was glorious. Given we literally named an award on the podcast after Scott McLaughlin's Supercars days, it was cruelly funny to see the man essentially beaten at his own game. Scotty led exactly 3/4's of this race, 186 of the 248 laps. He was beaten by 67 thousandths of a second, by a man who led just 3 of them. Glad both men took it all with such good grace for what was Penske's 600th victory in all forms of Motorsport.
A casual reminder that Josef Newgarden is still more than good enough to win just about any given race on paper. And Scotty McLaughlin being upset about finishing 2nd is a good thing. The oval speed is definitely still there from last year. If he keeps the road and street course development… Hmmm.
Also, final note, definitely smelling like another Penske vs Ganassi title fight. They took all of the Top 7 spots. Including…
G'WAN JIMMIE!
We're all rooting for Jimmie Johnson here, right? Surely? His presence in IndyCar is already a huge win for the series. We were all anticipating just what he'd do now with a full schedule, and in his first ever oval race, he finished 6th. Outstanding. It's almost like the man who made a legendary career out of ovals should race them more often.
You sometimes forget that Jimmie is 47 in September. This was the reason we were all so excited to see how'd he fare in such a tough series. The next oval race… is the Indy 500. All of a sudden, I can't wait to see what happens next. Good for Jimmie, good for IndyCar.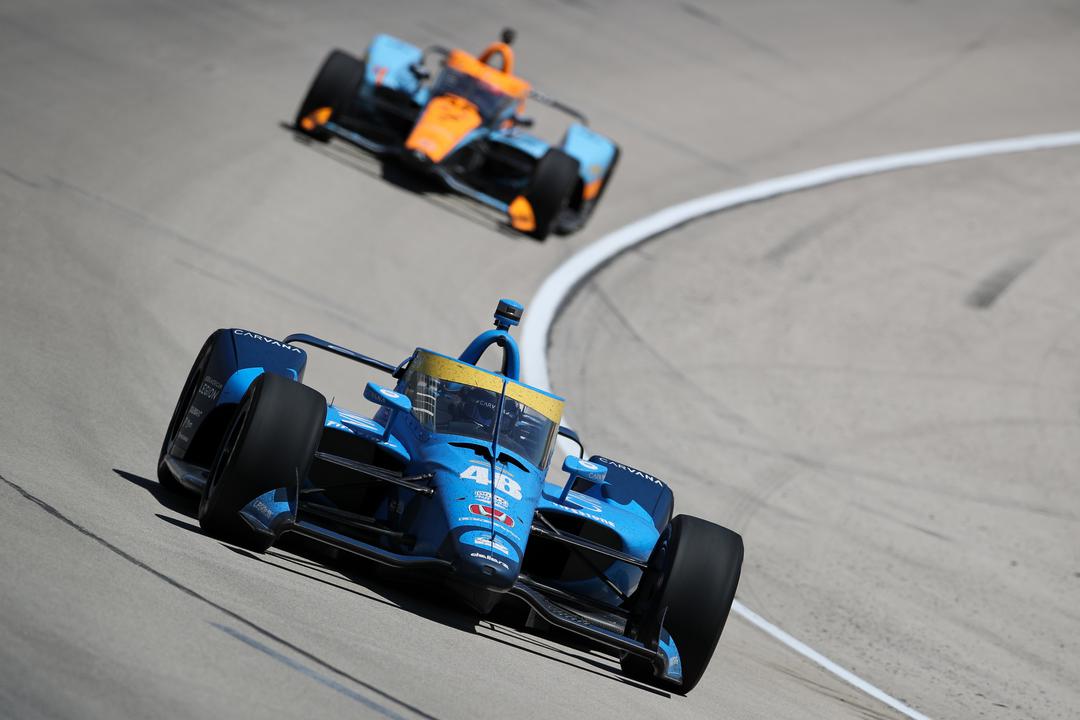 (Also, seeing him and Scott Dixon talk it out after the race, arguably the two greatest drivers of the 21st Century in North American racing was… a vibe.)
Oh, Devlin…
The following sentence is not an exaggeration: Devlin DeFrancesco had at least a partial blame for nearly a quarter of the field in this race not finishing, including himself.
I try not to be cynical on rookies for that exact reason, but you can't keep pushing up on the inside of Turn 2 when there's a car above you. That's how Sato got tagged into the PJ1, and that's how Kirkwood essentially got spooked into putting a wheel up there, and he ended up in the wall while challenging for the Top 10.
This track is NEVER a three-wide in the corners, so of course Devlin enters one, and then slides up again to take out Graham Rahal and Helio Castroneves. Welp. As James Hinchcliffe said on commentary: "If you're the last one into a three-wide, you gotta be the first one out". 
Hopefully this is just a learning curve for the rookie, because… that was woeful oval driving.