It doesn't feel like it's a big deal. But when you dig a little deeper, it actually is. Max Verstappen's dominance in Baku was his 25th Grand Prix win. He's only the 11th man in history to get to 25 wins. The other 10 – Lewis Hamilton, Michael Schumacher, Sebastian Vettel, Alain Prost, Ayrton Senna, Fernando Alonso, Nigel Mansell, Jackie Stewart, Jim Clark and Niki Lauda. Of those 11, he's also the youngest man to ever bridge that milestone – 24 years, 255 days.
It was immediately crapped on by the tribality of F1 Twitter. The main argument being that because Max debuted young and this was Year 8 of his career, this wasn't that special. Y'know, despite Max winning 15 out of the last 30 races.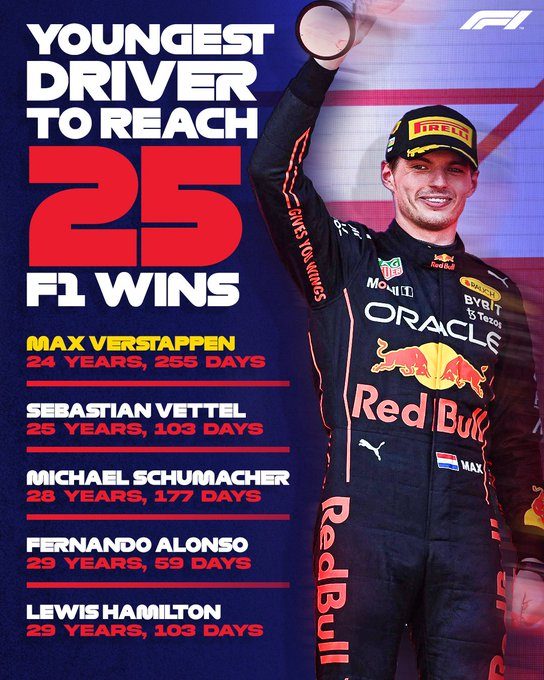 Now there is something to that – Max was only 17 when he debuted, and no-one ever will again unless the sport changes its rules regarding super licences and their 18-year-old minimum entry. As for it being Year 8 of his career… Well, Lewis Hamilton's 25th win also came in Year 8 of his career – the 2014 Chinese Grand Prix. So I took it from another perspective – Number of races, and how quickly it took for certain drivers to get to 25 wins. Here's the list.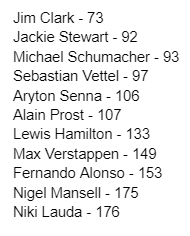 Now, a few names and numbers here did genuinely surprise me, so I thought it would be fun to use Google Sheets and draw some progress charts and talk about their respective paths and how they got to the magical 25th win. First up, let's go straight for the plaster covering the gunshot – Hamilton and Verstappen.
Yes, Hamilton fans, you can have your humble brag – Hamilton did get there 13 races quicker. But I think it's also fair to mention a few other factors that got us to this point. First and foremost, it's hard to ignore that Lewis Hamilton had the greatest rookie season arguably ever, and a part of that was starting his career with a top-tier, winning team from Day 1. That just doesn't happen in modern day F1 where drivers tend to work their way up.
Max still got a winning car very quickly, but he still had to go through 23 races without winning at Toro Rosso to get to Red Bull. And even then, he came into that car smack dab in the middle of Hamilton's dominant reign of terror from 2014-2021 where 10 wins for him in a season was "the floor". Throw in a resurgent Sebastian Vettel for a couple of years and Charles Leclerc's pole frenzy in 2019, and it was genuinely hard for Max to win until literally last season.
Another element to bring into play here is that F1 seasons have generally gotten bigger. As said, both these guys got to their 25th wins in their 8th season. But an average F1 season is now nearly two races per season bigger since Verstappen made his debut:
Hamilton (2007-2014) – Average of 18.5 races per season
Verstappen (2015-2022*) – Average of 20.3 races per season
(*And remember, 2020 was a 17 race, pandemic affected season.)
By the end of Year 2 for Hamilton, he had 9 wins, and a World Championship, but slowed down as other good teams challenged McLaren after 2008. Ferrari challenged for titles, Red Bull got really good, really fast (More on that later), and McLaren struggled a bit. But even at the worst of the years in the "Vodafone", Hamilton never had less than 2 wins in a season there. For Max, that was the ceiling at Red Bull until 2021, where the regulation changes and Red Bull's development lifted Max from occasional challenger to bonafide contender. Three wins, to 10, hence that large spike at the end. Hamilton doesn't really do him justice because his 25th win as said, was in China, early in that season. Hamilton by the end of 2014, would actually have… 33 wins, as China was just his 3rd win of 11 he'd go on to have that season.
A lot of people have asked me whether they think Max can eventually go after Hamilton's win record of 103*. I say – That's going to be tough. Ignoring Hamilton's incredible talent for just a second here, he's had about as perfect a career as you could wish for in F1. Walk into a title contender immediately, actually be good enough to back it up. Even when McLaren weren't title worthy, they could still win multiple times a year to keep the scoreboard moving. He timed his Mercedes switch perfectly with only one really "down" season… then went on a 10-race per year average for EIGHT YEARS. Most F1 regulation reshuffles are five or so. Lewis had back-to-back streaks where Mercs and him were good for 10 wins a year. Max would need at least another three or four seasons at his current pace for me to even consider it. Then again, I said Michael Schumacher's 91 would never be broken, so more fool me if I say no here, right?
Right, time to act all smug and talk about a man who's career has crossed both of these men. Sebastian Vettel…
Sebastian Vettel gave us a couple of hints in his early career that he could be something special. Points in a BMW Sauber as a 19-year old rookie. 4th in China in just his 6th career start from 17th on the grid. That Monza 2008 win where he curb stomped the field. He had a couple of things go in his favour here given it only took him 97 races to get to 25 wins. He was only part-time in 2007, racing eight times instead of seventeen.
He got an early win in 08', then impressed enough to get promoted to Red Bull in just his 2nd full-time season. This happened just as Red Bull stopped prancing around in Star Wars cosplay and turned into one of the best teams in the field. Four wins in a title-contending season in 2009, Five wins and a world title in 2010…
…then 2011 happened. 11 wins in one of the greatest F1 seasons ever put together, 15 pole positions, 17 podium finishes, and the most laps led in an F1 season of all-time (739).
2012 slowed him down a bit in one of the most strangely competitive seasons ever (literally half the paddock won at least once), but he still got to Win #25 at the Korean Grand Prix. Vettel loved Asia, he won all four races there in a row in a streak that would probably won him his third consecutive world title.
So far, you notice some trends. You pretty much have to be one of the greatest ever to have the talent to win 25 GP's, certainly. But you also probably need to win early, win often, and get the politics and timing right to know when to switch. Hamilton and Vettel's respective switches to Mercedes and Ferrari enabled them to rack up heaps of wins – Over 150 between them. One guy here wasn't so lucky…
What I love about Fernando Alonso's chart here is that you can clearly see the key milestones in his career. It's easy to forget he debuted with Minardi back in 2001. He became F1's youngest ever race winner in Hungary in 2003 with a Renault team that was just starting to climb the ranks.
Then came that golden period in 2005 when the sport changed the regulations on tyres (Totally not to cripple Ferrari). 14 wins in two title winning seasons. Then the slowdown again after being one-and-done at McLaren, and the Renault return after the V8 switch… And then joined Ferrari in 2010, winning five rounds again and coming so close to getting his third title. It's actually fitting that the graph ends in 2010. He'd never have it that good again.
I think Alonso was unlucky to have had to have waited until GP 153 to finally get to 25. His peaks were never quite the same as some of the previous guys mentioned. Even during his title seasons, Kimi Raikkonen and Michael Schumacher both matched him for seven wins each. In 2010, Red Bull had the most balanced team with nine wins on the year with Vettel and Webber both challenging for the title. It's still weird we're describing a two-time World Champion with 32 career wins and more than 300 starts as an underdog figure, but that's F1 for ya. Speaking of Michael:
Michael Schumacher is another example of a guy who had it pretty good right from the start, and had a couple of extra elements go in his favour. Benetton, we know, was a cheat code, despite what they may or may not have said. 94' was an even better season than you think. Not only did Schumi win eight times, he only took part in 14 races because he was disqualified at Silverstone for passing under a formation lap and then refusing to serve the penalty at first. Nine wins the following year to retain the title. Even with the Ferrari switch, he was still good enough to make the difference and still win races. And with the combo of him and Ferrari good enough to challenge for the 97' title, it got him to 25 wins in just 93 races, at the 1997 French Grand Prix, where he'd win eight times in his career. Yes, shocker, Michael Schumacher was pretty good and he did in a time where the average length of a season in Michael's rise was just 16.2 compared to the 18 of Lewis.
Now, I'm not going to go through all 11 members of this club because this post would be 5,000 words long, but before I go… Jim Clark.
Jim Clark never raced in a season that had more than 11 Championship rounds. He was winless through his first two seasons, and his first win was start #17. And despite all of that, he got to 25 wins in 72 starts. SEVENTY-TWO. Jim Clark was even better than you remember.
Jim Clark was THAT motherfucker. Goodnight.