So MotoGP gets to the halfway point of the calendar with a packed out house of 100,000 strong for the first German Grand Prix with fans in three years. And for them they were fortunate to sit down with beer, bratwurst and… a completely mediocre day of racing. Ah well, can't win them all. Unless you're Fabio Quartararo, in which case, roll tide! Let's get into it
Oh, Pecco…
This was a gimme for Pecco Bagnaia. As much as it's been a bogey round for Ducati over the years in Germany, having the fastest man in the world on raw pace helps counteract some of that.
So of course he botches his start and lets Fabio through at Turn 1 on the opening lap. At this point, he might as well be in Plan B given these bikes and this track. So Bagnaia tries to counter, loses ground and on Lap 3… spins the rear out of Turn 1 again and crashes. Race is effectively over right there and then because Fabio Quartararo is the best front runner on god's green earth.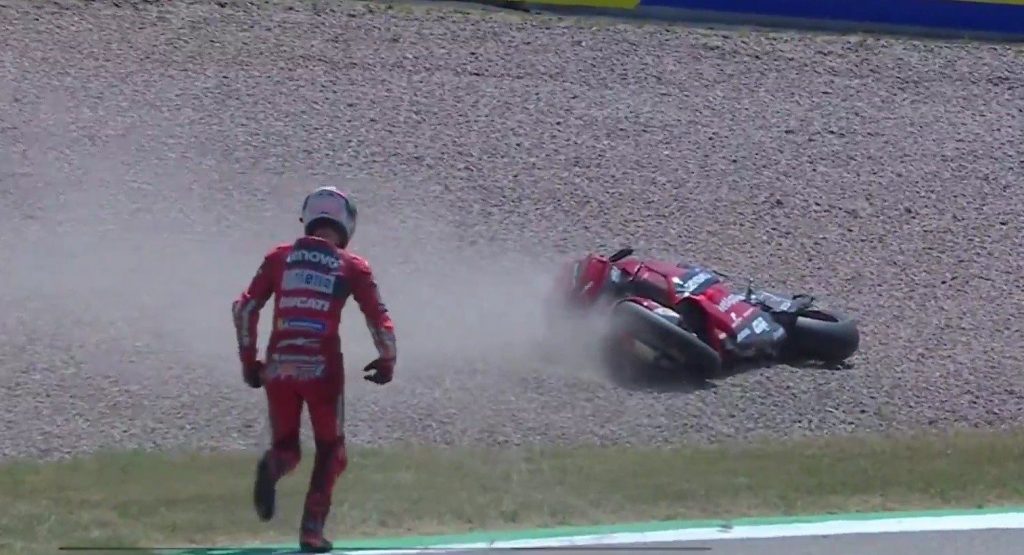 Game over. Championship over. Fabio's now got an entire round in hand on the field and he looks virtually unstoppable in a field where seemingly no-one else can string together two decent weekends in a row besides… *checks notes*… Johann Zarco?!
We Have A Bike Problem
I can't believe I'm saying it… I might have to apologise to Taka Nakagami for some of the harsher things said about his Catalunya crash. He crashed again in Germany, but spoke about his Spanish crash, where he said had no stopping power after getting caught in the slipstream of the bike he was following. After watching this race, he might have had a point.
The only real fight we got at the end of the race was Aleix Espargaro vs Jack Miller for the final podium spot. Three times Jack Miller tried off the slipstream to pass Aleix at Turn 1, and all three times he went way wide and let Aleix back through. Only reason Jack Miller ended up 3rd in the end was because Aleix did the same from the front of the group himself. But it seems these bikes have fundamental racing problems.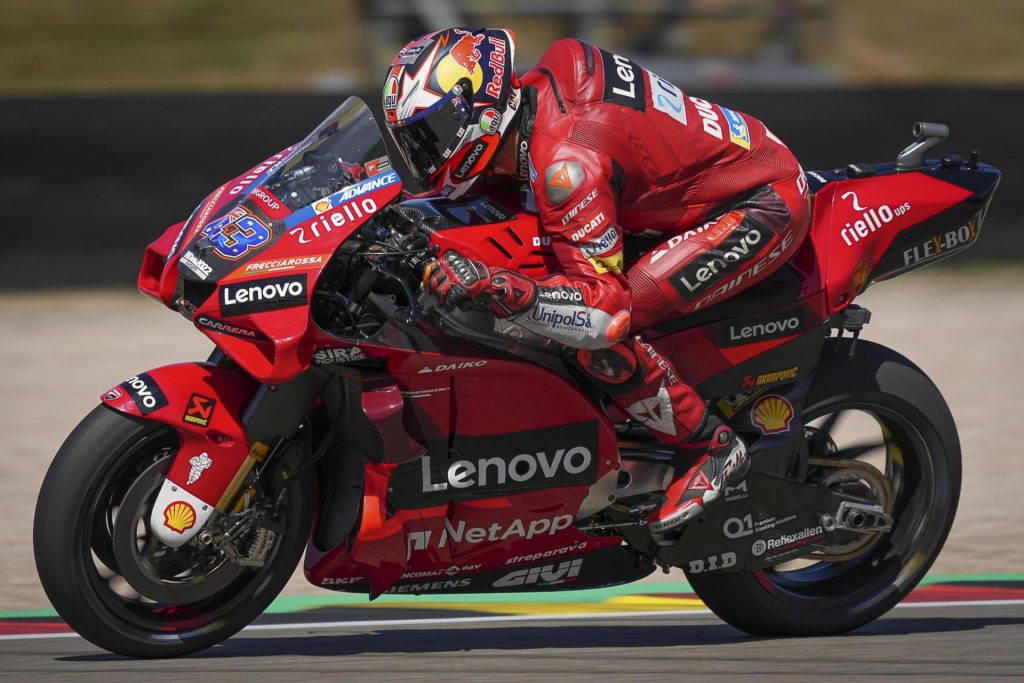 You can see just by watching that Miller is overloading his front tire just trying to pass people. You can't follow bikes effectively because the tyre pressures are screwed. Michelin front tyres are incredibly sensitive unlike the old Bridgestones. Slipstream has been reduced due to the aero and winglets the bikes have, and they reduce your stopping power. So guys are now turning standard overtakes into win it or bin it scenarios. It was always going to be worse in Germany, which is already a hard track to pass around, but it only further cemented the worst elements of today's sport.
The ride-height devices and the aero HAVE to go, because this was a 4/10 race at best.
A Moto2 Crescendo
Welcome to another round of "No-one wants to win the Moto2 World Championship". Augusto Fernandez absolutely dominated the weekend in a display that reminded me of last year's absolutely busted KTM combo. Fight for second place was absolutely superb with Pedro Acosta, Sam Lowes, hometown hero Marcel Schrotter and Fermin Aldeguer (Remember him?) all taking lumps out of each other at a track that's normally very difficult to pass.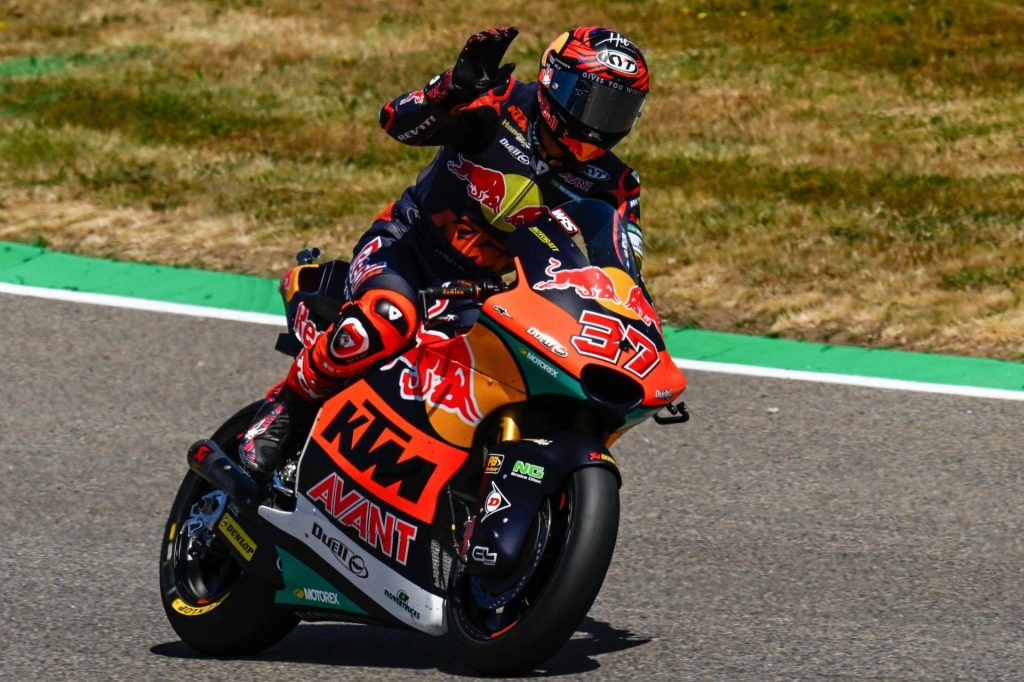 Pedro Acosta reminds me of a biking Tony Stark. He seems to revel in a good fight and we got one with Lowes as they fought for 2nd. What was fascinating to watch was the fact that both men were stronger in completely different parts of the track. Acosta was so fast at squaring off the first half of the lap, but Lowes was sensational at the Waterfall complex. And we even got a bit of contact on the final lap but no harm done. Wild that this was Lowes first points in SEVEN rounds too.
If you think this was the highlight of the weekend's action.. You'd be right.
Jesus F***ing Christ, Honda
Congratulations Honda. For the first time in 40 years, you leave a race weekend without a single Championship point. The last time they didn't score in a MotoGP race, it was because they boycotted the French GP out of protest. Stefan Bradl came home as the sole Honda in 16th and he almost seemed embarrassed to be mobbed by the marshals at the end.
This team is a walking guillotine. They put all their eggs in their Marquez basket in 2020. Then he broke his arm. Then, knowing how desperate their situation was, didn't stop him from trying to race on a broken humerus FIVE DAYS LATER.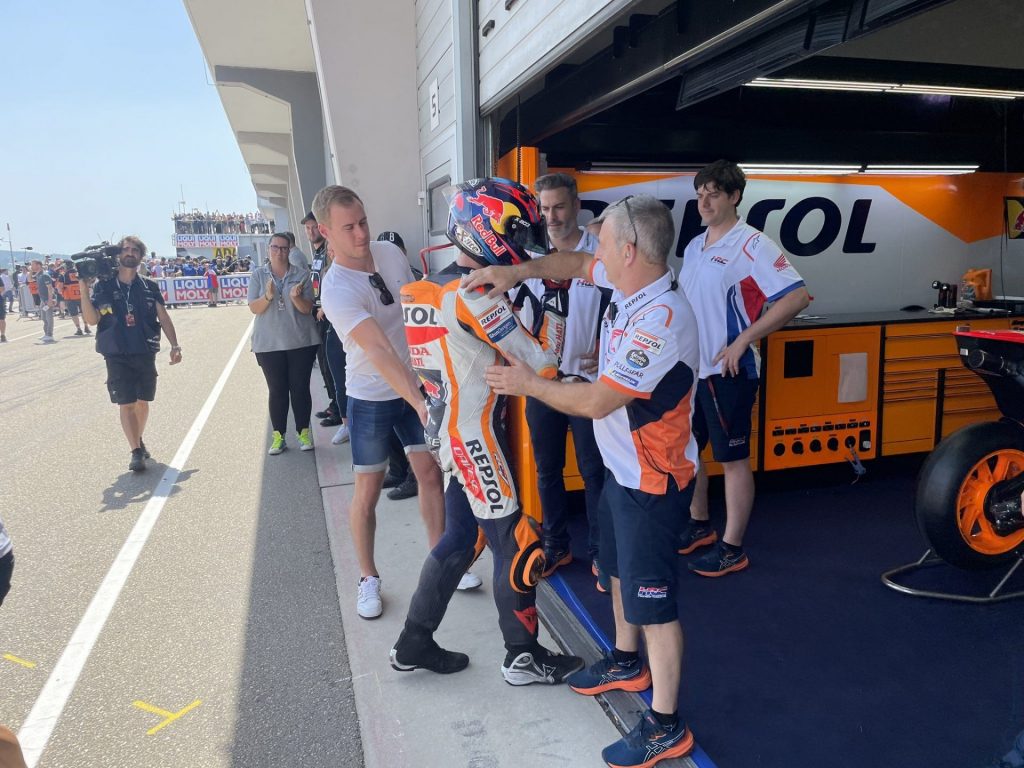 They then adapted their Honda trying not to just make it a Marquez-love-in going forward, Pol Espargaro gassed up the completely rebuilt Honda going into 2022… and they're worse off than they were last year, and this was them being padded by a rider who had a right arm twisted by 30 degrees! What in the cinnamon toast fuc-
How? How is Honda this bad? How is Alberto Puig still employed? He has set fire to everything good that Livio Suppo had created and now he's left with an embarrassing excuse for a bike, no quality riders worth a damn, and their iconic leader losing three years of his prime. And Puig wants Marquez back before the end of the season. FOR WHAT? FOR WHOM?!
Please, tweet me @Harrison101HD. Please, tell me what about Honda isn't a joke. I'll wait.
The Lightning Round
Johann Zarco is Ducati's best rider. So of course he was tied down for Pramac this weekend for 2023. Give him the red bike. He's what they need right now. I'm not joking.
Love that Miguel Oliveira got an entire Thursday press-conference live stream spot to announce his next move… and it turned into questions about his dentistry because he hasn't signed anything yet. Whoops.
Izan Guevara is a monster. Breaking a Moto3 field over his knee in back-to-back rounds is mad, mad impressive. Looking like it's going to be an exclusive Aspar fight for the title. Fun!
Jack Miller went off into the support road just so he could give a super fan his gloves. He's a good boy, we're keeping him.
Spare a thought for ITV paying Dorna money to get this race to be on free-to-air in the UK only for it to be an absolute clunker. I hope there's no ramifications and I'm glad Dorna is realising that they've got to do more to get their audience numbers up because PPV markets are killing them in terms of sheer ratings.