"Money, really does make F1's world go round."
It's not been a nice time in Formula 1 at the moment. An entertaining American Grand Prix this past Sunday was a nice distraction from some of the dark clouds looming overhead. And no, I'm not just talking about the weather schedule for Interlagos this weekend.
[fusion_builder_container hundred_percent="yes" overflow="visible"][fusion_builder_row][fusion_builder_column type="1_1″ background_position="left top" background_color="" border_size="" border_color="" border_style="solid" spacing="yes" background_image="" background_repeat="no-repeat" padding="" margin_top="0px" margin_bottom="0px" class="" id="" animation_type="" animation_speed="0.3″ animation_direction="left" hide_on_mobile="no" center_content="no" min_height="none"][fusion_imageframe lightbox="no" style="bottomshadow" bordercolor="" bordersize="0px" stylecolor="
" align="left" animation_type="fade" animation_direction="right" animation_speed="1″]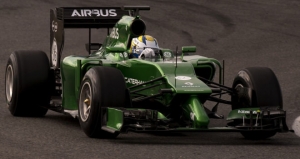 [/fusion_imageframe]The first time Formula 1 went to the Circuit of the Americas, we had a 24 car field. This time, just 18. The administration status of the bottom teams in Marussia and Caterham have sent shockwaves through the sport, but in reality, for me and many people, it's a breaking point for a problem that's been around in the sport, for a long, long, time.
That problem, is the balance of money that goes around, and how it affects the teams not just at the top of the sport, where its a spending race, but at the bottom where competition is SO much more important, where sheer survival becomes a number one priority. Why do you think the term "pay driver" has become relevant again? You don't see Ferrari keeping tabs on Pastor Maldonado for his actual ability, right?
It's an awful time reading the reports regarding the status of these teams. Marussia and Caterham staff haven't been paid this month, and anyone still at Marussia, is working for free. And they can't claim benefits because technically, they're still employed. Caterham need to find a buyer in weeks, or else face liquidation. Not to mention their mess of just who owns the team at this point. Marussia have been reported to be working "hand to mouth" since Chilton's contract dispute in BELGIUM, any money they get going straight back into running the team race to race.
It's bleak. USA 2014 was the smallest F1 grid we've seen since 2005, and if next season STARTS with 18 cars, it'll be the lowest since the 70's. This is a cry for help, and something needs to be done. And quickly.
Marussia and Caterham aren't alone. Force India, Lotus and Sauber are feeling the pinch. Force India were struggling to keep up with their engine payments to Mercedes. Lotus are knowingly in heavy amounts of debt back in Enstone, and are in serious trouble because their revenue from performance related payouts is set to plummet after being stuck in 8th place in the Constructors, rather than 4th the last two seasons.
[fusion_imageframe lightbox="no" style="bottomshadow" bordercolor="" bordersize="0px" stylecolor="
" align="left" animation_type="fade" animation_direction="right" animation_speed="1″]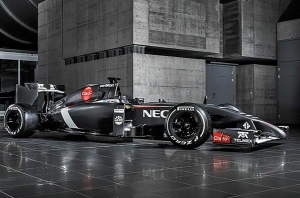 [/fusion_imageframe]And then you have Sauber, who are resorting to harvesting a ton of drivers who are bringing financial aid to the table, like Marcus Ericcson and Giedo Van Der Garde, as well as current #2 Esteban Gutierrez. Is it coincidence that the drivers on their wing that didn't have the backing (Simona de Silverstro and Robin Frijins), got let go? Hmm. And them being set for the worst EVER season in F1, with 0 points and tenth in the constructors, is awful for the swiss outfit.
The revenue sharing in F1 is an inverted pyramid system, with the most successful teams at the top, like the Mercedes and Red Bull's of the world, on a sliding scale down to the bottom. Right now, the team bottom of the constructors, in this case, Caterham, get just $10m from FOM for their achievement. 1st, gets around $120m. And remember, this is a sport where the top teams are spending $200, $300m+ every single season.
And if you think that it's more about what you do with the money, rather than the sheer amount, the facts say otherwise. From 2010-2013, out of the 47 times a team entered the season, 36 times a team finished within one position of where they finished up on the spending list. 77% of the time. And in 2010, the average budget of the top three spenders, were nearly 2.5 times bigger than Marussia and Caterham. COMBINED.
As much as I know that F1 is never an equal playing field, but how on earth do smaller, independent teams ever have a chance of competing, when teams like Ferrari, have practically limitless spending at their disposal? It's not a competitive competition, like a sport is defined in the dictionary. What it is, is a spending race, where "He who spends the most, wins the most." When Lotus Team Principal, Gerald Lopez says: "$300m gets you six seconds", compared to GP2 below it, your sport has a serious financial problem.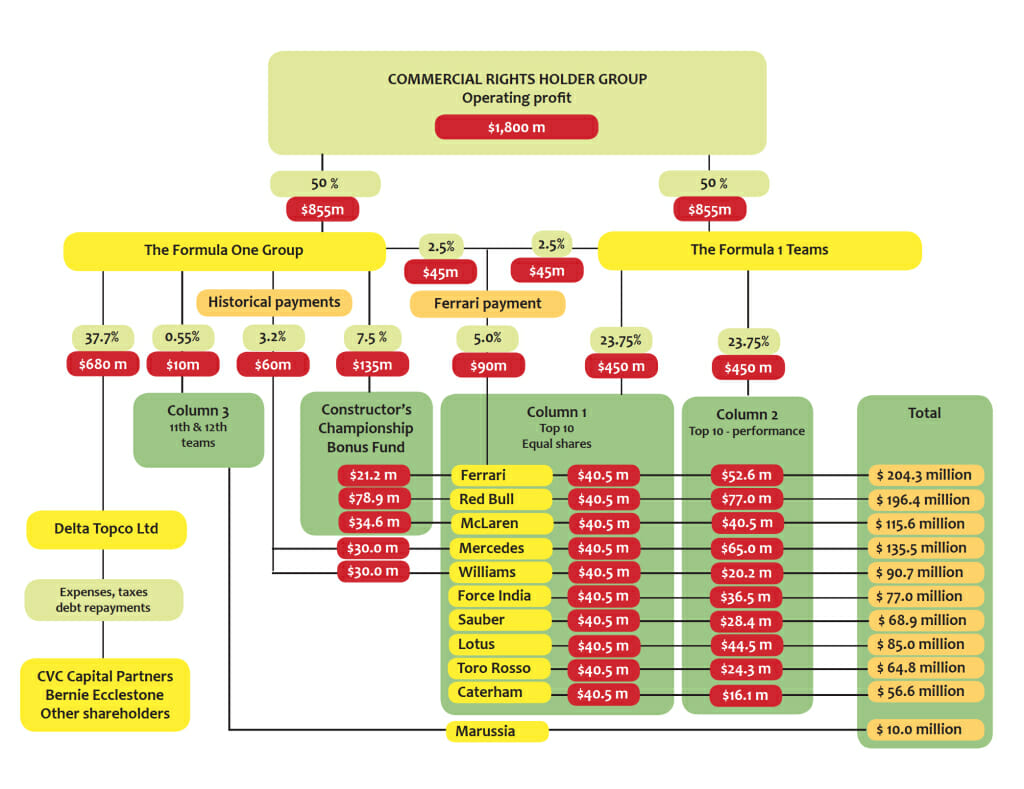 (Pic belongs to Joe Saward)
But, what do we do about it? This is a problem where the answers all have problems attached to it, and a lot of it, comes down to politics. Simply put, the bigger teams don't want to give up THEIR slice of the revenue pie. Basically, what Toto Wolff and Christian Horner were saying this weekend was (And I'm paraphrasing here): "We know it's a problem, but not OUR problem." I think they've been watching too much Doctor Who, thinking that money is just going to appear out of nowhere. This ain't quantitative easing, muthafucka!
A redistribution of revenue would without doubt be the easiest solution to the problem. The bigger teams already get a ridiculous amount of money from backers, factories and sponsorships, the heck do they need tens of millions in success revenue on top? Ferrari got paid $90m this season JUST TO SHOW UP. That was more than Marussia's entire budget for last season. But of course, the big teams aren't going to give up their slice, because what's better than money? More money. Greed is good in their eyes.
[fusion_imageframe lightbox="no" style="bottomshadow" bordercolor="" bordersize="0px" stylecolor="
" align="left" animation_type="fade" animation_direction="right" animation_speed="1″]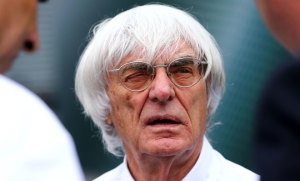 [/fusion_imageframe]And as much as people love to point the finger at Bernie, being the public boss figure we love to hate from any office sitcom, he's just an employee. Even if he puts forward a new revenue sharing plan, all it takes for it not to pass, would be for ONE team to disagree. You need a unanimous decision from the teams for it to go through. Not a hope in hell. Did you see Toto Wolff? He gave NO fucks in that press conference on friday.
So, what now? 3 car teams? Get that talk all the way outta here. I'm not exaggerating here, but seriously, 3 car teams would be the end of the sport as we know it. I don't care if you think it may be more entertaining, but let me explain why it's an awful idea, and it all comes down to Johnny Herbert on Sky yesterday when he said: "Someone has to come last."
An F1 grid can only hold a maximum of 26 cars. So, by the math, you have to have 8 teams of 3 on the grid, maximum. Two teams already go, so let's assume, Marussia and Caterham go away. The other independents are on the cutting board. Sauber, Lotus and Force India. Toro Rosso are safe as Red Bull are flipping the bill for their glorified driver academy centre. If the independents are struggling now, what chance do they have with EVEN MORE factory cars getting in the way of the points, assuming you'd have three Williams, Red Bull, McLaren's, Ferrari's and Mercedes cars in front? As a result of being near the bottom, the indies can't sustain themselves, and drop out.
That leaves just the bigger factory teams, and McLaren. If a factory team's at the bottom, they won't be able to justify their ridiculous spending to stick around. See what happened with BMW and Toyota, especially the Japanese firm, and they were just starting to get up there. When the factories drop off, then you're on life support. See, someone having to come last, is the reason why bloated grids won't solve the problem, no matter how much you think it could be more "competitive". And given that Mercedes have had ten 1-2 finishes this season, how do podium lockouts sound?
[fusion_imageframe lightbox="no" style="bottomshadow" bordercolor="" bordersize="0px" stylecolor="
" align="left" animation_type="fade" animation_direction="right" animation_speed="1″]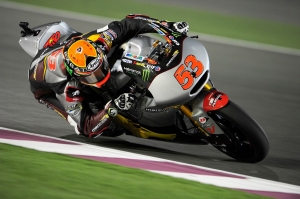 [/fusion_imageframe]So, what about bringing customer cars back? No. It makes the sport look worse. Buying older Mercedes isn't an easier way out for teams, and if successful, hikes the price up, like what Mercedes are doing with their engines right now. The lower customer cars get drowned out as a result. See Moto2 in bike racing. You had a TON of competing chassis designs like Suter, Kalex, Speed Up, Tech 3, and TSR. Now, going into 2015, 23 bikes are running Kalex chassis, over 60% of the field, Moto2 swiftly becoming a one-make series. It's the easy way out.
A spending cap? Something I'd love on paper, but will never happen in practise. Last thing the top teams would want, is a choker on development. Not to mention, there's loopholes to be exploited. Ferrari could create a separate branch, develop from there, and be off the record, then "gift" the team more gear as the season goes on. Easily exploitable, and really not viable.
One car teams are a great idea in theory as well. Much lower costs, and much more teams potentially investing. Downside is, it's twice as difficult to score points, and that's what's so critical to survive. Is automatically halving your chances right off the bat the right idea either? B-Teams just screams DTM.
So yeah, the revenue sharing model may very well be the easiest, yet most difficult solution, because no other way seems really viable. But for the sake of the sport, a compromise HAS to be found, for the sake of the sports future for generations to come. F1 isn't eyeing up the coffin's yet, but the body is on life support, and if an agreement isn't found soon, we may be heading towards a very timely funeral.
A final thought: Is letting the inmates run the asylum really for the best? (Special thanks to Ryan King for the research figures as well)[/fusion_builder_column][/fusion_builder_row][/fusion_builder_container]