I can't remember the last time I saw a better metaphor for the state of MotoGP than two weeks ago. At Silverstone, Alex Rins, beat Marc Marquez over the line with one of the most inch-perfect passes on the final corner, the sport has ever seen. He won by 13 thousandths of a second. And he had the sheer audacity to stare his nemesis down as he crossed the line. He knew he hit Marc where it hurts.
I've never seen Marc so angry after his second consecutive last corner defeat. The jovial happy-go-lucky pretty boy briefly, was gone. And we as an audience loved it.
It was an easy distraction from the Championship matter at hand. Simply put, this is the greatest, most consistently strong MotoGP field we've ever seen. 9 different riders with multiple podiums. Two first-time winners in Rins and Petrux. Fabio Quartararo screams future World Champion. Pol Espargaro dragging a sorry KTM regularly into the Top 10. Breakout seasons for Taka Nakagami and Miguel Oliveira.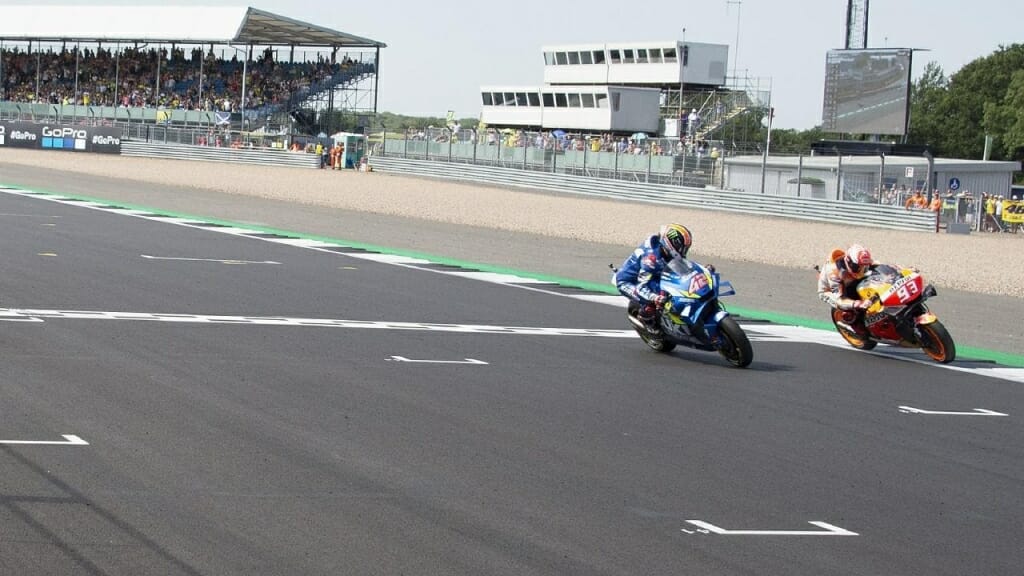 Marquez has crushed them like grapes in a vineyard.
This is a man who has already had a 13-win season, including 10 on the bounce, and it still feels insignificant compared to a run of dominance and sustained pressure, unlike anything we've ever seen. 13 races in, seven wins, five-second places, 1 DNF from the lead at COTA which was more a bike issue than a rider error. If you remove Assen where he stopped trying once Maverick got away, the margins of defeat have totalled… less than three-tenths of a second. COMBINED. His 93 point lead would stretch to the next nearest Honda, Cal Crutchlow in 9th place.
He's now 4th on the all-time wins list, only the 4th man in the 50-Win Premier Class club. The all-time leader in pole positions with a 49% hit-rate. He has one hand on his fourth straight title and his 5th in the top flight. All of this in the greatest field the sport has probably seen top to bottom. Call a spade a spade, I think we're dealing with the greatest Motorcycle racer ever here. And he still doesn't turn 27 until February.
And yet… you get the feeling when you check the Facebook comments, see the tweets at the journo's, we look at Marquez like a frustrating, cynical figure. How did we get to this?
Two years ago, the sport rejoiced as the dam of two-team MotoGP dominance got busted wide open. We went from a sport where the winner was guaranteed to be wearing orange or blue, to NINE different winners. A first independent win in a decade. Ducati became a top-tier team again rather than notches on the bedpost for riders who failed to win on it. It opened the floodgates for the unmatched standard of racing we see now. Maybe we cared about the destination a little less back then, compared to now.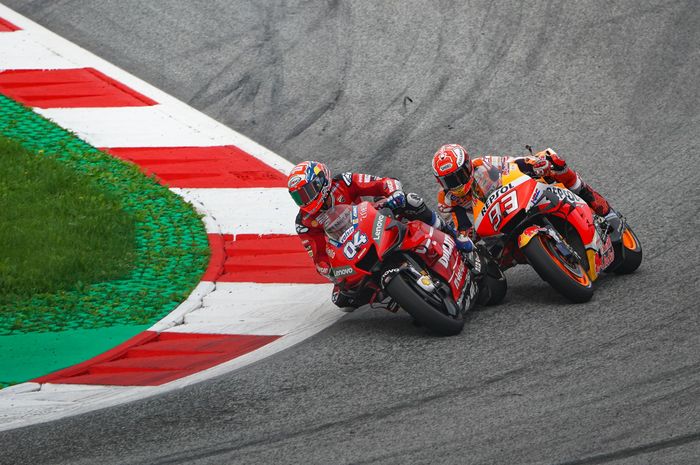 Especially when the "journey" has had some misdirection this season. It's the curse of Marquez's brilliance, where it forces the others in a tightly bunched field, to find someone of his level to challenge him or else, everyone is doomed to fail. Andrea Dovizioso, the silver medalist of the last two years, is on a Ducati that's hit the wall in development. Alex Rins, Danilo Petrucci, and the fleet of Yamaha's in Maverick Vinales, Vale and Fabio Quartararo have all had standout moments, and hence, taken points off each other. There's been no consistent second contender this season, and that's made Marquez's dominance all the easier.
*sighs* It never used to be like this. It was easier 15 years ago when I grew up a Motorsport fan. We were all still on dial-up, MSN Messenger was an embryo, and we had our two dominant leaders in Motorsport. Michael Schumacher, and Valentino Rossi.
Valentino Rossi was a ruler of a different time. Back then, Motorsport had never had a showman and entertainer quite like him. So we revelled in the spectacle a bit more. We didn't have as public an outlet for any frustrations outside of the occasional forum, or the monthly pilgrimage to Ace Cafe. The racing wasn't as consistently great, and we made Rossi our hero. He was the best. Sales of florescent yellow went up 20,000%.
As time has gone on, both main series made more of an effort to enhance the quality of the racing. F1 tried and failed to remove dirty air, and changed the rules to cripple Schumacher's dominance out of fear he'd never stop winning. MotoGP backed the independents to save itself from extinction. All after the rise of the prototype made things a bit too expensive. And while both series have had mixed success with it, the landscape has changed. The racing is, for the most part, better.
It also made us a bit more spoilt.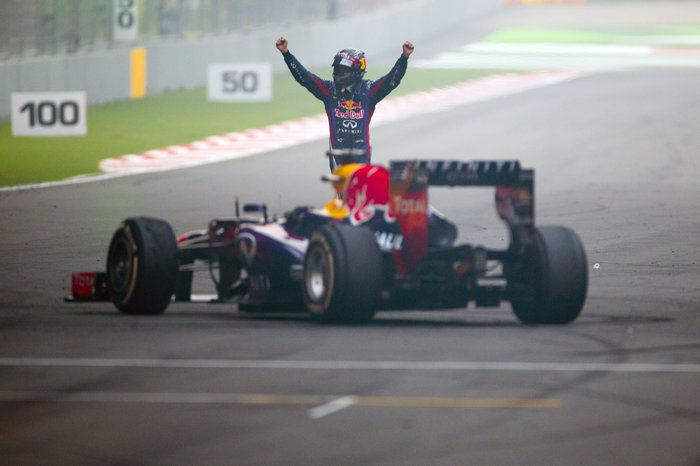 Sebastian Vettel was the first social media era World Champion. We plastered him for winning too much and spoiling the fun after four new, different world champions came before him. F1's carved itself into a three-team sport now and Hamilton has become the polarising face of a sport whose audience doesn't often know what to do with him as a lead figure and where we as fans fit alongside.
On two wheels, Marquez's rise came hand in hand with many things. The return of Ducati to a title-winning contender. Independents winning again for the first time in a decade. Crutchlow, Miller and Maverick showing you didn't just have to be in orange, royal blue or red to win. Factories returning to the sport after years in the background after desperately wondering why people were not buying their 20 grand Superbikes any more.
Some of the greatest races in the sport's history, true classics getting lost in the shuffle due to sheer consistent quality. The standard's now so high, Misano this past weekend, a race with 4 last lap overtakes, barely moved the needle.
And instead of admiration, we wait and even thrive to see them fall. Fabio Quartararo was walking proof of that this weekend. The best looking MotoGP rookie and talent the top flight has seen in half a decade… was an underdog. And would have been a more popular winner. I'm sure being on Rossi's turf helped, but that shit's still wild to me.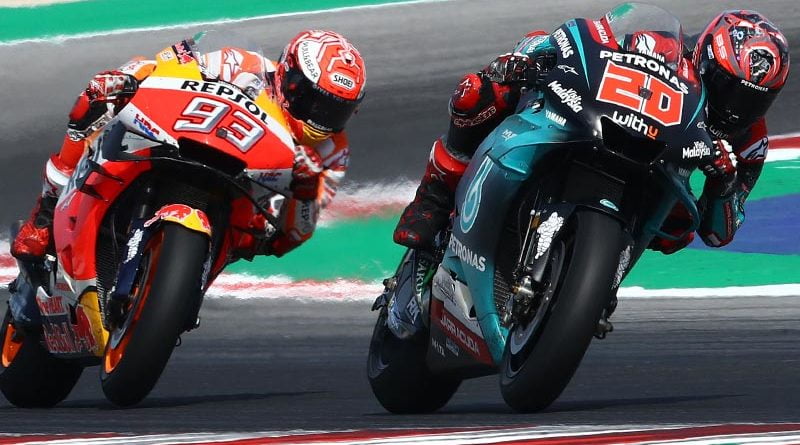 Maybe the honeymoon period's over. As Marquez prepares for his eighth world title, his fourth in a row, and six in the last seven years. Maybe we've gotten a bit too used to the superhuman saves. The brilliant performances, the visual representation of the fastest rider we've ever seen. A man who's redefined what's possible on a bike. Maybe Sepang 2015 gave us a paradigm shift that we're still wrapping our heads around as fans. Ask anyone and they'll tell you yellow will always clash with orange. The most important rider in the history of the sport, set to be replaced with arguably, it's greatest.
We as an audience don't know how to handle dominance until their pages in history don't move anymore. And that makes me a little sad.