By the time you're reading this, nearly three days would have gone past since Jules Bianchi's horrific accident at Suzuka. And the dust has barely settled since, Jules in hospital, critical, but stable after suffering a DAI (Diffuse Axonal injury) via severe head trauma, after hitting a JCB on track recovering Adrian Sutil's car at around 80mph.
The initial confusion on both the BBC's and Sky's broadcasts were chilling, concerning and an aura of mass confusion, something we've not felt for a long time. Until 5 minutes after the Red Flag, Ben Edwards didn't even know Jules was affected, mainly because the TV cameras (And justifiably so), didn't show replays of Jules having a very similar incident to what Sutil did. It's an experience we won't forget for a while. The hysteria, the confusion, BBC going off the air early, the helicopter decision, all of that. Just a horrible Sunday morning.
Lewis Hamilton had won the race, but no-one cared. We all were all just worried for Jules well-being.
[fusion_builder_container hundred_percent="yes" overflow="visible"][fusion_builder_row][fusion_builder_column type="1_1″ background_position="left top" background_color="" border_size="" border_color="" border_style="solid" spacing="yes" background_image="" background_repeat="no-repeat" padding="" margin_top="0px" margin_bottom="0px" class="" id="" animation_type="" animation_speed="0.3″ animation_direction="left" hide_on_mobile="no" center_content="no" min_height="none"][fusion_imageframe lightbox="no" style="bottomshadow" bordercolor="" bordersize="0px" stylecolor="
" align="left" animation_type="fade" animation_direction="right" animation_speed="1″]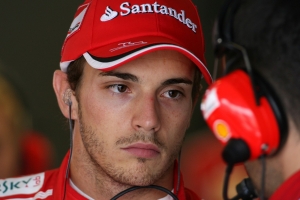 [/fusion_imageframe]
And as he rests in a hospital bed in Yokkaichi, we the fans, are left to pick up the emotional pieces. And hearing the news of his injury today was truly heartbreaking. We had only just seen 10 months ago, the tragic events of Michael Schumacher's head trauma over Christmas with his skiing accident, and now this.
Realistically, Jules' career is most-likely over, and its all the more tragic when a man like Jules, just 25, has his career and quality of life just ripped away from him like this. He was in a position as a superstar talent in the making, destined for a Ferrari seat down the road, they themselves in a rebuilding phase, seemingly on the up. I can't even begin to imagine how the Marussia camp must be feeling, the raw emotion of the Maria de Villota tragedy must still be fresh in the memory for some.
But as quickly as the night after the race, the Internet was very quick to react and starting pointing fingers. Like Jeremy Clarkson on a bad Top Gear stunt, we're all very fast to play the blame game. But was the FIA responsible? Are we, the fans, part of the problem here?
This is a difficult one. After Sutil's accident, you would never normally have a Safety Car. Hence why the double waved yellows exist, meaning: "Slow down, be prepared to stop". The problem with that too, is that the track seemingly didn't have enough double waved yellows entering the Dunlop corner, because Bianchi hit that section at somewhat close to full racing speed. Not to mention the track at that point was at the crossover point between Intermediate and Extreme Wets, with Bianchi on Inters. It was a melting pot of bad situations, where going slow would also be dangerous with the falling tyre temperatures, and the appropriate management.
I definitely call into question the use of flags here, or the lack of them so to speak. And if there's marshals on the track or near it, it HAS to be a Safety Car. Period. The marshals protect the drivers. Who protects them? And it's not the first time this has happened. Remember Adrian Sutil's spin at Hockenheim? NO safety car, despite Marshals having to literally RUN ACROSS THE TRACK to move Sutil's car to safety. Completely negligent and down right dangerous for everyone involved. THAT was the worst mistake the FIA's made this season, not this one. If anything, the extra cautious approach the FIA took, was probably for the best, but more on that in a bit.
[fusion_imageframe lightbox="no" style="bottomshadow" bordercolor="" bordersize="0px" stylecolor="
" align="left" animation_type="fade" animation_direction="right" animation_speed="1″]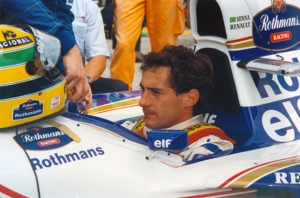 [/fusion_imageframe]
As I said on Twitter yesterday, my biggest issue with the entire drama boils down to one serious question: "Why does it take something like this to happen for us to all start talking safety?"
This year marks the 20th Anniversary of the blackest day in F1, the Imola 94' weekend where the sport lost it's most popular ever driver in Ayrton Senna and Roland Ratzenberger. And while it was a terrible loss, we should also be grateful in the sense of, their deaths opened the eyes of the FIA into making progressive steps towards driver safety. Just think how many lives said changes have SAVED over the years.
Take the Bianchi crash out of your mind for a moment. Now, whenever something safety related comes up in the middle of the season, we all sneer at it, accuse the FIA of having a "nanny culture" and being "too safe".
The FIA brought up the idea of closed cockpits last season, adding a front roll-cage to the front of the cars. It was shot down for the most ironic of reasons – It was deemed "too ugly". (http://t.co/c5XH85MYmZ) Yes, front roll-cages, a safety increasing measure was shot down for aesthetic reasons. In a sport where the ant-eater and "penis nose" front wings have made their name. Ridiculous huh? Not to mention, an era with the most powerful cars F1's had since the V10's, no traction control, limits constantly bearing down on downforce, and three times as much torque. But y'know, safety first, right?
A front roll-cage would have most definitely helped in situations like Alonso and Hamilton in Belgium 2012, Karthikeyan and Rosberg in Abu Dhabi 2012, and the rolls we've seen from cars in Germany and Bahrain this season. But no, the cars looking good is the team's priority here. Wonder if they still think that now. Seriously, the Strategy Group in F1 frustrate the shit outta me.
[fusion_imageframe lightbox="no" style="bottomshadow" bordercolor="" bordersize="0px" stylecolor="
" align="left" animation_type="fade" animation_direction="right" animation_speed="1″]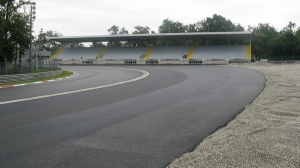 [/fusion_imageframe]
And sometimes, we're part of the problem too. We as fans sometimes, are afraid to embrace change. Even if it's for the better. Monza's parabolica gets gravelled over, the fans complain… until the weekend of the race itself where it never gets mentioned again.
As I said, it frustrates me. Many of the same fans upset and emotional over this horrible accident, were the same ones condemning the FIA running the initial Safety Car for so long, because we as fans love seeing wet racing, but conveniently gloss over the added danger that comes with that. Every F1 fan is guilty of it, even me, and I'll be the first person to admit it. And as I said, maybe that's part of the problem, and that's our vision and perception of where we want the sport to be.
The feeling in the air isn't good right now. F1 has probably lost another driver for good, and we head to Russia, which has its own set of problems, the sport still reeling over what's been it's most turbulent week in recent memory. Maybe now, amidst the carnage, we stop for a minute, take a good, hard, long look at the mirror, and just see where we're at. We shouldn't have to wait for another Jules Bianchi moment, or a Senna moment, for us to see the bigger picture, and ask the difficult questions.
Forza Jules, we're all behind you. And of course, RIP Andrea de Cesaris. Gone far too soon.[/fusion_builder_column][/fusion_builder_row][/fusion_builder_container]