"The part where you all pick my brains. Over Lucozade."
Hey folks, Dre here. And after the awful weekend we're coming off of, with a double header of races in F1 and MotoGP in Sochi and Motegi respectively, I thought I'd do something I haven't done in a while, and open the floor to you guys for "Ask Dre!", where you pose the questions, and I'll do my best to answer them. Plenty of stuff from F1, to MotoGP, to my favourite Comedians and even Lucozade… So let's get down to business, shall we?
---
"Are you surprised by how Mercedes have managed to stay well ahead of everyone else this year aside from special circumstances? Taking into account when Brawn GP (same team) won in 2009 they started off with huge advantage but my end were getting anywhere between 3rd and 8th by the end of the year; And Mercedes from 2010-13 never really had strong in season development anyway." – Sascha Wagenblast
Yeah, a little surprised to be honest. Normally when a team breaks off a ridiculous advantage to start a season, the rest of the field reel them uin, or the FIA bans something on their car to play happy families.
This year, there's been little to no sign that anyone's closed anything down on Mercedes. In Monza, a track Williams were favoured around, Massa got blasted by 30 seconds. That's about half a second a lap. And I agree, it's even more baffling considering that Mercedes got blasted by Red Bull's development team in the second half of the season, and have never been strongest in that department. Just goes to show you what the [fusion_builder_container hundred_percent="yes" overflow="visible"][fusion_builder_row][fusion_builder_column type="1_1″ background_position="left top" background_color="" border_size="" border_color="" border_style="solid" spacing="yes" background_image="" background_repeat="no-repeat" padding="" margin_top="0px" margin_bottom="0px" class="" id="" animation_type="" animation_speed="0.3″ animation_direction="left" hide_on_mobile="no" center_content="no" min_height="none"][fusion_tooltip title="5 points if you get the reference!" placement="top" trigger="hover" class="" id=""]Cartmel Masterplan[/fusion_tooltip] was with Mercedes all along, probably going back to 2012…
"Favourite Lucozade flavour?" – James Liang
I used to LOVE the cola Special Edition they had a couple of years ago, but out of the current crop, you still can't touch Orange. Melonade a close 2nd for me though.
[fusion_imageframe lightbox="no" style="bottomshadow" bordercolor="" bordersize="0px" stylecolor="
" align="left" animation_type="fade" animation_direction="right" animation_speed="1″]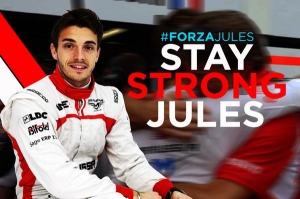 [/fusion_imageframe]
Okay, two similar questions here: "What are the appropriate next steps for F1 in the coming weeks (and even the off season), following the Bianchi incident?" from Evan Wolff and "Do you think F1 will significantly change following the Bianchi incident?" from Thomas Wilson…
No, I really don't. To quote Sebastian Vettel on this one: "There is no golden answer to safety in Formula 1". And remember, any idea the FIA comes up with, has to get past F1's Strategy Group, and if they don't like it, it gets veto'ed, so it's going to be a really complicated matter to please everyone. And I think this Bianchi incident was nothing more than a freak accident, so I say, treat it as such, rather than drastically going over to hammer-fist in an idea that may not be the best. But please, let's keep the safety talk going, because man, we need it.
"What do you think about the lineup for now for MotoGP?" – Andre Silva
From one Dre to another, I think it's the best line-up the top class has ever seen. And I said that last year, before we even got the news that Loris Baz and Eugene Laverty was moving up, as well as Maverick Vinales spear-heading the new Suzuki team. It's going to be an incredible 24 bike field next year, with even some of the lower down teams like Avintia running Ducati GP14's, and Forward Racing getting a factory chassis. It's a very exciting time for the sport, and I can't wait to see what happens next season!
"Does it annoy you when people say you should support Hamilton or Button or Chilton because they're British?" – Sean Smyth
LIKE YOU WOULDN'T BELIEVE. Seriously, screw anyone who believes in that over-patriotic stance. Who do we think we are, America? Yeah, I get this a lot, mainly from the Hamilton fans who believe I have to support a British driver because I was born here. GameRiot was especially rude on this one, called me a glory hunter for supporting Sebastian, which was completely baseless.
We are blessed to live in a world where in the things that don't really matter, we have freedom of choice. Let's respect that, shall we?
"Who is your Favourite comedian?" – Jack Pickering
Of all-time? Probably Chris Rock. Rock was brilliant in not only being ridiculously funny but also breaking down racial stereotypes and culture in America, and overseas. Steve Harvey was right up there as well, his stories about being a born-again Christian were insane.
Of the current bunch that are doing the rounds, I'd say Jack Whitehall, and Jimmy Carr. Whitehall is the guy who's down with the kids, and Carr has got the best quick wit of any comic I've EVER seen.
[fusion_imageframe lightbox="no" style="bottomshadow" bordercolor="" bordersize="0px" stylecolor="
" align="left" animation_type="fade" animation_direction="right" animation_speed="1″]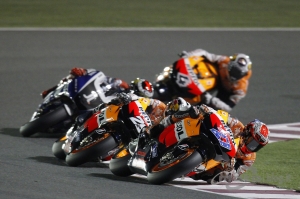 [/fusion_imageframe]
"Why don't more motogp teams run 3 bikes like ducati do in some races (Crutchlow, Dovi & Pirro)? It opens opportunities for test riders" – James White
Simply put, budget. Running 3 bikes is VERY expensive in a sport where you're already paying the better part of £3m a season for ONE bike, let alone three. Ducati obviously feel they have money to burn, because Michele Pirro has never amounted to much in MotoGP and that's a lot of money to roll out for some test data. Heck, Repsol Honda were probably the one team that could justify doing it and they had an AMAZING team in Casey Stoner, Dani Pedrosa and Andrea Dovizioso and not even they did it for more than one season.
In a sport where expense is so high, running 3 bikes just isn't necessary. And heck, Honda still have Stoner testing for them, and Yamaha have just signed Colin Edwards to test for them, so they have plenty!
"How come there is such a huge difference between the small guys and the big guys in the f1 community because it seems like the little guys are just being treated like dirt in my opinion any thoughts?" – Brad Gee
It's just the harsh realities of the Internet and big business. This may sound really harsh to say coming from my position on YouTube, but us bigger guys don't get anything really out of working with smaller YouTubers. Sometimes, we can be unselfish, but when it comes to building a channel and audience, you always try to associate yourself with someone bigger to help yourself. For example, if I did an F1 2014 Co-Op Career with someone who had 50 subs comapred to my 5,500, who's getting the better exposure? The guys who were there first when the market blew up with F1 2010 and 2011, are the ones cashing in now with 2013.
As for people getting early copies, again, Codies just don't get anything about giving it out to guys with smaller channels. They're looking for exposure, so they're gonna lean towards the guys who are bigger, and can entertain as many eyes as possible. It may sound cruel, but it's just the how these things are. Those at the top, will get the chances, for better or worse.
[fusion_imageframe lightbox="no" style="bottomshadow" bordercolor="" bordersize="0px" stylecolor="
" align="left" animation_type="fade" animation_direction="right" animation_speed="1″][/fusion_imageframe]
"Who is going to race for which teams next season? Like Alonso, Button, maybe even Vergne" – Yuri Kasdorp
Okay, here's how my predicted field for 2015 is looking:
Mercedes: Nico Rosberg, Lewis Hamilton
Red Bull: Daniel Ricciardo, Danill Kyvat (Confirmed)
Ferrari: Sebastian Vettel, Kimi Raikkonen
Williams: Felipe Massa, Valterri Bottas (Confirmed)
McLaren: Fernando Alonso, Kevin Magnussen (Bold, I know)
Force India: Nico Hulkenberg, Sergio Perez
Toro Rosso: Max Verstappen, Carlos Sainz Jr. (I hope)
Lotus: Romain Grosjean, Pastor Maldonado
Sauber: Giedo van der Garde, Sergei Sirotkin
Marussia: Max Chilton, Alexander Rossi
Caterham: Marcus Ericsson, Joylon Palmer (I PRAY)
I think Jenson's done. I think McLaren are looking to rebuild, and Button being 34, we all know his days are numbered, and he wants to settle down with Jessica, his fiance, hence the engagement. Unless McLaren-Honda really want to win now, that's how I see it playing out. What's surprising to me, is that we're in October and less than half the field are confirmed for next year…
"If we go to 3 car teams next year, does JEV get to keep his seat at TR or move up to RB?" – Nathan Green
Guys, three car teams ain't happening next year. As McLaren's Eric Boullier said, there's no time to implement any of it if it were to happen. And trust me, Red Bull's academy is SO stacked, they would probably be the only team that could run 6 cars worth of decent drivers in it…But Vergne I think is done, whatever happens, and that annoys me, because he was essentially a carbon copy of Daniel Ricciardo. They were 30-29 in terms of points at TR, and one of them's now a Driver of the Year candidate, the other doesn't have a job for next year. Sad huh?
---
And that'll do it for this Ask Dre session, if you'd like to see more, let me know in the comments! Until next time, thanks for reading![/fusion_builder_column][/fusion_builder_row][/fusion_builder_container]